Hive Power Month - New Tracking Calendar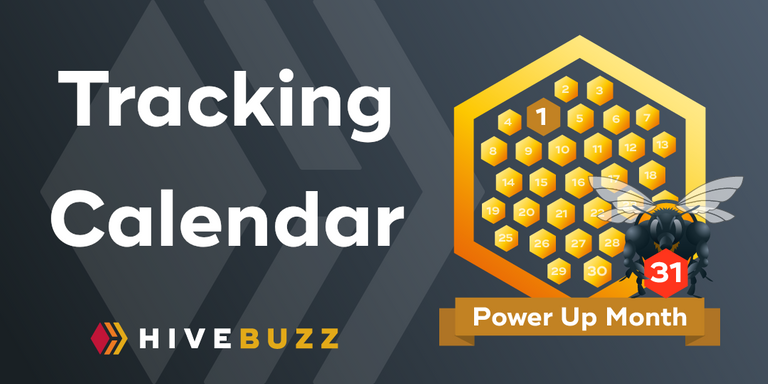 It has now been several months since we launched the Power Up Month (PUM) challenge. While 3218 users participated in Power Up Day, only 299 of them have successfully obtained a PUM badge!
The effort required to obtain this badge is worth it because, since the beginning of this year, those who manage to do a power-up throughout the month also receive a delegation of Hive Power from us.
Above all, to stay watchful throughout the month.
It must be recognized that this challenge is particularly difficult because the slightest mistake or oversight is fatal. It was not uncommon for a small error to cancel all the efforts made so far. Many participants missed the badge because they:
forgot to do a power-up on one day
published a post but forgot to select the 100% Hive Power mode
got the timing wrong and posted twice on the same day or missed a day unexpectedly (remember that HiveBuzz, like the blockchain, uses UTC time).
And when it comes time to publish the results of the challenge after the month is over, one of the most frequently asked questions by those who haven't received their badge are "why", "what did I have wrong do", ...
Track your progress
It is for this reason that we have added a brand new feature to our website: the Tracking Calendar.
If you go to your HiveBuzz board and click on the badge of the current Power Up Month, you will see a calendar appearing in addition to the description with all the actions you have taken that influence your participation in the Power Up Month.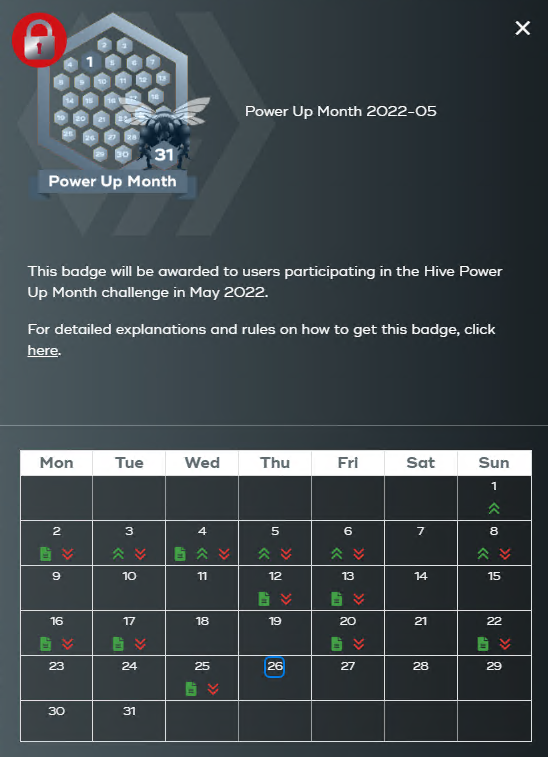 Here is an example from a participant in the May PUM challenge
For the current day (circled in blue) and all previous days, the following symbols may appear:
| Symbol | Description |
| --- | --- |
| | You have published a post and selected the 100% Hive Power reward mode |
| | You made a Power-Up of at least 1 HP |
| | A Power Down was applied. This disqualifies you for that PUM edition |
As you can see, several or even all of the symbols may appear on the same day. Of course, if there is no symbol, it means that none of the above conditions have been met.
This will allow those participating in Power Up Month to accurately track their progress throughout the month.
You can check your previous participation too
The icing on the cake: on top of the current Power Up Month, the calendar is also available for previous editions. In this way, you will also be able to know how you have performed in the past months.
A nice addition that we hope will make your life easier.
The Hivebuzz Team
---
---
HiveBuzz is a project created by @arcange
---
---