In my Treehouse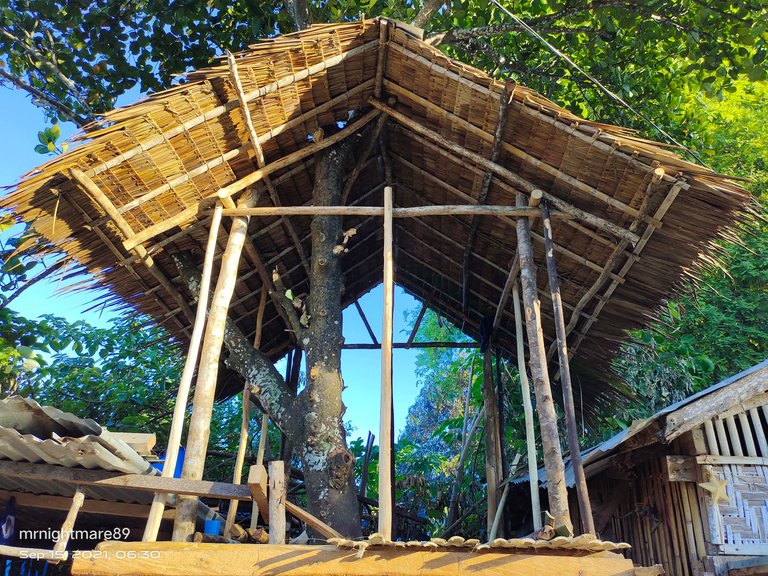 This post will not be about walking because I was busy building my treehouse. I didn't have the time to share my walk but I still want to participate in #wednesdaywalk by @tattoodjay. But for sure I will make you smile like what @elizacheng said in her #makemesmile. Since I can't share with you about walking, how about showing you my simple treehouse? I'm not sure if it will please you but I'm happy with this. Bear with me this time because it's about me for now.
Have you seen the popular traditional house named "Bahay Kubo" in our country, the Philippines? Where it was made from a nipa hut and bamboo tree? Well, if you haven't seen one and if you're curious. My treehouse copied "Bahay Kubo" but the only difference is the location. Of course, it's on the tree since I called it treehouse, lol.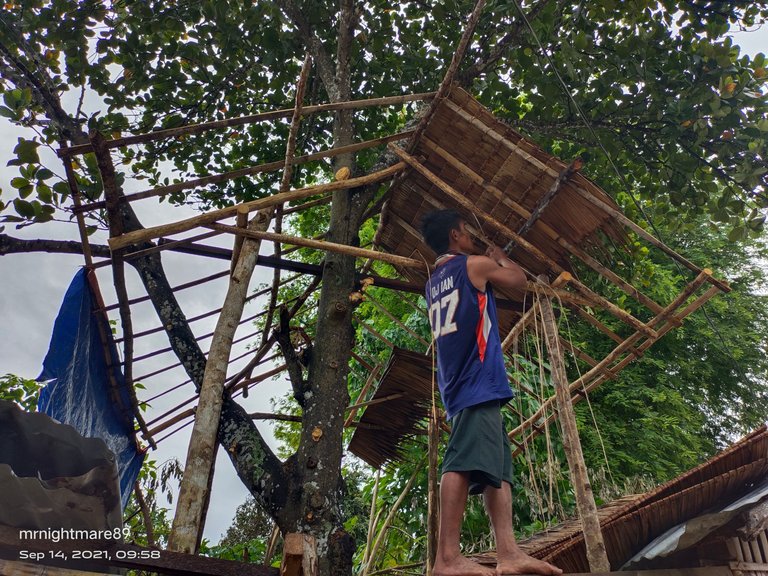 The foundation of it or the poste of it was a piece of wood. You can't see concrete material because that's how a "Bahay Kubo" should be. Okay, I know I don't have enough money to build a wonderful one that you saw wherever you are. Like those tall establishments and fancy houses. Actually, it's not about the money but it's about what kind of house I wanted to be in and it's obvious this is what I want.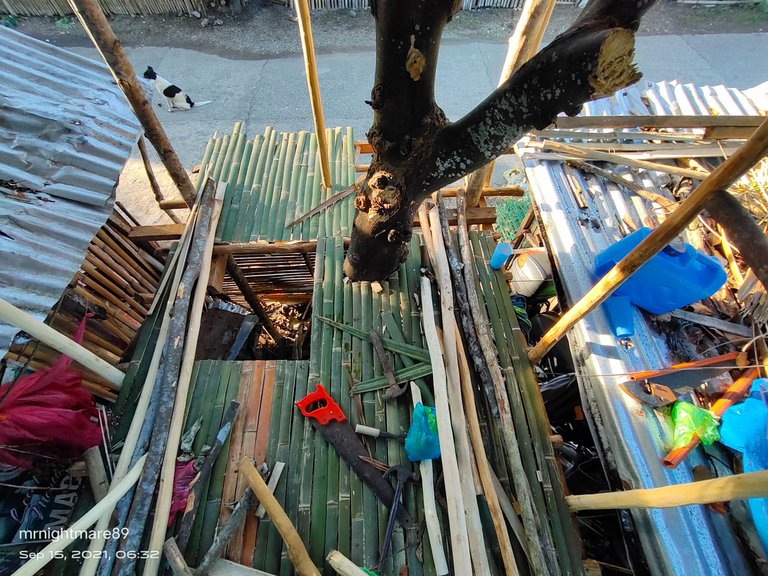 The floor of it was made from the bamboo tree as you can see in the image. Under this bamboo tree are pieces of wood to strengthen it. I used nails of it of course and oh I suddenly @itsmiessyonpeakd who donated HBDs to buy nails. I just hope she doesn't want me to use it myself to hang myself. No, just kidding, she's kind and sweet for those who know her but actually, I can't tell for now. Kidding. lol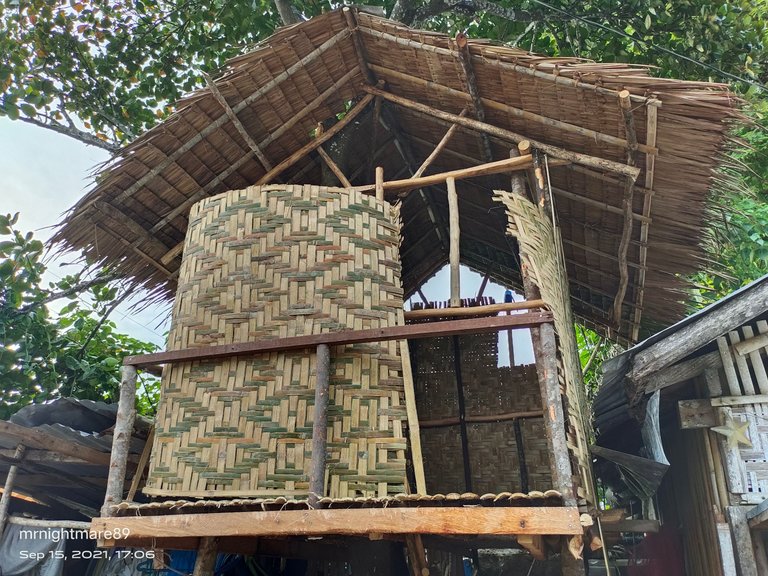 The wall of it will be from bamboo trees again but the bamboo made differently. It's called "amakan" and it was made from the skins of bamboo trees. I chose this one because it's easier to attach to help me not to pay more for the laborer. Also, this one is affordable but if you can see it's not finished yet. It's because it was miscalculated and the number of "amakan" was not enough. I'm still waiting for my earnings in the hive to buy another. lol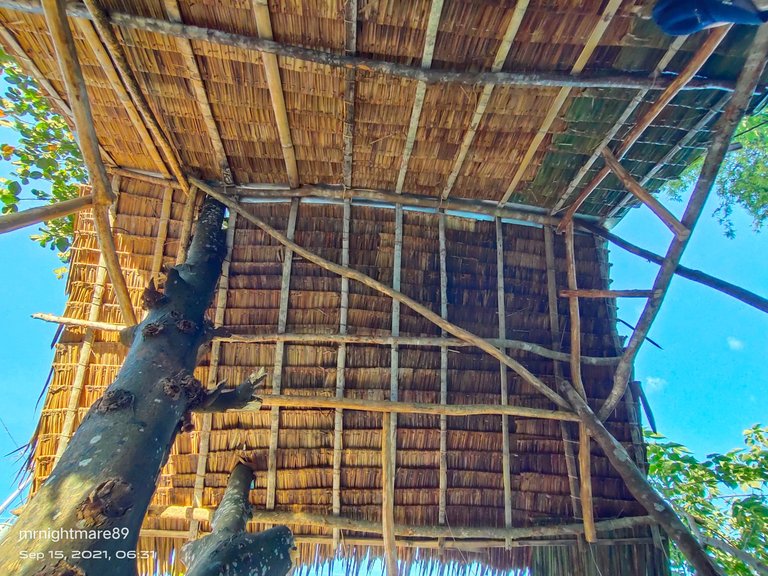 The roof was made from a nipa hut and it's finished because I prioritized it. I wanted to make sure the work will continue even if it rains. By the way, the nipa hut was made from a nipa tree. It's almost the same as a palm tree but it won't grow taller. I chose this to be my roof because my treehouse is tall and I want to avoid the hot temperature from the sun. Compared to galvanized iron, nipa hut is cooler but in terms of long-lasting. This kind of roof gets damaged easily because it's not hard to like iron.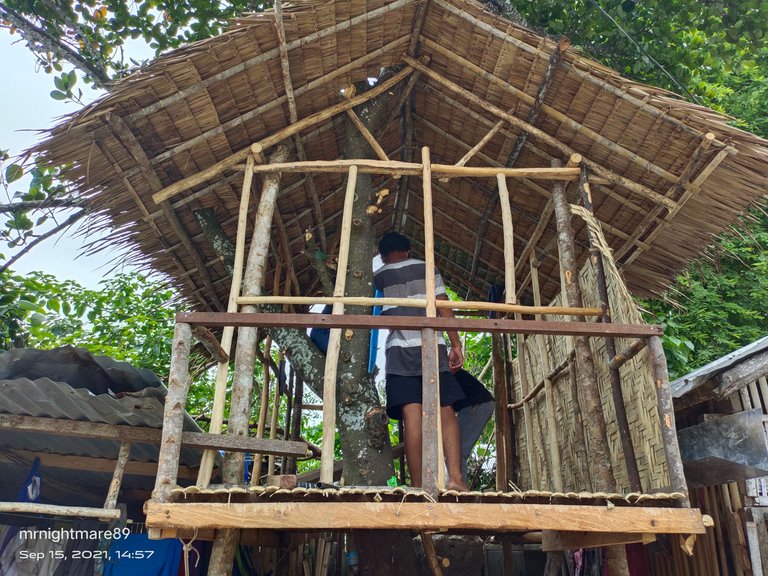 Now, I'm finished walking you through my treehouse. It is not finished yet but hopefully, this week will be. I'm so excited to live in this amazing house like it was in the old days. I will be updating next time when it's already finished.
Thank you for reading
All content is my own unless otherwise noted
If images are being recycled, I just found it fitted to my article.
ABOUT ME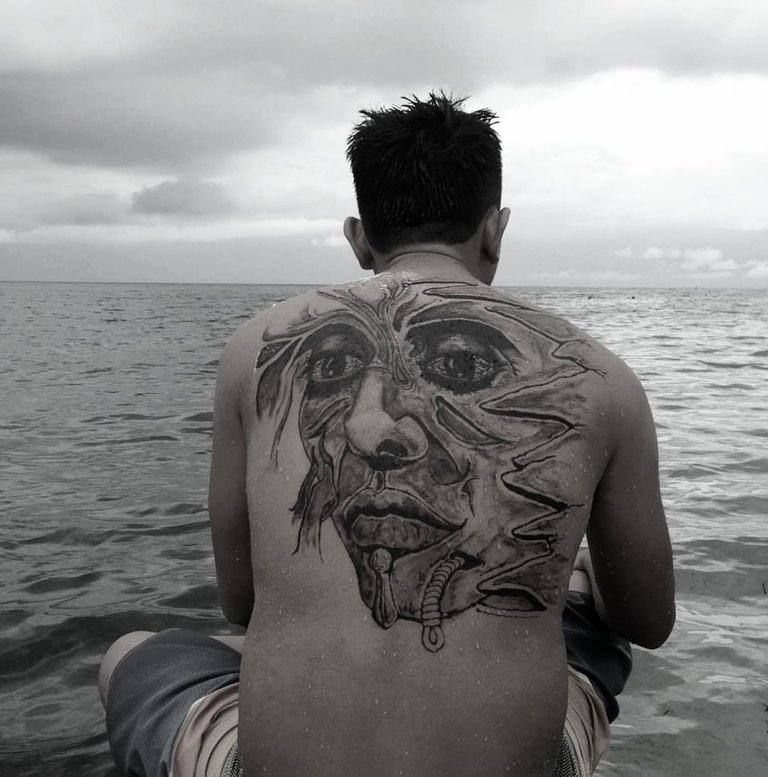 Paul is the name but prefers to be called mrnightmare that feels like living in the dream. A country boy and a dreamboy (dreamer) who likes to stay in a small village even though it means abandoning the future to become a seaman. The passion is writing but not sailing in the vast ocean. Don't wonder if the face will not be shown, this is better where the words can flow smoothly. Come, have fun with me talking about life events and random activities. It's fun to learn about life, don't hesitate, let's figure it out as we continue enjoying staying in this world.

---
---