(EN-TR) My love for Tori - Tori'ye olan sevgim😍💛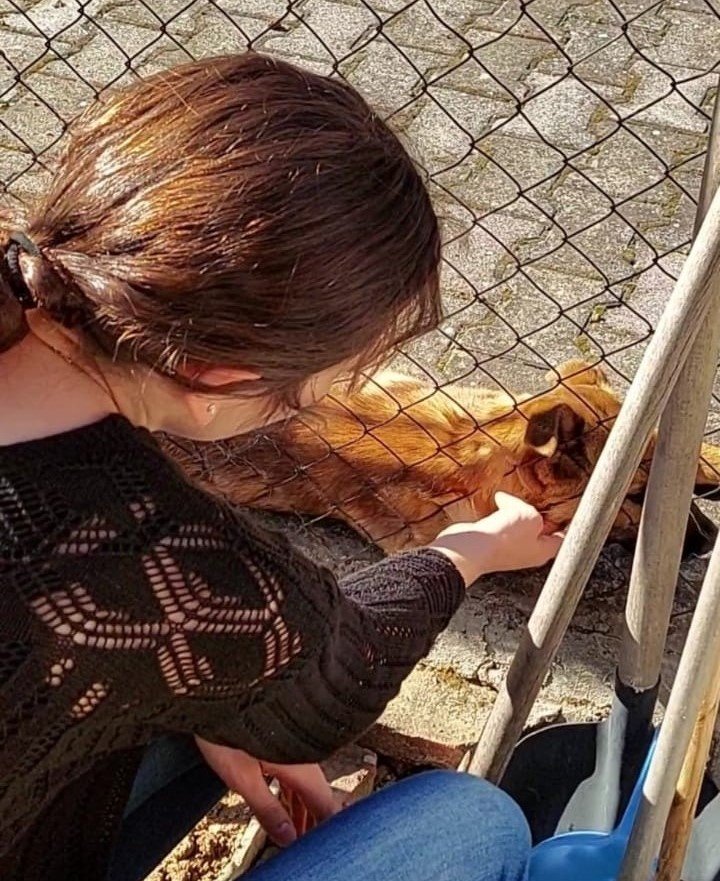 EN
Hello everyone,
I feel so good and loving today, I hope everyone is well.
First of all, I wish you all to be healthy and happy.
I think the seasons affect people's moods. Generally everyone likes summer. My favorite season is actually winter, although even I am sometimes affected on days when the weather is cold and overcast but what makes me happiest in winter is the sun smiling through the clouds despite the wind😊😊
When I woke up in the morning, I lifted the blinds and saw the winter sunshine and I was already filled with peace.
But what really made my day is this lovely TORI that I am going to introduce to you.
Today we played a little with him, we talked a little and we were good to each other.
Tori is our neighbor's dog. When I first , I loved him from behind this fence. He was just a puppy. Now whenever he sees me in the garden he comes and waits for me. No matter how much time passes, Tori never forgets how I love him.
Even though he is an owned dog, we have formed a bond of love. When he hears my voice, he leans her head against those wires. He does all the cute things to make me love him. When I step back a little, Tori reacts immediately. When he realizes I'm leaving, he hits the fence with her head. And we sit there with Tori until her owner calls him to give him food. He is not allowed to go outside without her owner because he is a bit active.
We know how smart dogs are. And how loyal they are. I sometimes think, he sees me every now and then and doesn't forget my attention. Who knows how strong the bond between him and his owner is. I can't imagine.
Sometimes I feel very sorry for him. When the owners leave for a few days, I hear the sound of Tori crying. He reacts to every sound he hears. He even keeps dragging his food bowl on the floor. He's obviously very bored. It's very sad. He doesn't go hungry, of course and every opportunity is provided for him but eating is not the only thing a living creature needs. To empathize, we can't be happy only when we are full. We need love, we need to communicate, we need to share. The strongest emotion I feel when my loved ones are with me is definitely the feeling of trust. That's why I understand Tori very well, loneliness is not for me either.
Until this age, the only animals I had at home were my fish. Now, unfortunately, I can't even feed fish, but I've always loved animals. Actually, I really want to, but I don't dare because I live abroad. I travel a lot, so I can't do this injustice to a creature in my own responsibility. I cannot entrust it to someone else. I cannot deprive them of the love I give them when we are apart. For this reason, I cannot adopt an animal.
But when I go out, every dog I see walking on the road, every cat in front of our door, every bird that lands on my balcony is actually mine. Somehow we communicate with all of them. They all need so much affection and attention that they endear themselves. What we need to do is so simple. Just stroking their heads is the easiest way to show our love.
In fact, the fly that landed on my screen while I was writing this article has been my guest since yesterday 😊 No joke, by the way. Yesterday morning when I opened the window to ventilate the house, it came in and didn't want to leave despite my efforts. I respected it. A black fly does not bother me as much as a mosquito 😊 My husband is much more sensitive about this issue than me. We cannot put an end to the right to life of any harmless creature. Even hitting flies is forbidden in our house. If we cannot take them out without harming them, we respect them and let them spend a little more time with us 😊😊
Lastly, I am ashamed for humanity because of the bad news about our animal friends. It shouldn't be so hard to be a good person.
My word to the unscrupulous people who do these evils: Don't show your love for them, don't caress their heads, don't put a bowl of water and food in front of your door. Don't do anything, just don't touch those innocent animals. Take your hands away from defenseless animals.
Our love is big, enough for all of them.
Thank you for reading this far and accompanying my memories.
Stay with love.💛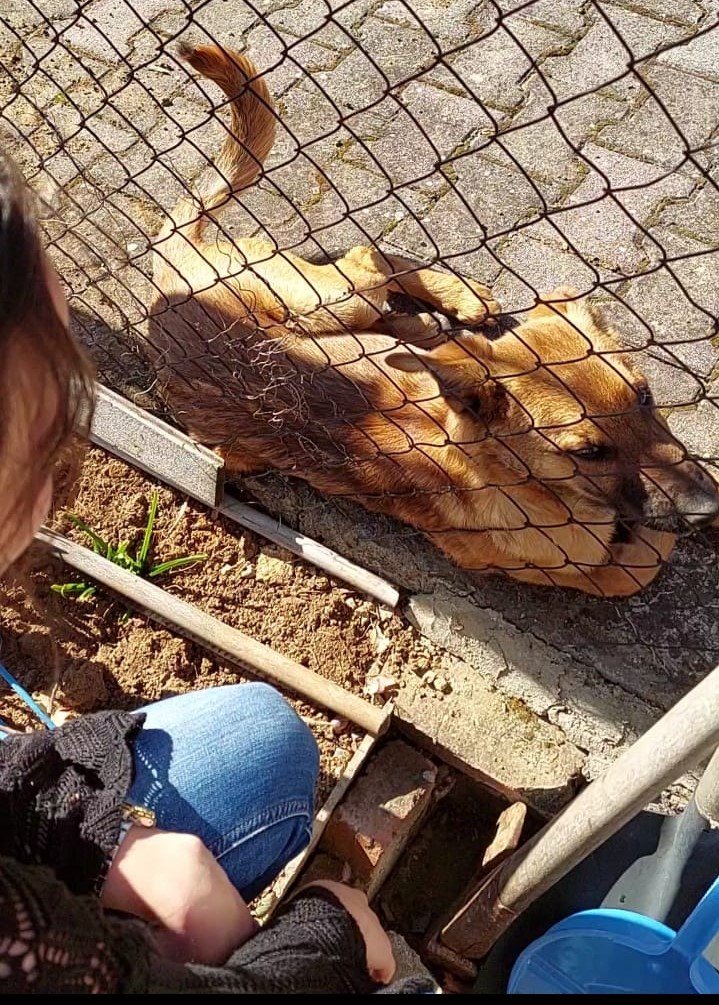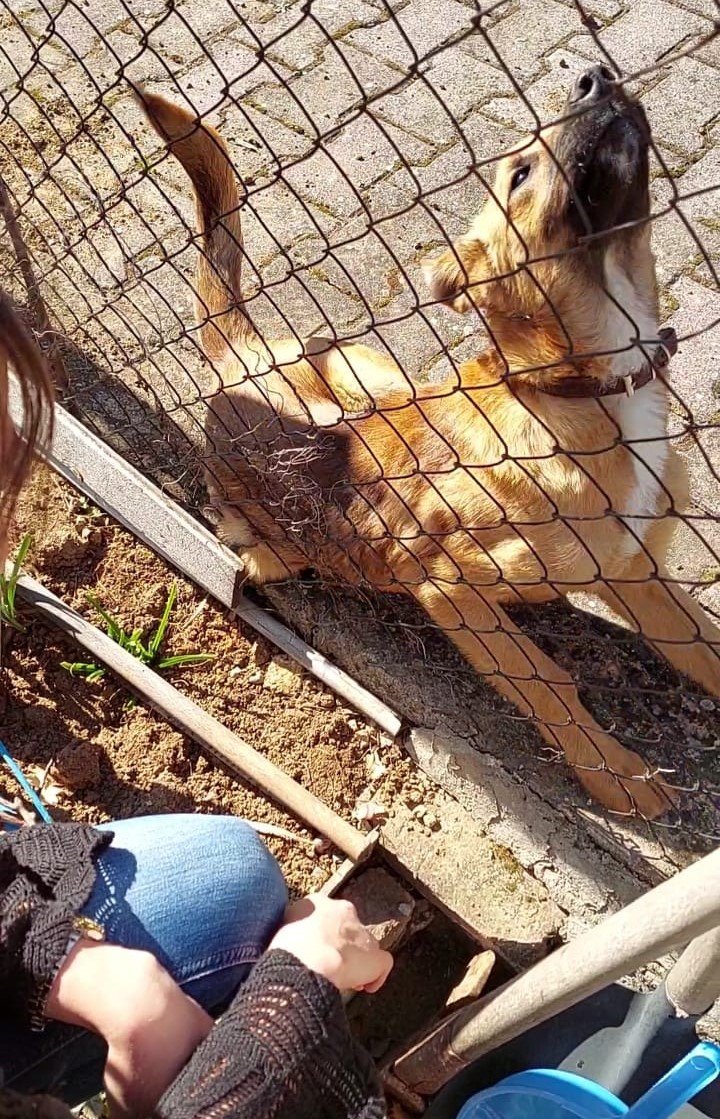 In the meantime, I wanted to show you this cute newborn dog that follows me when I go for a walk😍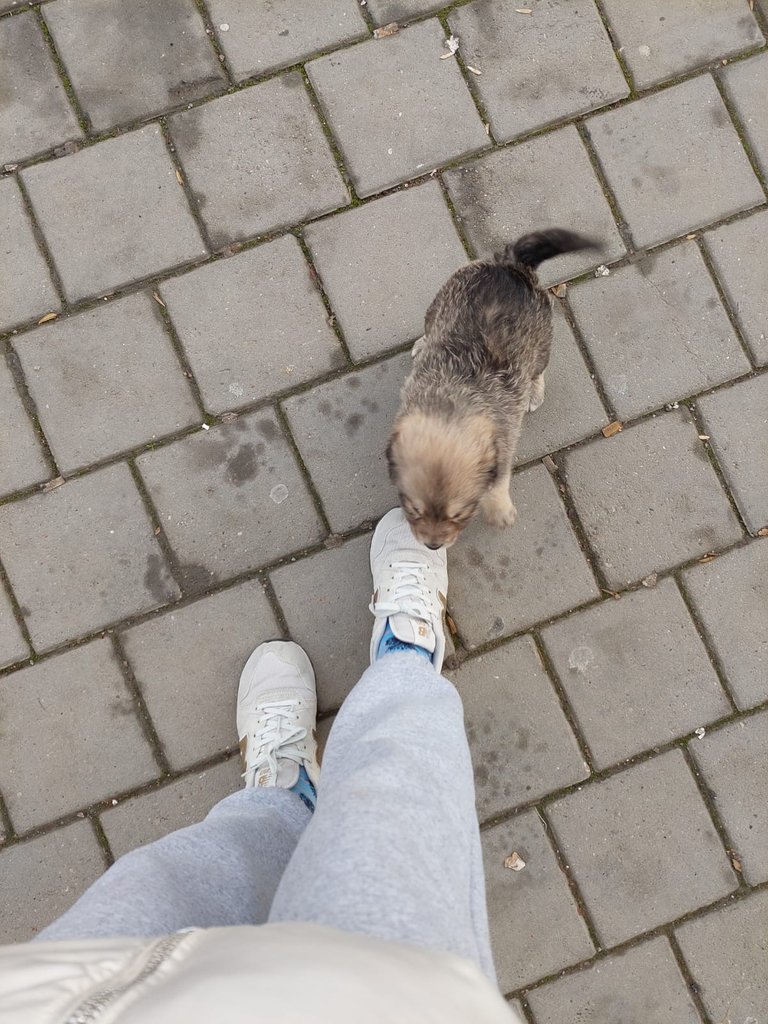 TR
Herkese Merhaba ,
Bugün kendimi çok iyi ve sevgi dolu hissediyorum. Umarım herkes iyidir.
Öncelikle hepinizin sağlıklı ve mutlu olmasını diliyorum.
Mevsimlerin insanın ruh halini etkilediğini düşünüyorum. Genelde herkes yaz mevsimini sever. Benim aslında en sevdiğim mevsim kış. Buna rağmen ben bile havanın soğuk ve kapalı olduğu günlerde bazen etkileniyorum. Ama kışın beni en mutlu eden şey rüzgara rağmen buluttan gülümseyen güneş😊
Sabah uyandığımda panjuru kaldırdım ve kış güneşini gördüm içime zaten huzur doldu.
Ama bugünümü güzelleştiren asıl şey size tanıştıracağım bu sevimli TORİ.
Bugün kendisi ile biraz oynadık, biraz dertleştik birbirimize iyi geldik.
Tori, bizim komşumuzun köpeği. Onunla ilk tanıştığımda bu tellerin arkasından sevmiştim. O henüz yavru bir köpekti. Şimdi beni ne zaman bahçede görse oraya gelip beni bekliyor. Aradan ne kadara zaman geçerse geçsin Tori benim onu nasıl sevdiğimi hiç unutmuyor.
O sahipli bir köpek olmasına rağmen aramızda bir sevgi bağı oluştu. Sesimi duyduğunda başını o tellere yaslıyor. Onu sevmem için tüm şirinlikleri yapılıyor. Biraz geri çekildiğimde Tori, hemen tepki veriyor. Gideceğimi anladığında başıyla tellere vuruyor. Ve sahibi onu yemek vermek için çağırana kadar biz Tori ile orada oturuyoruz. Biraz hareketli bir köpek olduğu için sahibi olmadan dışarıya çıkmasına izin verilmiyor.
Köpeklerin ne kadar akıllı hayvanlar olduğunu biliyoruz. Ve ne kadar sadık olduklarını. Düşünüyorum bazen, beni arada sırada görüyor ve ilgimi unutmuyor. Kim bilir sahibi ile arasındaki bağ ne kadar güçlüdür. Tahmin edemiyorum.
Bazen onun için çok üzülüyorum. Sahipleri birkaç günlüğüne evden ayrıldıklarında Torinin ağlama seslerini duyuyorum. Her duyduğu sese tepki veriyor. Hatta yemek kabını sürekli yerde sürüklüyor. Canı çok sıkılıyor belli. Bu çok üzücü. Aç kalmıyor onun için her türlü imkan sağlanıyor elbette. Ama bir canlının ihtiyacı olan tek şey yemek yemek değil. Empati yapmak gerekirse sadece karnımız doyduğunda mutlu olamıyoruz. Sevgiye ihtiyacımız var, İletişim kurmaya ihtiyacımız var, paylaşmaya ihtiyacımız var. Benim sevdiklerim yanımdayken en güçlü hissettiğim duygu kesinlikle güven duygusu. Tori yi bu sebeple çok iyi anlıyorum. Yalnızlık bana göre de değil.
Benim bu yaşıma kadar evimde beslediğim tek hayvan balıklarımdı. Şimdi maalesef balık bile besleyemiyorum. Ama her zaman hayvanları çok sevdim. Aslında çok istiyorum ama yurtdışında yaşadığım için cesaret edemiyorum. Çok sık seyahat ediyorum. Bu yüzden kendi sorumluluğumda bir canlıya bu haksızlığı yapamam. Bir başkasına emanet edemem. Ayrı kaldığımızda onlara verdiğim sevgiden mahrum bırakamam. Bu sebeple bir hayvan sahiplenemiyorum.
Ama dışarı çıktığımda, yolda yürürken gördüğüm her köpek, kapımızın önünde ki her kedi, balkonuma konan her kuş aslında benim. Bir şekilde hepsi ile iletişim kuruyoruz. Zaten hepsi okadar şevkate ve ilgiye muhtaç ki kendilerini sevdiriyorlar. Yapmamız gereken ne kadar basit aslında. Sadece başlarını okşamak, sevgimizi en kolay gösterme şekli.
Hatta bu yazıyı yazarken ekranıma konan sinek te dünden beri benim misafirim 😊 Şaka değil bu arada. Dün sabah evi havalandırmak için camı açtığımda içeri girdi ve uğraşıma rağmen çıkmak istemedi. Bende saygı duydum. Kara bir sinek, sivri sinek kadar rahatsızda etmiyor 😊 Eşim bu konuda benden çok daha hassas. Zararsız hiçbir r canlının yaşama hakkına biz son veremeyiz. Bizim evde sineklere vurmak bile yasak. Zarar vermeden dışarı çıkartamazsak saygı duyup bizimle biraz daha zaman geçirmelerine izin veriyoruz 😊😊
Son olarak, bu sıralar hayvan dostlarımızla ilgili gündemde olan kötü haberlerden insanlık adına maalesef utanıyorum. Bu kadar zor olmamalı iyi insan olmak.
Bu kötülükleri yapan vicdansız insanlara sözüm: Siz olmayan sevginizi göstermeyin, başlarını okşamayın, kapınızın önüne bir kap su ve yemek koymayın. Siz hiçbir şey yapmayın.Yeter ki dokunmayın o masum hayvanlara. Ellerinizi çekin savunmasız hayvanlardan.
Bizim sevgimiz büyük, hepsine yeter.
Buraya kadar okuduğunuz ve anılarıma eşlik ettiğiniz için teşekkür ederim.
Sevgi ile kalın.💛
Bu arada yürüyüşe çıktığımda peşime takılan bu yeni doğmuş şirin köpeği de göstermek istedim 😍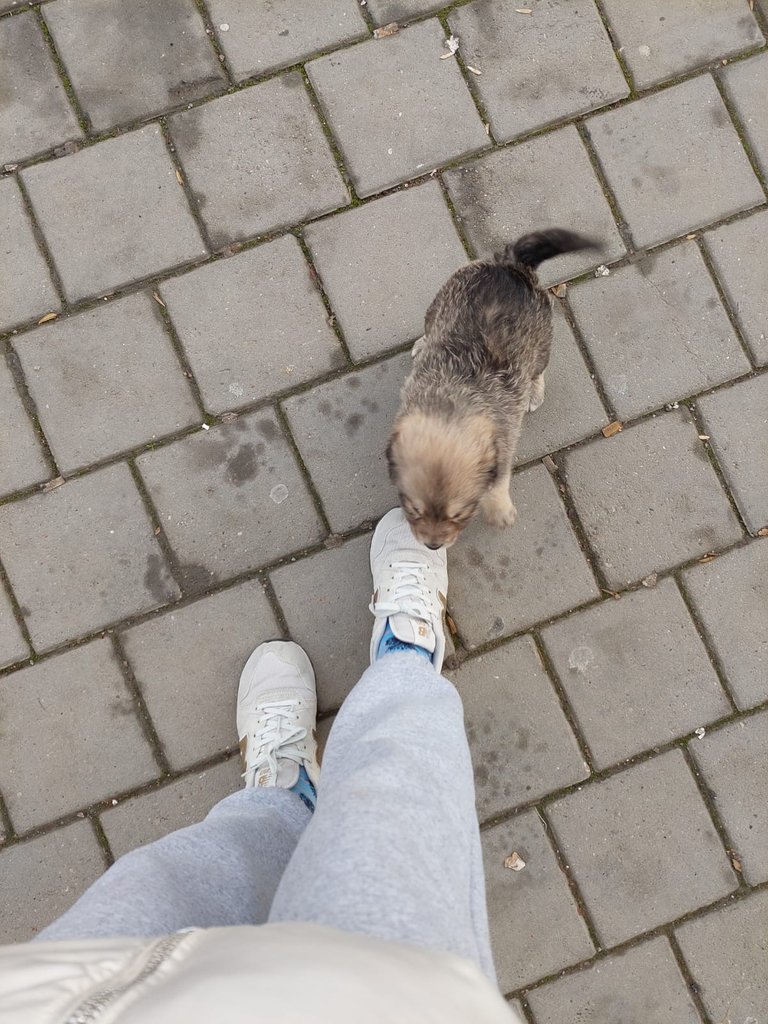 ---
---