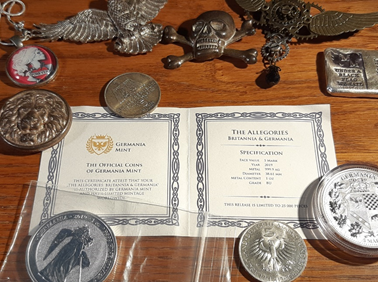 P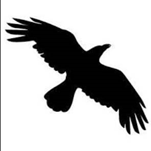 " Blackbirds tend to like Shiny Things" ~ The Bloody Raven
I know its Monday. Had a challenging week but let's go with it.
These two coins literally took my breath away.
Set at a price at a steep 90% and 100% respectively above the bullion value it was high enough to give pause in reconsidering that there was no way I can flip these for a short-term profit. But Profit was not my goal.
It was to be a little sub theme collection of empowered women (Gals with kick arse weaponry to be exact) and that started with Silver Bullet- Silver Shield's Sic Semper Tyrannis. I'm simply delighted since joining...

The Coin/Medallion
2019 Germany 5 Marks: Germania
Reverse; Allegorical Woman with a shield and broad sword
Legend: • GERMANIA • 2019 • 1 OZ • 9999 FINE SILVER •
Artist: Natalia Danysz
Diameter 38.61mm, Thickness: 2.9mm
Fine Silver 0.9999
Weight 31.1g
Edge: Reeded
The choice of the personification of Germania as the main motif of the obverse was obvious – strong, valiant and devoted to the matter. ~Germaniamint.com
Though this version of the Germania is Natalia Danysz' interpretation of the iconic symbol, the allegory has seen different interpretations through the years. Rather than the Breast plate with the Bicephalous Eagle Danysz placed on the heraldic Shield representing protection and strength and at the same time gives the overall imagery it's distinct European origins. The long flowing gown rather than armor symbolizing purity and the nurturing mother. Kept is the broadsword symbolizing power and the readiness to fight.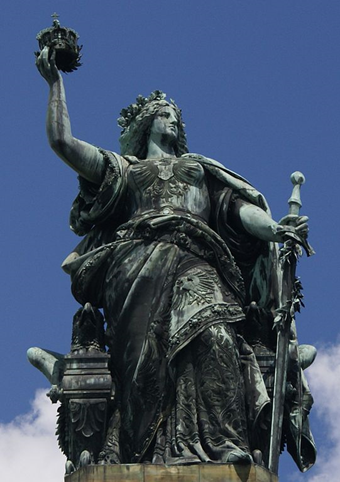 W1
The Bloody Raven's eye does recognize a few detracting issues with her majestic feminine form is combat practicality.
First is the armament, unless Germania has exceptionally strong arms and shoulders it is profoundly difficult for most gals to sufficiently wield both a heavy shield and broadsword to attack and or defend. Hence, this pirate gal's preference to two-handed weapons and rely on speed and agility. This can free up one hand for holding other symbols like; Oak, Laurel, Olive branches or a Smartphone 😁 for that important selfie.
Second is the floor length gown. Ladies, ever combat in floor length dress? Well I have at least sparred in such. And I tell you skirts get in the way of foot work so make it knee length if it has to be a skirt. Clinchers and corsets are for a great for the hourglass figure look but to fight you got to breathe too so loosen it.


2019 Germany 5 Marks - Numista; Germania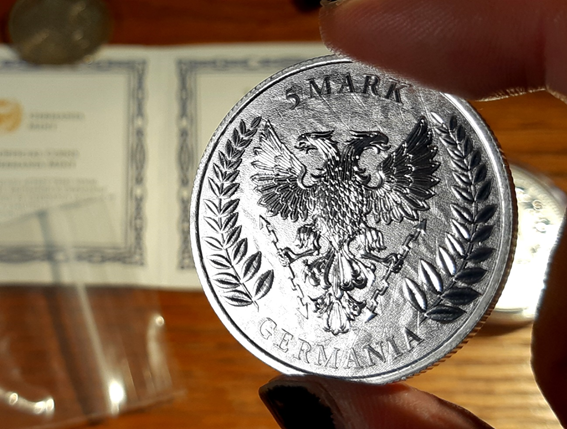 Obverse; Bicephalous eagle with Laurel branches
Legend: 5 MARK GERMANIA
Artist: Natalia Danysz
Classification: Token Exonumia
Germania Mint
Mintage: 25,000
The Bicephalous eagle crest has it's origins with the Roman empire as Germania was a pre-European Roman Province.
While the Laurels represent victory and wisdom, Germania could have Oak leaves representing heroism or Olive leaves Symbolizing a Peace maker.
My Next Coin/Medallion
2019 Germany 5 Marks: Germania & Britannia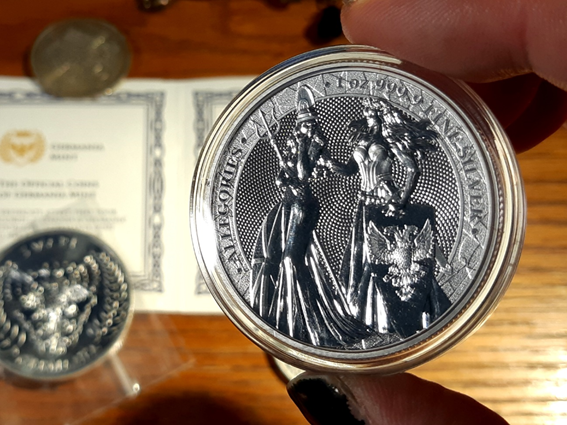 Reverse; Allegorical Germania with Shield & Britannia with Trident
Legend: ALLEGORIES 1 OZ 999.9 FINE SILVER
Artist: Natalia Danysz
Diameter 38.61mm, Thickness: 2.9mm
Fine Silver 0.9999
Weight 31.1g
Edge: Reeded
The release of Britannia and Germania coin came on the heals of a politically sensitive event, Britain's vote to leave the Euro. The body language says it all. It was as if Natalia alluded to the politically fueled lack of candor between the two positions; To Brexit and be Independent or Submit to the Authority of the EU.
I think I will have a bit of fun with a Caption to this coin. What could they be talking about?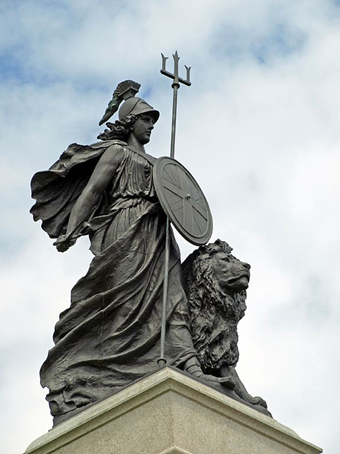 W2
The Roman empire long considered Britannia as the allegory representative of their distant island province. Britannia is typically outfitted with the Corinthian helmet, Macedonian Hoplite Shield, Poseidon's Trident and prior the Victorian era, has been commonly portrayed throned by the sea sometimes with a Lion or a ship in the background.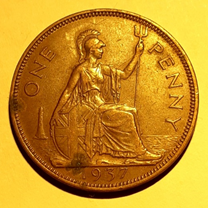 1937 United Kingdom [Penny](
https://en.numista.com/catalogue/pieces669.html
) George VI
My 'Brit and Gertie' Caption
Britt turns her head and looks at her Tea-Time guest in the eye, "Gertie you're not thinking right, has your corset has cut off the circulation to your brain."
Gertie reached out her hand on Britt's shoulder to assure her long-time friend, "Look Brit, Aunt Merkel and the Club will make the tough decisions for you. Just pay the annual 5 Billion Euro fee, relax and hand your sovereignty to us pros in Brussels. We will tell your people what to do, what to say, and believe. It's all centralized for your convenience."
"And after all this time your counter proposal is … we now don't get a vote in the club?"
"Why vote? Consider it a temporary little no-no for even considering the unwritten rule of not breaking rank. Trust me, I'll amend that after your people beg to get back in." Gertie gestures her left hand against her flowing golden locks, "Ya, I can hear your little people begging to rejoin our EU club. Low interest loans, meet wonderful people from Syria and Africa, redistribute the wealth, its the global thing to do! Everyone will be joining!"
Better stop here to avoid being too political. But we already know her answer.
2019 Germany 5 Marks - Numista; Germania & Britannia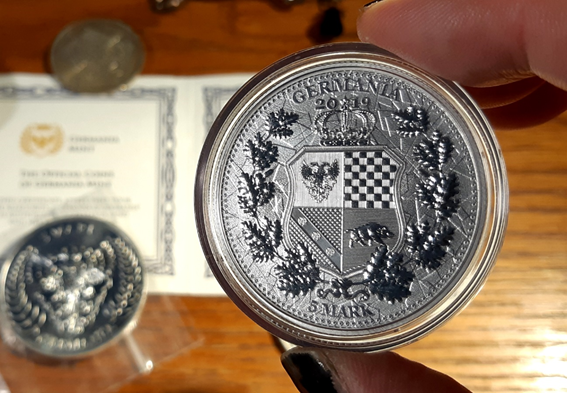 Obverse; Germania coat of arms surrounded by branches of oak leaves
Legend: GERMANIA 2019 5 MARK
Artist: Natalia Danysz
Classification: Token Exonumia
Germania Mint
Mintage: 25,000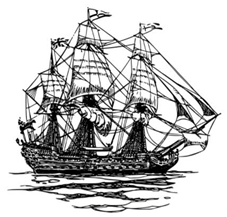 P
So, what do you think of these coins?
Can you think of a fun caption for Britt & Gertie?
Please comment and thank you for stopping by my Blog today.

R
The #worldcoinwednesday tag is one of many strategic tags hatched by none other than the TAG MASTER @silverd510 to take over all the social block chains one post at a time. Give in to the Master and reveal your wondrous silver world coins.
References
1. My own pictures shot with a Samsung SM-A530W
P. Image under Pixabay
R. Clip art from 123RF
W. Wiki Commons
Sources
W1 Germania Allegory Germania by Olllli under Creative Commons 2.5
W2 Britannia AllegoryBritannia on Plymouth Hoe by Mageslayer99 under Creative Commons 3.0
Website Germania Mint
Numista: Bullion Germany
Wiki: Germania Personified
Wiki: Britannia allegory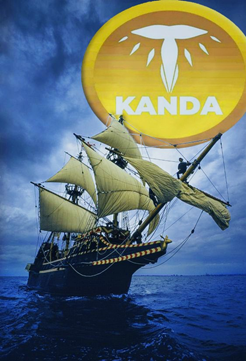 To Educate Africans of the benefits of the Block chain
Crypto Rain Alert on Discord, https://discord.gg/cmbSM5B


"Et lux in tenebris to serve laboro, sum sicarius" "I work in the shadows to serve the Light, I am an Assassin"