Before you get all excited, this isn't some sort of new crypto website offering an airdrop. I'd be the last person on Hive to know about these sorts of things.
---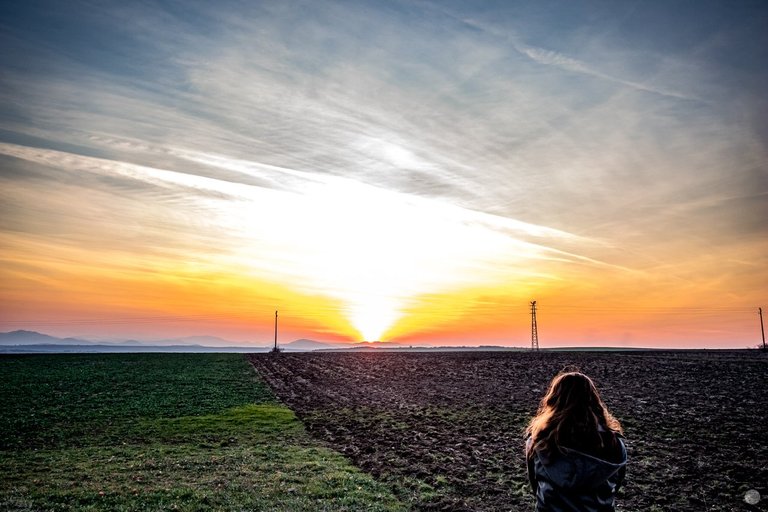 Image credit @lightcaptured c/o Stock Images for Hive
What is Everyone's Invited?
Everyone's Invited is a website set up last year in UK to combat the rape culture. It allows people to post anonymously, their accounts about sexual harassment, abuse or even rape they suffered. To date, the website has over 8000 testimonials (it had over 6000 a couple of days ago over the weekend).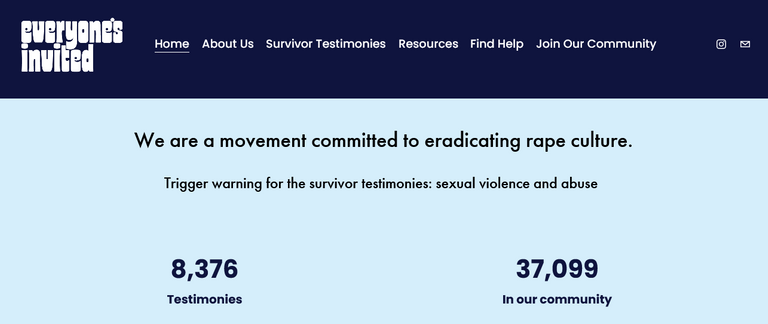 Some victims have cited incidents that happened when they were as young as 10. Many incidents happened at school and names the school as well. These include well known presitigous public schools (private fee paying schools in UK) as well as some state schools and universities. Here are some testimonials from the website
"When I was in year 9 a few boys in my class suddenly "took an interest" in me and between classes, when there was a crowd in the corridor, they would push me up against the wall and I would have 5-10 boys all groping me at once. It went on for months. Teachers saw and did nothing, I guess they thought I liked it."

- Wanstead High School

"A boy at my school publicly showed a girls nudes to all the other guys around him. More and more boys kept asking to see and he showed them and they were rating her body. I told them to stop and they said that she shouldn't have sent them to him in the first place and that it was her stupid decision."

- The Haberdashers' Aske's School

"When I was 14, my best friend drugged me and then raped me in another friends house - there was only 8 of us there. He then left and told the others he didn't feel well and that I was asleep upstairs. I became fully conscious again a few hours later and my mum picked me up at 11pm - no one knew what had happened until I told some friends a few years on. It's exactly 4 years today (11th March) since it happened. I never reported it as I was too scared and knew the system is set against victims even at such a young age."

- Merchant Taylor's School Liverpool

The website has gained a lot of traction in recent weeks, probably fuelled by the Sarah Everard incident, and has now led to a cross government investigation to look into the matter.
---
Sarah Everard
Sarah Everard was a 33 year old marketing executive living in south of London. You notice I said "was". On 3 March 2021, Sarah was walking home in the evening, she even spoke to her boyfriend on the phone arranging to meet up the next day. When she failed to turn up the next day, the boyfriend called the police to report her missing. A week later, Sarah's body was found in the woods some 90km away from where she was last seen on CCTV. She was abducted and subsequently murdered - a London Metropolitan police officer has been arrested.
The incident caused a major uproar over women's safety in UK. A vigil was organised on 13th March in London, but was subsequently cancelled when the organisers failed to get High Court approval under Covid restrictions. Despite that, hundreds still turned up to pay their respects. Some activist groups also turned up.
The police tried to break up the vigil, and ended up arresting four people. If you need to pour oil on a burning fire, this is how you do it.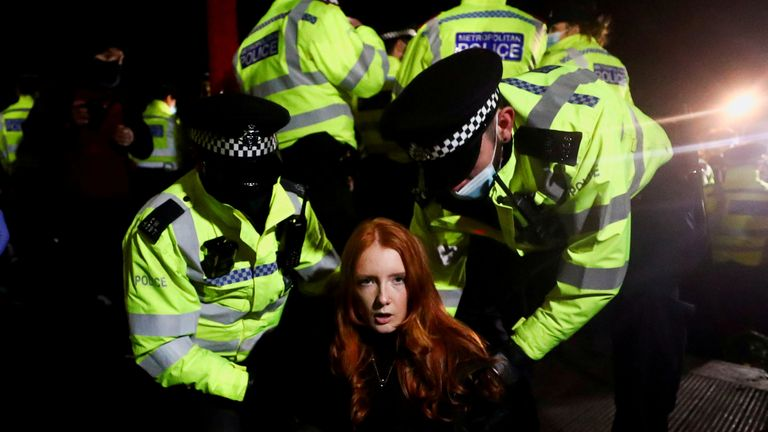 Image credit : Sky News
The clash between adhering to Covid regulations, one's right to protest, the police manhandling people at the vigil, women's frustration that they can't feel safe walking on the streets all exploded like popping open bottle of champagne. Only this was not a celebration. It's likely these events contributed to many women to air their frustrations and grievances on Everyone's Invited.
---
Nirbhaya from India
Women's safety, or the lack of it is not something that has suddenly cropped up in recent years and is not limited to UK. Where it really left a mark on me was the Nirbhaya case in 2012.
Nirbhaya means fearless in Hindi and refers to the 23 year old victim who was gang raped by six men in Delhi. The victim boarded a bus one evening with a male friend. The six men, the youngest being 17 at the time, were already on the bus, one of them was the driver. The monsters gagged and beat up the male friend really bad, and then started to gang rape the victim. It was the most brutal attack, beyond anything you could, and ever want to imagine. Once the monsters were done, they threw the victim and her male friend off the bus onto the road, naked and injured, left to die. The six monsters, plus foreign objects injured the victim's internal organs (abdomen, intestines, genitals) so bad that she had to be flown to Singapore for surgery. She died from her injuries two weeks later.
The reason I felt so horrified about the Nirbhaya case is the mentality and actions of these monsters. Disregarding human life like crunching up a piece of paper and then throwing it into the waste basket.
---
No means no
Rape culture, sexual abuse, cat calling, porn revenge, misogyny, lads banter, it was just a joke, peer pressure, they're just kids they mean no harm, wolf whistling, shame culture, slut shaming.... these mentality have no borders. They are why so many of us feel unsafe to walk on the streets at night. They are why lives are scarred and ruined because someone thought it was ok even when we said no. No means no, it never means anything else.
It is no surprise that the testominials on Eveyone's Invited has shoot through the roof recently. So much that schools named in the website have rushed forward to damage control their reputation. A national task force will be set up, headed by the police working in conjunction with the Department for Education, the Home Office and the Department of Health to investigate these claims.
The task force will look into the past cases, and hopefully prosecution will come for those predators. But what do we do about the future to eradicate this rape culture?
---
In the few hours since I've started writing this post, the number of testimonials on Everyone's Invited have gone up from 8376 to 9611. Pretty sure this is just the tip of the iceberg.