Hey Jessbankers
For years those who have been in crypto have had a love-hate relationship with the traditional financial system. The essence of Bitcoin is routed in creating an alternative monetary system that runs parallel to the world economic system and allows us to opt-out in times or use this system should we become disillusioned, oppressed or excluded from the traditional system.
Certain Bitcoiners, like the maximalist and far-left, would say we don't need them, while the more capitalist right side would be saying we need them to come on board to add legitimacy for mass adoption.
Both sides have their point, and I would lean more left, so that you know my biases on this topic.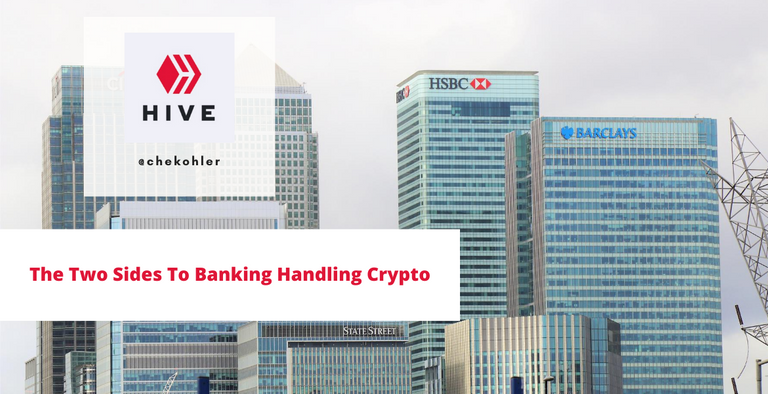 First they ignore it and make fun of it
When crypto came around, many financial institutions discredited it, said it was a bubble and it would be gone as quickly as it came. As it continues to soldier on despite the internal politics, teething issues and growing pains, we've brought legitimacy without the need for institutional support.
Bitcoin has been one of the most resilient protocols I've ever seen and even though it's more centralised than I would like it's still our best bet at achieving sound money. They've tried to take it down with FUD and a range of narrative pieces, they've tried to take it out with regulation, they've tried to take it down with financial sabotage and market manipulation, and yet we're still here.
Now that they are starting to realise it won't be an easy way to take this down, they want to make it part of the system and take it down from the inside and rob the individual of their right to private money.
Pros of banks holding crypto
It would be a huge step for normies, getting in and swapping over crypto into fiat and back, opening up the world of finance 1.0 to finance 2.0 and these off ramps and on ramps can make it easier for normies.
It's also a huge step for legitimacy from the money hogs and such as investors and family offices wanting to get into the space.
Also, there would be a way for normies to feel "safer" ironically, getting into crypto and adding more liquidity to the market, so volatility is reduced.
This will also bring more competition into the space of on-ramps with exchanges being notorious for being under capitalised or faking volumes.
These exchanges also do not have adequate cover such as insurance for deposits so banks could help with this.
Cons of banks holding crypto assets
As far as I can find now, this is only limited to Bitcoin, and I think its for the simple reasons that they know this is the one they want to control. If they can centralise more of the BTC funds, they also have a big say over the entire crypto market.
Additionally, if they cannot get control as HODLr's do not relent, they could select altcoins to "legitimise" and push funds into these currencies to try and disrupt the market.
Leaving your BTC with banks also leaves you open to things like bail-ins and allowing them to collateralise their bank and leave you with shitty fiat that is being debased.
Banks holding your BTC also eliminates a big part of the BTC experience which is owning your own money and lull customers into a false sense of "owning" Bitcoin.
How I see it
I think we should use the banks the same way they have been using us for years, using it an onramp to get into crypto and then taking full ownership of our funds. A total bank run, while I don't think they'll allow it, we'll have to find ways to hold ownership of our funds or risk a repeat of the situation we find ourselves in with fiat money.
While we could always fork and move, it would be a significant knock losing ownership and the decentralisation of Bitcoin.
Have your say
What do you good people of HIVE think?
So have at it my Jessies! If you don't have something to comment, comment "I am a Jessie."
Let's connect
If you liked this post, sprinkle it with an upvote or esteem and if you don't already, consider following me @chekohler and subscribe to my fanbase
| Browse & Earn Crypto | Stack Sats For Free | Earn Interest On Crypto |
| --- | --- | --- |
| | | |
---