If Bitcoin's dominance falls it means that it is investing in Alcoins.
I will analyze the dominance of bitcoin with elliot waves to be able to estimate how far it could fall.
Let's see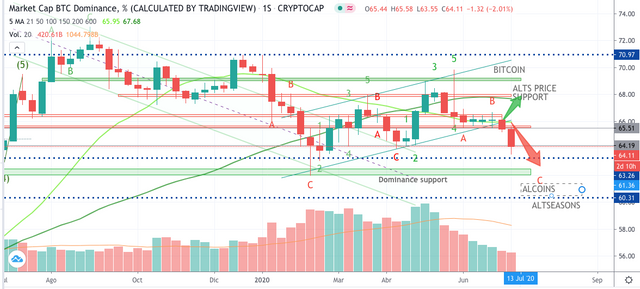 As we saw in the last few weeks, the price of Bitcoin has entered a descending channel, but at the same time we are seeing that the Bitcoin domain that leaves the bullish channel
Weekly analysis
Bitcoin's dominance has been moving for months within an ascending side channel which it broke last week.
Bitcoin's dominance in recent weeks is below 68 points, which is good for Alcoins.
Looking at the weekly chart, we see that Dominance has broken the 50-period MA line and the 21-period MA line.
Daily analysis
Bitcoin's dominance has regressed, is no longer lateral and this week has broken supports of 65%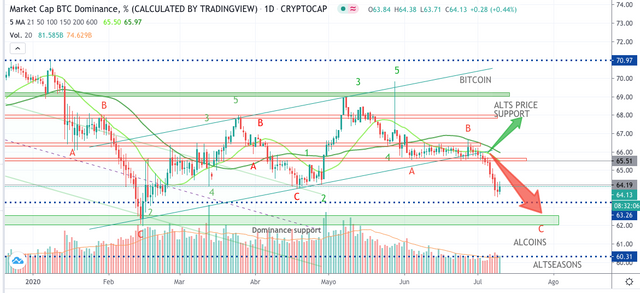 If we analyze with elliot waves we can identify a setback ABC, where AB we can identify them and project C
This would give a drop to 62% dominance, which would be good news for the alcoins.
Why is it important for the domain to go down?
Because reducing Bitcoin's dominance would indicate that cryptocurrency prices with good projects and good volume could continue to recover value
The variation in the past few days means that investors have sold Bitcoin, the volume has decreased.
Investors are withdrawing the profits from Bitcoin, but they have invented in Alcoins, that's why we see a fall in the volume of the domain and a rise in prices in alcoins.
If it reaches 62% dominance it could form a double floor ending up forming the C wave of elliot.
Key points
Halving. Bitcoin's halving has already occurred, according to the story, weeks after the price has started a bullish recovery. In the long term, there have been increases in the price of Bitcoin sometimes accompanied by Alcoins and other times not.

RSI 1D shows levels lower than the average level on the daily chart. 1D chart shows oversold levels

The volume of the Bitcoin domain has decreased in recent weeks, but more in the last days

Domination has lost the ascending channel, and could form a double floor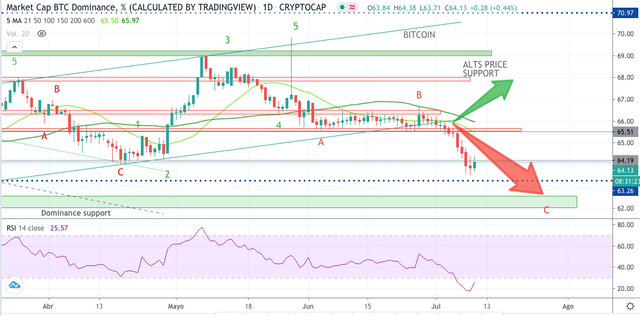 We have several possibilities to explore the price of Bitcoin and how the domain would affect the alcoins
Minor Price Corrections or Increases in Bitcoion
If bitcoin's dominance continues to decline due to a slight price correction, after which it lateralizes bitcoin's value, which it has done in the past few weeks, it would be good for alcoins.
The breakout of the bullish channel, weeks ago, has been good for alcoins because the price correction was slight, the dominance has regressed, allowing some alcoins to recompose their prices, to continue next week, it would allow them to continue recomposing prices.
Strong Increases or Strong Corrections, in the price of Bitcoin
Bitcon's dominance is key, facing a rapid rise in Bitcoin's price can trigger a rise in dominance and lower the price of alcoins (investors take liquidity from alcoins to increase Bitcoin's price).
You can lower the price of bitcoin (strong correction) and increase the domain, investors take refuge in Bitcoin by selling their alcoins
A large bearish correction in the price of Bitcoin with a large candle could damage the entire crypto market, seeing a general drop in prices. With months of recovery as we have already seen
Conclusion
For now we see corrections or slight increases in the price of bitcoin, we should continue this trend if the intention of large investors is to take positions in the alcoins before a possible crypto bull market in the coming years
But the world crisis that broke out a few months ago continues, and an uncertain future opens for all markets including Bitcoin and all alcoins.
What you think?
Remember to give your post a vote, Always support good content. Thanks
Follow me it costs you nothing and you get a Healing Reward with Your Vote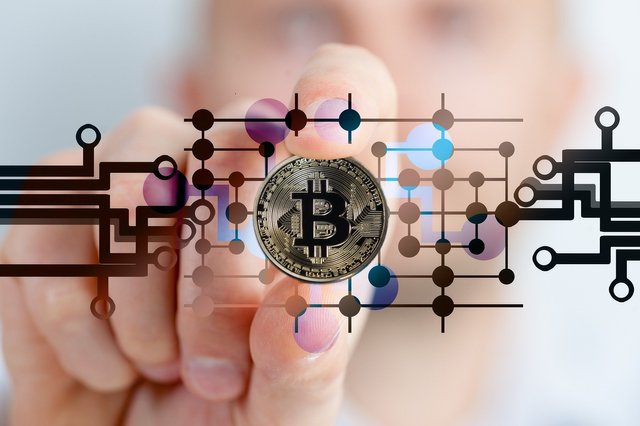 Protect your assets use Stop loss
The alcoins market is very dependent on the price of Bitcoin, when Bitcoins goes up the alcoins go up more, but also in the other sense, so I suggest that you periodically review a Bitcoin and use stop loss and move it when they are already in profit. Do not let a profit become a loss.
We will continue monitoring
To be attentive
Protect your Investments
Feel free to use and share my post or graphics, but please mention, @criptoar as the author. Otherwise, consider plagiarism and I will call you and advise my friends to do the same.
READ DISCLAIMER: this publication / analysis is only for general information purposes. I am not a professional trader and I will never be a financial advisor. The material in this publication does not constitute any trading advice of any kind. This is the way I see the paintings and what my ideas are.
Perform your own analysis before making an investment decision. Use money that you are willing to lose if you make an investment.
If you make exchanges or investments after reading this publication, it is entirely at your own risk. I am not responsible for any of your gains or losses. By reading this publication, you acknowledge and agree that you will never hold me liable for any of your profits or losses.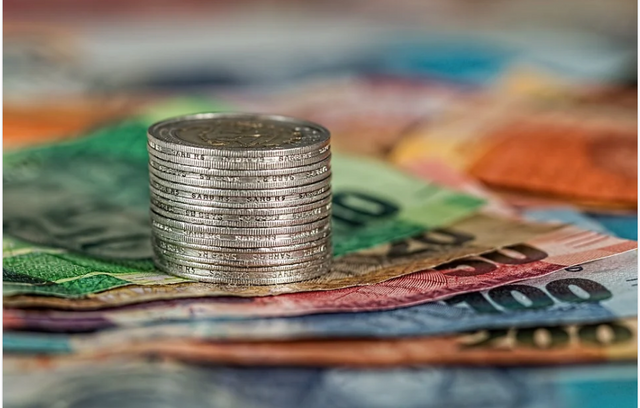 For your vote or comment, thank you