What makes Bitcoin valuable?
Bitcoin and other currencies are valuable because they can be used as a store of value that can be transferred between individuals or corporations. Concretely any currency that have value should have the following characteristics:
Scarce: The supply of a currency should be controlled. By controlled I mean that if the supply is too large it will result on a collapse or its value will be reduced to almost 0.
Divisible: To be used as a medium of exchange it should be divisible to reflect the value of the goods and services.
Usable: To have value people should be able to use it and trade it for other goods and services.
Transferable: Individuals or companies should be able to transfer it in a reliable and trustworthy manner.
Durable: It has to remain usable over time.

Source
Is people really using Bitcoin?
One way to analyze the value of a cryptocurrency is by its market capitalization. However, I don't think this is the best way to approach this. I believe that one metric that should be considered when talking about the value of a cryptocurrency must be the actual usage, the number of transactions of the network.
This metric can be gamed, specially in the "free-to-use" blockchains where there is a really low or non-existent fee applied to each transaction.
But in the Bitcoin network where we have reasonable fees, this metric is far from being gamed in my opinion. What is gamed is the fake volume transactions that exchanges do on a daily basis, but it can lead to another article.
According to Blockchain.com the number of Bitcoin transactions has been increasing over time. As you also can see on the graph below, it is really sensible to the price. The peak and the bottom of 2017-2018 is showing that price movements have huge relations to the number of BTC transactions.
In my opinion, this grahp shows a clearly uptrend in the number of transactions, and the more people using the network will attract more people to this space and it will be a snowball effect really difficult to stop.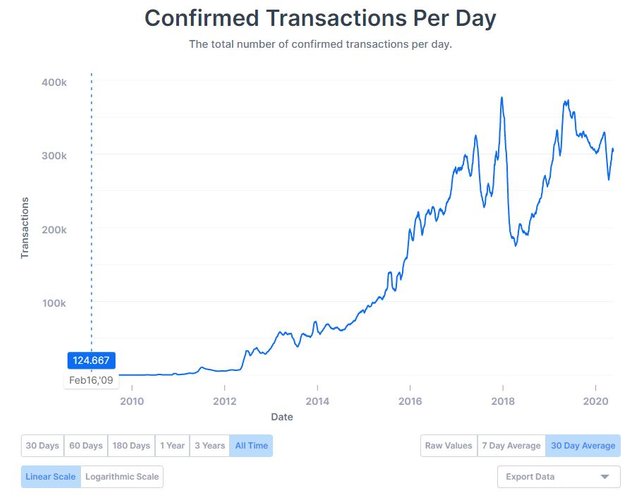 Source
Exciting times ahead! Enjoy! 😊