When I woke up this morning and checked my cell phone, as I always do, I had one WhatsApp message, among others, from my cousin, another crypto-addict and one of the first people that I myself introduced into this world about 4 years ago.
I remember having to explain everything to him regarding Bitcoin, blockchain and cryptocurrencies but he soon became a fan of this technology and, also, a very powerful investor on the field.
I remember advising him to get a good hardware wallet at that time to avoid future problems in case bankruptcy events arose in any of the exchanges, such as the example of MT.Gox case for example and, although he was reluctant to buy any of these devices, not because of its cost but because of what it means to transfer your crypto to a Hardware wallet in terms of sales agility in case of need, over time my cousin got a fantastic LEDGER.
By now, I suppose you all are informed with the Shopify / Ledger hack that put in risk confidential information of more than 20,000 users of this device.
Now, back to the whatsapp message, my cousin showed me this image that he had received in his email: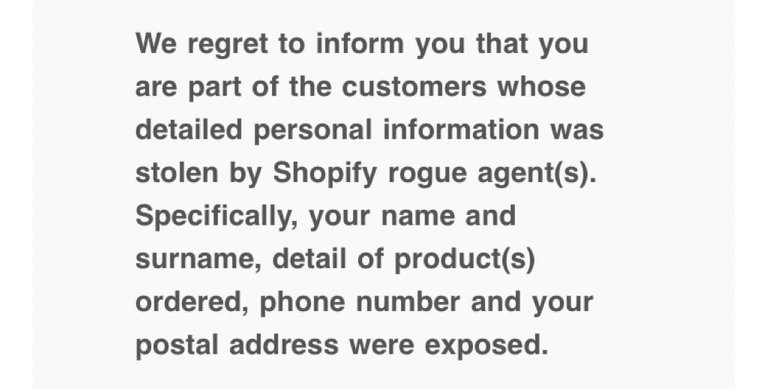 It looks like the message in the image is informational only but my cousin was really concerned... not just because the little possibility about someone willing to steal his crypto holdings, which is not possible because apparently the hacker only had access to personal information such as phone number, personal e-mail, personal address... but because, recently, hundreds of ledger clients are being extorted and, even, receiving death threats to the citizens that live in the disclosed home address in the case of not yielding to extortion.
Obviously, the hacker and other bad actor who could access to that confidential information may use it in order to know where you live and, of course, and extort you easily.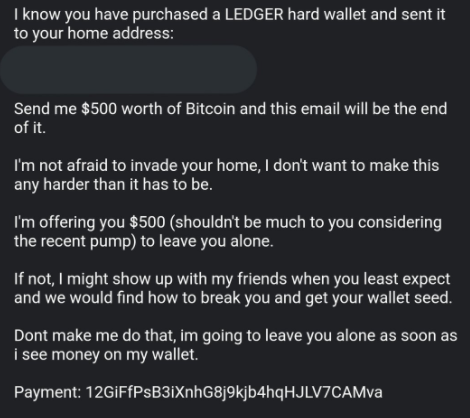 Against this type of actions little can be done, and I would not recommend giving in to extortion at all because it does not assure you that they will not use it again against you.
Maybe all of us have been late in order to avoid the much acclaimed by some trending AML/KYC policies, but I will not tire of repeating it, the less information you give the better...

---