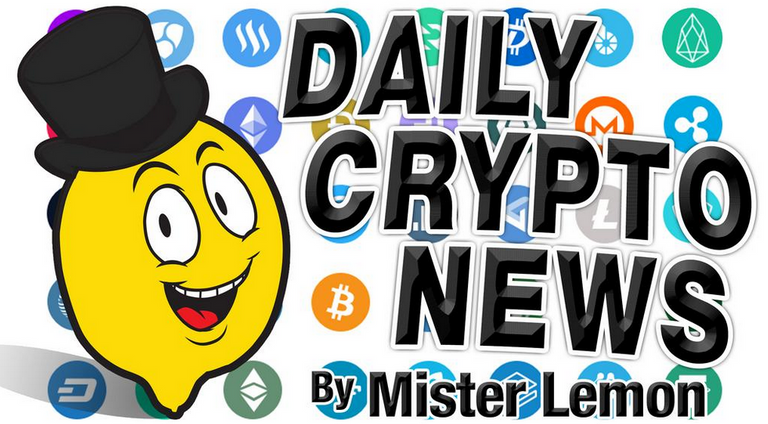 Steem to Freeze Another $5M in Tokens Associated With Hive Supporters ;
Retail Investors Branch to Altcoins: '60% of Coinbase Customers Start With Bitcoin, Only 24% Stick Exclusively' ;
Bitcoin Mining Difficulty Drops by 6% In First Adjustment After Halving ;
Unfortunate May: BlockFi Suffers Breach, BitMEX Trading Engine Fails ;
🗞 Daily Crypto Calendar, May, 20th 💰
Bitcoin Trading Update
Welcome to the Daily Crypto News: A complete Press Review, Coin Calendar and Trading Analysis. Enjoy!
The controversy surrounding Justin Sun's handling of the Steem (STEEM) network continues to grow, with Steem moving to freeze another $5 million in tokens held by dissident Steemit witnesses and stakeholders.
Network validators — called 'witnesses' — associated with Sun have sanctioned the move to freeze 23.6 million in STEEM tokens, accusing the account holders of posing an existential threat to the Steem network.
However, critics claim the hard fork vindictively punishes users who opposed the Tron founder's takeover and supported the Hive hard fork in March — a community led-fork that froze the founder's reward Sun acquired alongside Steemit, excluding him from the new network.
The hard fork follows a soft fork that froze 17.6 million STEEM held by former witnesses last month.
Steem moves to freeze $5m in user funds
The code for the scheduled fork includes the names of 64 users whose accounts and funds will be frozen with the coming upgrade.
On May 13, the San Francisco-based cryptocurrency exchange, Coinbase published a report that shows digital currency investors are investing in alternative cryptocurrencies despite bitcoin's 67% market dominance. Data from Coinbase shows that customers with at least five crypto purchases, roughly 60% of them buy bitcoin first but only 24% remain exclusively loyal to the digital asset.
"Among customers with at least 5 purchases, 60% start with Bitcoin but just 24% stick exclusively to Bitcoin. In total, over 75% eventually buy other assets," the Coinbase report notes.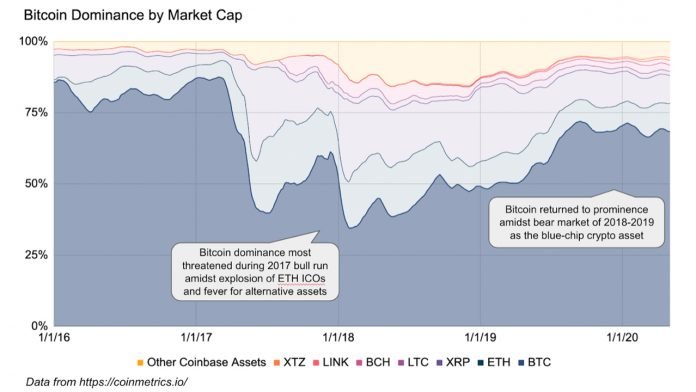 Coinbase says that in general, BTC is a "blue-chip asset [that] has remained unchallenged." But the company also sees a trend where alternative digital currencies are increasingly gaining traction. "This could be for a variety of reasons, but one is largely psychological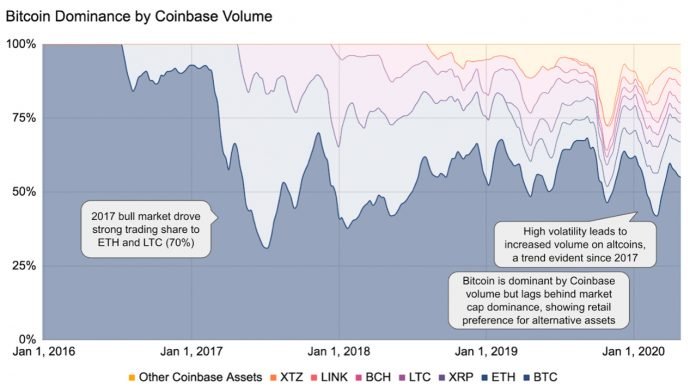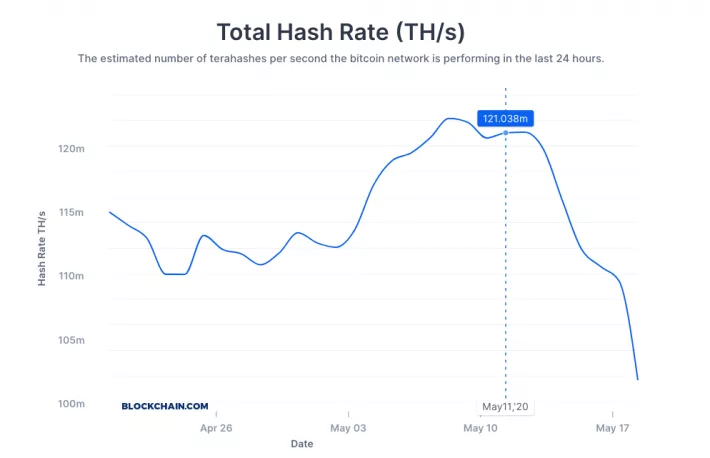 The Bitcoin network just fine-tuned a key parameter to coax back miners who quit after last week's halving hammered their profits.
More than 20 exahashes per second (EH/s) of computing power – the equivalent of around 1.5 million older-generation mining machines – has been switched off from Bitcoin since the network's halving.
The 7-day rolling average of Bitcoin's hash rate has dropped over 20% from around 122 EH/s just prior to the halving on May 11 to now 97 EH/s. The once-in-four-years event reduced miners' block rewards from 12.5 to 6.25 bitcoin (BTC) per block.
Major crypto companies are still experiencing serious problems in May as BlockFi revealed that it suffered a data breach on May 14, while BitMEX Trading Engine went down today.
Crypto lender BlockFi said that the perpetrator attempted to make unauthorized withdrawals of client funds using the platform, but only managed to access clients' personal information such as name, email, date of birth, physical address and activity history.
"From approximately 07:17 UTC to 08:43 UTC on May 14, 2020, a BlockFi employee's phone number was breached and utilized by an unauthorized third party to access a portion of BlockFi's encrypted back office system," the company said.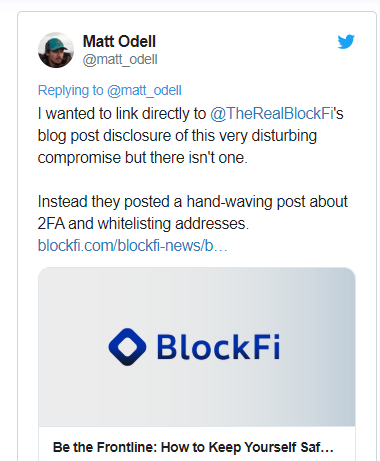 A little bit more than a week ago; @hodlcommunity organised this contest HODL 1st Contest ! More than 40 USD in prizes 🎁.
The question was the following: "Tell us about your first encounter Crypto and what were you first thoughts about it?
This contest had a great turnout with more than 197 total comments and 36 different Hivers shared their personal story.
As many participants mentioned, it would be nice and interesting to share these different stories in a post, so here we are !
**Click here to discover their stories
🗞 Daily Crypto News, May, 20th💰

The block reward of the #MatrixAINetwork will be reduced by 25% at block height #3,000,000. This is estimated to happen in the middle of May...
"Join us on Wednesday, May 20th for our next Community Town Hall featuring Hedera co-founders, @ManceHarmon, and @leemonbaird."
May 20th @1:00PM UTC. Join Blockstack Production Partner Xan Ditkoff for an AMA with Detective ID.
"Theblockcircle hosts an AMA with xDai chain May 20 at 3:00PM UTC."
Atomic Wallet Coin (AWC), COTI (COTI)
"COTI will host @AtomicWallet for a live AMA," at 1 PM (UTC).
Here is the chart of my last analysis :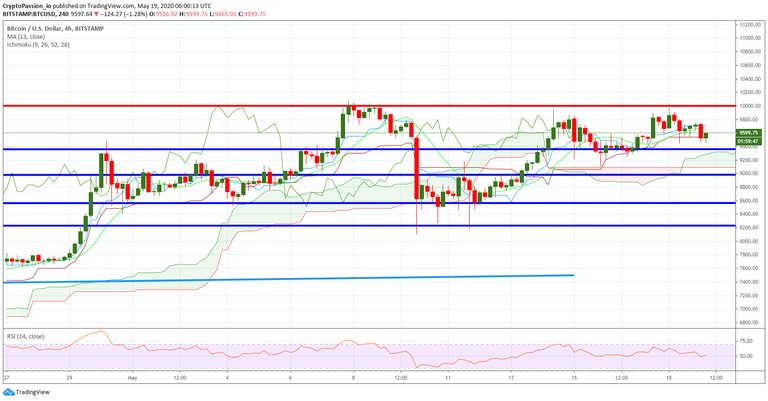 Here is the current chart :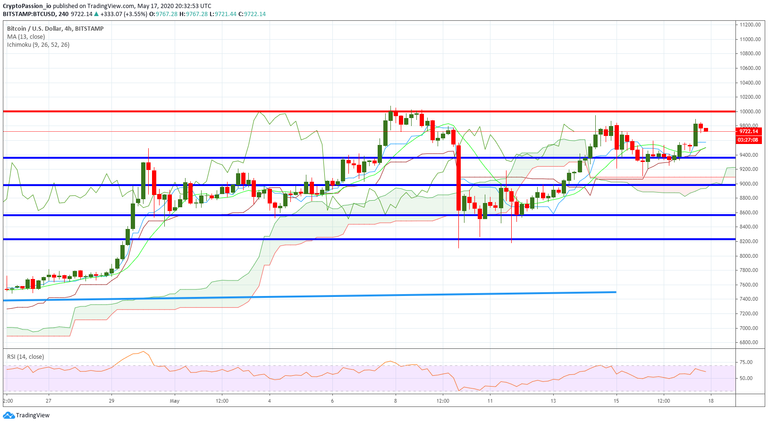 We are still under the resistance line at 10k$ which looks really hard to break. It is not a bad thing,the harder it is to break it, the more powerfull the move will be when we will finish to break it because I'm sure we will finish to do it. So let's be patient and wait that momentum.
Last Updates


➡️ UpTrennd
➡️ Publish0x
➡️ Hive
➡️ Twitter
➡️ Facebook
➡️ Be paid daily to browse with Brave Internet Browser
Proud member of: