Hey, what's up, guys?
I must say that I found this place thanks to @victoriabsb, and the idea of sharing a picture with you, I like it too much, so much that I can't miss the opportunity to share with you a little bit of what I do during the day, or rather afternoon / evening haha.
Yesterday I went out with a friend who I hope soon may be posting content on HIVE, he already has his account, but the work did not allow him to start as he should on the platform.
Anyway, we went out in search of photographs not only because of the need to be on the street risking our asses with the covid-19, but because one way or another we are documenting the advance or retreat of society during the pandemic.
Just yesterday while we were on a photo hunt, we even witnessed a couple of vehicles crash, but that's another story.
The rain caught up with us and we had to take shelter under the constructions around us, but without stopping taking pictures, that's when I took the next picture of my friend, I did a bit of an odd edition with a mix between the "black paris" edition and my personal preference, cinematic, depressive, dramatic style.
I hope you like it.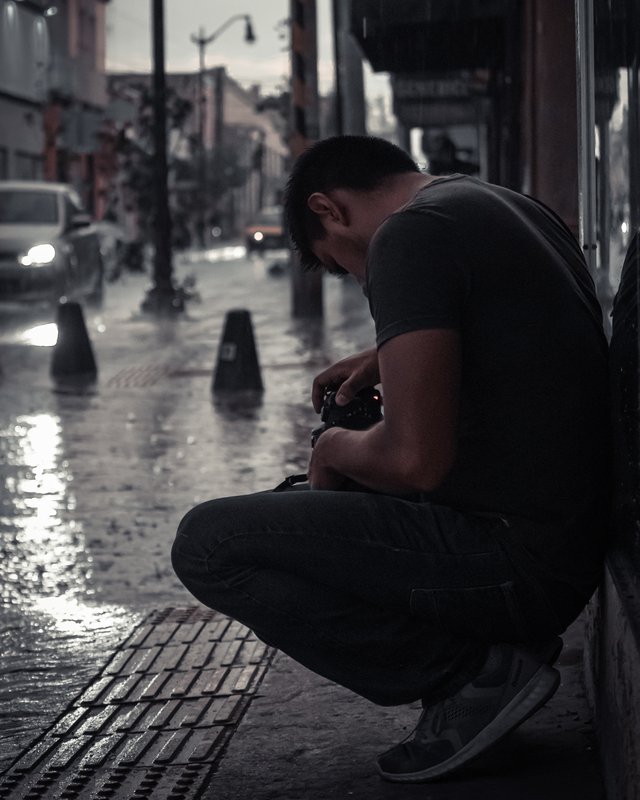 Shit, I forgot to include this:
---
| Category | Street Photography |
| --- | --- |
| Camera | Canon EOS Rebel T6 |
| Lens | Canon 55-250 mm 1:4-5.6 IS II |
| Aperture | F/4 |
| Shutter speed | 1/125 s |
| Focal length | 55 mm |
| ISO | 100 |
| Flash | No |
---

Thanks to @robinsonlgil for this amazing Gif
---
Thanks for watching my post, see you in the next one.
---
---