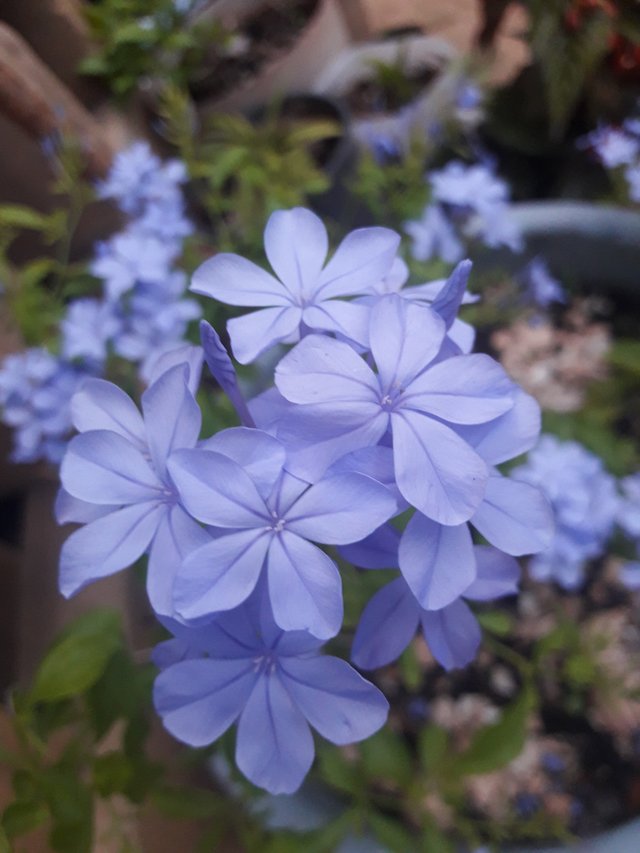 ---
Blue
---
Here I am again with my daily pics, since i have this theme going of flowers I will continue doing them cause I have a lot of different flowers in my house and they are the easiest to practice my phone photography with.
On this photo is again a flower i don't know the name to, all i know is the whole plant grows like wild weed if you dont keep her under control, i like it when she is small and pretty like this in a pot but my mother in law also has her going wild planted on the ground at our front entrance and well i want it out of there to me even cover in flowers it looks ugly like wild weed lol but my mother in law would rather I kick her son out of the house than let me mess with her plants.
Photo taken with my phone a Samsung J7 Neo's camera of 13Mp
@monster-one this is an old picture (no so old like a week old) of before your class so.... not rules were followed to take this one lol.
---
As always, thank you very much for reading me and
I hope to read your comments!
---
Picture Credit: All images are of my property unless said otherwise and the emojis are made with Bitmoji.com!
---
Actualmente soy curadora activa para @minnowsupport #palnet, #creativecoin y #foodie, e incluso aunque me centre en publicaciones en español (¡porque obvio!) ¡Si conoces alguna publicación buena que merezca ser curada o cualquier buen autor del que deba estar pendiente 🔎📌 en cualquier idioma, házmelo saber en los comentarios!
---
---
Proud Member and Supporter of The Minnow Support Project, If You Are Not Yet on The Community What Are You Waiting For?? CLICK below!!!

---
---

---

😗 Follow me on my Other Social Media...❗️⬇️⬇️⬇️⬇️

You can find this post shared on Twitter Here please give the tweet a like and retweet!
---