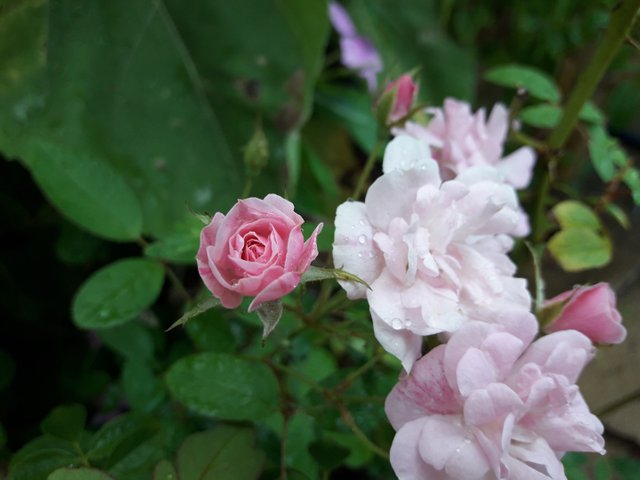 ---
Trying out New Things…
---
Here is the thing, I joined this community long time ago like maybe 2 months ago and never actually posted here, why? well, cause when I joined I was on this fever of I want to learn about photography and I want to start taking pictures daily even if it is just with my phone, but then I forgot about it and well here we are months had passed and I am thinking about photography again. Is not like I want to be a professional or something and to be honest the technical aspects of it doesn't attract me so much, is more like I want to learn to use my phone to take pretty pictures for fun as a hobby. I decided I will make an effort to start taking pictures everyday to get better at it.
---
Today I will share with you all (assuming I'm not talking to myself since I really doubt someone reads me really) this picture I love so much of the roses in my house they are in a little garden we have on the front and they are always blossoming. I took this picture a while ago but I wanted it to be my first picture here in this community cause I am really proud of how well it ended up being I wanted the rose that was opening up to be the main focus and the other ones to be just background, I know I suck right now at taking photos and I am sorry but I don't care lol.
As for the technical stuff I will just say I took this with my phone a Samsung J7 Neo and that is all I know because I don't know about iso or openings or whatever the other stuff is lol.
Is nice to be able to have different communities in Hive for every subject you can think of and I love to be able to experience a lot of them joining and posting from them is nice and refreshing to do something different on my blog.
---
As always, thank you very much for reading me and
I hope to read your comments!
---
Picture Credit: All images are of my property unless said otherwise and the emojis are made with Bitmoji.com!
---
Actualmente soy curadora activa para @minnowsupport #palnet, #creativecoin y #foodie, e incluso aunque me centre en publicaciones en español (¡porque obvio!) ¡Si conoces alguna publicación buena que merezca ser curada o cualquier buen autor del que deba estar pendiente 🔎📌 en cualquier idioma, házmelo saber en los comentarios!
---
---
Proud Member and Supporter of The Minnow Support Project, If You Are Not Yet on The Community What Are You Waiting For?? CLICK below!!!

---
---

---

😗 Follow me on my Other Social Media...❗️⬇️⬇️⬇️⬇️

You can find this post shared on Twitter Here please give the tweet a like and retweet!***
---