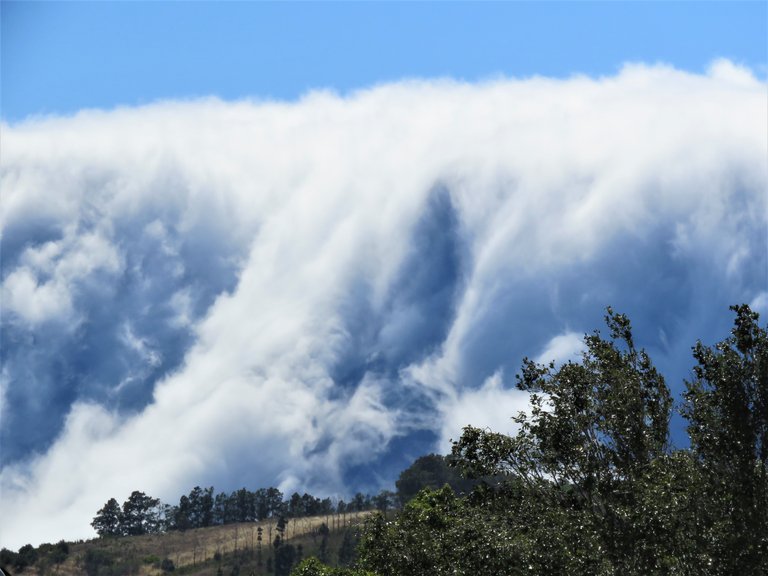 The weirdest thing happened to us this morning. My idea was to take photos of the lovely mountain clouds, but something else changed my mind.
Come have a look and be amazed!
This guy is a Cicada (Platypleura capensis), and he was making an awful noise in the tree above my head. It took me all of an hour to find him high up in the tree..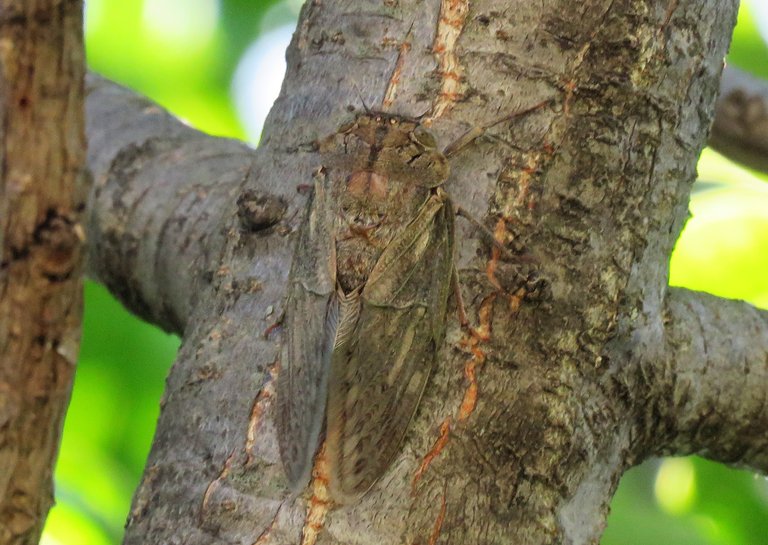 If you listen to this video, then you can hear his constant high pitched scream through his sound box.
But you won't see him as the video couldn't pick him up in the wind!

But now, when I went out later, look what was laying on the seat of my chair.
Here was that same Cicada in a state of death.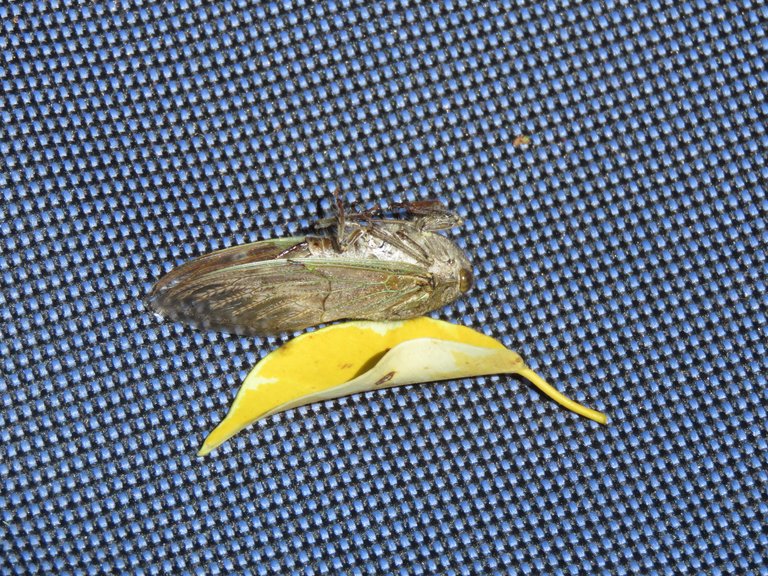 So of course, I picked him up and there was no response.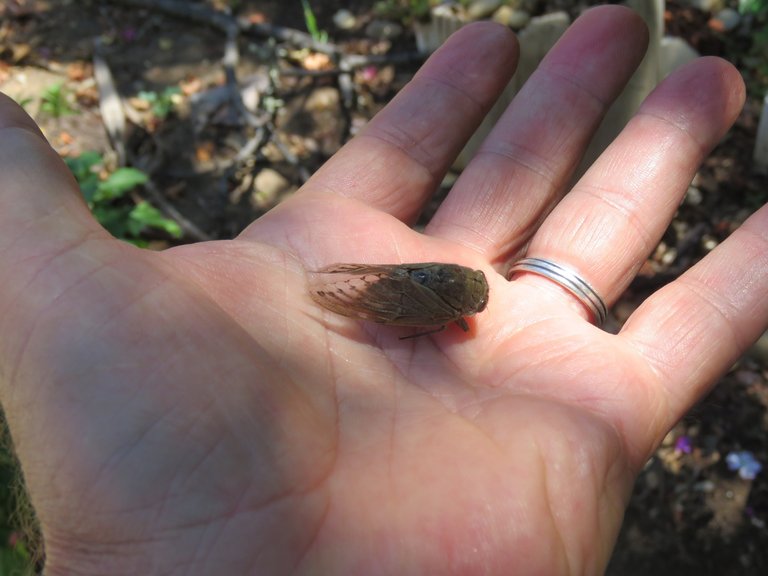 Marian poured some water in my hand and we tried to revive him as it is very hot 34Celsius here, but no luck.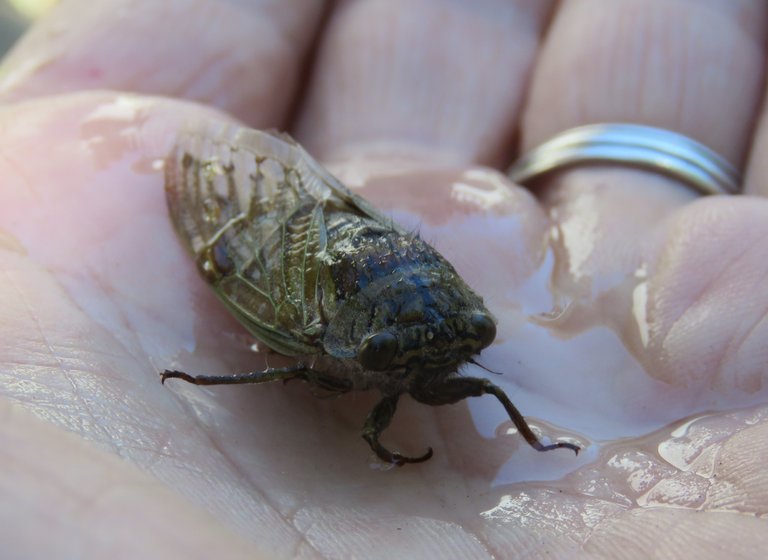 Look how beautiful this guy is when one opens his top wings that make him look so drab.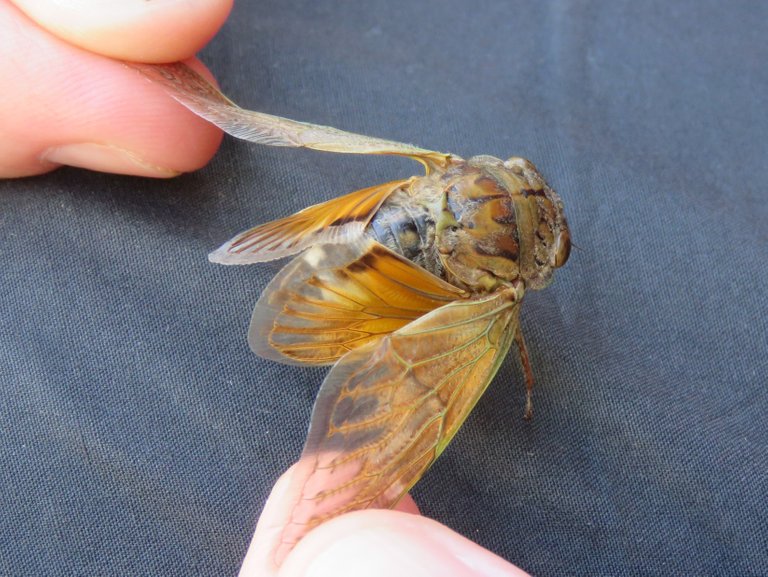 Here is a frontal view of him. And he is a real beauty!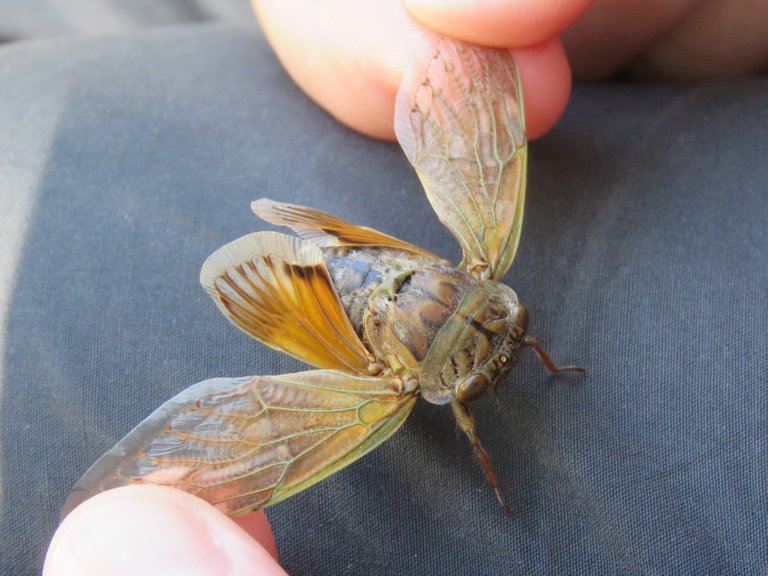 Cicada, the Summer Screamer
Life cycle:
The cicada is known for its synchronised life cycle, with some species taking two to seventeen years as nymphs before reaching adulthood. This potentially classifies the cicada as the insect with the longest larval development stage in the world.
The breeding cycle begins when adults mate after the males lure the females with their attractive cicada songs.
After mating the female lands in a tree, and uses her saw-like, egg laying organ (ovipositor) to fashion a slit into the bark. This is where she lays her eggs, some females lay up to 400 eggs at a time. These eggs hatch and the nymphs drop to the ground where they burrow down to depths of 2.5 meters deep into the soil.
Cicada nymphs excavate chambers close to plant roots where they feed on sap. The nymphs continue to develop until they reach the final stage known as instar, when they tunnel to the surface and exit the soil. Emergent cicadas land on plants where they shed their skins for the final time, morphing into adulthood.
The males die after mating and the females die after laying their eggs.
Source
So, either this guy died after mating, or the strong winds banged him against something.
But how is it that he landed on the seat of my chair?
Something that I cannot explain, as Marian saw him first when she wanted to move the outside chairs into the shade.
And That's All Friends!
Would you mate as a male, if you know that you are going to die after the act?
World population would be very low!
Note: All photos and the video are my own. Camera used was a Canon Powershot SX60HS
We hope that you have enjoyed the pictures and thank you for visiting the blog of @papilloncharity
Disclaimer:
The articles, trademarks, and photos appearing on this @papilloncharity site may not be used in any advertising or publicity, or affiliation with any product or service, or for private purposes, without the author's prior written permission.
All posts are placed without prejudice!
PLEASE DO NOT COPY