Hace unos días tuve la idea de hacer una pareja pirata para celebrar el día de San Valentín, mi amiga
@yetsimar
me sugirió hacer a Davy Jones y Calipso pero adivinen que? Resultó tomarme más tiempo de lo previsto y tardé mucho haciendo solo a Davy Jones y es el que les comparto el día de hoy, espero les guste. Todo el amigurumi lo tejí con hilo acrílico y ganchillo # 4 (1.25mm), está relleno con fibra sintética antialérgica y mide aproximadamente 16 centímetros de alto.
A few days ago I had the idea of making a pirate couple to celebrate Valentine's Day, my friend

@yetsimar

suggested me to do Davy Jones and Calypso but guess what? It turned out to take me longer than expected and it took me a long time doing just Davy Jones and he is the one I share with you today, I hope you like it. I wove all the amigurumi with acrylic yarn and # 4 crochet hook (1.25mm), it is filled with antiallergic synthetic fiber and measures approximately 16 centimeters high.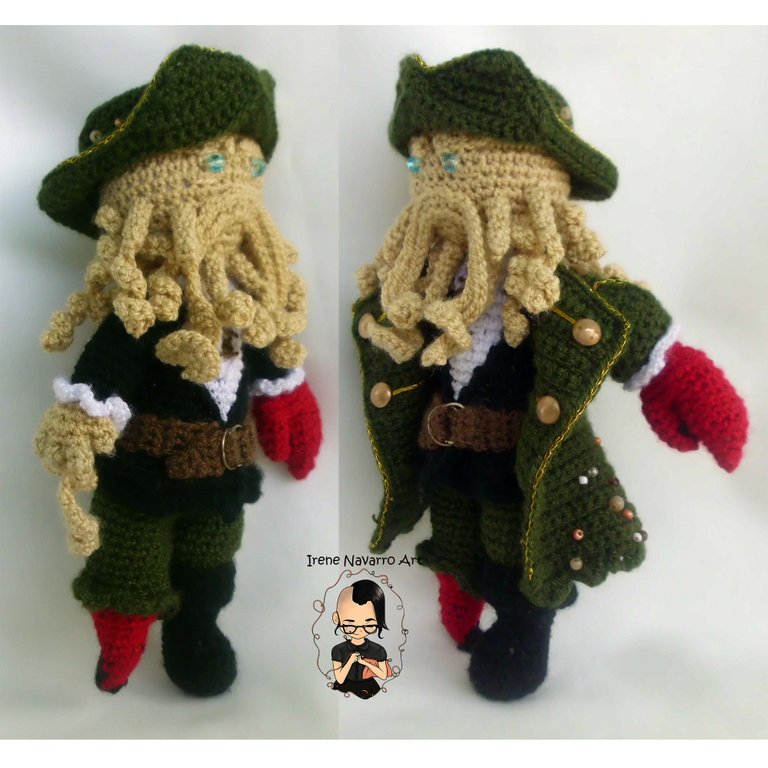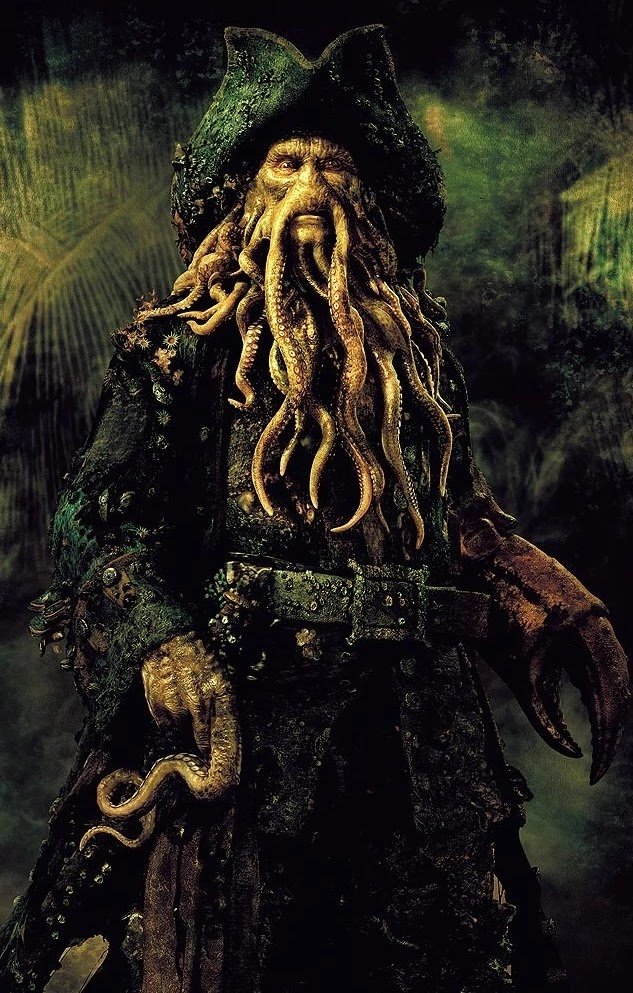 Comencé haciendo la pierna humana, es decir la que conserva su pie con una bota negra. Tejí un óvalo comenzando la base con 5 cadenas, una vez alcanzado el tamaño deseado, tejí sin aumentos unas vueltas y luego hice disminuciones para hacer el tobillo, tejí aumentos para la pantorrilla, y continué haciendo el borde de la bota. Luego cambié a hilo verde y levantando los puntos correspondientes al borde interno de la bota hice algunos aumentos y continué tejiendo de manera recta hasta obtener toda la pierna.
I started by making the human leg, that is, the one that keeps its foot with a black boot. I knitted an oval starting the base with 5 chains, once the desired size was reached, I knitted without increases a few rounds and then I did decreases to make the ankle, I knitted increases for the calf, and continued making the edge of the boot. Then I changed to green yarn and lifting the stitches corresponding to the inner edge of the boot, I made some increases and continued knitting in a straight way until I got the whole leg.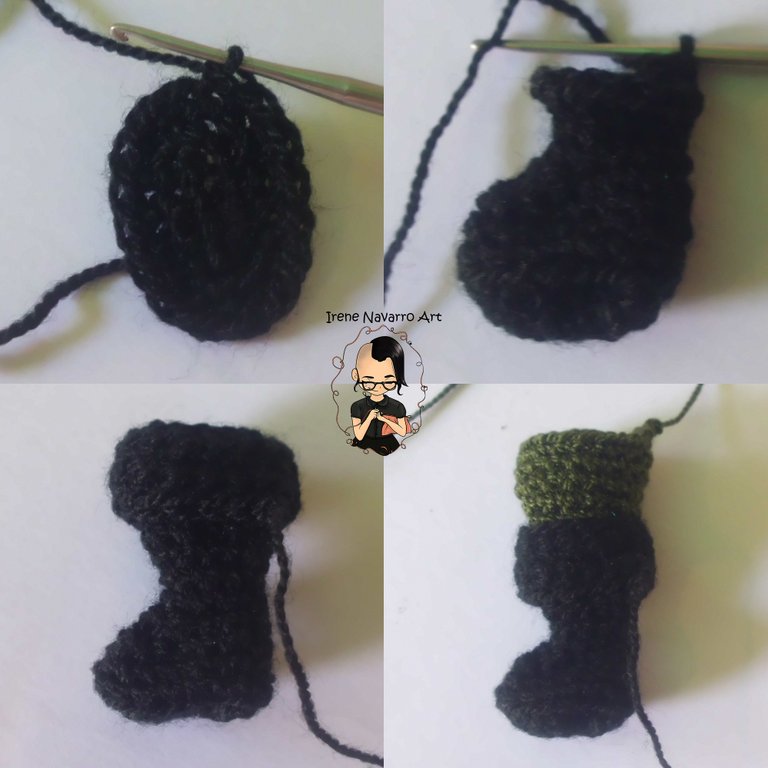 Para la segunda pierna, la cual es como una pata de crustáceo, con hilo rojo y negro al mismo tiempo comencé con 4 puntos bajos en un anillo, fui haciendo aumentos progresivos en cada ronda, dejando solo el hilo rojo para la parte más ancha de la pata, aparte con el hilo verde hice un borde tejido con picos irregulares para asemejar el borde rasgado del pantalón, tejí de forma circular colocando la pata por dentro hasta obtener toda la pierna.
For the second leg, which is like a crustacean leg, with red and black thread at the same time I started with 4 single crochets in a ring, I was making progressive increases in each round, leaving only the red thread for the widest part of The leg, apart with the green thread, I made a woven edge with irregular peaks to resemble the torn edge of the pants, I knitted in a circular way placing the leg inside until I obtained the entire leg.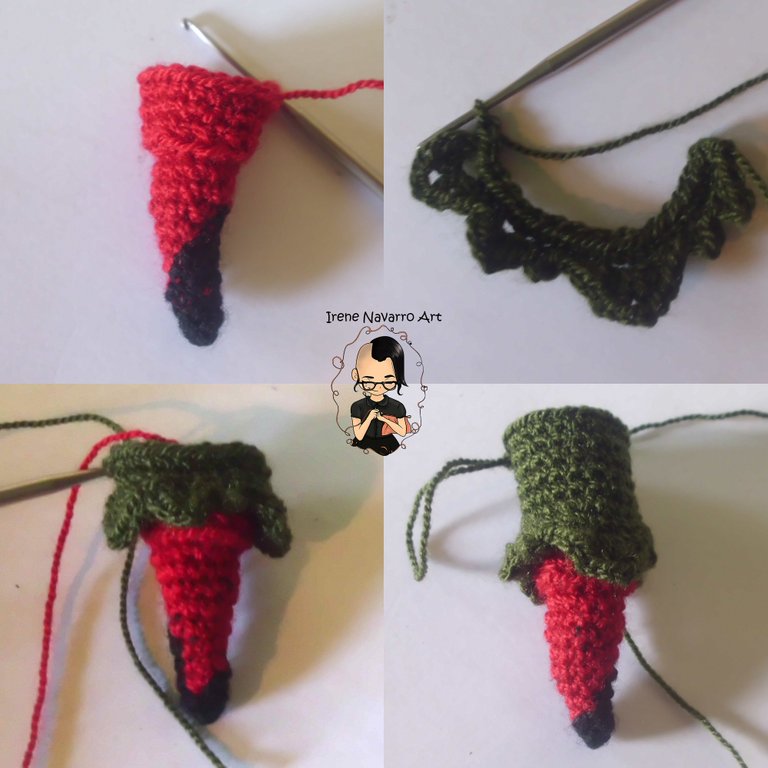 Para el cuerpo uní la ambas piernas y continué tejiendo de manera recta, aparte con hilo negro tejí el borde de la camisa negra que se cruza al cuerpo, luego uní ambas partes y con el mismo hilo negro comencé a hacer disminuciones para crear el torso, asimismo fui tejiendo un triángulo con puntadas de hilo blanco en el centro para simular las camisa blanca, coloqué el tejido en suspenso para hacer los brazos aparte.
For the body I joined both legs and continued knitting straight, apart with black thread I knit the edge of the black shirt that crosses the body, then I joined both parts and with the same black thread I began to make decreases to create the torso, I was also knitting a triangle with white thread stitches in the center to simulate the white shirt, I placed the fabric in suspense to make the arms apart.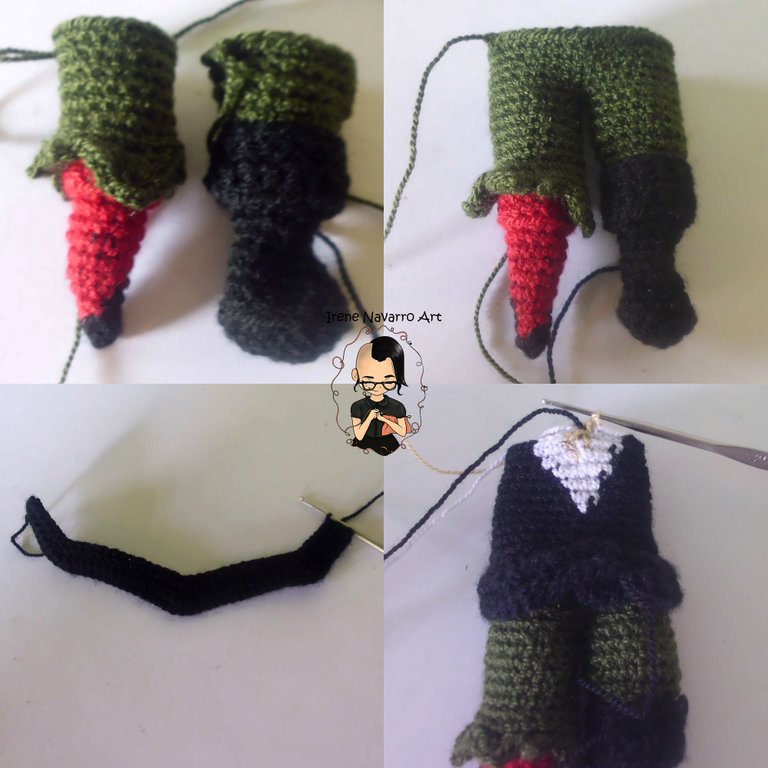 Para el brazo con la mano con tentáculos, comencé de manera similar a una mano humana, es decir los dedos los empecé con 4 puntos bajos en una anillo, pero el dedo índice y el meñique los comencé con cadenas sobre las cuales tejí aumentos para que se crearan rizos, luego uní todos los dedo y continué dándole forma a la mano, cambié a hilo negro para hacer el brazo, y con hilo blanco tejí el borde ondulado entre la mano y el brazo que asemeja la teja ondulada del puño de la camisa blanca.
For the arm with the hand with tentacles, I started in a similar way to a human hand, that is, I started the fingers with 4 single crochets in a ring, but the index finger and the little finger I started with chains on which I wove increases so that curls will be created, then I joined all the fingers and continued shaping the hand, I changed to black thread to make the arm, and with white thread I wove the wavy edge between the hand and the arm of the shirt White.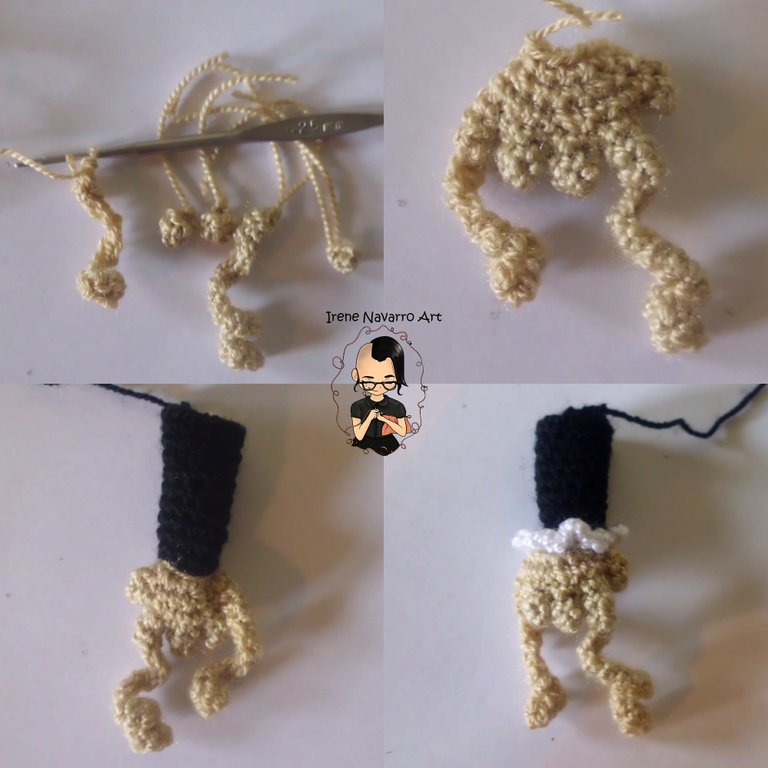 Para el brazo que tiene la mano de crustáceo, comencé haciendo la parte superior de la tenaza con hilo rojo, con 4 puntos bajos en un anillo, fui haciendo aumentos progresivamente y dándole forma curva al tomar solo el lado de atrás de las puntadas en la mitad de la labor, de igual forma procedí con el lado más pequeño de la tenaza pero con hilo negro y rojo al mismo tiempo, uní ambas partes y con disminuciones terminé la tenaza, continué el tejido con hilo negro hasta obtener el brazo, con hilo blanco hice el puño ondulado de la camisa.
For the arm that has the crustacean hand, I started by making the upper part of the pliers with red thread, with 4 single crochets in a ring, I was progressively increasing and giving it a curved shape by taking only the back side of the stitches in the half of the work, in the same way I proceeded with the smaller side of the pliers but with black and red thread at the same time, I joined both parts and with decreases I finished the pliers, I continued the weaving with black thread until obtaining the arm, with thread white I made the wavy cuff of the shirt.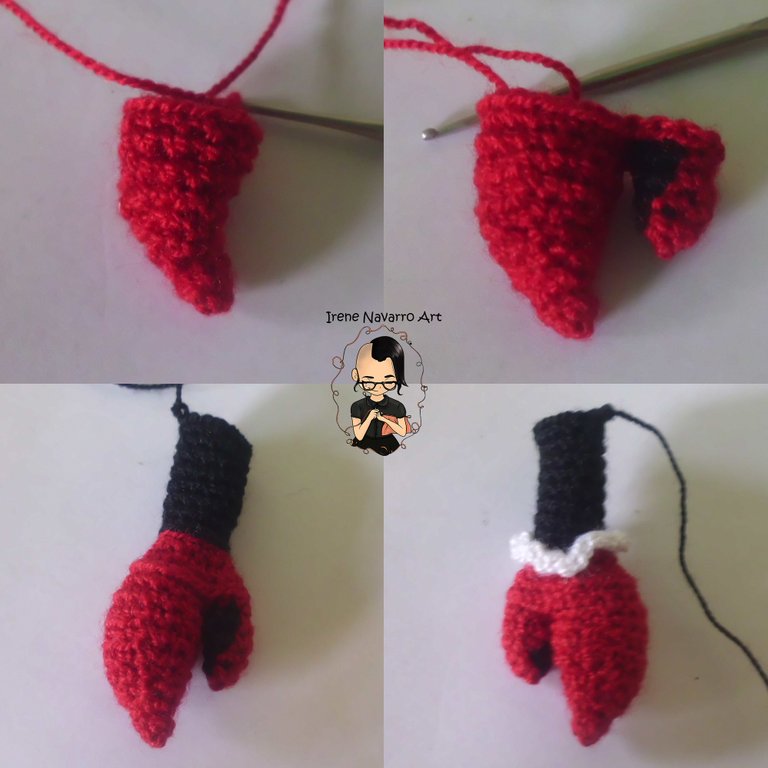 Rellené lo brazos y el cuerpo, retomé el tejido del cuerpo uniendo lo brazos a ambos lados, haciendo disminuciones para completar el torso y tejiendo un triangulo beige que forma el pecho descubierto del personaje, hice el cuello con beige. Luego con hilo negro hice el borde de la camisa cruzada y con hilo blanco hice el borde de la camisa blanca de cuello ondulado.
I filled in the arms and the body, I resumed the body fabric joining the arms on both sides, making decreases to complete the torso and knitting a beige triangle that forms the character's exposed chest, I made the neck with beige. Then with black thread I made the edge of the crossed shirt and with white thread I made the edge of the white shirt with a wavy neck.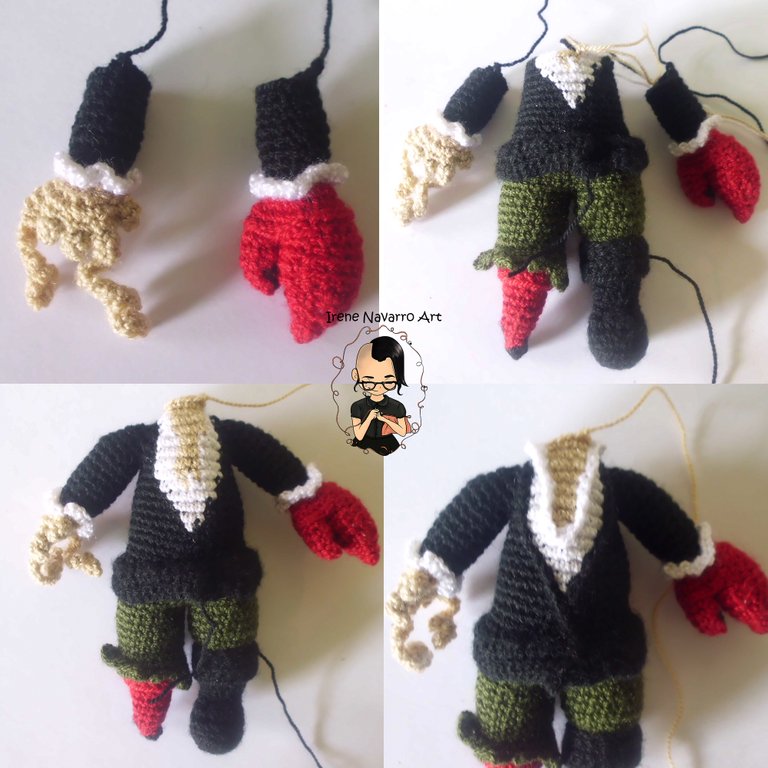 Hice un cinturón con hilo marrón y dos anillo de metal, tejiendo tres cadenas y sobre estas haciendo las rondas necesarias para rodear el cuerpo. También con hilo marrón hice el trenzado del cuello de la camisa y le coloqué dos cuentas de plástico.
I made a belt with brown thread and two metal rings, weaving three chains and on these making the necessary rounds to surround the body. Also with brown thread I braided the shirt collar and placed two plastic beads on it.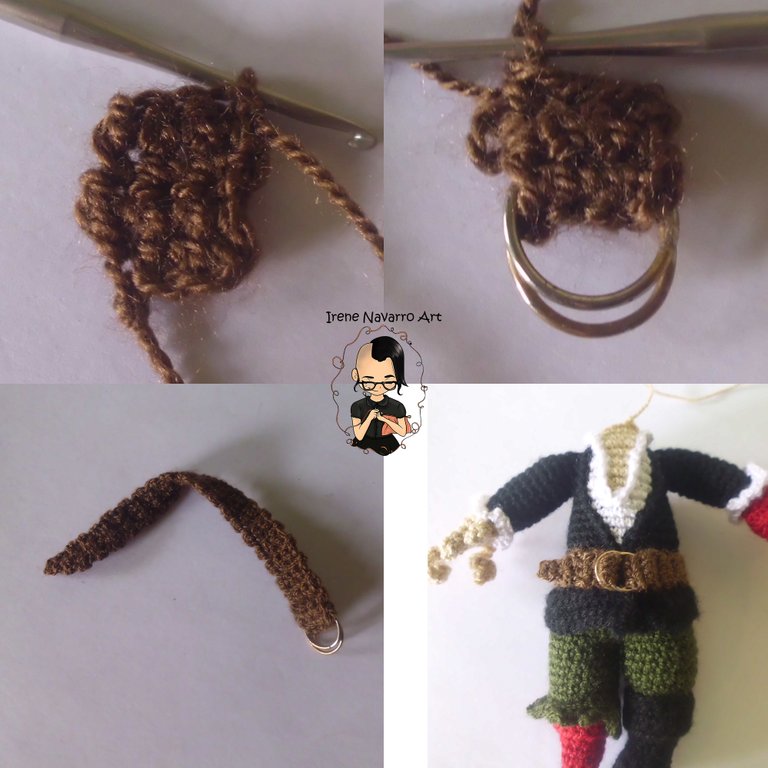 Para la cabeza con hilo beige tejí 6 puntos bajos en un anillo, haciendo aumentos por 5 vueltas hasta obtener el ancho deseado, continué de manera recta y luego hice disminuciones, rellené con fibra y lo cosí al cuerpo.
For the head with beige thread I wove 6 single crochets in a ring, increasing by 5 rounds until obtaining the desired width, I continued straight and then I made decreases, filled with fiber and sewed it to the body.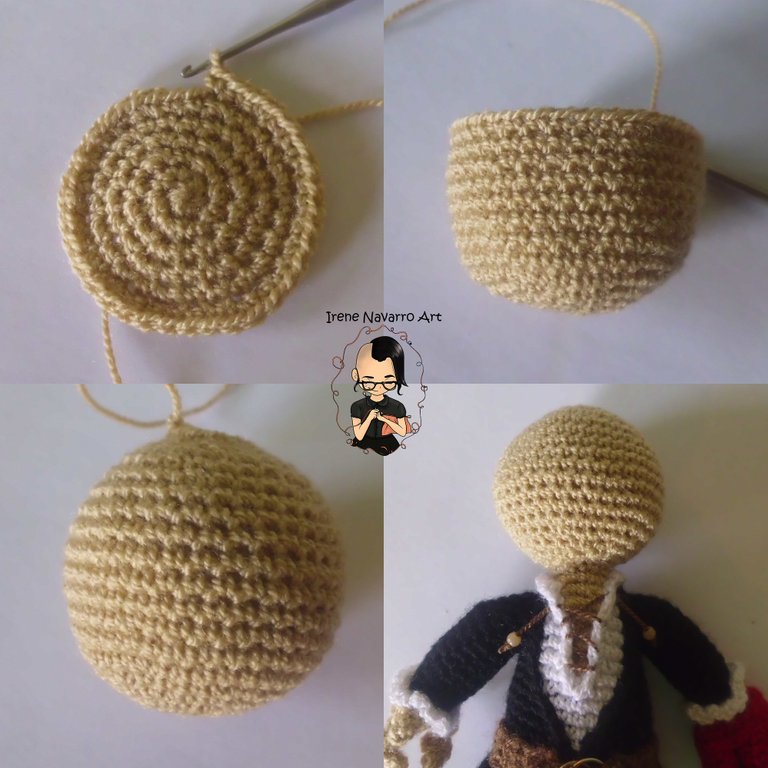 Para el rostro hice cada tentáculo por separado, el tentáculo del bigote lo hice de manera plana comenzado con cadenas y luego sobre estas tejiendo puntos bajos y aumentos para crear ondulación, algunos tentáculos siguen la misma forma pero otro los realicé de manera similar a los dedos de la primera mano, es decir, sobre la base del tejido redondo o tubular de 4 puntos tejí cadenas sobre las cuales tejí aumentos para que terminaran de forma ondulada. La cejas las hice tejiendo cadenas y puntos sobre estas, luego las cosí al rostro, con dos cuentas azules hice los ojos.
For the face I made each tentacle separately, the mustache tentacle was made flat, starting with chains and then weaving single stitches and increases to create ripples, some tentacles follow the same shape but another I made them in a similar way to the fingers from the first hand, that is, on the basis of the round or tubular fabric of 4 points I wove chains on which I wove increases so that they ended in a wavy way. I made the eyebrows by weaving chains and stitches on them, then I sewed them to the face, with two blue beads I made the eyes.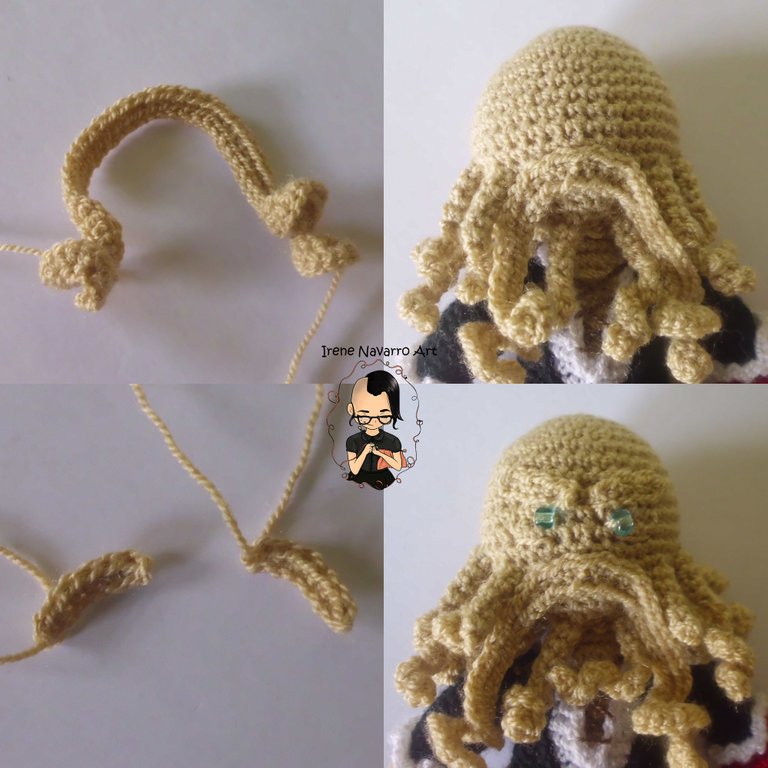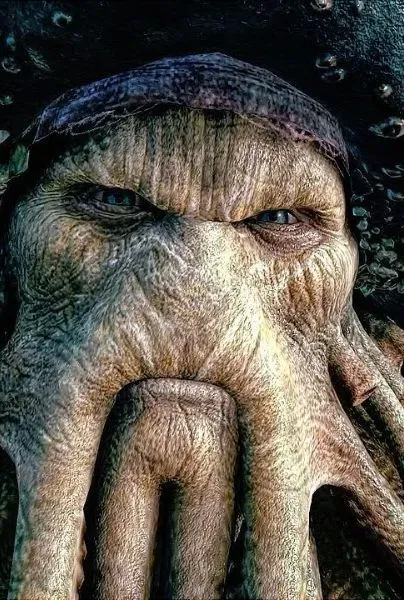 Para el sombrero con hilo verde tejí un circulo plano sobre el cual continué de manera recta el tejido circular, posteriormente hice aumentos en tres puntos del sobrero para que la solapa del fuera triangular, luego tejí dos triángulos en la parte central de la solapa, sobre estas con hilo dorado tejí una ronda de puntos deslizados y cosí cuentas en los lados del sobrero que asemejan las piedritas, conchitas y cosas pegadas del fondo del mar.
For the hat with green thread I wove a flat circle on which I continued the circular knitting in a straight way, then I made increases in three points of the hat so that the flap of the hat was triangular, then I wove two triangles in the central part of the flap, over These with golden thread I wove a round of slipped stitches and sewed beads on the sides of the hat that resemble the pebbles, shells and things stuck to the bottom of the sea.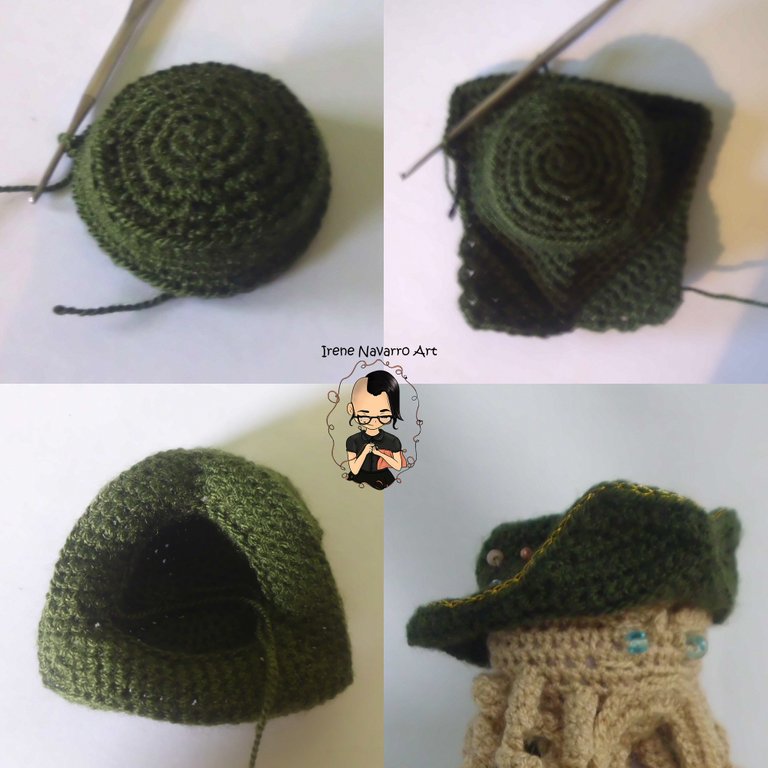 Para la casaca comencé a tejer cadenas sobre las cuales tejí puntos bajos, creé los agujeros para los brazos saltando puntos y tejiendo cadenas en su lugar, lego continuando el tejido hasta la altura de la cintura donde comencé a tejer aumentos para ampliar el ancho de la casaca. Luego levanté los puntos de los agujeros y tejí de manera recta las mangas, haciendo un borde que se dobla en el puño.
For the jacket I started to knit chains on which I knitted single crochets, I created the holes for the arms by skipping stitches and knitting chains in their place, I continued the knitting up to the waist where I started knitting increases to expand the width of the jacket. Then I picked up the hole stitches and knit the sleeves straight, making a hem that folds at the cuff.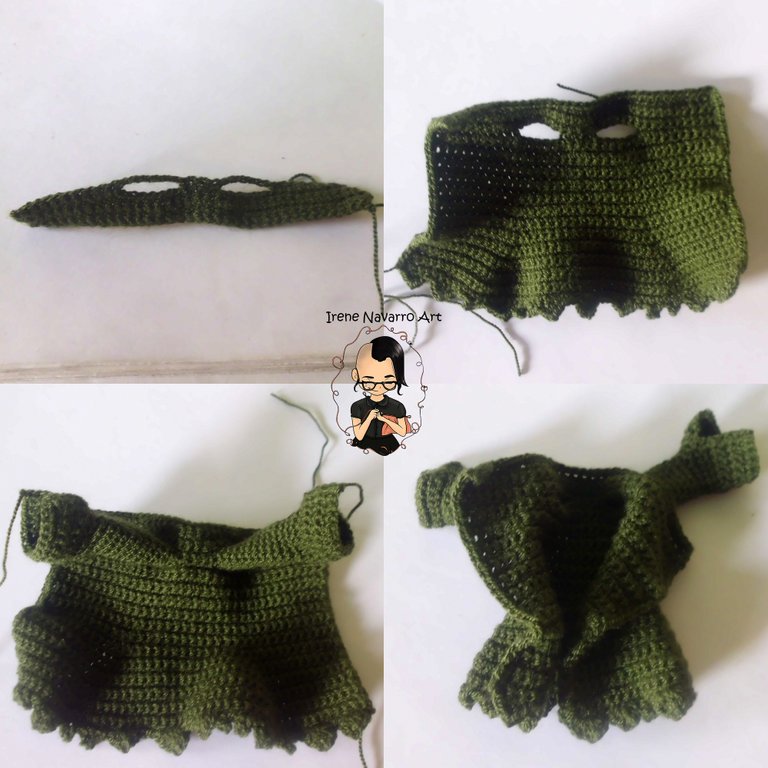 Con hilo dorado tejí los bordes la casaca y los detalles del frente, con dos tachas de metal hice los detalles, con hilo de nylon transparente cosí las cuentas de plástico alrededor de la casaca.
With golden thread I wove the edges of the jacket and the details of the front, with two metal studs I made the details, with transparent nylon thread I sewed the plastic beads around the jacket.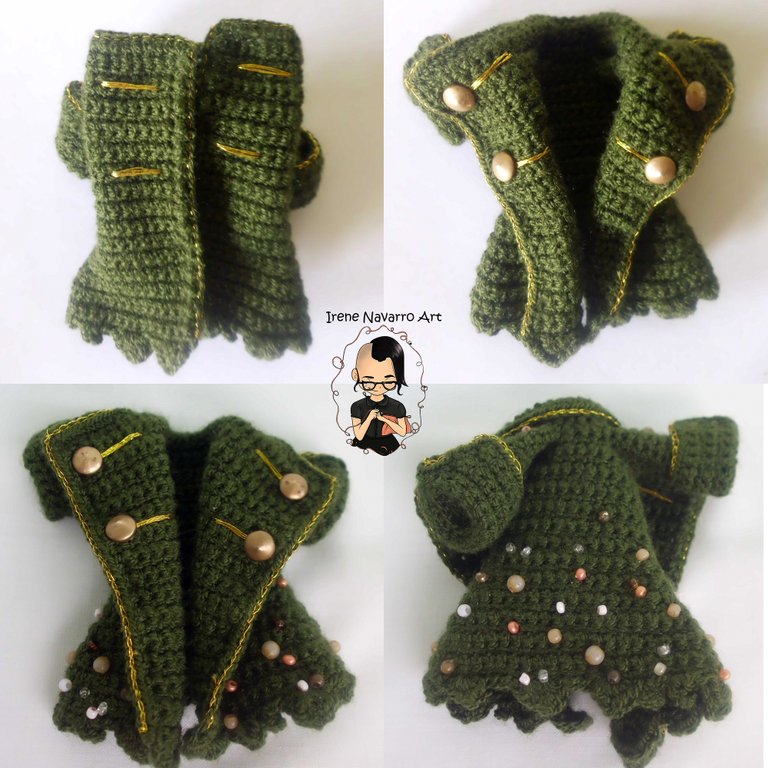 Resultado /Result
Espero les haya gustado mi Davy Jones versión amigurumi, fue un trabajo arduo de muchos días y estoy fascinada con el resultado, deseo que mi esfuerzo haya valido la pena para las personas que me siguen y me motivan a seguir tejiendo proyectos de mayor complejidad como este.
I hope you liked my Davy Jones amigurumi version, it was a hard work of many days and I am fascinated with the result, I wish that my effort has been worth it for the people who follow me and motivate me to continue weaving more complex projects like this.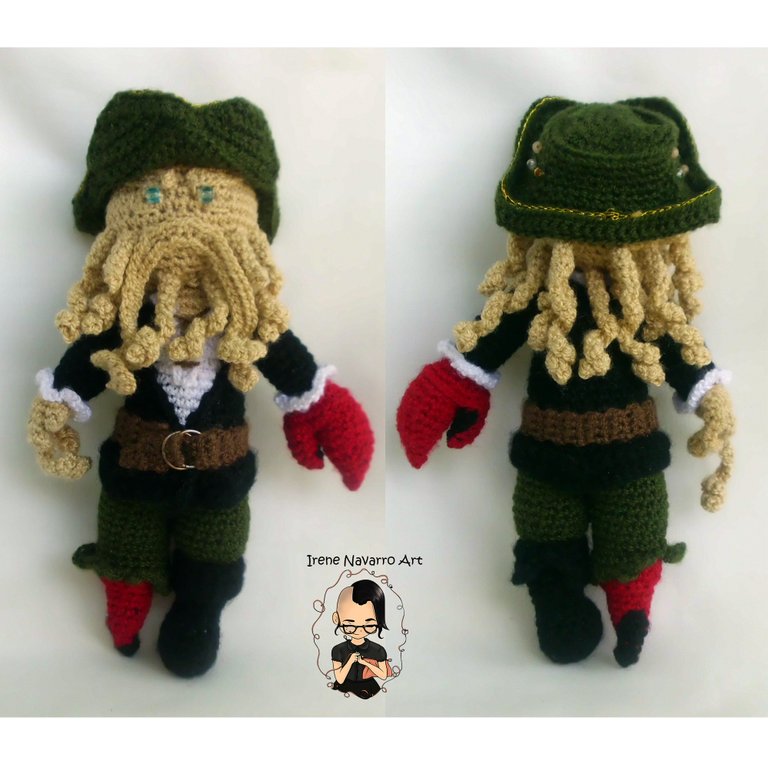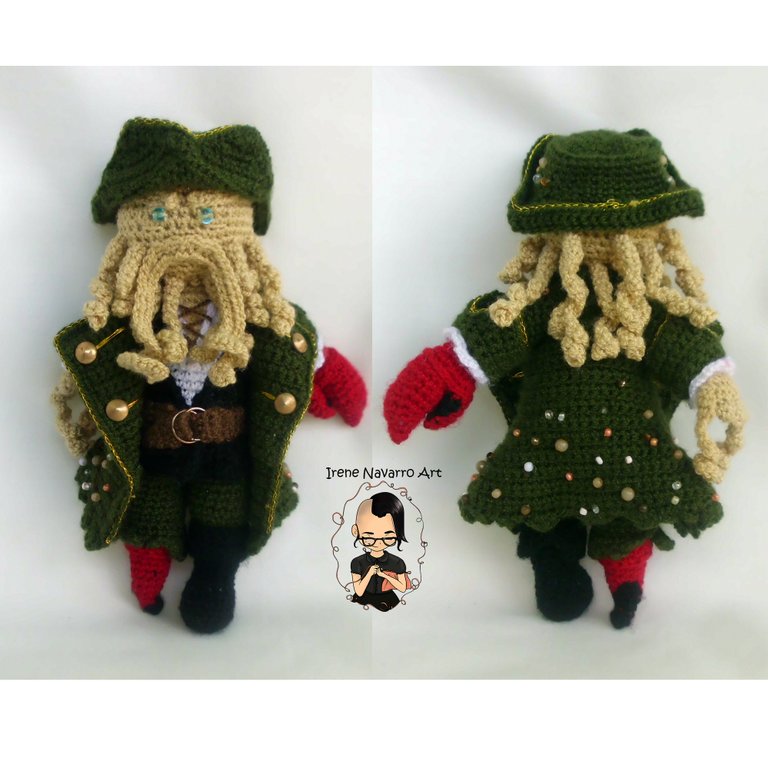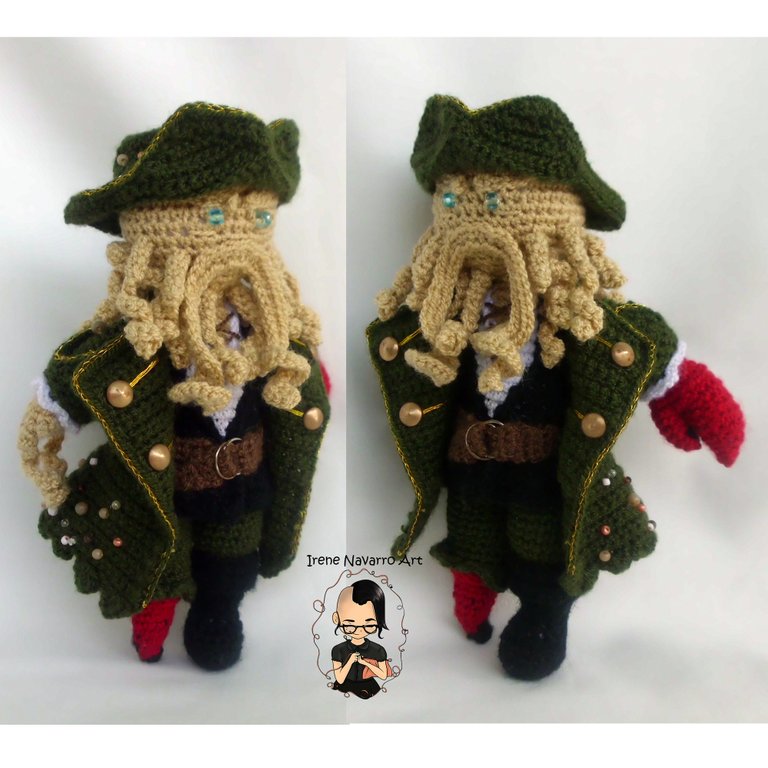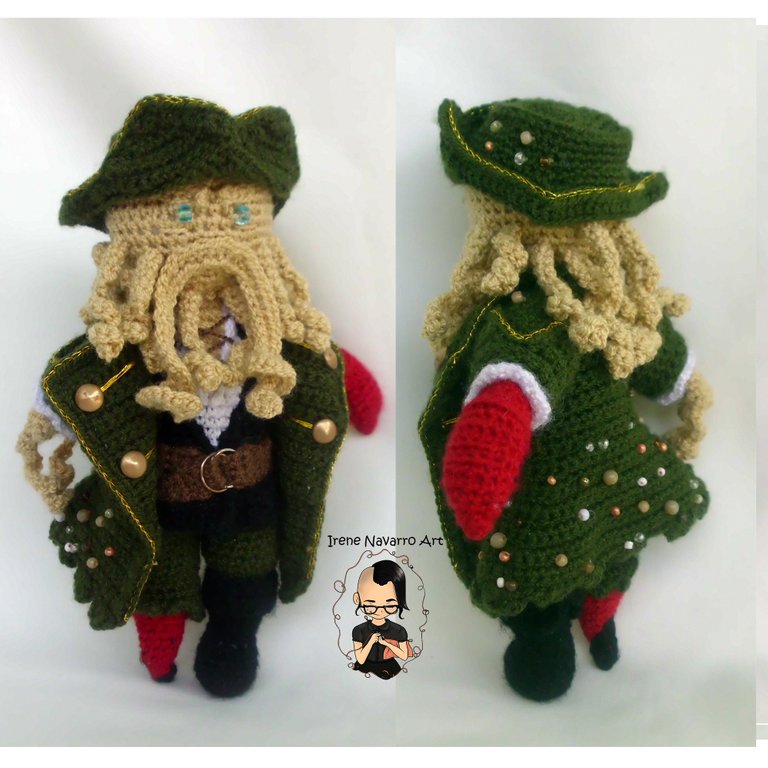 Imágenes tomadas con cámara Casio QV-R100 y editadas en Adobe Photoshop Cs6. Gif creado en giphy.com
Images taken with Casio QV-R100 camera and edited in Adobe Photoshop Cs6. Gif created on giphy.com
Invítenme un Café/Support Me on Ko-Fi


Si te gusta mi contenido y quieres apoyarme a seguir dibujando, pintando, escribiendo y tejiendo puedes invitarme un Ko-fi en el enlace que les dejo aquí abajo, les recuerdo que es fácil, se usa Paypal y Tarjeta. ¡Muchas gracias a todos!


If you want to support my art you can also make donations for the value of a coffee (Ko-Fi) this uses Paypal, it is simple and with it I will be able to continue knitting and buying materials to create and share my publications


https://ko-fi.com/irenenavarroart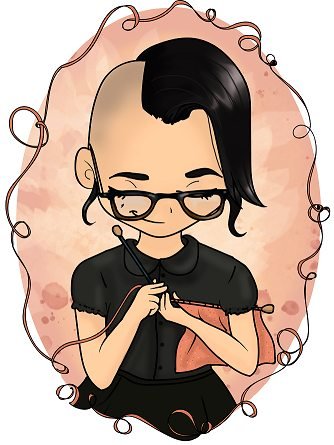 Espero les haya gustado. Les invito a leer mis próximas publicaciones y siempre estaré dispuesta a responder sus preguntas y comentarios, también pueden seguirme y contactarme en cualquiera de mis redes sociales. ¡Muchas gracias!
I hope you liked it. I invite you to read my next publications and I will always be willing to answer your questions and comments, you can also follow me and contact me on any of my social networks. Thank you!