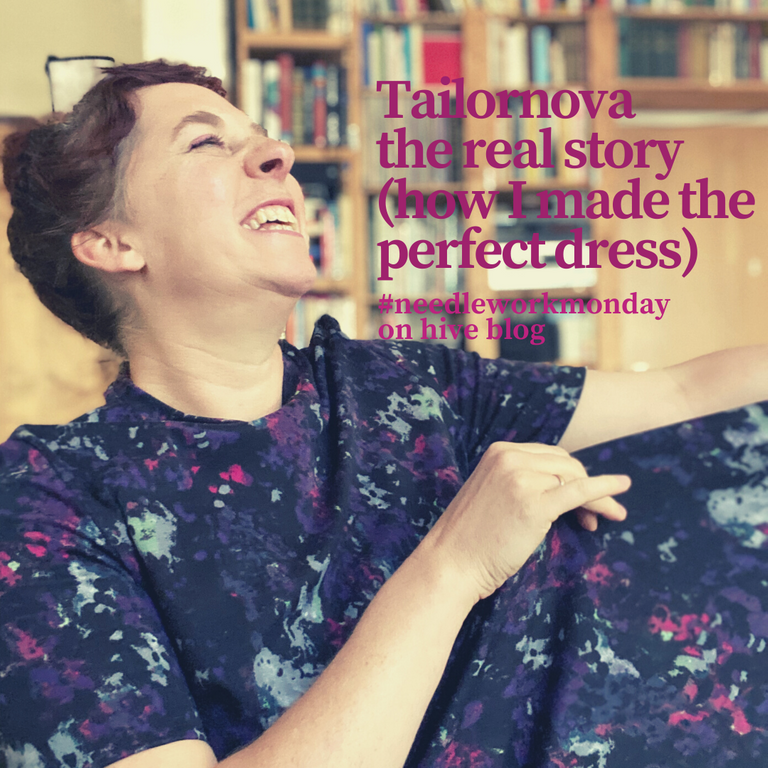 I confess I wrote a clickbait title. The Tailornova dress pattern is not perfect, there are things that could be better, but it is nearly nearing THE DRESS. The one dress you can sew in your sleep and it will always fit. I guess the name 'Tailornova' sounded so much like Telenovela I wanted to start with drama, but now will follow a thorough and honest review of my first fitting and sewing experience with Tailornova. And to get it clear, my Tailornova dress really fits wonderfully <3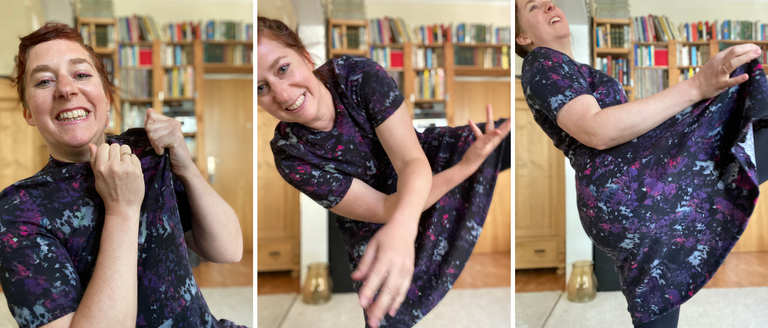 (If you are reading this and ask yourself if I may be a member of a cult called Tailornova, if you are considering Tailornova to be a new drug or if you in general have no idea what I am writing about, then hop to my first post about the pattern design software for garments named Tailornova)
Avid readers of my blog know I have a nonstandard body shape (anybody else? Then raise your hands) which simply will not fit in bought dress patterns. Sewing a dress (with "dress" I mean a dress with a fitted bodice with bust darts and set in sleeves and a flared skirt in stretch fabric) is hard work for me as I have to modify so many things on the pattern that my sewing is more a ripping.
The last dress I stared (and still have not finished) was an attempt to finally draft a pattern myself where I wanted to incorporate all the details I already knew I have to modify on a standard dress pattern, which are: shortened bodice, small bust adjustment, full biceps adjustment, full seat adjustment and grading between of garment sizes between. You can read how this went here and here (to sum it up: not very well)

And then came Tailornova where you can insert your own measurements to create a garment. A miracle. I was so excited to try the software I came back to writing from my summer holidays. But I started with a big disappointment which nearly prevented me from sewing anything. I let Tailornova create a 3D model from my measurements and then I tried the different dress option on this model… gag. Not flattering. All clothes looked like ill-fitting sacks. But after hearing from you, dear readers that it is more a problem of the 3D rendering than of my proportions, I dared to print the pattern.
I decided on a very simple dress consisting of these settings
Jewel neckline
Fitted set-in long sleeves
Bust dart bodice
½ circle skirt
Pockets
I also chose
Knit fabric
Medium stretch
Semi-fitted
Ease as the software supposed
Originally I wanted a flared skirt and not a ½ circle skirt, but I could not choose this option together with the option 'knit fabric' no clue why. (Did you also encounter such combination problems?) And as I only had a small scrap fabric I wanted to use, I made the skirt smaller and by the way the sleeves very short :-D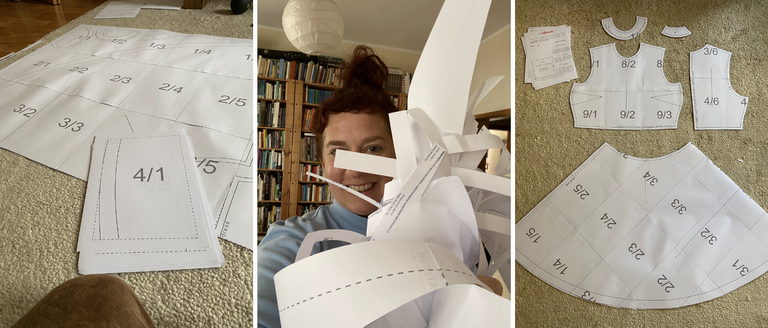 While downloading the pattern you can decide on the paper size (I chose DINA 4) and the format (I used pdf). My settings mean I had to sit on the floor for hours and glue this insert BADBADSWEARWORD together. With the pattern you also get an overview of the measurements you have chosen for the garment, an overview of the pattern pieces on the sheet and the measurements of yourself (bust, waist, hips).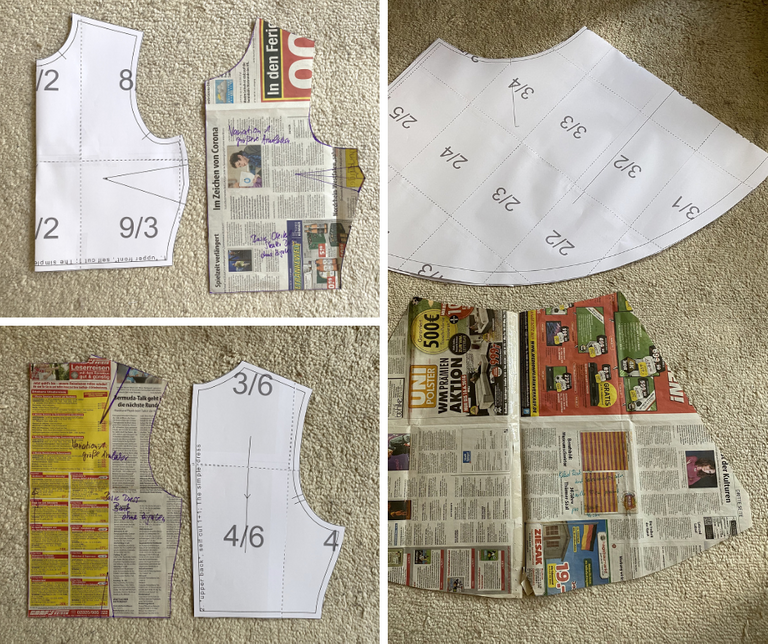 Here you can see the Tailornova pattern (white paper) in direct comparison with my self drafted pattern (newspaper). While taking the photos I noticed that some of the modifications I usually apply are already incorporated in the Tailornova pattern, because the bodice is much shorter, curvier and has big armholes. Two things however made me suspicious – the very small neckline and the huge bust darts.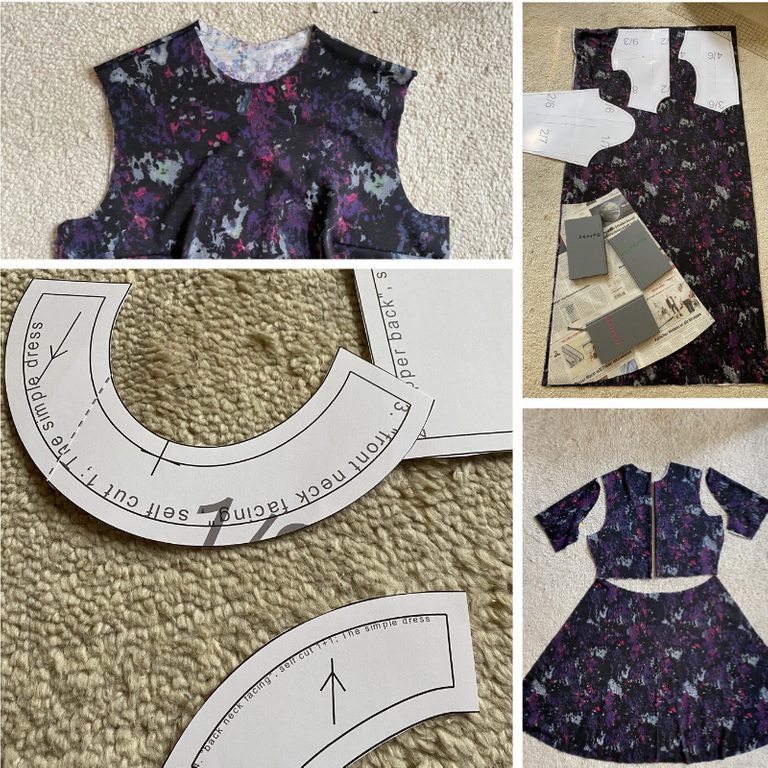 Let me start with the good thing, the bust darts fit perfectly. Really! Perfect length, perfect place on my body, perfect perfect. And now the bad thing, the neckline is so small I could not get my head through it without tearing the seams. No idea what happened. My neck measurement is 33 cm and the neckline measurement the pattern gave is 13,92 cm. I measured the printed pattern and with seam allowance the neckline measures 44 cm. A tad small for a head to go through. The other minor hiccup is, that the software gave me a facing for the neckline which I find uncommon for a stretch fabric and I would have preferred a neckband. Both are really minor problems as it is neither difficult to make the neckline wider nor to self draft a neckband…
On to the sewing. Normally this is gruesome work for me. I baste the pieces together, try them on and unpick them, as the garments never fit at the first second third forth attempt. This time I was so daring, I did not baste the parts, I sewed them together with a zig zag stitch (the stitch which is also known under the alias 'will-never-open-again-if-used-with-knitted-fabric'). And this is what I got: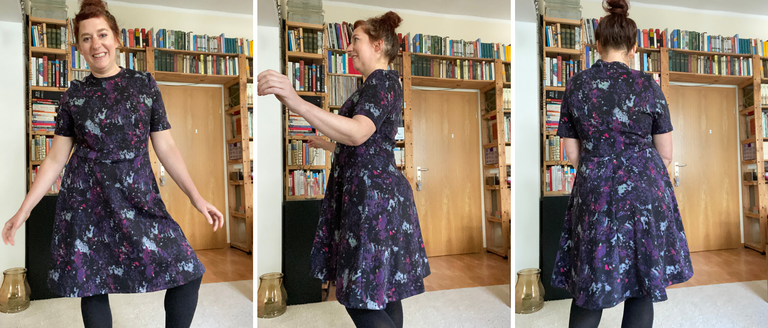 The dress fits really well, and I only sewed it once. Once! This is a first for me. I am speechless.
.
.
…. No, not really speechless :-DDD I still need a bit help with the shoulder and neckline. I am unsure, should I tinker myself or should I change the Tailornova pattern (this would be a new pattern download and it feels kind of wasteful). And if I fumble or download, what should I do? I find the sleeves too small (more ease in the Tailornova setting for the sleeves?) and the shoulders sit strange (no idea what to do). And I would love to know what I did that I got this crazy small neckline.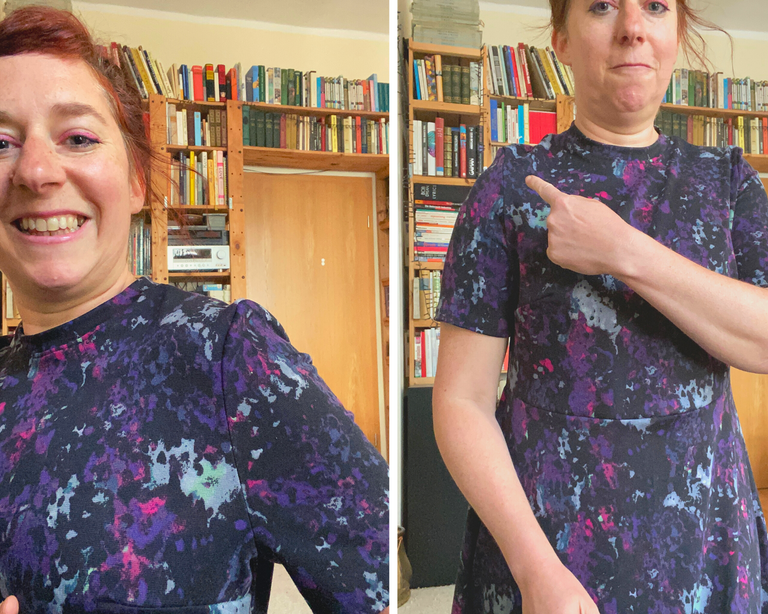 How is your experience so far with the software? @shanibeer @muscara @akipponn did you downloaded a pattern? Tried it out? Did you have contact with Tailornova (I found them very supportive and open for help/criticism). I am still very excited about this software and see big things (and many blogposts :-D)
Thank you @crosheille for initiating and @muscara, @shanibeer, @marblely for hosting the #needleworkmonday. If you want to see more beautiful projects with yarn, fabric and most of all needles, follow @needleworkmonday. Or even better grab your needles and keyboard and join the #needleworkmonday community.
Ohhh, if you don't have a hive account and want to comment then visit my Wordpressblog Bliss and Blisters and write me there.