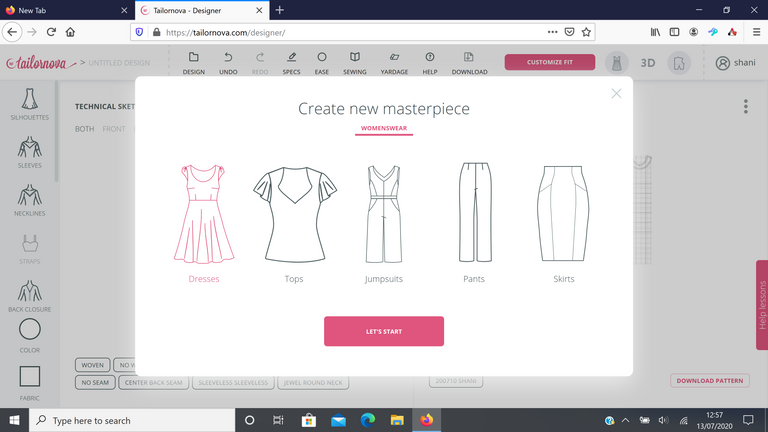 A blogger I follow on youtube, @joeysewy, has just been sponsored by Tailornova, an innovative custom design software for creating your own dressmaking patterns.
To celebrate, Jo is offering a discount code for Tailornova subscriptions, which range from $15 dollars for five pay as you go downloads (the first two are free) to a special early bird price of $29 per month or $279 for a year for subscriptions.
There is also a contest, where you can post pictures of anything you have made using the Tailornova software until Sunday 16 August 2020. Everyone who participates will be entered into a draw for some sewing goodies and a voucher to spend in an online fabric store anywhere in the world.
The coupon lasts until 31 July 2020.
Full details at the JoeySewy website
Jo Cooke, the woman behind JoeySewy, has used Tailornova to create a special dress for a wedding for herself and a prom dress. She is also doing a series of videos about how to use Tailornova. This is a good walk-through:

In the video, Jo starts with some inspiration pictures and then uses them to take you through using the software. Tailornova is still in beta, so not everything is there yet, and some things don't work quite as they should, but all the basics are there to get started.
For each garment that you choose to design, there's a technical or line drawing and then the pattern pieces on the right. Each time you choose an option, the line drawing and pattern layout changes to reflect the option.
There is also a scary 3D model choice, which I tried to start with, but found that everything looks like a sack on her, so I decided to stay with the line drawing and pattern.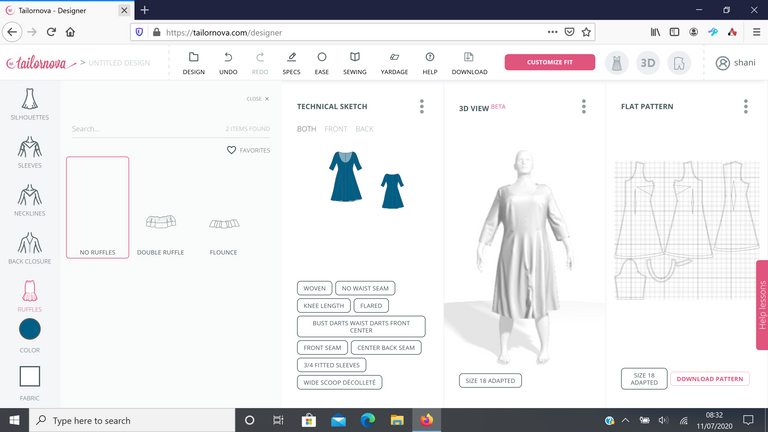 Here's my trial of putting together a typical day dress of the style that I wear all the time. You can see what I mean about the 3D model!
I addition to being able to put together all the design features that you like, you can also add your own custom measurements. This is fabulous for all of us who don't conform to standard dress sizes. You can either add your own complete set of measurements, or choose one of the standard sizings (European, North American, British, Japanese and Russian sizes are given) and then adapt the measurements accordingly.
The next video in Jo's series will be about adding your own custom measurements to the software (the video will be available soon). Meanwhile, Jo has done a video about how to take your measurements, especially when there is no-one around to help you.

I found it reasonably easy to get all my measurements, even the back width, but I haven't tested how accurate they are yet by making a garment using them!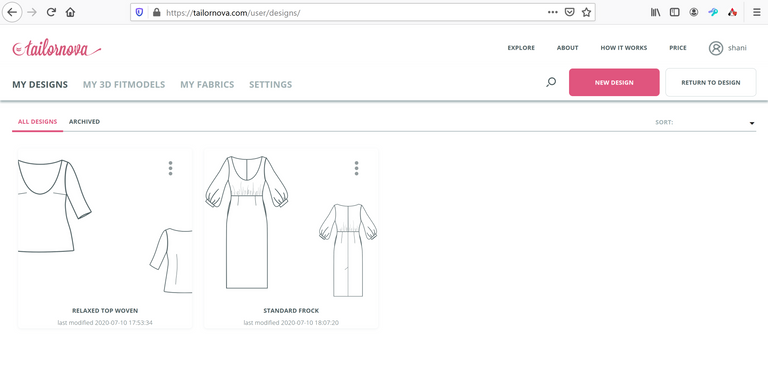 I have enjoyed starting to develop my patterns, though, and I've saved a couple using my own custom measurements. There's lots of other facilities as well - adding colour and fabric texture, adjustable seam allowances, pattern layout schema for different widths of fabric etc.
I also found this review by Annika Victoria - useful and interesting, and using the 3D model does show a different aspect of the pattern which wasn't obvious from the line drawing or pattern pieces. (It also has an ad for squarespace.com in the middle - aggrating but it doesn't last for long).
Annika Victoria is making a knit top, which introduces other useful features about Tailornova including a stretch guide to test how stretchy your knit is. She also does a good review of the sewing instructions that come with the pattern and suggests that a beginner sewista might struggle a little. You can see, too, where the website is still developing - the pattern came with facings for a sleeveless top and sleeves. These will get sorted out over time, especially as the website is used by more people.
THe woman behind Tailornova is from the fashion industry and is very passionate about slow fashion and creating clothes that fit you properly in the designs that you want to wear - so you do, for a long time. I'd be really interested to hear other views from needleworkmonday posters - @neumannsalva, any use to you ? :D