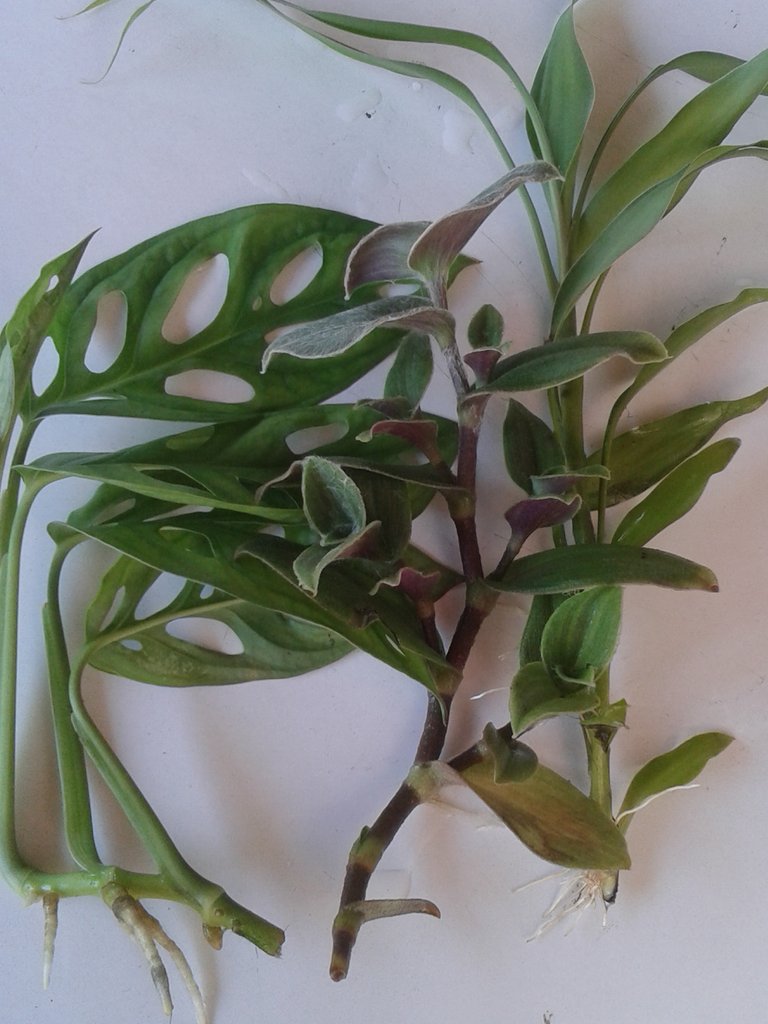 Plants:
Sometimes you want to sow a plant and you don't know how to do it. I'll show you how you can root various cuttings of plants, just by placing their stem in water.
The most important thing is to get the plant you want to multiply. Or maybe you simply have a small cut and don't know how to plant it... Not all plants can grow in water, but there are some plants suited for this method of rooting, as in they benefit from it very well. I got several cuttings and I'm going to start showing.
Philodendron Monstera Adansonii:
It's a plant that you can hang or you can put a guardian in the pot so that it entangles itself around it. The most striking thing about it are these little holes in its leaves, which look like hand-made buttonholes in clothing.
Plantas:
A veces quieres sembrar una planta y no sabes como hacerlo. Aquí te muestro como puedes enraizar varios esquejes de plantas, solamente con colocar su tallo en agua.
Lo más importante es conseguir la planta que quieres multiplicar. O puede ser que sencillamente tienes un pequeño esqueje y no sabes como sembrar... no todas las plantas pueden crecer en agua. Pero hay algunas que este método para enraizar les cae muy bien. Obtuve varios esquejes y voy a empezar a mostrar.
Philodendron Monstera Adansonii:
Es una planta que puedes colgar o puedes colocar un tutor en la maceta para que se enrede en él. Lo más llamativo que tiene, son estos pequeños agujeros en sus hojas, que parecen unos ojales hechos a mano en la ropa.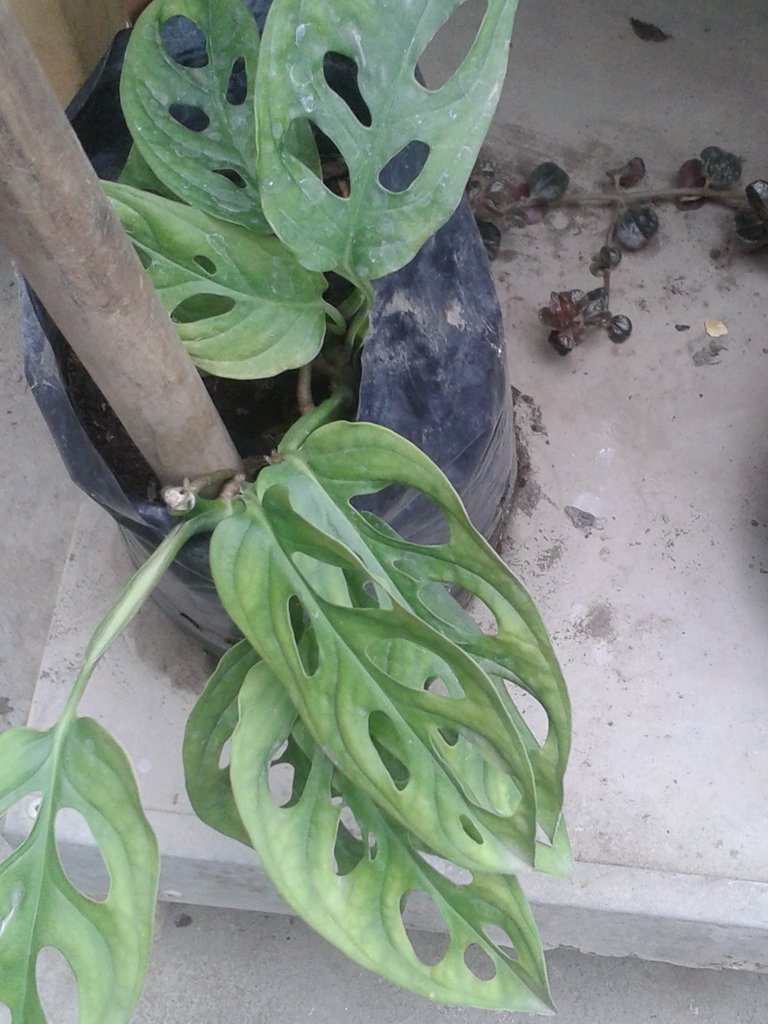 I cut a small branch from the mother plant... You can see it here. And I put it in a container with water, away from direct sunlight.
Corté un pequeño esqueje de la planta madre... es este. Y lo coloco en un envase con agua, lejos de la luz directa del sol.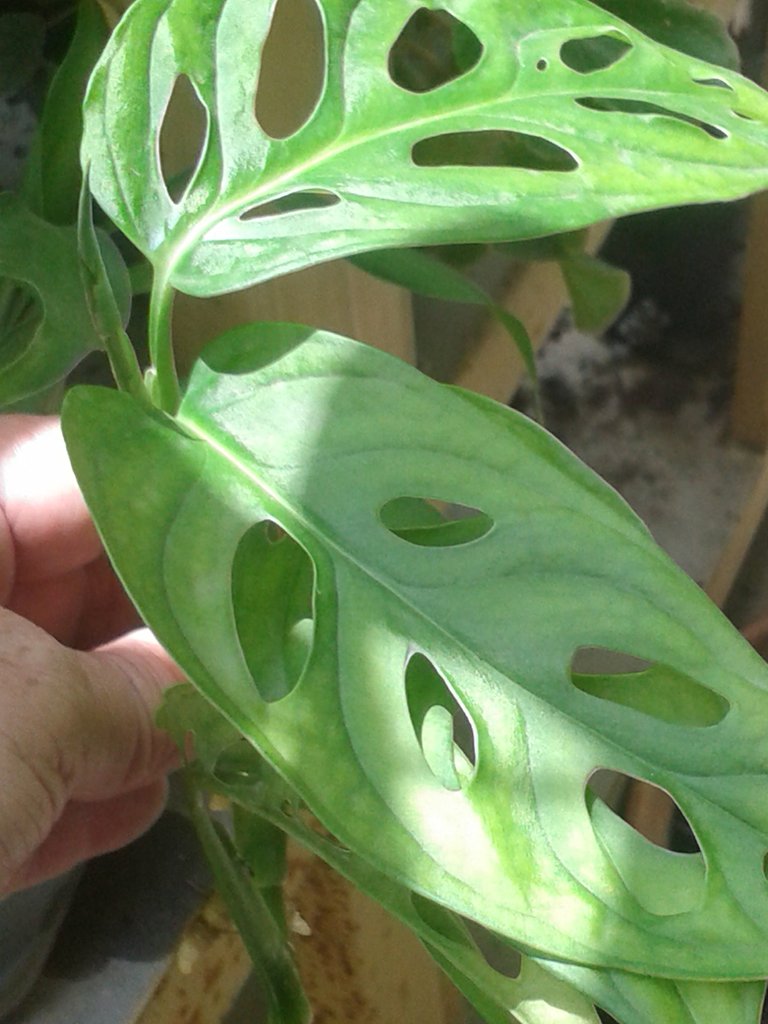 After two weeks in the water, this is the result. Its white roots indicate that the root is thriving and may soon be transplanted to a pot for more growth.
Después de dos semanas en el agua, este es el resultado. Sus raíces blancas indican que el enraizado está prosperando y dentro de poco puede ser trasplantado a una maceta para su crecimiento.
The Tradescantia Sillamontana:
It's a plant that hangs in a pot and its stems are rigid and fragile. It grows bushyly, expands and proliferates abundantly. It's not difficult for branches to be planted and thrive. But the fastest and most effective way is this... in water.
La Tradescantia Sillamontana:
Es una planta que cuelga en maceta y sus tallos son rígidos y frágiles. Crece en forma arbustiva, se expande y prolifera abundantemente. No es difícil que se siembren esquejes y prospere. Pero la forma más rápida y eficaz es esta... en agua.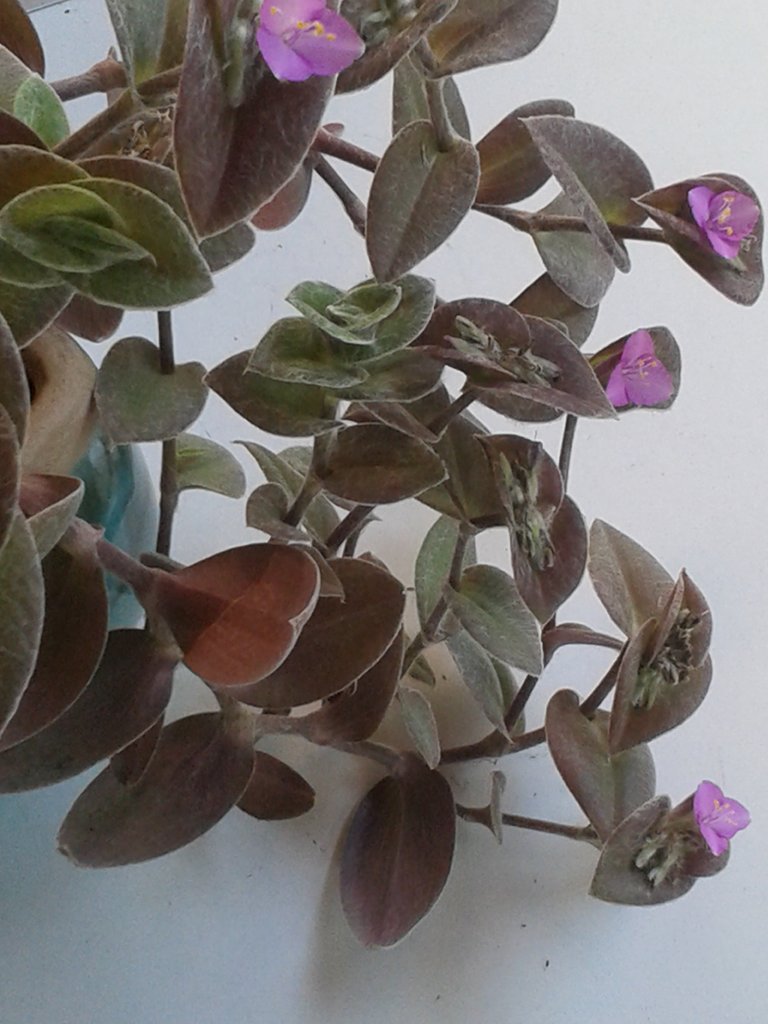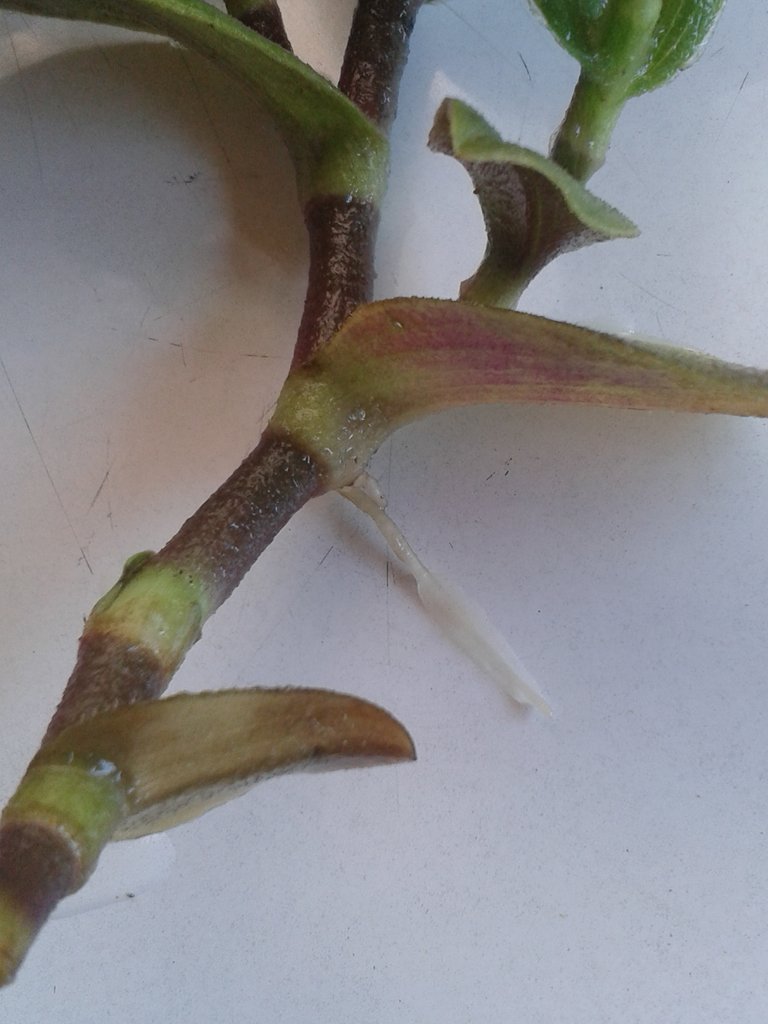 The bamboo:
They are very useful to decorate our home. They can grow in soil, where their roots extend far, from their stem. And they can also develop in water... this is a small branch that I got from the mother plant. It already has abundant and highly branched roots.
El bambu:
Son muy útiles para decorar nuestro hogar. Pueden crecer en tierra, donde sus raíces se extienden hasta muy lejos, de su tallo. Y también pueden desarrollarse en agua... este es un pequeño esqueje que obtuve de la planta madre. Ya presenta abundantes raíces, muy ramificadas.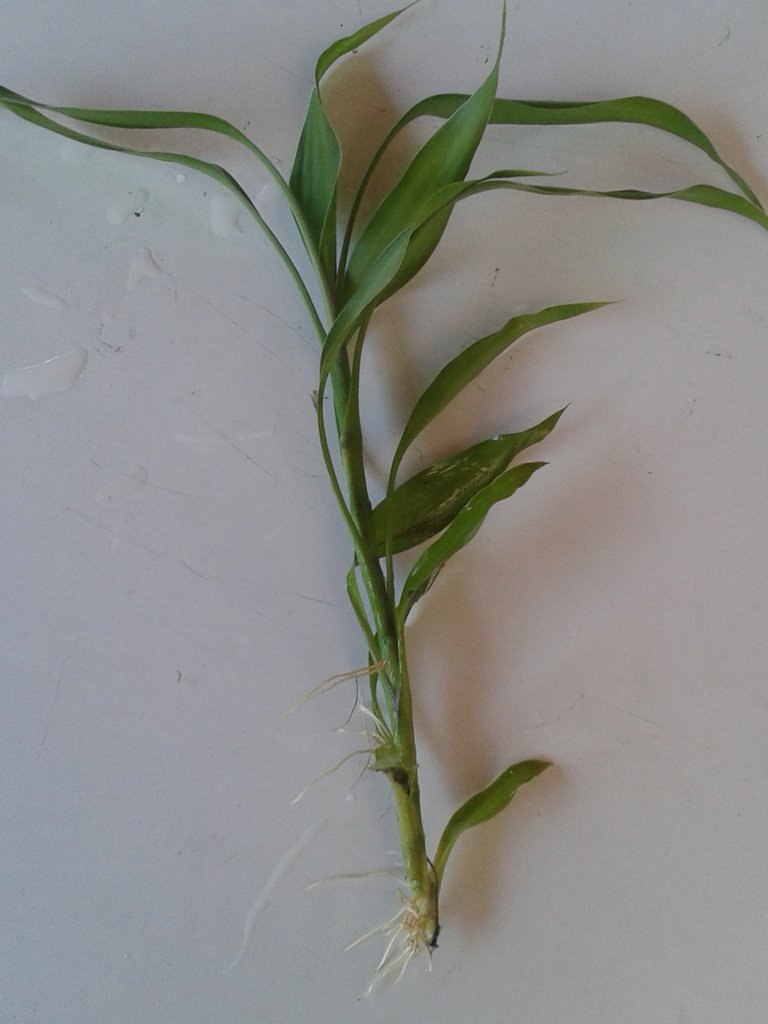 All these branches have the same time in water. You may notice that some form stronger roots and others make very thin and abundant roots.
Potos:
This is a plant that you can also have hanging or climbing in the form of a vine in a tutor.
Todos estos esquejes tienen el mismo tiempo en agua. pueden notar que algunas forman raíces más fuertes y otras hacen raíces muy delgadas y abundantes.
Potos:
Es una planta que puedes tener colgando o también subiendo en forma de enredadera en un tutor.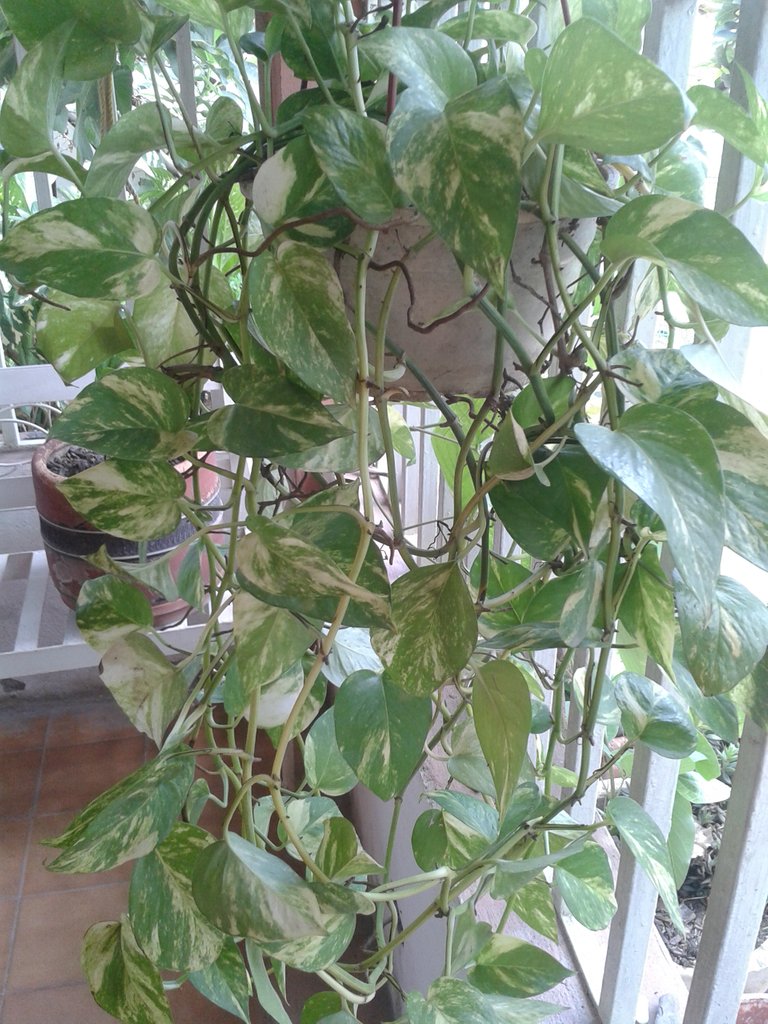 This branch has only one week in water and we can see that a root has already started to emerge. In a week I will have another rooted plant to plant in my pots.
Este esqueje tiene solo una semana en agua y podemos observar que ya empezó a emerger una raíz. Dentro de una semana tendré otra planta enraizada para sembrar en mis macetas.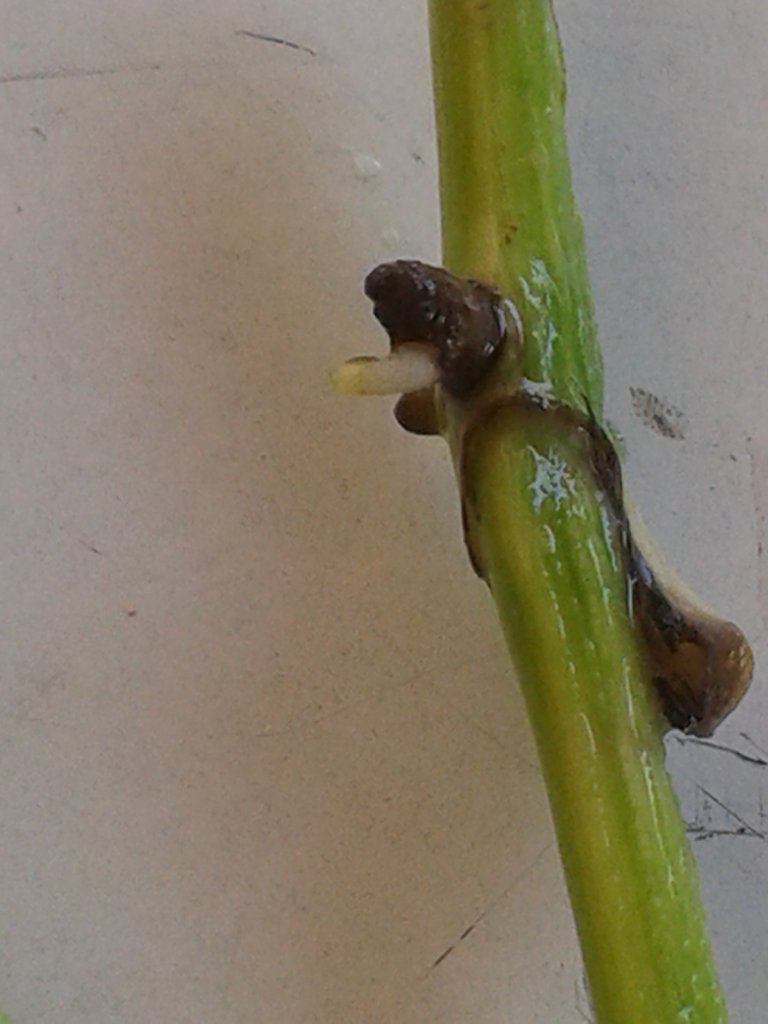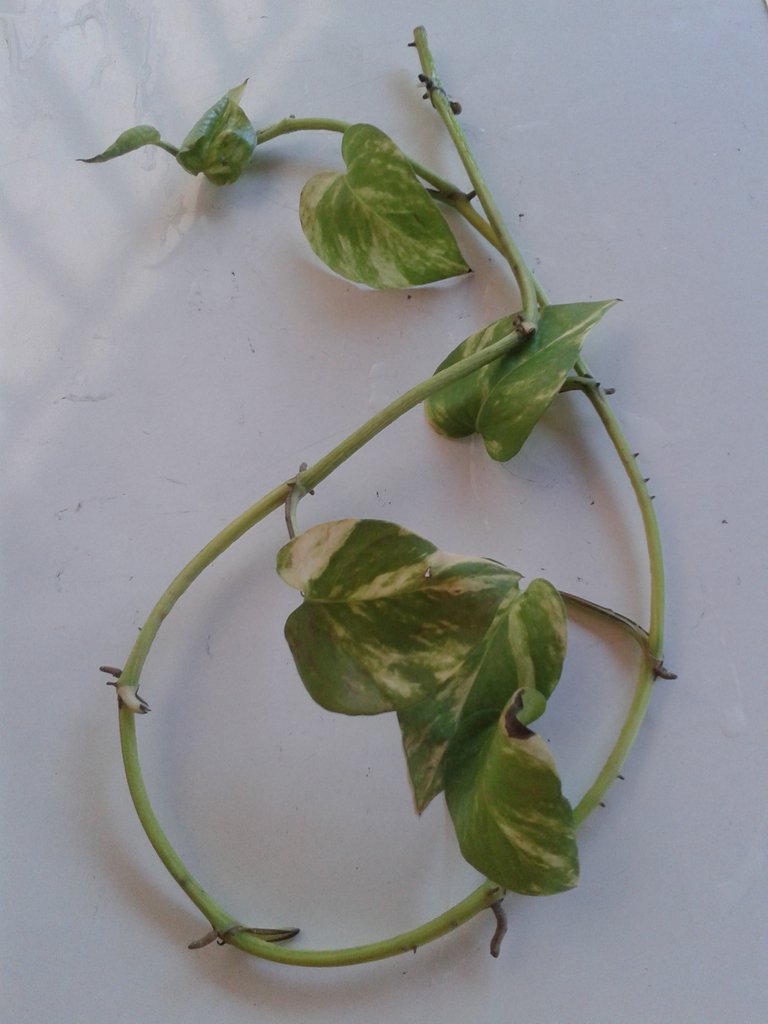 So far I only have these 4 plants in the water. In some way this can give you good results, in case you decide to plant one of them.
All photographs are my property. Taken with my samsung mini s3 phone.
Thank you for your visit and comments.
Hasta el momento solo tengo estas 4 plantas en el agua. De alguna manera les puede dar buenos resultados, en caso que decidan sembrar alguna de ellas.
Todas las fotografías son de mi propiedad. Tomadas con mi teléfono samsung mini s3.
Gracias por su visita y comentarios.