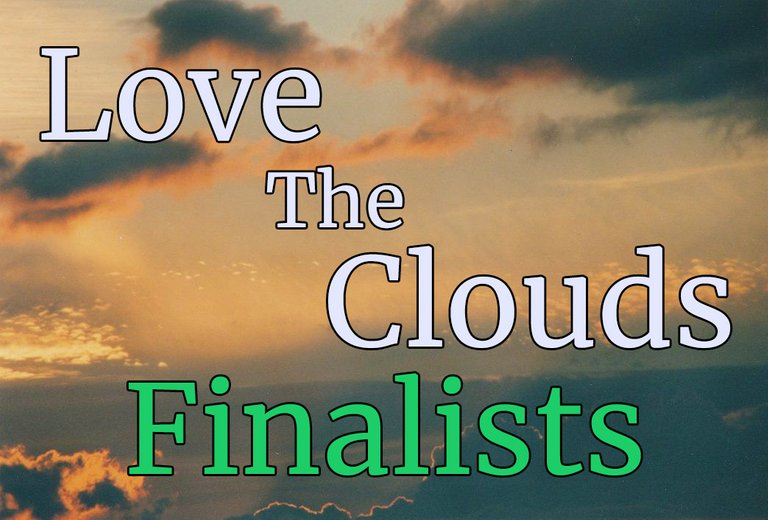 ⛅🌦🌧🌦🌧🌨☁🌩🌦⛅🌧☁🌤🌥🌪🌧🌨🌩⛅🌦☁🌤🌥🌤⛅🌤⛅🌦⛅
Hello Hivers!
Just to recap:
We have a new curation account @lovetheclouds which will curate all valid entries to our community. Currently it has 1.5k HP and all delegations to this account will be rewarded with daily upvotes from my main account @tobetada (see the post for more details).
The rewards for the LoveTheClouds contest have been increased. Both the finalist and the contest posts will make up the prize pool! In addition, honorable mentions will get a 50% upvote.
I have made an application to the OCD community incubation program and with a little luck @ocd might start to curate our community as well
If you feel like becoming a moderator, please let me know (again, more details in the original post).
It is probably not too surprising that these changes have translated in an amazing amount of participation! We have had over 20 entries (which is one of the most we have ever had)!

Thanks so much for supporting this contest and showing your love for clouds! 😊🙏⛅

The prize pool was 3.056 HBD (~15 Hive) and every finalist will get 1.01 HBD (~5 Hive)

Great to see that the contest and the prize pool is continuing to grow!

And the finalists are...

And for the honorable mentions we have...

 

Keep on Hivin' and see you in the next post!

⛅🌦🌧🌦🌧🌨☁🌩🌦⛅🌧☁🌤🌥🌪🌧🌨🌩⛅🌦☁🌤🌥🌤⛅🌤⛅🌦⛅

⛅🌦🌧🌦🌧🌨☁🌩🌦⛅🌧☁🌤🌥🌪🌧🌨🌩⛅🌦☁🌤🌥🌤⛅🌤⛅🌦⛅