Hello Friends,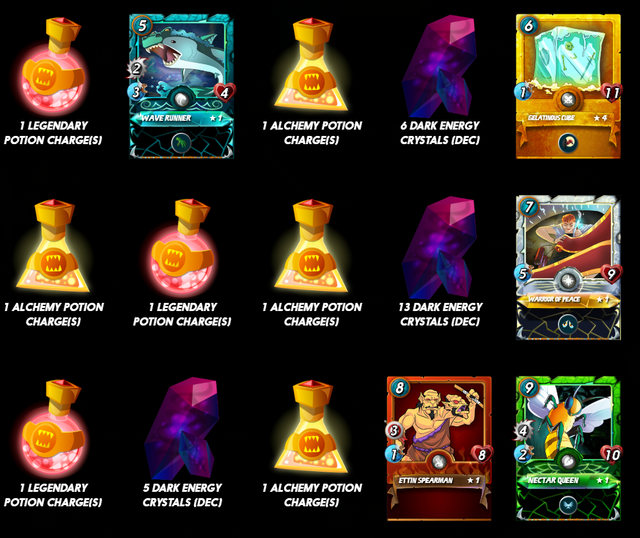 I hope you all settled talking about Splinterlands Season End Rewards for the season which got completed yesterday.
I have seen the blogs showing their season end rewards from many people and here is my blog with my season end rewards details.
For the umpteenth time, a Legendary monster eluded me from season end rewards and I am not gonna complain much about that as it has become a routine nowadays and hopefully, you got atleast a Legendary monster.
---
Legendary monsters have become so much obsession nowadays that, even if we get few Epic and Gold Foiled ones, we don't feel satisfied.
Having said that, here are my rewards as you can see in 3 screenshots I shared below.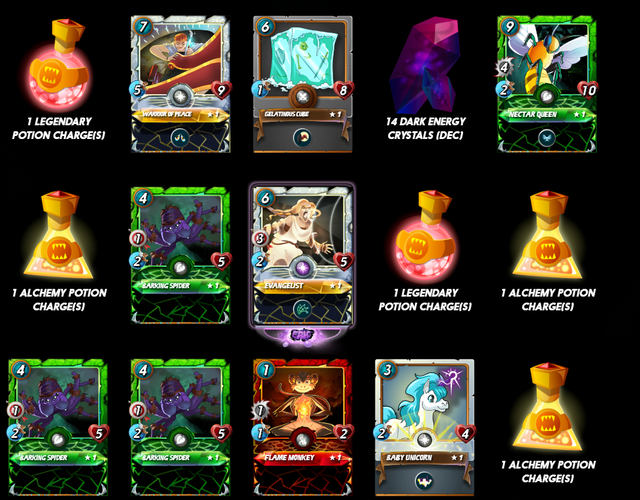 In the above one, we can see that an Epic Evangelist is the best among those so many cards I got and Nectar Queen being the next best is what I feel.
The monkeys and Spiders I got will be good in the longer run when I will be able to level them up to max levels to enjoy their best abilities, but as of now, those are like nothing for me.
---
Here is the next set of best cards among those 120 chests I got for reaching Champions II league.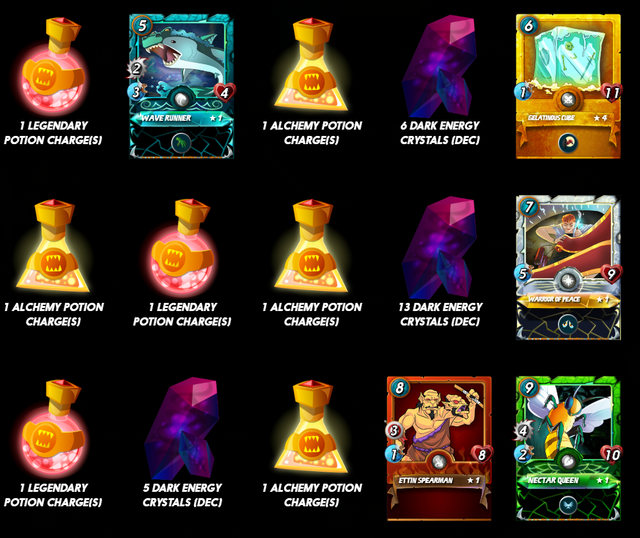 So, a lone Gold Foiled card in Gelatinous Cube and another Nectar Queen and few others in Wave Runner and Ettin Spearman. I think I got lot of potions, which will help or not, only time will tell.
---
And here is the last one where, I got another Epic monster in Pyromancer and that is the third and last notable monster card for me among the 120 chests!!!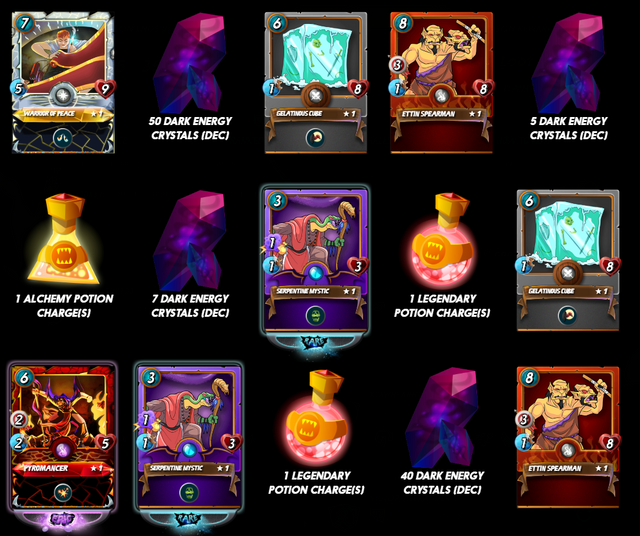 There were quite a few Ettin Spearman and definitely helped to level up the card to get additional speed.

That's my story about the Season End Rewards guys. Definitely not what I would have liked to get and I am sure you too will agree with me ;)
So, what's your story regarding the Season End Rewards guys?
With Splinterlands moving to HIVE today, hopefully, it also leads us to some new features and I have read somewhere there is a new promo card ready for the release and it will be a mystery card.
Do drop the comments and Have a wonderful day and keep battling :)

Not yet signed up for Splinterlands?
You can join using my referral link: splinterlands.io and get some monsters from me :)
Also, try monstermarket.io if you haven't already for your steemmonsters cards and packs purchase and get instant cashback with every card purchase.

Thanks for the votes, comments and resteems.
I am a proud member and supporter of below communities:




Do you use eSteem?
eSteem is a Mobile📱& PC💻 app. for Steem with great features. Also, you get Incentives posting through eSteem apps.
eSteem Spotlight; eSteem provides rewards for it top users in Leader Board with most Posts, Comments and Highest Earners.
---