Enter To Win This Gold Foil Vampire Bat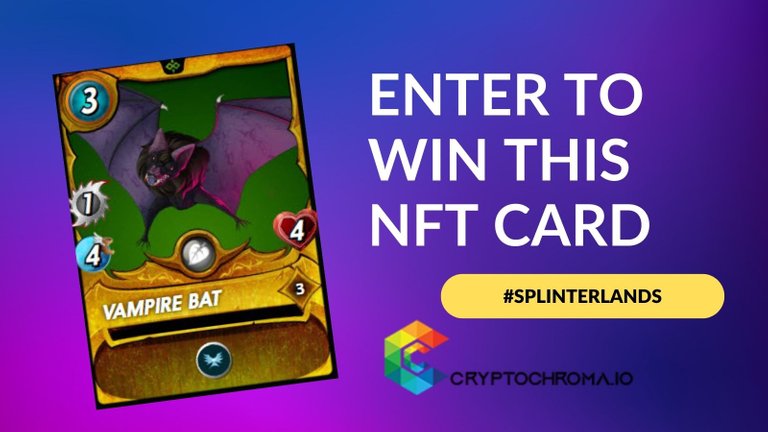 Hey ladies and gents!
First a big thank you to everyone that took part in our last giveaway. We had some huge support and those tips in comments(🍕 PIZZA , 🍺 BEER, 🎮 PGM, ❤️ LUV , 🍷 WINE, 😆 LOLZ, 👫 ENGAGE, ❤️ ALIVE, etc.) and upvotes greatly helps.
This week we beat our entries again with a total of 35! Huge shoutout to all of you who are taking the time to enter to win and help spread the word. That help is going to allow us to have more winners and bigger prizes as we grow.

If you would like a head start you can join our Crypto Gaming Giveaways email list here
We will only send out one email a week starting as well roll out our weekly giveaway but as things pick up we will most likely do 2 or 3 a week and expand from there as we push into new games. At least that's the goal.

Proof Of Last Winner
from this post - https://ecency.com/hive-13323/@cryptochroma/win-a-gold-foil-radiated
Winner of the gold foil card is.... jonimarqu!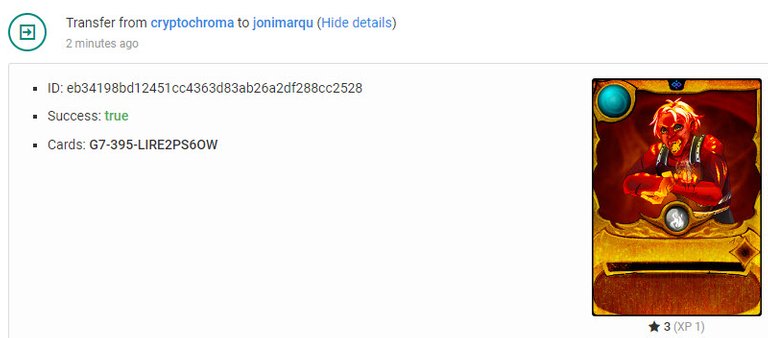 This Weeks Giveaway
This week we are going to giveaway a gold foil card again this time the vampire bat!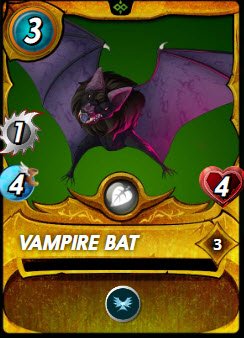 What I love about this card is the flying ability which can make hitting it hard. It's often a mission that comes up for me as well to house all flying and it packs a huge punch.

How To Enter
This week we are going to change things up a bit. Now you still get a entry via the old comment ign but by using the widget below you will be joining out email list for larger giveaways we do!
Required
Must be following @cryptochroma

Drop a comment with your IGN for Splinterlands
If you don't have a Splinterlands account yet feel free to join here Join Splinterlands
Optional: Drop any size upvote on the post (This helps us provide better prizes and reach more people as we grow
Optional: Share this post with others
Optional: Drop comment tips such as 🍕 PIZZA , 🍺 BEER, 🎮 PGM, ❤️ LUV , 🍷 WINE, 😆 LOLZ, 👫 ENGAGE, ❤️ ALIVE, etc. these also help us grow our reach and prizes.
Other: Use the widget below to gain entries.
The idea for the widget is to be able to expand even further the reach and get more involved.

How Your Votes Are Used
Your votes and comment tips help us build out stacks of passive income in the gaming world. As time moves on our goal is to invest these into #Hive games helping them thrive as well as getting more involved though larger giveaways. As things get larger we will start some more detailed stats so you can see what effect our campaigns are having. For now we stack and the first goal is 100 hive power so we have enough resources on chain to be able to interact without running out.
---
---