Splinterlands Weekly Battle Challenge: Soul Strangler!

Good day Splinterlands community! Welcome back to my blog! Another week for another entry for the weekly battle challenge.
SOUL STRANGLER OF DEATH ELEMENT
💡A trivia outside Splinterlands:💡
The Soul Strangler is a minor antagonist in Marvel Comics. He is a mysterious but frightening villain that acted as one of the main antagonists of "Black Panther Vs The Klan", a special ten-part comic book story revolving around the black superhero. You can read here for more.
Before the chaos gate opened, the towered city of Darkholde was peaceful and quiet. Situated in the cold, Blackworth mountain range, it was presided over by a long-standing noble family and governed by Baron Kutziq Neculai. If the citizens knew the truth about their governor, then maybe they wouldn't have been so loyal, but the Baron's tastes were sated with great restraint and he truly did care for them, taking only what he must and never more than he had to. For Kutziq was a vampire, a race as ancient as the stones they'd used to build the city. A man who loved his people in many ways, including their unique flavour.
The soul strangler is a creature of nobility, of good stock and incredible wealth. They live in lavish opulence, wearing the finest attire and moving in the most sophisticated of circles, often engaging with the high born from other cities and enjoying intimate gatherings that last for days.
However, when this vampire chooses to hunt, they take on whole new guise, almost shifting their form to become more accomplished for the chase. Pointed ears extend refining their hearing and their eyes change colour affording the ability to see in the dark – their preferred time to hunt. Long fangs grow from their mouth and vicious talons sprout from their fingers. But what you can't see in either form is the power they hold within their mind, an ability to attack at a spiritual level when they eventually find their adversary, squeezing the very life from them; a ranged attack that if not avoided, will have devastating consequences.

So what are the abilities of Soul Strangler?
Here's a summary image of this monster's stats. (taken from Splinterlands.com).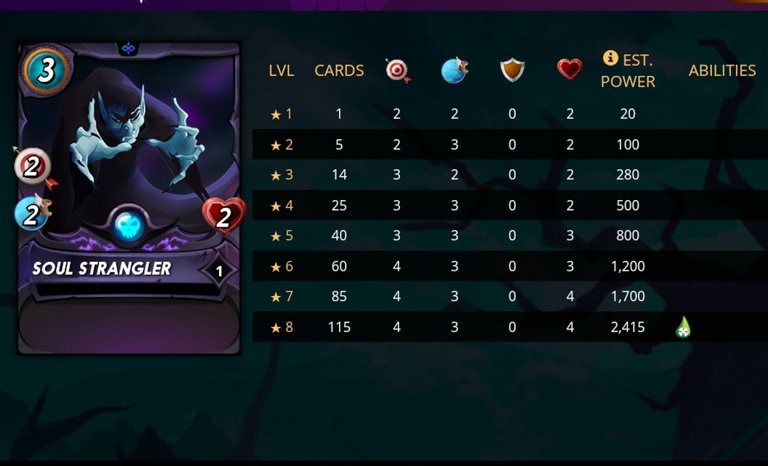 This card was released with Chaos Legion Packs. At level 8, a special poison ability can be utilized.

MY BATTLE
My Battle: Water(Kelya) VS Death(Thaddius)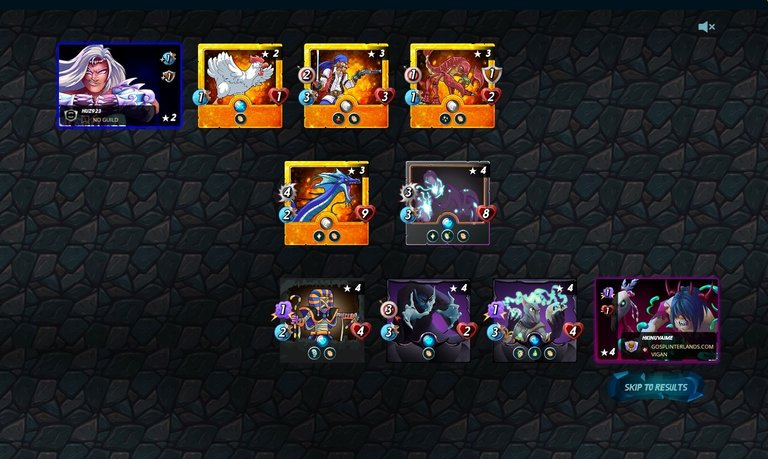 Battle Rules: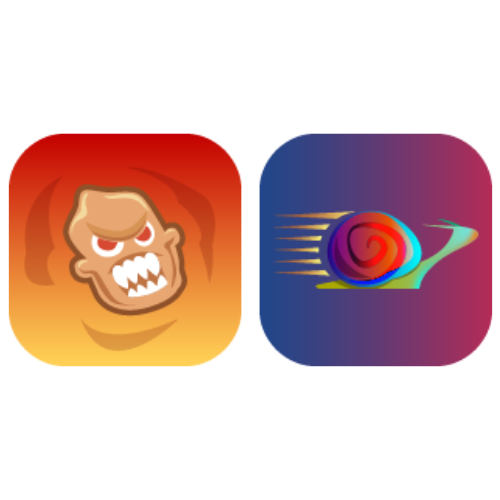 Spreading Fury, Reverse Speed
Mana Cap: 18
Elements: Fire, water, death, dragon


Summoner: Thaddius Brood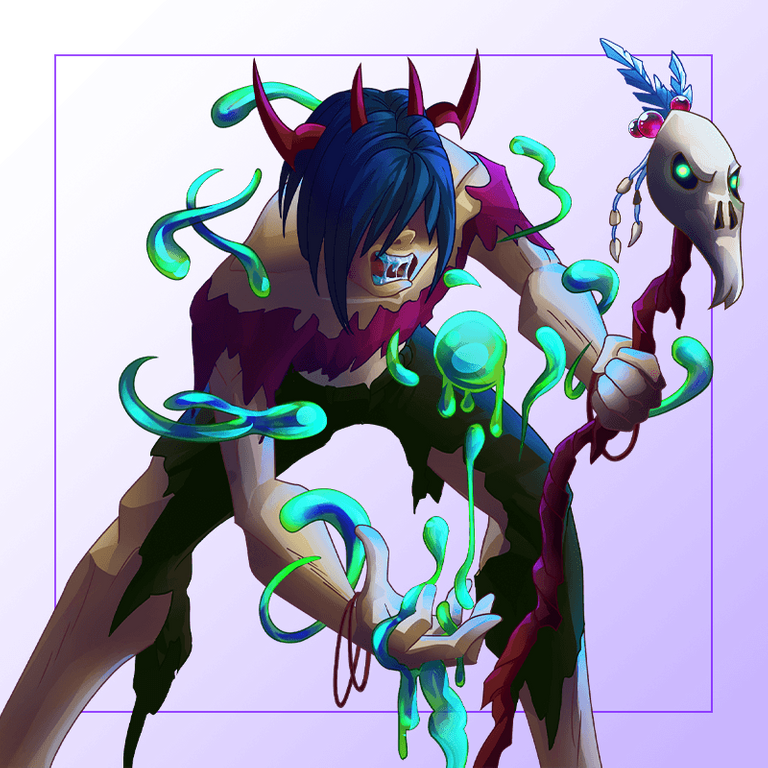 (photo grabbed from Splinterlands.com)
I chose Thaddius Brood, despite of this low mana challenge, because of its decreased magic attack and enemy's health.
My Line Up
Monster
Ability
Strategy
Haunted Spirit (Level 4)
Heal, Magic Reflect
Because of its healing ability, I used it as my tank and its mana is at middle range. I was also thinking that the enemy might use a magic attack, at least I could defend for my self.
Venari Bonesmith (Level 4)
Life Leech, Poison
I used this as my second tank, thinking that he might have collected enough health that would prolong the fight and be a best fit for the 2nd tank.
Soul Strangler (Level 4)
Soul Strangler don't have special abilities but only at level 8, but in this low mana battle he fits perfectly.
Undead Priest
Weaken
In partner with Thaddius Brood, another life will be taken from the enemy, which means more chances of winning.🤣
ROUND 1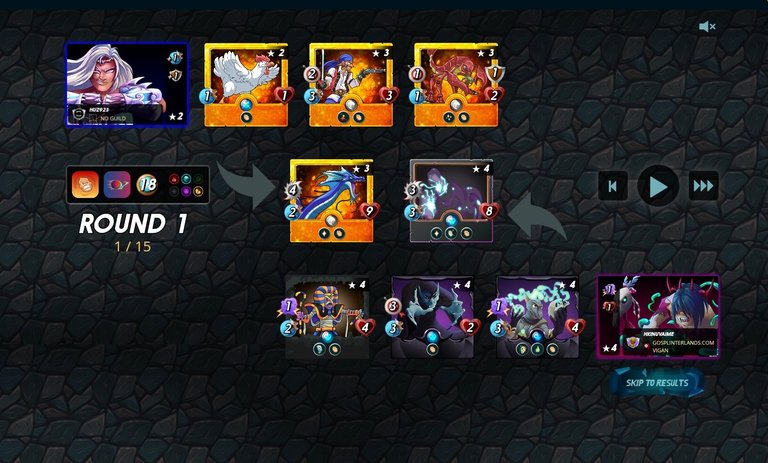 Kelya Frendul is a strong opponent but with the battle rule of reverse speed, it is a wrong move yet his monsters are strong. Like my tank, my enemy used a healing tank, Sea monster. He has also Crustacean King to support his healing but even as the first attacker, he could not overpower my tank. The Undead Priest's ability took place and decreased my enemy's life. Originally the tank's life was 8, but with Thaddius Brood and Undead Spirit it reduces to 7. With the *Soul Strangler's ranged attack, it loses the enemy's shield followed by *Venari Bonesmith's attack which made it easier for my Haunted Spirit to decrease the enemy's tank into 2. Though Pirate Captain attacked my Venari Bonesmith with his stolen life from the enemy's tank, it did not affect much.
ROUND 2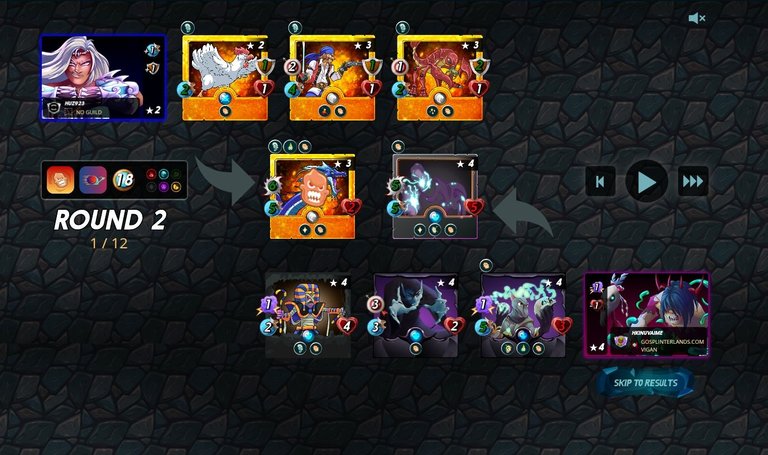 Now that the 2nd round started, the poison of Venari Bonesmith was absorbed by Sea Monster which killed him in the early stage of this round. The additional shield of Kelya was not defending his team because of my magic attacks and with Soul Stranger's ranged attacks that clear the way for Haunted Spirit to direct hit the enemy. As Crustacean King was left behind, his one life was taken by Venari Bonesmith which leads me to my victory.

Did your strategy work?
Yes, my strategy worked in this low mana battle. I was glad I was able to use it effectively.
What will you try differently next time?
If I am able to use a level 8 card of Soul Stangler, I would love to try it, especially since it is a low mana card.
Do you like the Soul Strangler? Why or why not?
I liked him during this game, but honestly, I find a hard time how to utilize this card properly without being easily defeated.
Watch this video and you can comment down below.

---
---