Splinterlands - My Plan on Chaos Legions Presales...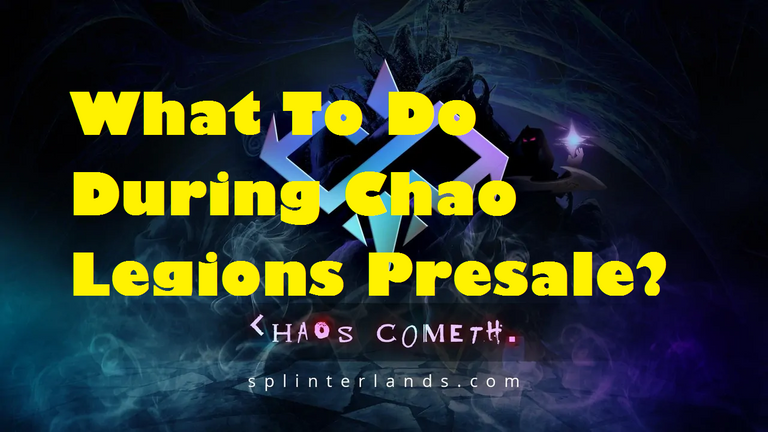 Die hard fans of Splinterlands is well aware of today's @splinterlands post regarding the presale of the new Chao Legion series that will happen a little under a month from now. My excitement could not be contained as over the course of the entire day I was pondering how best to approach the presale.
Official Splinterland's Post on Chaos Legion Set Presale
Advantages of Presale
There are certain bonuses and incentives to participate in purchasing packs during the presale. Rather than going through all the details I would point out my decision on how to approach the presale and why?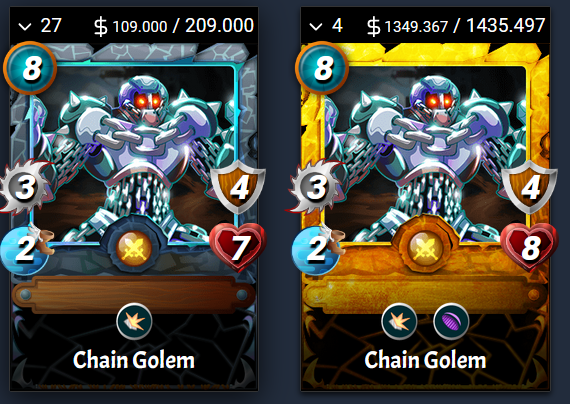 During the presale if we hit a pack purchase threshold we automatically earn a promo card. The promo card is similar to how the Chain Golem was offered during the Kickstarter. There were less than 5000 bcx regular and under 500 bcx gold foil for that specific card. Such scarcity and usefulness of the card makes it a very sought after and valuable card.
Now with Chaos players can earn a promo card automatically for purchasing 50 packs during the pre-sale and if they can purchase 1,000 packs they will earned automatically a gold foil version. There is also the incentive of earning a title if player purchases 1,000 or more packs during the pre-sale.
Pre-sale begins on Oct 18, 2021. This is when we have to collect daily vouchers in order to be allow to purchase packs. Voucher air drop is daily for the first month starting Oct. 18th and amount of voucher depends on player's staked SPS.
In addition if players use SPS to purchase packs during the pre-sale they automatically get 10% discount. In addition if we buy in bulk during the pre-sale there is bonus packs given during the bulk purchase. If I bought 100 - 499 at one time during the pre-sale I get 10% more in packs, 500 - 1999 will get me 15% more in packs, and above 2000 will get 20% more in packs.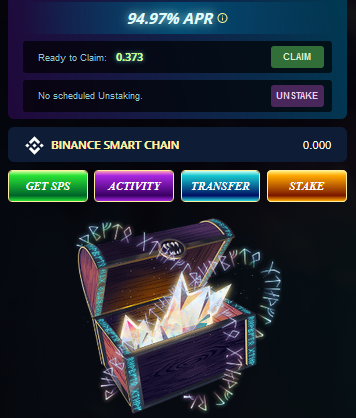 With staking SPS it will earn close to 100% APR in additional SPS. While powering down the SPS stake will have a four week wait as it powers down in increments of 25% per a week.
This go me thinking that SPS appears to be the token that revolves around the best benefits of purchasing pre-sale chaos packs. Here is my thought process. As we all continue to collect our daily air drop of SPS not all the SPS are staked. Ones that do have it staked earn a passive APR % in SPS. This way quicker to earn SPS.
Why SPS over DEC?
The amount of Collector points a player has is what determines their daily air drop of SPS. By holding a lot of DEC the players can earn a lot more SPS. However on the other side is with discount preference with SPS in use of purchase of pre-sale packs and the lesser amount of SPS in circulation I would think the value of SPS would rise faster than that of DEC. Lower supply while better incentive to use SPS makes me want to save SPS for the pre-sale.
How Many Packs to Buy?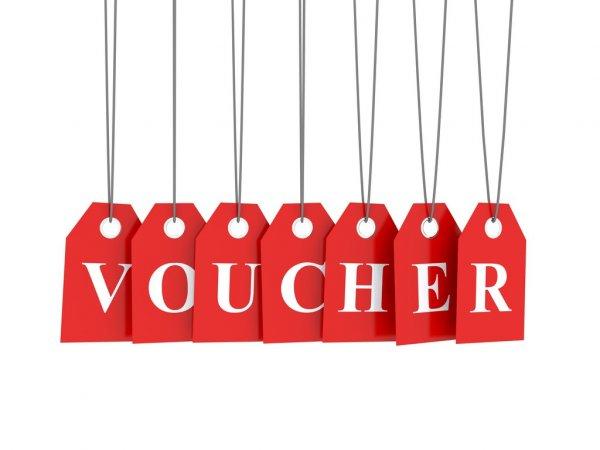 Although the packs will each cost $4 the incentive to buy in bulk is very desirable. The purchase of the packs will not just be determined if I have $4 per pack but that I must also have 1 voucher to purchase the pack. The vouchers are another air drop on top of the SPS daily air drop. Each day for 30 days the voucher air drop will happen. The more SPS staked means the more voucher air drop I can collect.
The focal point in my opinion is not how much SPS I can accumulate but how many vouchers I can obtain. With only 1 million packs to be sold during the pre-sale and it lasts 30 days. The window of time to accumulate vouchers will be short and since the pre-sale will be in high demand due to current lack of available booster packs. Bottom line I must try to determine how much vouchers as it appears to be a limiting factor on how many packs I can purchase.
My personally goal is to hit 100 as by then I also get 10 additional packs with the +10% pack bonus. This will mean I need $400 and 100 vouchers to do so. Take for instance if I can earn 3 vouchers a day during its air drop then for 30 days it will get me to 90 vouchers. 10 more if I can purchase from in the open market will make it 100 vouchers. This seems much more feasible then trying to go for the extreme of 1,000 packs.
Conclusions</3>
I went through my thought process as to why I prefer to hold more SPS than DEC. There is a lot of other incentives not mentioned with staked SPS. On the flip side DEC is a useful token in game as it allows users to use the token to purchase other splinterlands. Holding DEC will also earn more SPS.
Again even with holding DEC would earn more SPS the goal here is to get as many packs as I can with out destroying my pockets. The more SPS I stake the more SPS I earn. This goes to show how integral SPS plays in the pre-sale and how I will intend to amass as much SPS before the pre-sale.
Until next time thanks for reading!!!
If you are interested to learn more about Splinterlands please go through some of my other posts. Order is from newest to oldest posts:
All You Want To Know About Reward Chests
Helpful Links for New and Veteran Players
Splinterlands Good Cards To Own
Splinterlands Rentals from a Lender Perspective
I have plenty of other cards for rent! Just go on peakmonsters and check out the market place and if you are curious what I offer here is a link:
If You have yet to take part in playing this great game called Splinterlands please click on my referral link. It is free but in order to earn real assets such as cards and token you would have to invest in a starter deck or purchase game cards. Join the discord to learn more. Good luck!

THANKS FOR READING! CONTINUE TO PLAY SPLINTERLANDS!

---
---