Hello Hivers and Splinterlands gamers!
Thank you to the organizers of this fun challenge: @splinterlands and @carrieallen, and those who have been helping in the curation of articles! KUDOS to all of you for the work that you do!
* * * * * * * * *
Feature Monster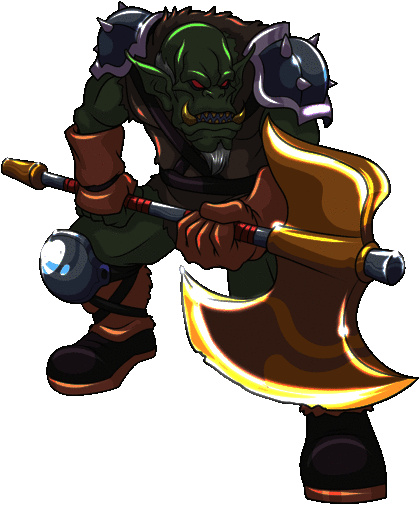 THEME: STONESPLITTER ORC
Edition: ALPHA/BETA
Rarity: RARE
Element: EARTH
ATTACK: MELEE
ABILITIES: Retaliate at level 1; Enrage at level 5
---
The Ruleset
Mana- 17
Noxious Fumes- All Monsters star the battle poisoned.
Close Range- Range attack Monsters may be used the first position in battles.
The Strategy
1. The battle mana is low, and I used the Feature Monster Stonesplitter Orc as tank.
2. I place Melee Monsters that can attack from behind.
3. I also fielded an EPIC monster to give a buff of Speed and Inspire (unfortanely, I am short a level is Summoner, hehehe).
4. As always I rely on ALL my Monsters to perform!
The Lineup
Click the photo to watch the battle.
https://splinterlands.com?p=battle&id=cff8eca5cd1d8a3e56e80826aeddf43766da9143&ref=silversaver888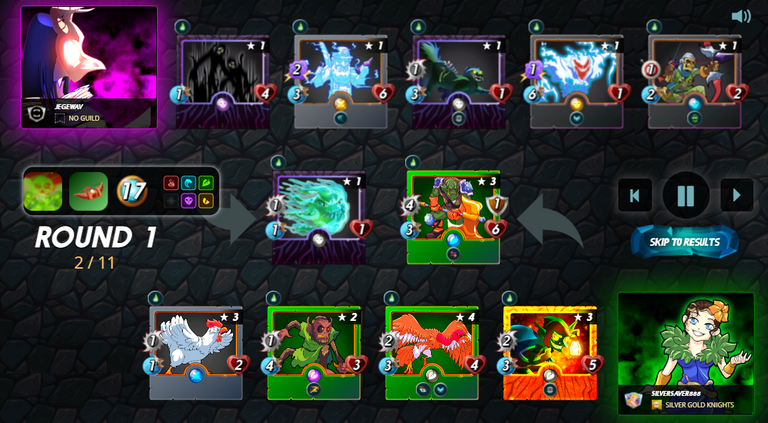 Summoner: Lyanna Nutura- All friend Misters have +1 Health.
1. Feature Monster, Stonesplitter Orc: Retaliate- Speed of 3 +1, Melee attach of 4, Armor of 1, and high Health of 6; a most appropriate tank given the battle Mana. This Monster will retaliate with when hit with a Melee attack.
2. Goblin Thief: Sneak- A speed of 3 +1, Melee attack of 2 and Health of 5. Target the last enemy Monster.
3. Screeching Eagle: Opportune, Flying- Speed of 3+1, Melee attach of 2, and Health of 4. This Monster can attach from any position and will target the enemy Monster with the weakest Health. It has the ability to avoid attacks from Melee and Range Monster that don't have the Flying ability.
4.Brownie: An epic Monster that has the ability Speed that give all friendly Monsters +1 Speed. Has a Melee attach of 1 and a Health of 3.
5. Furious Chicken- A Speed of 1 +1, Melee of 1, and Health of 2.
---
The Battle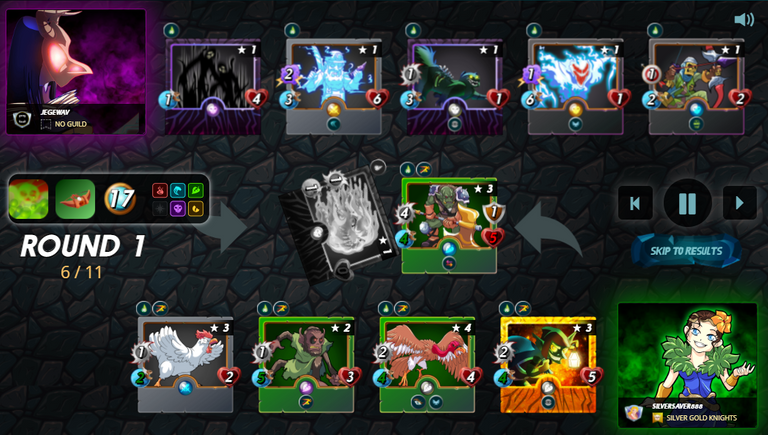 My Stonesplitter Orc
overwhelmed enemy Cursed Slimeball.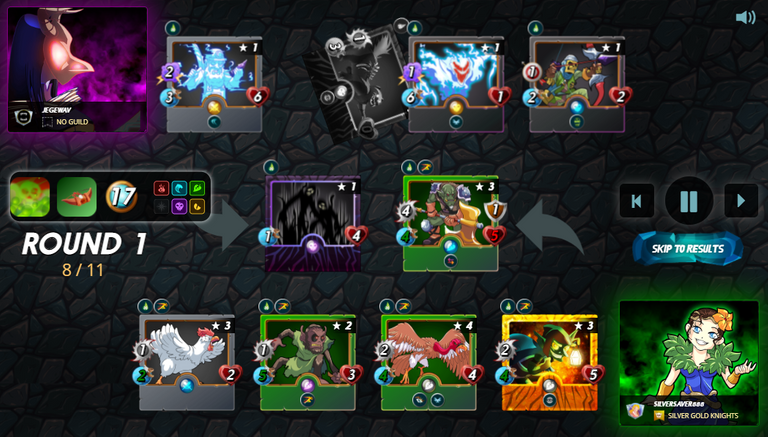 Screeching Eagle
conquered enemy Undead Badger.
---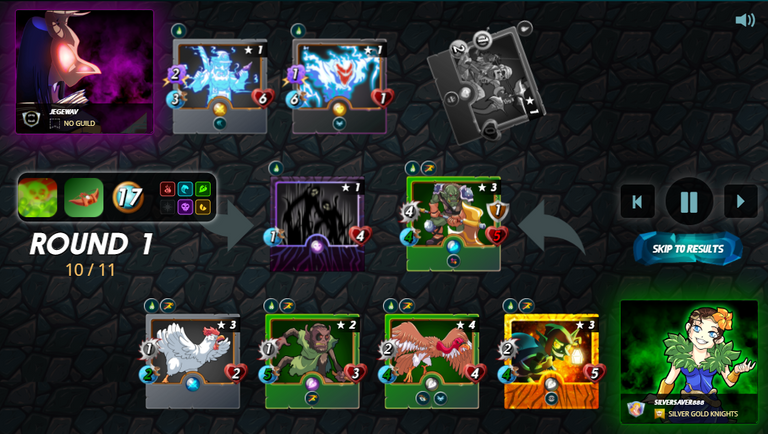 Goblin Thief
squashed enemy Undead Archer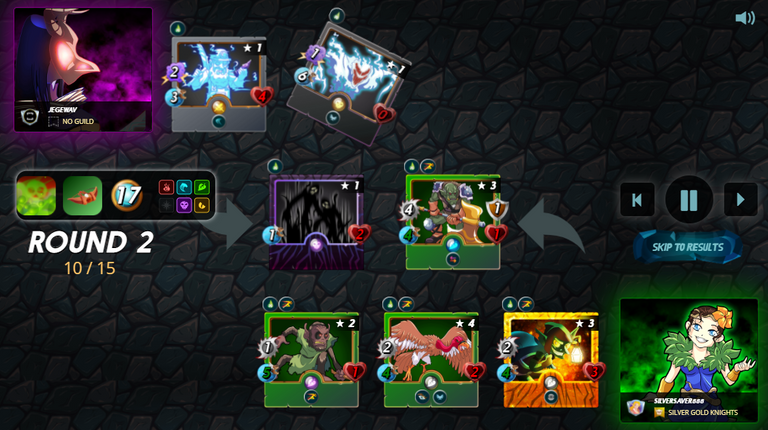 The
Ruleset Poison
eliminated enemy Fallen Specter
---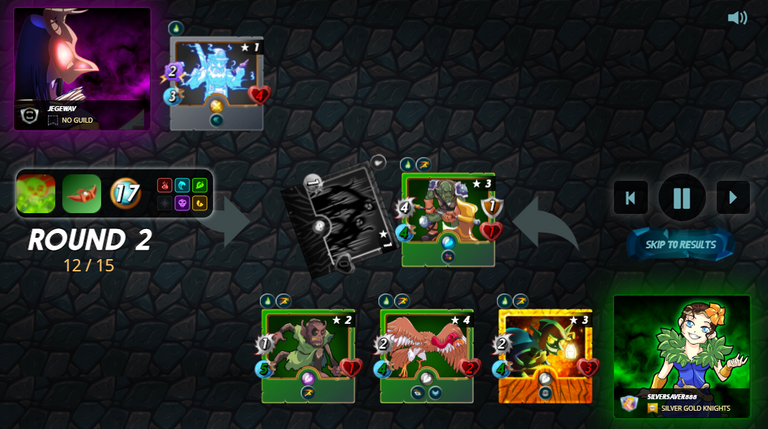 Stonesplitter Orc
crushed enemy Shadowy Presence.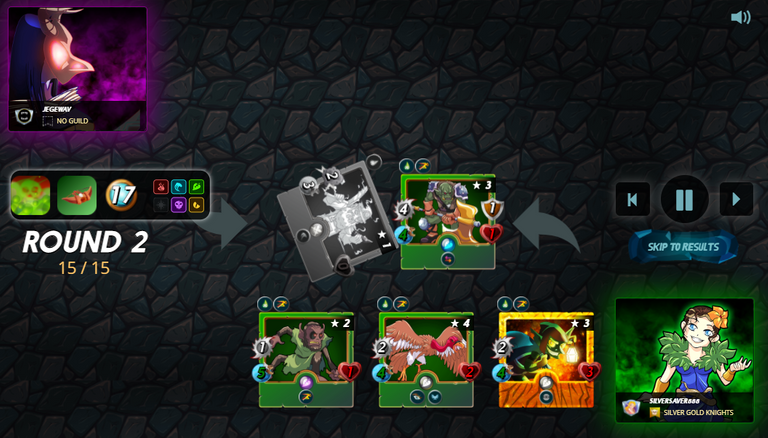 Goblin Tech
extinguished Spirit Miner for the WIN!
---
The Battle Result
The chosen opponent for me in this battle was at Silver I, a level below me. I do not know if the enemy Monsters were all my opponent had. But I won in two easy rounds, with only the Furious Chicken gone and all other Monsters intact.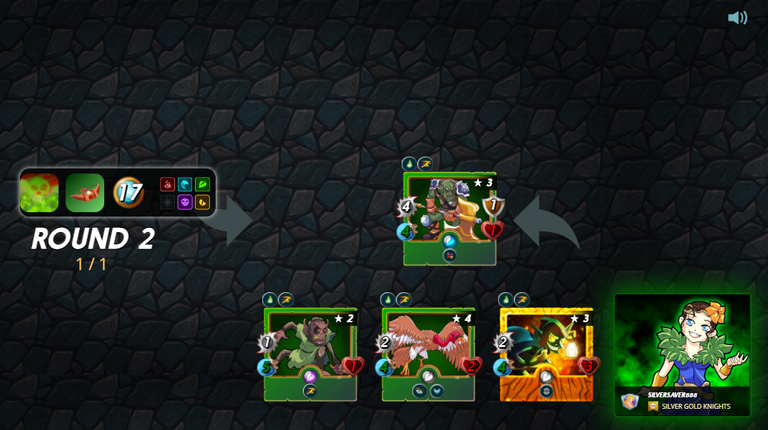 ---
All photos, gif and videos were taken by me using my iPhone6 unless specified otherwise.

Make it an awesome day!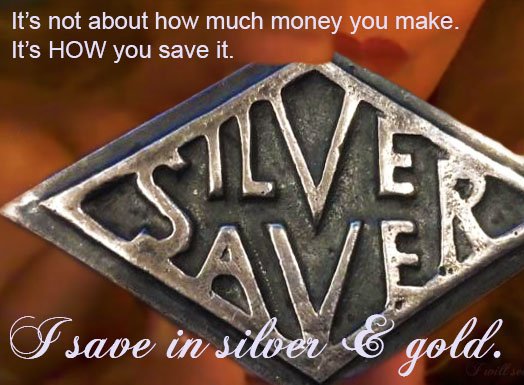 Thank you for stopping by to view this article. I post an article daily, and I hope to see you again soon!
Hugs and Kisses 🥰🌺🤙!!!!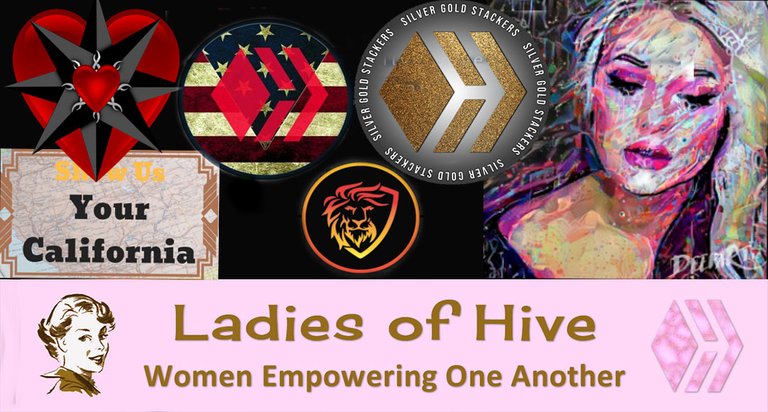 Would you like to support The Ladies of Hive Community?
Consider giving a delegation!
25 HP - 50 HP - 100 HP - 150 HP - 200 HP - 500 HP - 1000 HP - 5000 HP
---

Project Designer: @arcange