I touched on Derrick Henry's season when he was named a Pro Bowler a couple weeks ago, but as this is a great honor and the season is officially over for the Titans, why not just summarize it once again!
Being named a First-Team All-Pro is a super elite accomplishment. It means you are the best player at your position in the whole NFL. Pretty awesome stuff if you ask me.
Last year Henry made it onto the Second-Team All-Pro, which is a very impressive stat, this year he made the more exclusive list.
Watching Derrick Henry literally increase his stats and accolades every year for five years is a treat to watch. This is an athlete that's very much in the prime of his career and I can't help but wonder if he will rush for 2,000 yards AGAIN one year, hopefully next year.
Henry's stats to get this accolade were as follows:
League leading and historical 2,027 rushing yards
17 rushing touchdowns
5.4 yards per carry
2,141 yards from scrimmage
Greatly helped the Titans go 11-5 and win the AFC South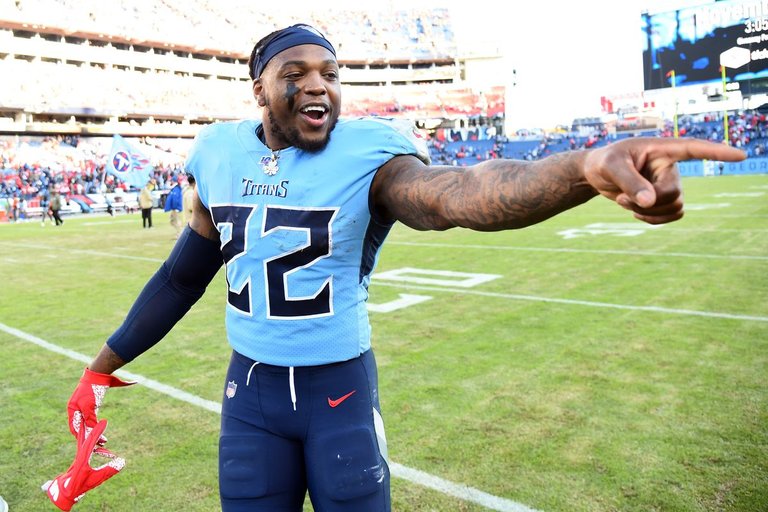 Src
Derrick joins the First-Team All-Pro team along with some serious studs in the NFL.
Joining Henry on the team is:
QB Aaron Rodgers
TE Travis Kelce (Chiefs)
WR's Davante Adams (Packers), Stefon Diggs (Bills), Tyreek Hill (Chiefs)
LT David Bakhtiari (Packers)
RT Jack Conklin (Browns) (former Titan!)
LG Quenton Nelson (Colts)
RG Brandon Scherff (Redskins)
C Corey Linsley (Packers)
---
Defense
Edge Rushers T.J. Watt (Steelers), Myles Garrett (Browns)
DT's Aaron Donald (Rams), DeForest Buckner (Colts)
LB's Fred Warner (49ers), Bobby Wagner (Seahawks), Darius Leonard (Colts)
CB's Xavien Howard (Dolphins), Jalen Ramsey (Rams)
Safeties Tyrann Mathieu (Chiefs), Minkah Fitzpatrick (Steelers), Budda Baker (Cardinals)
---
Special Teams
Kicker: Jason Sanders (Dolphins)
Punter: Jake Bailey (Patriots)
KR: Cordarrelle Patterson (Bears)
PR: Gunner Olszewski (Patriots)
LS: Morgan Cox (Ravens)
Man, if this squad existed in real life it would be insane!
It's awesome to see a Titan among that elite bunch!
Hopefully there is more success next year for Derrick and the Titans! #Titanup