---
¡Saludos, hivers! Continuando con el ciclo de Gameplay del MOBA que nos tiene enviciados a unos cuantos, les traigo a una EIDA, una duendecita del bosque tan linda como peligrosa. Prepárense para ver una excelente muestra de como ataca este héroe de CHAMPION LEGION. La semana pasada les hablé de Reisa, La alquimista rebelde, espero seguir subiéndolos más seguidos.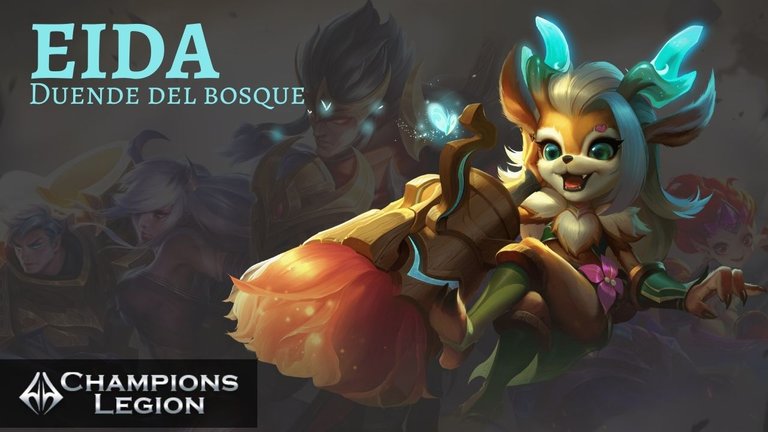 En una zona aislada en el sudeste de Doreria, los Dioses crearon un campo de batalla para que los héroes que llegaran allí buscando un gran tesoro pudieran obtenerlo. Doreria es el el reina más poderoso de la tierra, siendo así un reino conquistador de otras tierras como Wotania y pasar a convertirse a este reino después de enfrentarse en batalla y demostrar su gran poder militar. Ahora el reino, comandado por Mikal, príncipe de Doreria acompañado por Brunhild, la mejor guerrera de Wotonia, se prepara para enfrentar al reino de Novagard, comandado por Cleo, un ex soldado de Doreria.
Dentro de la historia tenemos varias facciones:
La Orden de la medianoche.
Los Salvadores del Juicio Final.
El Bosque / La progenie de los antiguos Dioses.
La ciudad de Darkrealm.
La curia luminosa.
La torre Argent
In an isolated area in the southeast of Doreria's kingdom, the Gods created a battlefield so that heroes who arrived there looking for a great treasure could obtain it. Doreria is the most powerful queen on earth, being a conqueror kingdom of other lands like Wotania and going on to become this kingdom after fighting and demonstrating their great military power. Now the kingdom, commanded by Mikal, prince of Doreria accompanied by Brunhild, the best warrior of Wotonia, is preparing to face the kingdom of Novagard, commanded by the former soldier of Dorareia, Cleo.
Within the history we have several factions:
The Midnight Order.
Doomsday Savior.
The Forest / The progeny of the ancient Gods.
Darkrealm City.
Luminous Curia.
Argent Tower.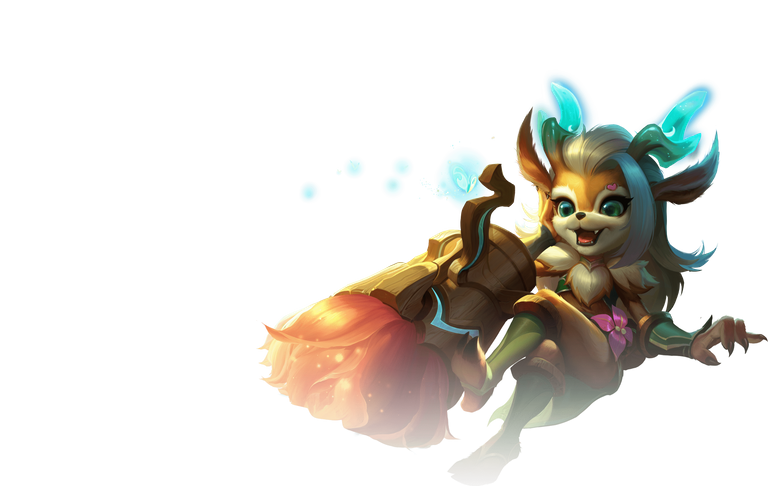 Fuente
Eida es impresionante, tiene un mezcla de Caos y bondad. Es vivaz, curiosa, compasión y gran sentido de la justicia, está completamente decidida a proteger al bosque y a todos sus habitantes. Es de la raza de los medialunas que se encuentran al otro lado del oceáno, son excelentes artesanos, jardineros y negociantes pero Eida se salta esta norma. Creció en el otro lado del continente, en el bosque, criada por elfos. Su familia era de la costa oeste, en una estación comercial colonial a medio camino, que guardaba en secreto una importante pero tabú reliquia antigua para los mediocres: un trozo de cristal mágico. Un día, su familia fue lavada con sangre por misteriosos invasores. Antes de eso, su padre tuvo la premonición de que el peligro se avecinaba, así que confió a un viejo amigo, el duende del bosque, para que enviara a la recién nacida Eida al bosque en busca de refugio.
A medida que crecía desde la infancia hasta convertirse en una niña vivaz, un misterioso poder dentro de ella se despertó gradualmente - podía infundir la magia en el capullo de la flor y luego disparar la flor con magia en un "boom". Ahora Eida se embarcó en la búsqueda del secreto de su familia y de su procedencia.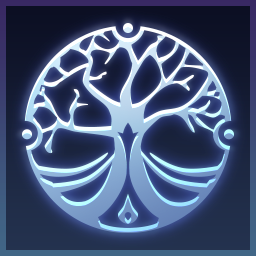 Fuente
Eida is impressive, she has a mixture of Chaos and goodness. She is lively, curious, compassionate and has a great sense of justice, and is completely determined to protect the forest and all its inhabitants. She is of the race of the croissants that are found on the other side of the ocean, they are excellent craftsmen, gardeners and business people but Eida skips this rule. She grew up on the other side of the continent, in the forest, raised by elves. Her family was from the west coast, in a colonial trading station halfway up the coast, which secretly kept an important but taboo ancient relic for the mediocre: a piece of magic glass. One day, his family was washed in blood by mysterious invaders. Before that, her father had a premonition that danger was coming, so he entrusted an old friend, the forest goblin, to send the newborn Eida into the forest in search of refuge.
As she grew from childhood into a lively child, a mysterious power within her gradually awakened - she could infuse magic into the flower's cocoon and then shoot the flower with magic in a "boom". Now Eida embarked on the search for the secret of her family and her background.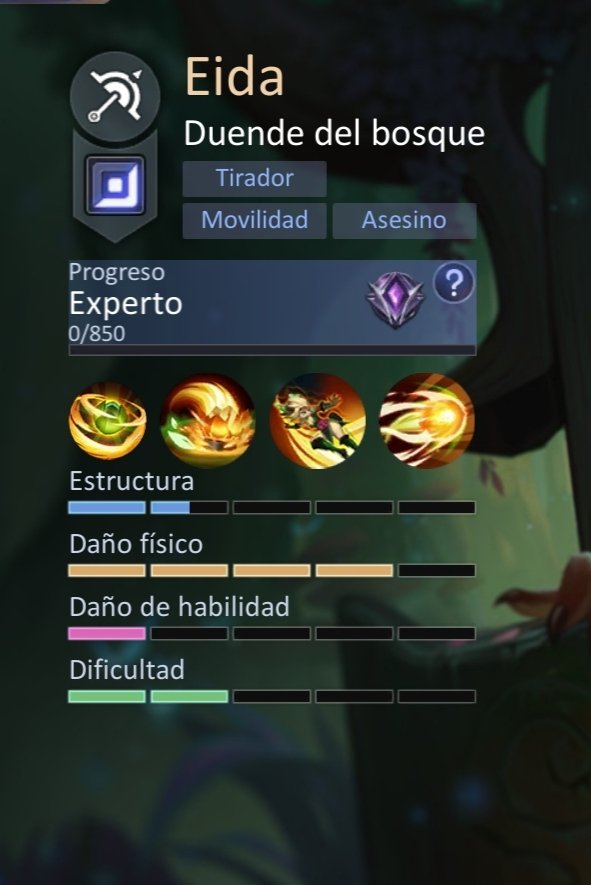 Eida es una Tiradora con gran velocidad y mucho daño físico, lo que la hace una gran asesina. No es la mejor con estructuras pero logra hacer bastante daño a estas. SU dificultad es bastante baja, lo que la hace muy mortal cuando se logra utilizar sus habilidades al máximo.
Eida is a shooter with great speed and a lot of physical damage, which makes her a great assassin. She is not the best with structures but she manages to do a lot of damage to these. Her difficulty is quite low, which makes her very deadly when she manages to use her skills to the fullest.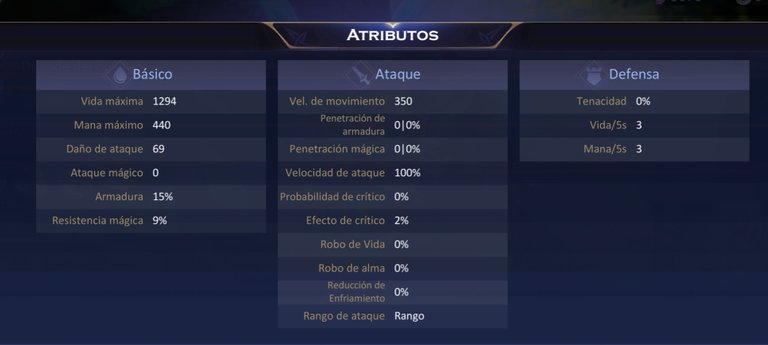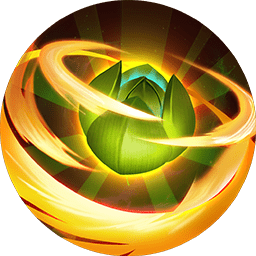 Fuerza de la Naturaleza.
Pasiva
Cada 8 segundos, tu próximo ataque explotará y causará 140 de daño físico (+130% Ataque Físico) Daños Físicos en un área.
Natural Charge
Passive
Every 8 seconds, your next attack will explode and deal 140 (+130% Physical Attack) Physical Damage in an area.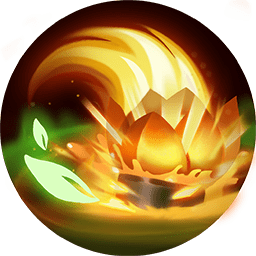 Bomba Verde
Lanza un explosivo en el área del objetivo que causa 120/136/152/168/184/200 (+100% de ataque físico) de daño físico y aplica un 30% de velocidad de movimiento lento durante 1 segundo.
Bud Bomb
Launches an explosive at target area, deals 120/136/152/168/184/200 (+100% Physical Attack) Physical Damage and applies 30% Movement Speed Slow for 1 second.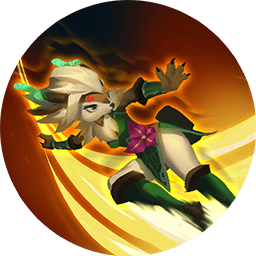 Salto del Mono
Salta a la ubicación del objetivo y reinicia el enfriamiento Fuerza de la naturaleza. Cada ataque reduce el Enfriamiento de esta habilidad en 0,5 segundos.
Jungle Jump
Leaps to target location and resets your Natural Charge cooldown. Each attack reduces the cooldown of this ability by 0.5 seconds.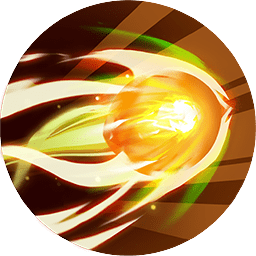 Proyectil del Bosque
Físico
Enfriamiento 30
Mana 110
Dispara un misil en la dirección del objetivo que causa 180/225/270 (+160% de ataque físico) más un 20% adicional de la salud faltante del objetivo como daño físico al primer héroe enemigo marcado e inglige un 50% de daño física a las unidades cercanas.
Forest Missile
Physsic
Cooldown 30
Mana 110
Fires a missile at target direction, deals 180/225/270 (+160% Physical Attack) plus an additional 20% target's missing health as physical damage to first enemy hero hit, and deals 50% damage to nearby units.

EQUIPAMIENTO:
Este fue el mejor equipamiento que conseguí para Eida, la gran mayoría de ataque, para que haga todo el daño posible en el menor tiempo, eso es lo que la hace una tiradora exitosa.
EQUIPMENT:
This was the best equipment I got for Eida, the great majority of attack, so that she does all the damage possible in the least amount of time, that is what makes her a successful shooter.


En cuanto al GamePlay, este fue el resultado MVP o el mejor jugador de mi equipo. El secreto para esto está en que hagamos un combo de habilidades: Eida es un tirador ágil. Puede usar repetidamente el Salto Selva para moverse siempre que esté atacando, y con su pasivo y definitivo, su daño de explosión es también muy amenazador. Espera a que tu pasiva esté lista, usa la habilidad 2 y el ataque mejorado de nuevo, luego la habilidad 1 para ralentizar y atacar constantemente, si el enemigo trata de correr, acábalo con la habilidad 3.
As for the GamePlay, this was the result MVP or the best player of my team. The secret to this is that we make a combo of skills: Eida is an agile shooter. She can repeatedly use Jungle Jump to move whenever she is attacking, and with her passive and definitive, her blast damage is also very threatening. Wait until your passive is ready, use skill 2 and the improved attack again, then skill 1 to slow down and attack constantly, if the enemy tries to run, kill him with skill 3.

REQUISITOS:
Android:
Android 4.4 y Posteriores (recomiendo gama media en adelante):
Tamaño: 350MB (Depende del dispositivo)
Play Store
IOS:
Requiere iOS 10.0 o posterior. Compatible con iPhone, iPad y iPod touch:
Tamaño: Más de 354 MB (Depende del dispositivo)
REQUIREMENTS:
Android:
Android 4.4 and later (I recommend mid-range from now on):
IOS:
Requires iOS 10.0 or later Compatible with iPhone, iPad and iPod touch:
Size: Over 354 MB (Depending on device)
CONTACTS:
CHAMPIONS LEGION OFFICIAL - Facebook - Instagram -Youtube - Discord

Están todos invitados a formar parte de la nueva y genial comunidad de HIVE GAME MOBILE, en el que podrás publicar todo lo relacionado con videojuegos para dispositivo móviles. Si estos son multijugadores, mucho mejor. Puedes suscribirte en: https://peakd.com/c/hive-137757/created. Además, tenemos un grupo de Discord en el que compartimos mucho y organizamos partidas online.
You are all invited to be part of the new and great community of HIVE GAME MOBILE, where you can publish everything related to video games for mobile devices. If these are multiplayer, so much the better. You can subscribe at: https://peakd.com/c/hive-137757/created. Also, we have a Discord Group where we share a lot and organize online games.

El video fue grabado con un Redmi Note 7.
Editado con Kinemaster.
Banners y Footers con canva.com
Separadores realizados con PowerPoint.
Imágenes de la página oficial


---
▶️ 3Speak