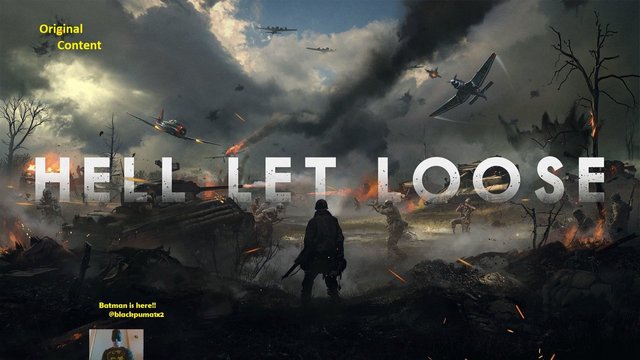 Hello friends! Let's play the game Hell Let Loose.
Why I put on a mask and changed the voice? Beacuse I love Batman series and I want to be like him. 🦇 BATMAN IS HERE! 🦇
Peace and Love 👊
Let me tell you something about that game👇
An Epic Theatre of War
Take to the battlefield in 50 vs 50 multiplayer across huge maps. Choose one of 14 playable roles within infantry, recon and armour unit types, each equipped with different weapons, vehicles and equipment. Play as an Officer, Scout, Machine Gunner, Medic, Engineer, Tank Commander and more to experience every aspect of World War II combat.
Unprecedented Realism
Placing you on real-scale iconic battlefields of World War II is at the heart of the Hell Let Loose experience. Historical vehicles, weapons, uniforms are intricately detailed, and the combat is as brutal and bloody as it was on the day. Combat takes place on huge, to-scale maps from real battle locations, recreated using archival aerial photography and satellite imagery in stunning detail using Unreal Engine 4.
Minimum Requirements*
OS:Win7 64bit
Processor:i3-4130 @ 3.3GHz / AMD FX-8350 @ 4.0GHz (or equivalent)
Memory:8 GB RAM
Graphics:GTX1050ti / R9 280 (or equivalent with minimum 2GB VRAM)
DirectX:Version 11
Network:Broadband Internet connection
Storage:20 GB available space
Recommended Requirements*
OS:Win7 64bit
Processor:i5-7600 @ 3.5GHz or Ryzen 5 1600 @ 3.2GHz
Memory:16 GB RAM
Graphics:Nvidia GTX 1070 or AMD RX Vega 56
DirectX:Version 11
Network:Broadband Internet connection
Storage:20 GB available space
Source:
https://www.instant-gaming.com/en/4640-buy-key-steam-hell-let-loose-early-access/