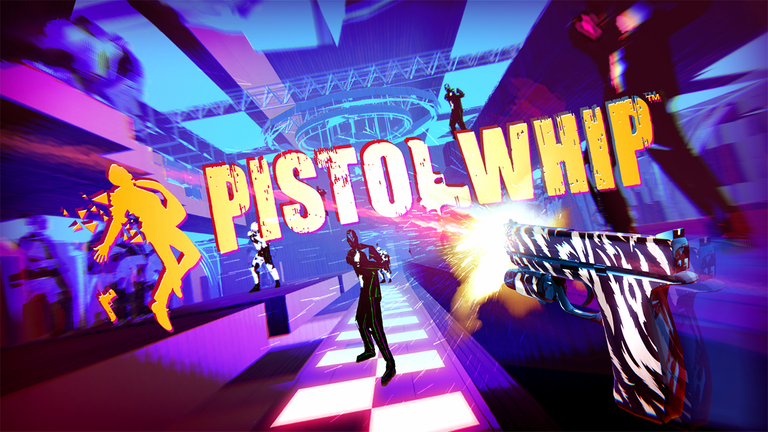 source
Pistol Whip

Have you ever seen the John Wick movies? Have you ever wanted to see what it would be like to be John Wick? Well now you don't have to wonder anymore.
Imagine being in a nightclub with awesome music and then hordes of bad guys are trying to kill you. Well that is basically what Pistol Whip is all about. Awesome music, guns and plenty of craziness.
At its core, Pistol Whip is a rhythm game, but it isn't one of the other rhythm game types where you have to do everything to the beat or you get punished for it. You can spray your enemies with bullets so that you get through the levels, but if you want to climb the leaderboards, then you have to master the beats and shoot with the beat and know when to whip the enemies with your pistol.
There is even more to mastering the levels than just shooting with the beat too. As groups of enemies start to swarm out, some are wearing armor and take more hits, so you will even need to take your shots carefully to be sure to hit the enemies in the correct order along with the beat if you want to get the highest scores. This can lead to some very high replay-ability if you are one of those thats likes to master the games you play.
Check out the video above for an idea on what it takes to master a level. Getting at this dude's level takes a lot of time and patience as you need to memorize the song and where all the enemies spawn. My style of play for this game is to just spray the bad guys with bullets right when I see them. I have never tried to go for the highest scores.
The soundtrack is amazing. You can listen to the full soundtrack on Spotify here. It is full of heart pumping music that really gets you in the mood to blast things.
If you are looking for a workout, this is a great game for that too. My legs were sore for a few days after my first time playing it. As you dodge the bullets that are coming at you, you do a lot of squatting and moving around.
Overall, this is one of the greatest games that I have ever played in VR. The developers launch frequent updates with new songs and different modes of play. If you have a VR system, this is one of the games that needs to be in your library.