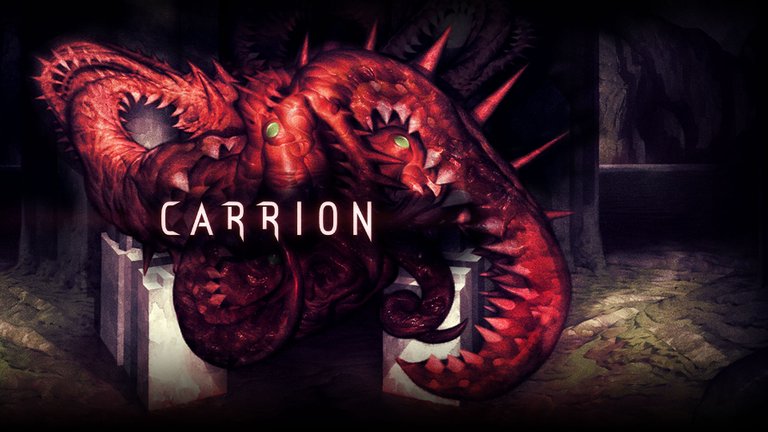 ---
Carrion is a videogame developed by Phobia Game Studio, it is multiplatform and presents us with an argument of the horror genre that we rarely see in videogames, that's why its developers catalogue them as a Reverse Terror game. As an unwritten rule, in videogames we must always star the superhero who must save the girl or the world, in some cases we are the war hero who at gunpoint must overcome missions, but what happens when the story is very different and you have to be the bad guy in the movie. Carrion presents us with this plot where we must star in a monster with many tentacles that must end everything in its path.
---
Carrion es un videojuego desarrollado por Phobia Game Studio, es multiplataforma y nos presenta un argumento del genero terror que pocas veces observamos en los videojuegos, por lo cual sus desarrolladores los catalogan como un juego de Terror Inverso. Como una norma no escrita, en los videojuegos siempre debemos protagonizar al superhéroe que debe salvar a la chica o al mundo, en algunos casos somos el héroe de guerra que a punta de pistola debe superar misiones, pero que pasa cuando la historia es muy distinta y te toca ser el malo de la película. Carrion nos presenta este argumento donde debemos protagonizar un monstruo con muchos tentáculos que debe acabar con todo a su paso.
---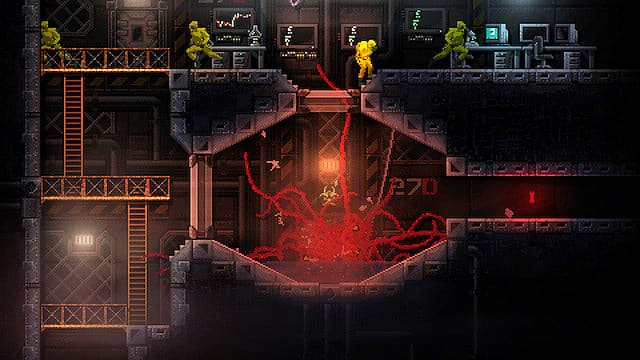 ---
STORY
Carrion presents us with a quite original story, in this case we put ourselves in the shoes of a red amorphous creature; which has escaped from its container. It advances through the facilities looking for a way out, however they are well guarded by human beings, which present a strong resistance to our escape. The creature or monster must look for the gadgets to escape from the facilities, finishing with everything in its path, the objective is the survival at all costs so you must finish with all the humans. As we advance the plot is unraveling answering elementary questions such as what happened? what caused the creature? what we are?.
---
HISTORIA
Carrion nos presenta una historia bastante original, en este caso nos ponemos en los zapatos de una criatura roja amorfa; la cual ha escapado de su contenedor. La misma avanza por las instalaciones buscando una salida, sin embargo las mismas se encuentran bien custodiadas por seres humanos, los cuales presentan una fuerte resistencia a nuestro escape. La criatura o monstruo debe buscar los artilugios para escapar de las instalaciones acabando con todo a su paso, el objetivo es la supervivencia a toda costa así debas acabar con todos los humanos. A medida que avanzamos se va desentrañando la trama respondiendo preguntas elementales como que ha pasado? que origino la criatura? que somos?
---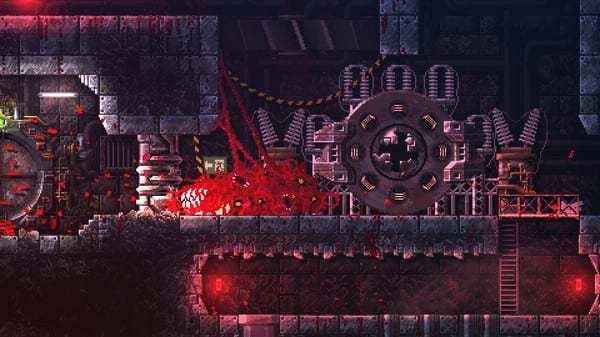 ---
GAMEPLAY
Carrion, does not strive to present a deep narrative, something that stops caring the moment we take control of our character, in that instant the concept takes possession of us so to move and devour humans in our path. Our main weapon is the extremities of the creature, in addition to them we can invest our opponents, take control of weapons such as flamethrowers, guns, objects among others. The game presents us with the option of solving some puzzles that do not represent much complexity, we have the option of improving the skills of our character which allows us to perform new actions and control items. Carrion presents a 2D graphic aspect combined with lateral scrolling movement, the gameplay is not linear, on the contrary, there are moments where the developers break that rhythm bringing fluency to the game.
---
JUGABILIDAD
Carrion, no se esmera en presentar una narrativa profunda, algo que deja de importar en el momento que tomamos control de nuestro personaje, en ese instante el concepto toma posesión de nosotros así que a movernos y a devorar humanos a nuestro paso. Nuestra principal arma son las extremidades de la criatura, adicional a ellos podemos envestir a nuestros adversarios, tomar el control de armas como lanzallamas, pistolas, objetos entre otros. El juego nos presenta la opción de resolver algunos rompecabezas que no representan mayo complejidad, tenemos la opción de ir mejorando las habilidades de nuestro personaje lo que nos permite realizar nuevas acciones y controlar objetos. Carrion presenta un aspecto grafico en 2D combinado con movimiento de Scroll lateral, la jugabilidad no es lineal, por el contrario, existen momentos donde los desarrolladores nos rompen ese ritmo aportando soltura al juego.
---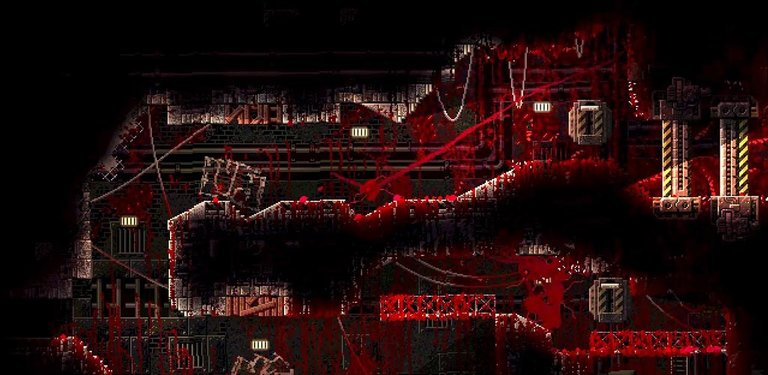 ---
GRAPHIC SECTION
Carrion, presents a development in 2D, stands out for being a Pixel Art that does not repress of anything. The animations and transitions of our character are neat. Special effects such as explosions, fire or objects that break are well represented, the game achieves an enjoyable environment at all times. The game, although it does not present state-of-the-art special effects, does present very striking and delineated scenarios. Carrion ends up being a very showy game with gore elements that will make our screen a complete chaos in spite of its design form.
---
APARTADO GRAFICO
Carrion, presenta un desarrollo en 2D, destaca por ser un Pixel Art que no se reprime de nada. las animaciones y transiciones de nuestro personaje son prolijas. Los efectos especiales como explosiones, el fuego o los objetos que se rompen están bien representado, el juego logra un entorno disfrutable en todo momento. El juego, aunque no presenta unos efectos especiales de última generación si presenta escenarios bien llamativos y delineados. Carrion termina siendo un juego muy vistoso con elementos gore que harán que nuestra pantalla sea un completo caos a pesar de su forma de diseño
---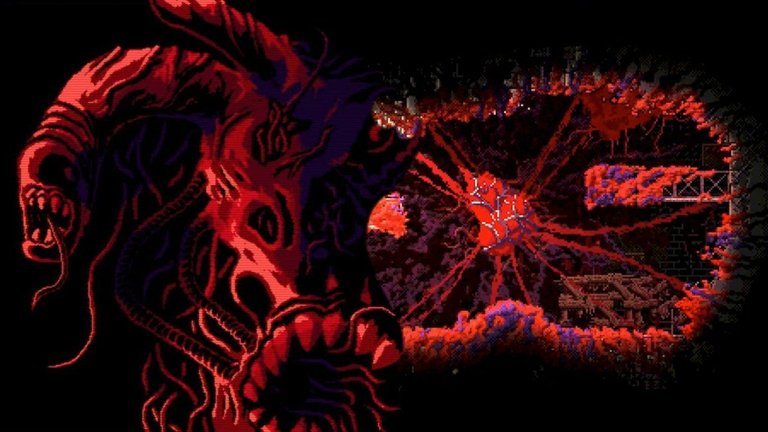 ---
SOUND
The sound of Carrion was in charge of Cris Velasco, who manages to capture through music the moments of panic and suspense where our character becomes present, either by ending everything in his path or in the worst case if we lose our lives. The graphic section manages to take greater prominence thanks to the exquisiteness of the ambient sounds and the soundtrack.
---
SONIDO
El sonido de Carrión estuvo a cargo de Cris Velasco, quien logra capturar a través de la música los momentos de pánico y suspenso donde nuestro personaje se hace presente, ya sea acabando con todo a su paso o en el peor de los casos si perdemos la vida. El apartado grafico logra tomar mayor protagonismo gracias a la exquisitez que presentan los sonidos ambientales y la banda sonora.

---
VERDICT
Carrion is a firm game in its proposal, managing to be a highly enjoyable game with large doses of gore, a Soundtrack at the height of the circumstances and a graphic section that has done nothing but give it personality. It is a game that evokes those class b stories of horror movies like the swamp thing, for the lovers of that genre of movies even for those who are not this is a game that has no waste.
---
CONCLUSIONES
Carrion es un juego firme en su propuesta, logrando ser un juego altamente disfrutable con grandes dosis de gore, un Soundtrack a la altura de las circunstancias y un apartado grafico que no ha hecho más que darle personalidad. Es un juego que evoca esas historias clase b de las películas de terror como la cosa del pantano, para los amantes de ese género de películas incluso para los que no lo son este un juego que no tiene desperdicio.

---
| Console | | |
| --- | --- | --- |
| Platform(s) | Microsoft Windows, Nintendo Switch, Xbox One | |
| Release | July 23, 2020 | |
| Genre(s) | Adventure, Puzzle | |
| Mode(s) | Horror, RogueLike | |
---