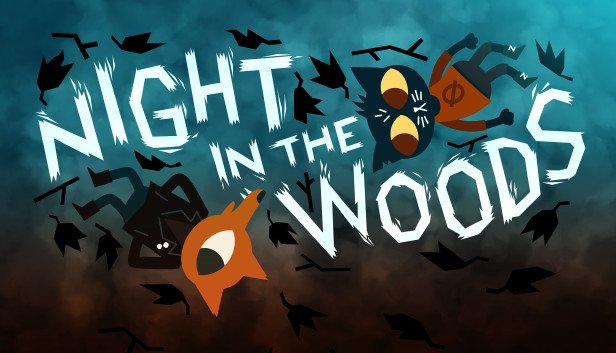 ---
Night in the Woods, is a reflection of how we face our passage from youth to maturity, the game speaks to us directly, it focuses on the feelings that a person can experience when facing changes. Feelings such as frustration, misunderstanding, human loneliness and above all that gap of not knowing if you are a child or an adult. How many times in life do we make decisions and for some reason things don't go as we expect and immediately you have questions, what will my family think? how do my friends see me? what did I do wrong? above all, there is that fear of being pre-judged by the people we love. Night in the Woods, addresses complex issues of everyday life, such as mental health, depression even those mixed feelings a person may have with his family and lack of self-esteem, a game has been praised by critics, mentioning it as the video game that best addresses a story.
---
Night in the Woods, es un reflejo de como afrontamos nuestro paso de la juventud a la madurez, el juego nos habla de forma directa, se centra en los sentimientos que puede experimentar una persona al afrontar los cambios. Sentimientos como frustración, incomprensión, la soledad humana y sobre todo ese desfase de no saber si eres un niño o un adulto. ¿Cuantas veces en la vida tomamos decisiones y por algún motivo las cosas no salen como esperamos e inmediatamente te surgen las preguntas, que pensará mi familia? como me ven mis amigos? ¿que hice mal? sobre todo, aparece ese miedo a ser pre juzgado por las personas que amamos. Night in the Woods, aborda temas complejos de la vida cotidiana, como la salud mental, la depresión incluso esos sentimientos encontrados que puede tener una persona con su familia y la falta de autoestima, un juego ha sido alabado por la crítica, al mencionarlo como el videojuego que aborda mejor una historia.
---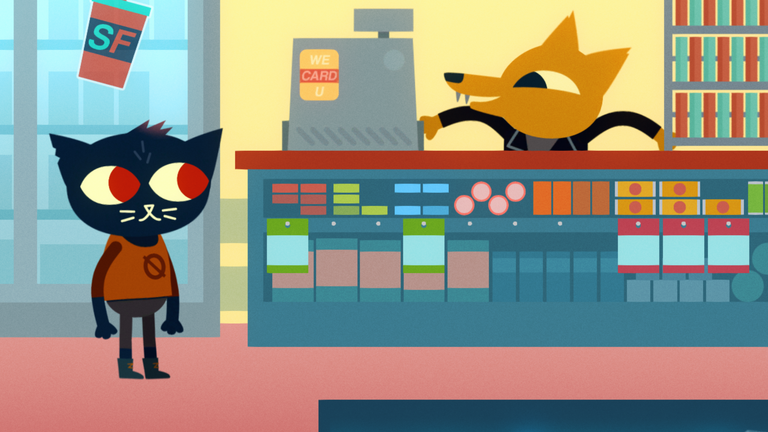 ---
STORY
Night in the Woods, takes us to embody Mae Borowski, a young cat of 20 years old, who returns to her old city after leaving college, returns with the hope of reuniting with herself and above all leave aside the past events that have left their mark, soon discovers that everything has changed and must recover much of his own life. Within her argument Night in the Woods, she raises the role we play as individuals within society, human loneliness and even mental health. Being this a game with a story that leads us to feel empathy for each of its characters, it is not surprising that the theme and events of the game make us remember stages of our lives. Night in the Woods is a game that reminds us how difficult it is to be alive, it presents us with everyday life with all its excesses and particularities.
---
HISTORIA
Night in the Woods, nos lleva a encarnar a Mae Borowski, una joven gata de 20 años, que regresa a su antigua ciudad después de salir de la universidad, regresa con la esperanza de reencontrarse consigo misma y sobre todo dejar de lado los acontecimientos pasados que le han dejado huella, pronto descubre que todo ha cambiado y que debe recuperar gran parte de su propia vida. Dentro de su argumento Night in the Woods, plantea el papel que desempeñamos como individuos dentro de la sociedad, la soledad humana incluso la salud mental. Siendo este un juego con una historia que nos lleva a sentir empatía por cada uno de sus personajes, no he de extrañar que la temática y los eventos del juego nos hagan recordar etapas de nuestra vida. Night in the Woods es un juego que nos recuerda lo difícil que es estar vivo, nos presenta la vida cotidiana con todos sus excesos y particularidades.
---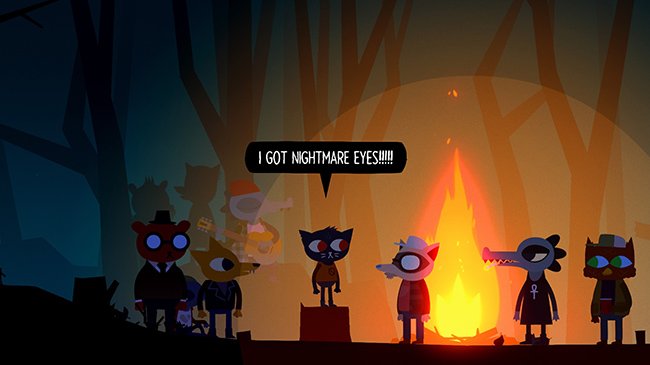 ---
GAMEPLAY
Night in the Woods is a game that mixes several genres such as platform, adventure and exploration without leaving aside the narration at any time, here the narration is extremely important because it is what shapes the world of our protagonist MAE and allows us to know each of the characters who live in that world. As if it were a simulator of everyday life, our character must interact in many ways: she must talk to her parents, read emails on the computer, sleep, eat, she can make an appointment with her friends and even decide to talk to another character. We have the possibility to explore the scenarios and run a series of mini games that take us away from the monotony, allowing multiple ways to be entertained. With a plot that keeps us in suspense, a well-developed narrative. Night in the Woods presents a balance between all its elements making the game enjoyable at all times.
---
JUGABILIDAD
Night in the Woods es un juego que mezcla varios géneros como la plataforma, la aventura y la exploración sin dejar de lado la narración en ningún momento, aquí la narración es sumamente importante porque es la que le da forma al mundo de nuestra protagonista MAE y nos permite conocer a cada uno de los personajes que viven en ese mundo. Como si de un simulador de la vida cotidiana se tratara nuestro personaje debe interactuar de muchas maneras, debe hablar con sus padres, leer los correos electrónicos en el ordenador, dormir, comer, puede concertar una cita con sus amigos e incluso decidir hablar con otro personaje. Tenemos la posibilidad de explorar los escenarios y ejecutar una serie de mini juegos que nos alejan de la monotonía, permitiendo que existan múltiples formas para entretenerse. Con una trama que nos mantiene en suspenso, una narrativa bien desarrollada. Night in the Woods presenta un equilibrio entre todos sus elementos haciendo que el juego sea agradable en todo momento.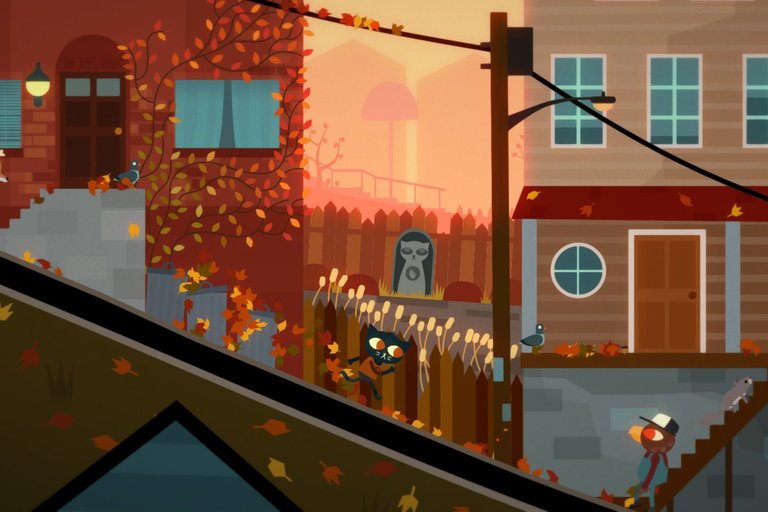 ---
GRAPHIC SECTION
Night in the Woods presents a high quality artistic design, the animations flow without presenting LAG, the game presumes its operation in 60 Fps; As soon as its design presents a Cartoon style which can lead to think that it is a game directed to a child audience, however, this is not the case. In spite of the chosen design it complements the story to address current issues, social, family and many others. The delineation of its characters is subtle and well finished, the transit through its scenarios is a delight, well chosen colors, shadows and geometric figures are merged to give life to a unique game in its style.
---
APARTADO GRAFICO
Night in the Woods presenta un diseño artístico de gran calidad, las animaciones fluyen sin presentar LAG, el juego presume su funcionamiento en 60 Fps; En cuanto su diseño este presenta un estilo Cartoon el cual puede llevar a pensar que es un juego dirigido a un público infantil, sin embargo, esto no es así. A pesar del diseño elegido este se complementa con la historia para abordar temas actuales, sociales, familiares y muchos otros. La delineación de sus personajes es sutil y bien terminada, el tránsito por sus escenarios es una delicia, colores bien escogidos, sombras y figuras geométricas se fusionan para dar vida a un juego único en su estilo.
---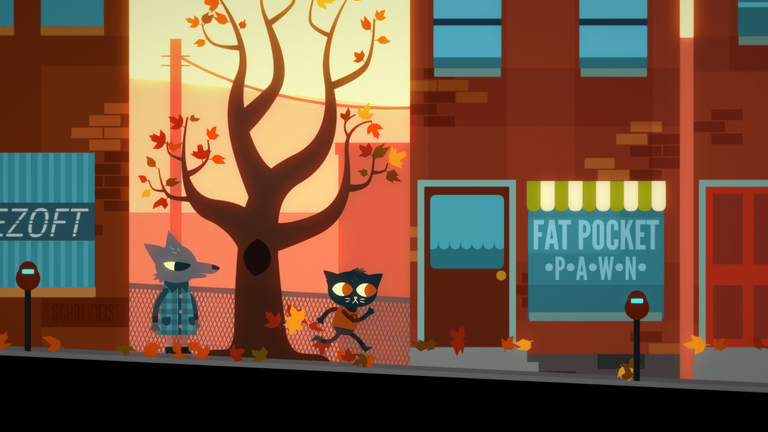 ---
SOUND
Night in the Woods presents us an avant-garde soundtrack, its songs are catchy and far from being the typical soundtrack with classic sounds or string elements, this one has elements of Rock, folk and ambient although they are only instrumental, a soundtrack that you can listen to while reading on the web, writing an article like this or taking a moment to breathe.
---
SONIDO
Night in the Woods nos presenta una banda sonora vanguardista, sus canciones son pegadizas y lejos de ser la típica banda sonora con sonidos clásicos o elementos de cuerda, esta tiene elementos de Rock, folk y ambient aunque sólo son instrumentales, una banda sonora que puedes escuchar mientras lees en la web, escribes un artículo como este o te tomas un momento para respirar.

---
VERDICT
Indie games are experiencing their greatest boom, the Internet as a medium has given them publicity like never before, this has brought us an avalanche of games with deep themes and diversity in the genres. Night in the Woods is a game that deals with everyday issues, the passage to maturity and social coexistence, being a game that knows how to take advantage of the narrative, adding elements of black humor and above all a graphic section that makes it great. Night in the Woods is a game with maturity for mature people and with a touch of reality. Any flaw it may have is compensated by its originality and the ideas that the game presents.
---
VEREDICTO
Los juegos Indie están viviendo su mayor apogeo, Internet como medio de difusión les ha dado publicidad como nunca antes, esto nos ha traído una avalancha de juegos con temas profundos y diversidad en los géneros. Night in the Woods es un juego que aborda temas cotidianos, el paso a la madurez y la convivencia social, siendo un juego que sabe aprovechar la narrativa, añadiendo elementos de humor negro y sobre todo un apartado gráfico que lo hace grande. Night in the Woods es un juego con madurez para gente madura y con un toque de realidad. Cualquier fallo que pueda tener se compensa con su originalidad y las ideas que el juego presenta.

| Console | | |
| --- | --- | --- |
| Platform(s) | PlayStation 4, Xbox One, Microsoft Windows, Nintendo Switch, macOS, Linux, iOS Android | |
| Release | 21 de febrero de 2017 | |
| Genre(s) | Adventure | |
| Mode(s) | Single-player | |
---
| Minimum PC Requirements | | |
| --- | --- | --- |
| Operating system | Windows® 10 64bit, 8.1 64bit, 7 64bit | |
| Processor | CPU: Intel Core i3-2310M 2.10 GHz. | |
| Memory | 8 GB de RAM. | |
| Graphics | Intel HD 4000 or over | |
| Storage | 8 GB free disc | |
| Sound Card | 16 bit stereo, 48KHz WAVE file can be played | |
---