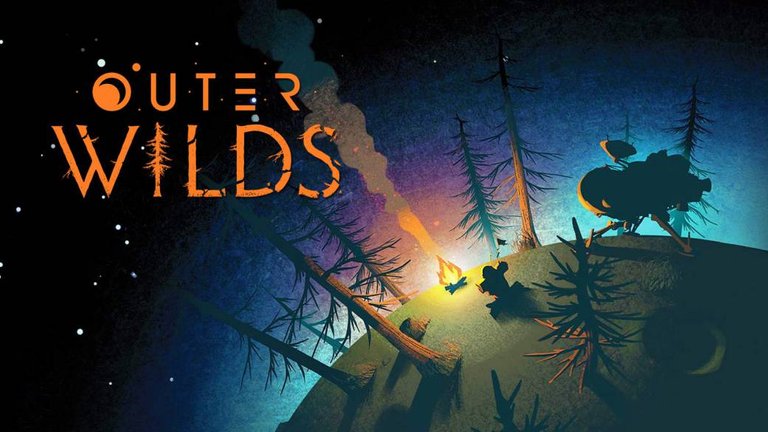 ---
Have you ever wondered what happens if your life falls into a time loop? You get up, you live situations, suddenly you die, you go back to the beginning, you get up again having knowledge about the situations that are coming. What would you do differently? A concept handled in movies like Donie Darko and Butterfly Effect. Outer Wilds, is an Indie game that takes us to explore space to discover its secrets, takes us by the hand with its graphic section and a dreamy soundtrack. We will accompany our character to explore deep space, we will live a series of moments so intimate and reflective, surely doing our mission we will die with the only advantage of being able to revive; every time we manage to revive we will ask ourselves what we could do differently. A journey not only to discover what space holds but to discover ourselves.
---
¿Alguna vez te has planteado que pasa si tu vida cae en un bucle temporal? Te levantas, vives situaciones, de repente mueres, regresas al principio, te levantas de nuevo teniendo conocimientos sobre las situaciones que se avecinan. ¿Qué harías de Diferente? Un concepto manejado en películas como Donie Darko y Butterfly Effect. Outer Wilds es un juego Indie que nos lleva a explorar el espacio para descubrir sus secretos, nos lleva de la mano con su apartado gráfico y una banda sonora de ensueño. Acompañaremos a nuestro personaje a recorrer el espacio profundo, viviremos una serie de momentos tan íntimos y de reflexión, con seguridad haciendo nuestra misión moriremos con la única ventaja de lograr revivir; cada vez que logremos revivir nos preguntaremos que pudimos hacer diferente. Un viaje no solo para descubrir lo que guarda el espacio sino para descubrirnos nosotros mismos.
---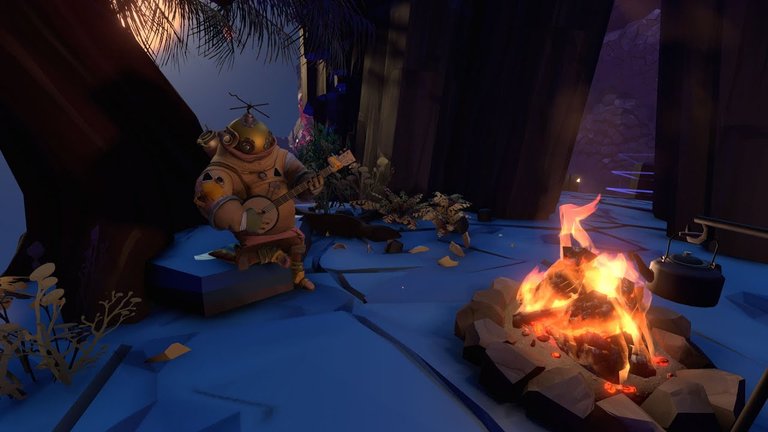 ---
STORY
In the game we star in the story, in this case we are the new member of a corporation named Outer Wild, which seeks to explore the universe and discover the secrets that can contribute to ending the solar system. The story is not as simple as we are shown having to discover a lot of it as we progress through the game. Outer Wilds focuses on exploration, taking us to explore inhospitable corners of the galaxy, full of impressive color and above all to visit places where we must discover plots or themes associated with our search.
---
HISTORIA
En el juego protagonizamos la historia, en este caso somos el nuevo miembro de una corporación de nombre Outer Wild, la cual busca explorar el universo y descubrir los secretos que pueden contribuir a acabar con el sistema solar. La historia no es tan simple como se nos muestra teniendo que descubrir mucho de ella mientras avanzamos en el juego. Outer Wilds se centra en la exploración, llevándonos a recorrer rincones inhóspitos de la galaxia, llenos de un colorido impresionante y sobre todo a recorrer lugares donde debemos descubrir tramas o temas asociados a nuestra búsqueda.
---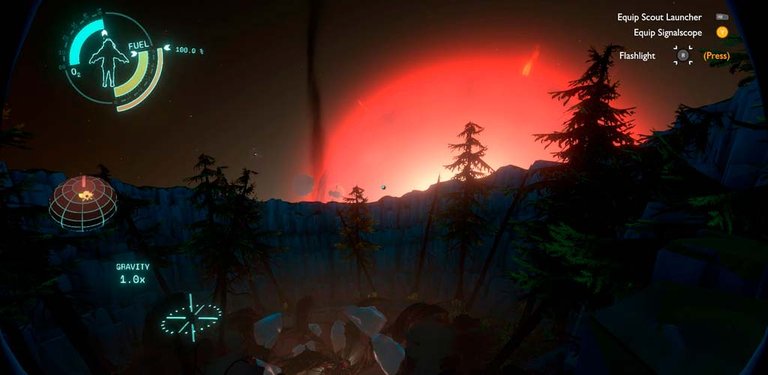 ---
GAMEPLAY
Outer Wilds is focused on constant exploration, so we must go through an infinity of planets and a diversity of scenarios, which we must inspect exhaustively. The game lacks that direct action that some games have, such as shooting or hand-to-hand fighting, in this case the game offers us more the option of how to use the objects present in the scenarios and how we can use them to survive. We have a spaceship which helps us move to different worlds in a fast and agile way without interruptions. The flight mechanics of the ship is simple, we also have a spacesuit to carry out the exploration in the poses we visit. Outer Wilds does not have a gameplay that leads us to lose thousands of neurons, but it does take us on a relaxing and different journey.
---
JUGABILIDAD
Outer Wilds, se centra en la exploración constante por ello debemos recorrer una infinidad de planetas y diversidad de escenarios, los cuales debemos inspeccionar de una forma exhaustiva. El juego carece de esa acción directa que poseen algunos juegos como son los disparos o peleas cuerpo a cuerpo, en este caso el juego nos plantea más la opción de cómo usar los objetos presentes en los escenarios y cómo podemos usarlos para sobrevivir. Contamos con una nave espacial la cual nos ayuda a trasladarnos a los diferentes mundos de una forma rápida y ágil sin interrupciones. La mecánica de vuelo de la nave es simple también contamos con un traje espacial para realizar la exploración en los planteas que visitamos. Outer Wilds, no posee una jugabildiad que nos lleva a perder miles de neuronas, pero si nos lleva a un viaje relajante y diferente.
---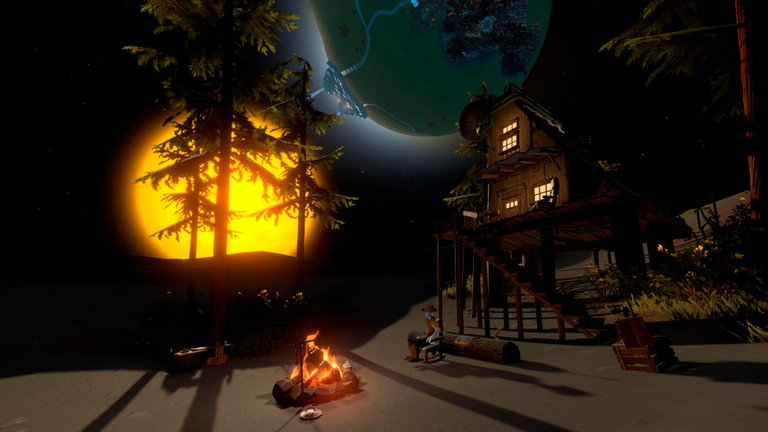 ---
GRAPHIC SECTION
Outer Wilds, presents a dream graphic section, despite having been developed with the Unity engine. Each scenario has been delineated in great detail and the game seeks to immerse ourselves in unique and different places, so that there is nothing quite like it. The stages, despite focusing on the outer space, create such an intimate and pleasant moment that it does not allow you to experience solitude. The artistic section presents us with a varied color palette that manages to set a place in a wonderful way, making the cold exterior space not feel like one. Although it is true that not everything is perfect, some modeling of scenarios and characters are not so verbose, but this is in the background when you manage to feel at home.
---
APARTADO GRAFICO
Outer Wilds, presenta un apartado grafico de ensueño, a pesar de haber sido desarrollado con el motor Unity. Cada escenario ha sido delineado con gran detalle y el juego busca que nos sumerjamos en lugares únicos y diferentes, que no haya nada que se le parezca. Los escenarios a pesar de centrarse en el espacio exterior crean un momento tan íntimo y agradable que no deja que experimentos la soledad. El apartado artístico nos presenta una paleta de colores variada que logra ambientar un lugar de forma maravillosa, haciendo que el frio espacio exterior no se sienta como tal. Si bien es cierto que no todo es perfecto algunos modelados de escenarios y personajes no son tan prolijos, pero esto queda en segundo plano cuando logras sentirte en casa.
---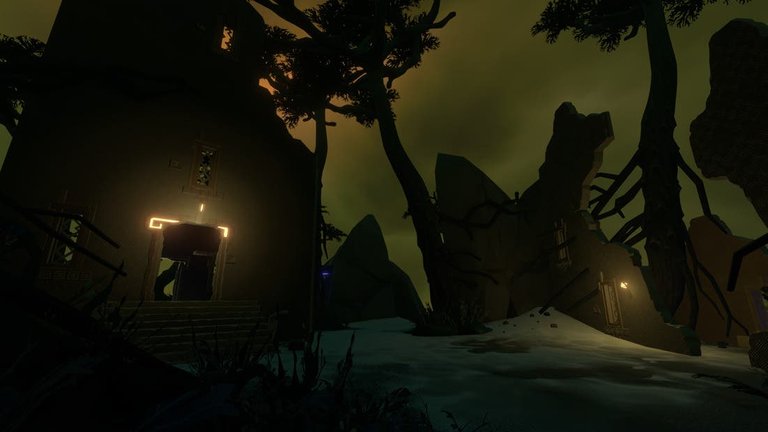 ---
SOUND
Andrew Prahlow presents an exquisite, exquisite soundtrack that transports you to inhospitable places just by listening to it, a recommendation is to listen to this complete Ost because it is not wasted. The soundtrack adapts to the theme and manages to be one more protagonist in the game, it is presented at specific moments and gives a complete twist to the setting, the ambient sounds manage to reflect things as minimalist as the absence of sound , the breathing of our character or the noise of the campfire.
---
SONIDO
Andrew Prahlow nos presenta una banda sonora excelsa, exquisita que te transporta a lugares inhóspitos con solo escucharla, una recomendación es escuchar este Ost completo porque no tiene desperdicio. La banda sonora se amolda a la temática y logra ser una protagonista más dentro del juego, la misma se presenta en momentos puntuales y le da una vuelta de tuerca completa a la ambientación, los sonidos ambientales logran reflejar cosas tan minimalistas como la ausencia del sonido, la respiración de nuestro personaje o el ruido de la fogata.

---
VERDICT
Outer Wilds conceptually groups many ideas which makes it a remarkable game within the adventure and search genre, its theme is as good as its soundtrack and its graphic section, as a whole it is an enjoyable and different game to which we cannot be indifferent. It translates a global history to the intimate, taking us to a discovery of its own. What would you do differently if you had the opportunity to change the things you have already experienced? Who does not ask that question in the daily journey of life.
---
VEREDICTO
Outer Wilds conceptualmente agrupa muchas ideas lo cual hace que sea un juego destacable dentro del género de aventura y búsqueda, su temática es tan buena como su banda sonora y su apartado gráfico, como un todo es un juego disfrutable y diferente al cual no le podemos ser indiferente. Traslada una historia global hasta lo íntimo, llevándonos a un descubrimiento propio. ¿Qué harías de diferente si tuvieses la oportunidad de cambiar las cosas que ya has vivido? quien no se hace esa pregunta en el transitar diario de la vida.

| Console | | |
| --- | --- | --- |
| Platform(s) | Microsoft Windows, PlayStation 4, Xbox One | |
| Release | 29 de mayo de 2019 | |
| Genre(s) | Acción-RPG | |
| Mode(s) | Single Player | |
---
| Minimum PC Requirements | | |
| --- | --- | --- |
| Operating system | Windows® 10 64bit, 8.1 64bit, 7 64bit | |
| Processor | Intel Core i5-2300 o AMD FX-4350 | |
| Memory | 4 GB de RAM. | |
| Graphics | Nvidia GeForce GTX 560 o AMD Radeon HD 6870 | |
| Storage | 8 GB free disc | |
| Sound Card | 16 bit stereo, 48KHz WAVE file can be played | |
---