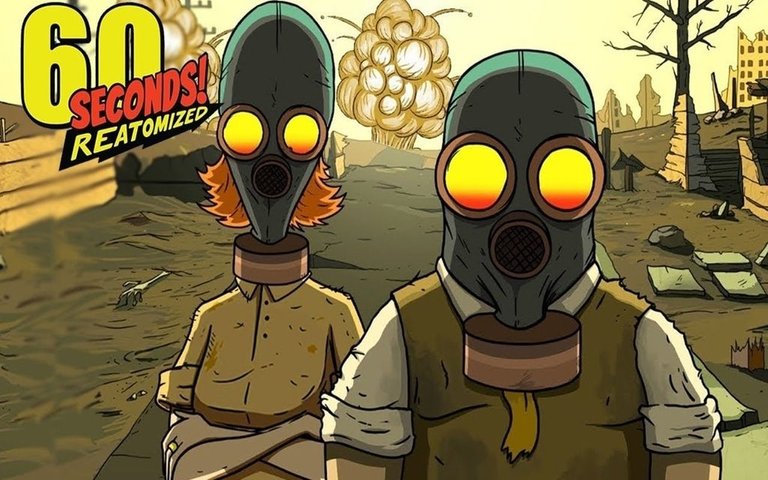 ---
The clock of the end of the world has struck midnight, the nuclear holocaust has begun, we do not know who started the war, our enemies or our country. The bombs have been dropped and the world will be engulfed in a catastrophe. We only have a few seconds to protect our family and under the argument of take what you need and leave what you don't; our journey begins. Are you ready for the end of the world?
---
El reloj del fin del mundo ha marcado la medianoche, el holocausto nuclear ha comenzado, no sabemos quién inicio la guerra, si nuestros enemigos o nuestro país. Las Bombas fueron lanzadas y el mundo se verá envuelto en una catástrofe. Solo disponemos de pocos segundos para resguardar a nuestra familia y bajo el argumento de toma lo que necesites y deja lo que no; se inicia nuestra travesía. ¿Estás preparado para el fin del mundo?
---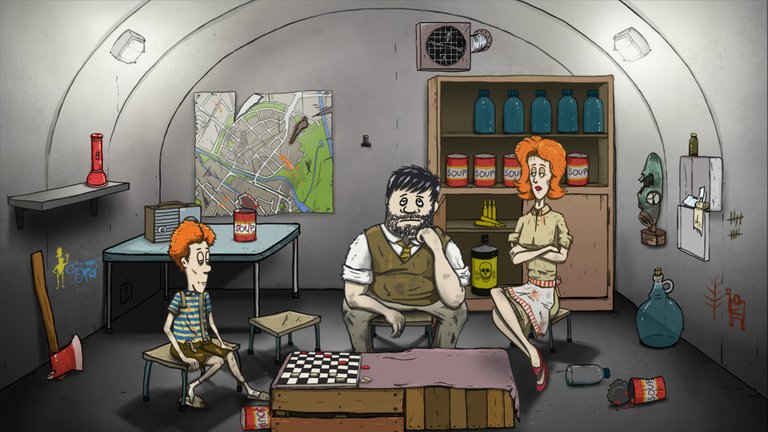 ---
STORY
In 60 Seconds! Reatomized, we star in the parents of a traditional American family from the 1950s, who are caught up in the nuclear war between their country and their direct enemy. Our rulers have given precise instructions, if the alarm sounds we have only 60 seconds (1 minute) for the nuclear bombs to destroy everything, our only hope is to be able to collect all the objects and food to survive in our bunker together with our family. Survival will not be an easy task, living together will be hell and in passing we must overcome a number of unexpected situations. An argument that presents us with a possible reality due to the arms race in developed countries or in other cases due to political tensions between Western and Eastern countries. Beyond its graphic section the game presents us with a raw story and above all with a lot of black humor.
---
HISTORIA
En 60 Seconds! Reatomized, protagonizamos a los padres de una familia americana tradicional de los años 50, los cuales se ven inmersos en la guerra nuclear entre su país y su enemigo directo. Nuestros gobernantes han dado instrucciones precisas, si suena la alarma disponemos solo de 60 segundos (1 minuto) para que las bombas nucleares arrasen con todo, nuestra única esperanza es poder recoger todos los objetos y víveres para sobrevivir en nuestro bunker conjuntamente con nuestra familia. la supervivencia no será una tarea fácil, la convivencia un infierno y de paso debemos superar una cantidad de situaciones inesperadas. Un argumento que nos presenta una posible realidad debido a la carrera armamentista de los países desarrollados o en otros casos por las tensiones políticas entre países de occidente y oriente. Mas allá de su apartado grafico el juego nos presenta una historia cruda y sobre todo con mucho humor negro.
---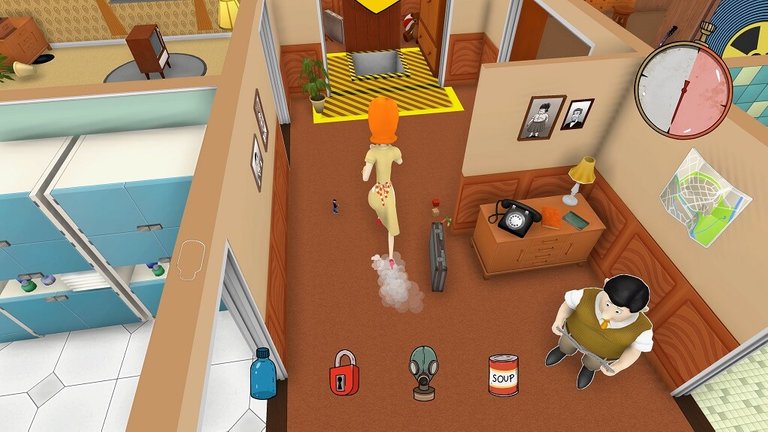 ---
GAMEPLAY
Once the initial 60 seconds have passed, the action moves to the Bunker, where there is no movement of the characters, the mechanics consists of attending a series of events that happen day after day and we just have to wait for the result of our decisions; these events can consist of performing some action on some object, making some decision that involves safeguarding the life of our characters or the facilities. The game also presents us with the dynamics of survival in which we must rationalize water and food in order to stay alive and cope with multiple situations. Our characters can be asked to go on expeditions abroad to obtain information and supplies. As players we can notice the different changes that our characters present, the change of mood until the psychological affectation that can be unfocused in madness or death.
---
JUGABILIDAD
Una vez han transcurrido los 60 segundos iniciales, la acción se traslada al Bunker, donde no existe movimiento alguno de los personajes, la mecánica consiste en atender una serie de eventos que van sucediendo día tras día y nosotros solo debemos esperar el resultado de nuestras decisiones; estos eventos pueden consistir en realizar alguna acción sobre algún objeto, tomar alguna decisión que involucre salvaguardar la vida de nuestros personajes o las instalaciones. El juego también nos presenta la dinámica de supervivencia en la cual debemos racionalizar agua y comida para poder mantenernos con vida y sobrellevar múltiples situaciones. A nuestros personajes podemos pedirles que realicen expediciones al exterior con el fin de obtener información y suministros. Como jugadores podemos notar los diferentes cambios que presentan nuestros personajes, el cambio de humor hasta la afectación psicológica que puede desenfocar en locura o muerte.
---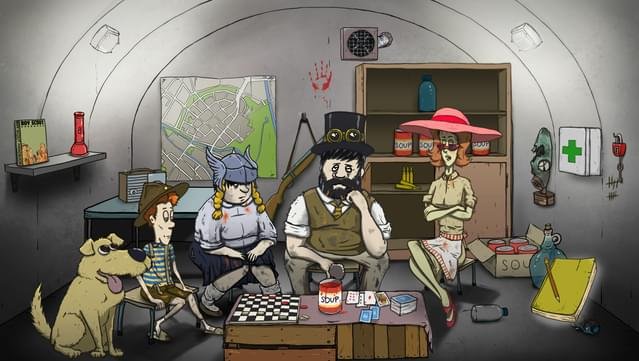 ---
GRAPHIC SECTION
The graphic section shows us a Cartoon style look. The characters are designed in a very neat and accurate way, as the days go by we can notice the physical changes and the appearance of our protagonists. The game seeks to fully simulate what can happen in real life, grow hair, get fat, not bathe among others. In the visual section the game presents a series of changes in the character's color in order to show some change in his health. There is not a great variety of scenarios obvious we are in a bunker however the elements within it are quite detailed, the colors of the scenario do not overshadow the characters.
---
APARTADO GRAFICO
El apartado grafico nos muestra un look al estilo Cartoon, Los personajes están diseñados de forma muy prolija y acertada, con el pasar de los días podemos notar los cambios físicos y de aspecto que presentaran nuestros protagonistas. El juego busca simular de lleno lo que puede ocurrir en la vida real, crecer el cabello, engordar, no bañarse entre otros. En el apartado visual el juego presenta una serie de cambios en el color del personaje con el fin de mostrar algún cambio en su salud. No hay gran variedad de escenarios obvio estamos en un bunker sin embargo los elementos dentro de él son bastante detallados, los colores del escenario no opacan a los personajes.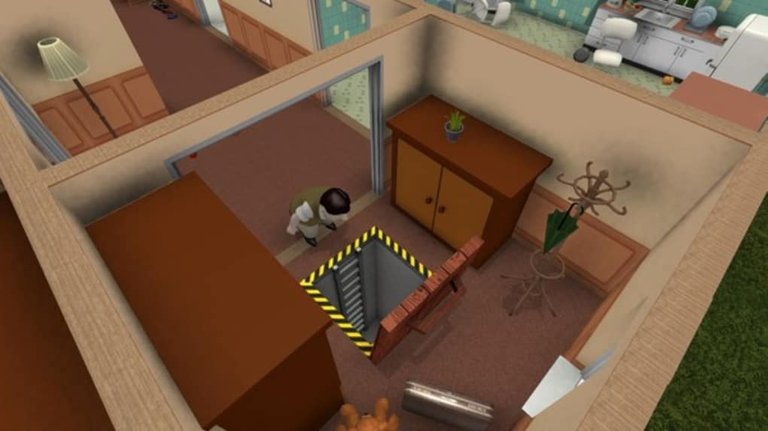 ---
SOUND
In the sound section, the most outstanding thing is the environmental sounds, it does not present a wide variety just the right and necessary to take us to immerse us in the environment and or allow us to laugh at a certain situation. The soundtrack does not stand out, it is weak and does not fit in with the game so it is forgotten.
---
SONIDO
En el apartado sonoro lo más destacable son los sonidos ambientales, no presenta una extensa variedad solo lo justo y necesario para llevarnos a sumergirnos en el entorno y o permitir reírnos de una determinada situación. La banda sonora no destaca, es floja y no se compenetra con el juego por lo cual esta queda para el olvido.

---
VERDICT
60 Seconds! Reatomized, immediately surprises us with the situations that are presented to us and that are approached with a black humor not suitable for cardiacs, in addition to this the game will test your capabilities, it is not only about gathering objects it is about survival in the most optimal and efficient way, which does not always happen so it is not surprising that we end up dead. It is an entertaining game that reminds us of graphic adventures like Monkey Island, of course without the big scenarios and puzzles. 60 Seconds! Reatomized, does not fall into the AAA category but it is still an enjoyable title and at some difficult point in its playability. So get ready to grab your supplies and see if you're ready for what's to come.
---
VEREDICTO
60 Seconds! Reatomized, sorprende de forma inmediata por las situaciones que se nos van presentando y que son abordadas con un humor negro no apto para cardiacos, adicional a esto el juego pondrá a prueba tus capacidades, no solo se trata de reunir objetos se trata de supervivencia de la forma más óptima y eficiente, lo cual no siempre sucede así que no es de extrañar que acabemos muertos. Es un juego entretenido que recuerda aventuras graficas como Monkey Island, claro sin los grandes escenarios y rompecabezas. 60 Seconds! Reatomized, no entra en la categoría AAA pero no por ello deja de ser un título disfrutable y en algún punto difícil en su jugabilidad. Así que prepárate toma tus provisiones y veamos si estas preparado para lo que se viene.

| Console | | |
| --- | --- | --- |
| Platform(s) | Android, Microsoft Windows, iOS, Nintendo Switch, PlayStation 4, Xbox One, macOS, Mac OS Classic, Mac OS | |
| Release | J25 de mayo de 2015 | |
| Genre(s) | Adventure, interactive film | |
| Mode(s) | Single-player | |
---
| Minimum PC Requirements | | |
| --- | --- | --- |
| Operating system | Windows® 10 64bit, 8.1 64bit, 7 64bit | |
| Processor | CPU:i5-2430M | |
| Memory | 4 GB de RAM. | |
| Graphics | Nvidia GT540 | |
| Storage | 6 GB free disc | |
| Sound Card | 16 bit stereo, 48KHz WAVE file can be played | |
---