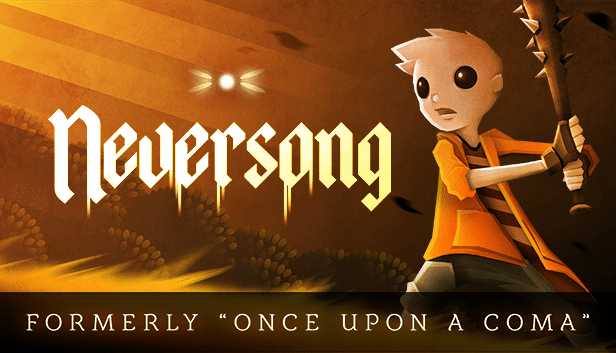 ---
In recent years, the Indie scene has brought us great Videogames and others that do not catch the spotlight, however, it is notorious that there are titles that represent a pleasant surprise either for their history, for the twist they present in their gameplay or even genre mix that turn out well. Neversong is an Indie game from Atmos Games that manages to catch us with a game full of puzzles, adventures; with a minimalist history and a history that leads us to explore human psychology. A game that has no waste.
---
En los últimos años, la escena Indie nos ha traído grandes Videojuegos y otros que no llegan acaparar los reflectores, sin embargo, es notorio que existen títulos que representan una grata sorpresa ya sea por su historia, por la vuelta de tuerca que presentan en su jugabilidad o incluso la mezcla de géneros que resultan bien. Neversong es un juego Indie de la casa Atmos Games que logra atraparnos con un juego lleno de rompecabezas, aventuras; con una historia minimalista y una historia que nos lleva a explorar la psicología humana. Un juego que no tiene desperdicio.
---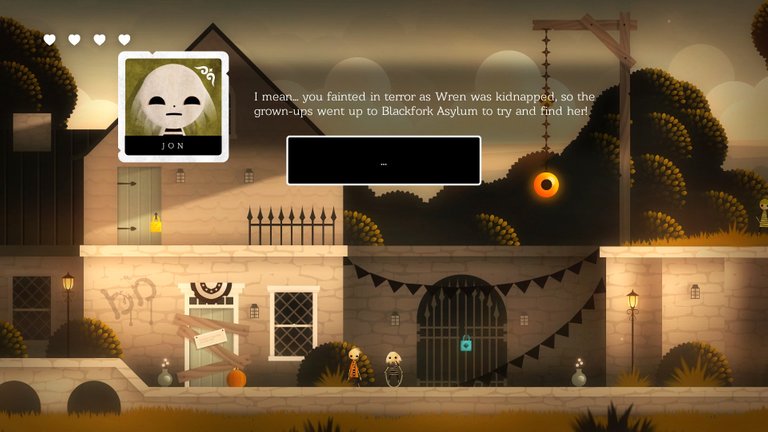 STORY
Neversong presents us with a deep story, full of melancholy, sadness and nostalgia. It tells the story of a boy named Peet, who has woken up from a coma and the only recurring memory is that of his girlfriend Wren, so once recovered he begins his search. Peet soon notice that all adults have disappeared as well as his girlfriend, so we must follow the clues that other children leave us so we can find out the truth. This game presents part of a true story, its creator spent several years in a deep coma, so he decided to share part of it through this game.
---
HISTORIA
Neversong, nos presenta una historia profunda, llena de melancolía, tristeza y nostalgia. Narra la historia de un niño de nombre Peet, quien se ha despertado de un coma y el único recuerdo recurrente es el de su novia Wren, por lo cual una vez recuperado emprende su búsqueda. Peet al poco tiempo notara que han desaparecido todos los adultos al igual que su novia, por lo cual debemos seguir las pistas que nos dejan otros niños y así poder averiguar la verdad. Este juego presenta parte de una historia real, su creador estuvo varios años en un coma profundo por lo cual decidió compartir parte de ella a través de este juego.
---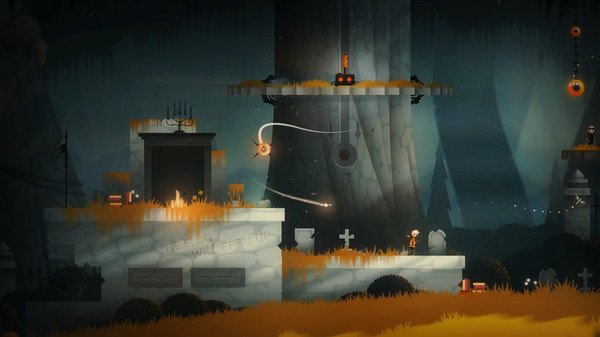 GAMEPLAY
---
Neversong's game system can be defined as simple and adjusted to what the game requires. The game has elements of constant exploration where we must review each corner of the scenarios without it being something complicated or we must spend hours spending neurons that if we have the task of getting the collectibles that the story presents us. The fights are usually easy without a major setback; our recurring weapon is a baseball bat with which we can attack our enemies, battles with final bosses do not represent a greater degree of difficulty, but are generally entertaining. Neversong, presents us with the possibility of solving puzzles which are of medium difficulty and are presented in the game in order to unlock areas in order to advance. If you have already played a game like Limbo, Inside or Braid this game has similar mechanics.
---
JUGABILIDAD
El sistema de juego de Neversong, se puede definir como simple y ajustado a lo que el juego requiere. El juego tiene elementos de exploración constante donde debemos revisar cada rincón de los escenarios sin que sea algo complicado o debamos pasar horas gastando neuronas eso si tenemos la tarea de conseguir los coleccionables que nos presenta la historia. Los combates suelen ser fáciles sin mayor contratiempo; nuestra arma recurrente es un bate de béisbol con la cual podemos atacar a nuestros enemigos, las batallas con jefes finales no representan un grado de dificultad mayor, pero por norma general son entretenidos. Neversong, nos presenta la posibilidad de resolver rompecabezas los cuales son de dificultad media y se presentan en el juego con el fin de desbloquear zonas para poder avanzar. Si ya has jugado juego como Limbo, Inside o Braid este juego presenta mecánicas similares.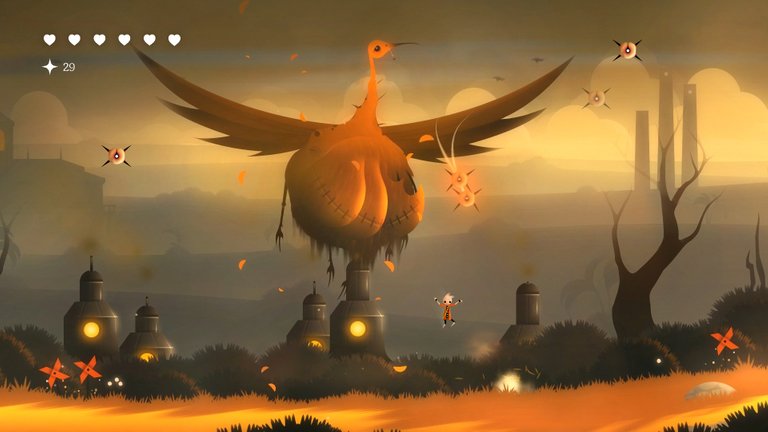 GRAPHIC SECTION
---
Neversong, stands out for its graphic section, presents a beautiful and well established art, makes use of 2D graphics. The scenarios are varied and present a sepia color palette, gradients that convey a feeling of melancholy and sadness, in addition to that the scenarios appear grim in the pure style of the Tim Burton films. The game despite the future of the Indie world presents clear ideas and a minimalist aesthetic but it turns out well.
---
APARTADO GRAFICO
Neversong, destaca por su apartado gráfico, presenta un arte bonito y bien establecido, hace uso de gráficos en 2D. Los escenarios son variados y presentan una paleta de colores sepia, degradados que transmiten una sensación de melancolía y tristeza, adicional a eso los escenarios se nos presentan sombríos al puro estilo de las películas de Tim Burton. El juego a pesar del porvenir del mundo Indie presenta ideas claras y una estética minimalista pero que resulta bien. SOUND
---
The game features a soundtrack according to the feelings and experiences you want to convey. The importance of music is fully reflected in the gameplay, having to interpret small musical fragments in order to advance in the game. The effects of sounds and the environment do not disrupt and complement the theme and the visual section of the video game.
---
SONIDO
El juego presenta una banda sonora acorde a los sentimientos y experiencias que desea transmitir. La importancia de la música se ve reflejada de llenos en la jugabilidad, teniendo que interpretar pequeños fragmentos musicales para poder avanzar dentro del juego. Los efectos de sonidos y del ambiente no desencajan y complementan la temática y el apartado visual del videojuego.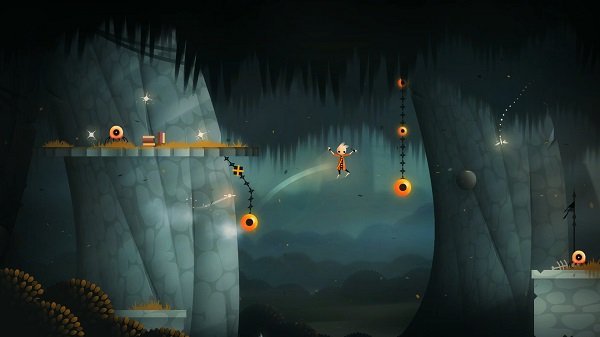 CONCLUSIONS
---
Neversong presents us with a mix of puzzle and platform genres, which makes the game experience full and enjoyable. It does not get boring and does not present a degree of complexity that will burn the neurons or cause frustration to the player, it contains an acceptable and interesting level of difficulty. What is remarkable the graphic section the negative can improve the game system.
---
CONCLUSIONES
Neversong, nos presenta una mezcla de géneros rompecabezas y plataformas, el cual hace que la experiencia de juego sea plena y disfrutable. Ne se hace aburrido y no presenta un grado de complejidad que vaya a quemar las neuronas o cause frustración al jugador, contiene un nivel de dificultad aceptable e interesante. Lo destacable el apartado grafico lo negativo se puede mejorar el sistema de juego.
---

| Console | | |
| --- | --- | --- |
| Platform(s) | Android, iOS, Nintendo Switch, Windows, PlayStation 4 | |
| Release | June 25, 2020 | |
| Genre(s) | Adventure, interactive film | |
| Mode(s) | Single-player | |
---
| Minimum PC Requirements | | |
| --- | --- | --- |
| Operating system | Windows® 10 64bit, 8.1 64bit, 7 64bit | |
| Processor | CPU: Intel Core i3-2310M 2.10 GHz. | |
| Memory | 8 GB de RAM. | |
| Graphics | Intel HD 4000 or over | |
| Storage | 6 GB free disc | |
| Sound Card | 16 bit stereo, 48KHz WAVE file can be played | |
---
Source Cover Image
Source Image 1
Source Image 2
Source Image 3
Source Image 4