Samira's Vacations in the mountains (SPA/ENG)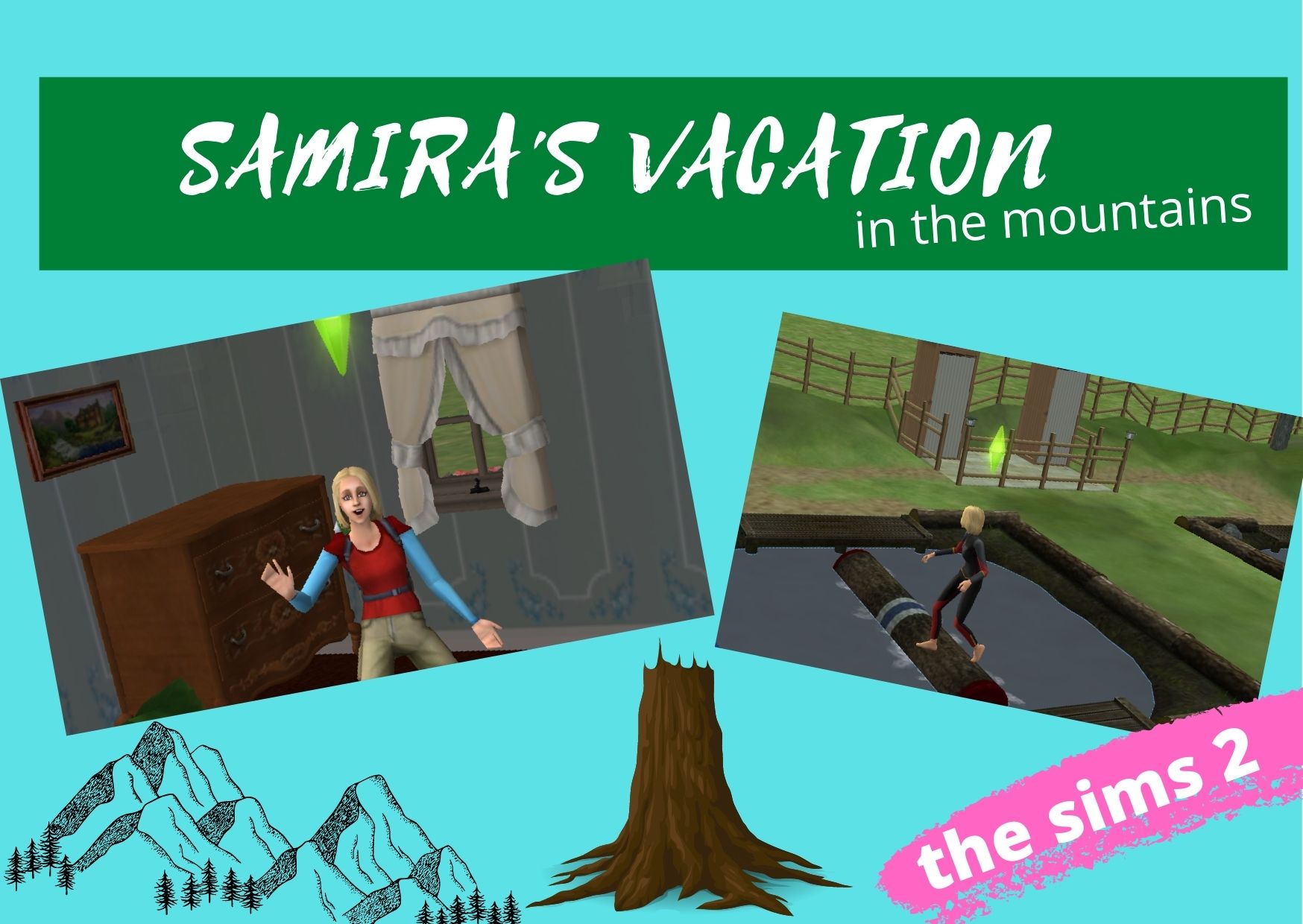 (Image designed by me in canva)
Imegen diseñada por mi en canva.
Hello friends! Today I'm very happy, not only because I bring you Samira's adventures again, but also because thanks to @perceval's advice I was able to get a better quality in the screenshots, because previously I only used the ones I produced with the game itself by pressing the "C" key, my sister @Bethyjade also helped me a lot because I honestly don't know much about these technical matters, so she helped me to find a way to use the game in windowed mode and it was much easier for me to make the screenshots on my own, which increased the quality of the resolution and this way you can appreciate much better our dear Samira on her vacations.
¡Hola amigos! Hoy estoy muy contenta, no solo porque les traigo de nuevo las aventuras de Samira, sino porque gracias a los consejos de @perceval he podido conseguir una mejor calidad en las capturas de pantalla, ya que anteriormente solo usaba las que yo producía con el mismo juego presionando la tecla "C", mi hermana @Bethyjade también me ayudó bastante porque yo honestamente no sé mucho de estos asuntos técnicos, así que ella me ayudó a buscar la forma de usar el juego en modo ventana y me resultó mucho más sencillo hacer las capturas de pantalla por mi cuenta, lo que provocó que aumentara la calidad de la resolución y de esta forma ustedes pudieran apreciar mucho mejor a nuestra querida Samira en sus vacaciones.

After returning from her previous vacation to Twikkii Island, Samira decided to go shopping because she had almost nothing in the pantry, so she went to the supermarket.
Luego de regresar de sus anteriores vacaciones a la isla Twikkii, Samira decidió ir de compras porque casi no tenía nada en la despensa, así que se fue al supermercado.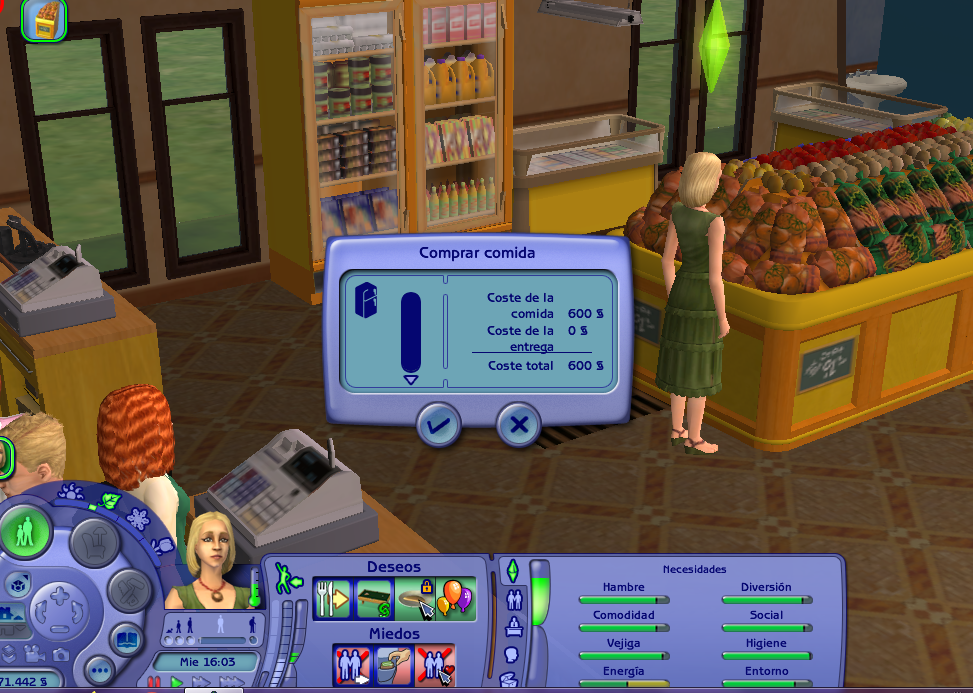 She wanted to learn more skills before embarking on her next adventures, cooking skills mainly because until now she only knew how to prepare cereal haha, but now she already knows how to make some delicious macaroni and cheese.
Ella quería aprender a tener más habilidades antes de emprender sus próximas aventuras, habilidades de cocina principalmente porque hasta ahora solo sabía preparar cereal jaja, pero ahora ya sabe como hacer unos deliciosos macarrones con queso.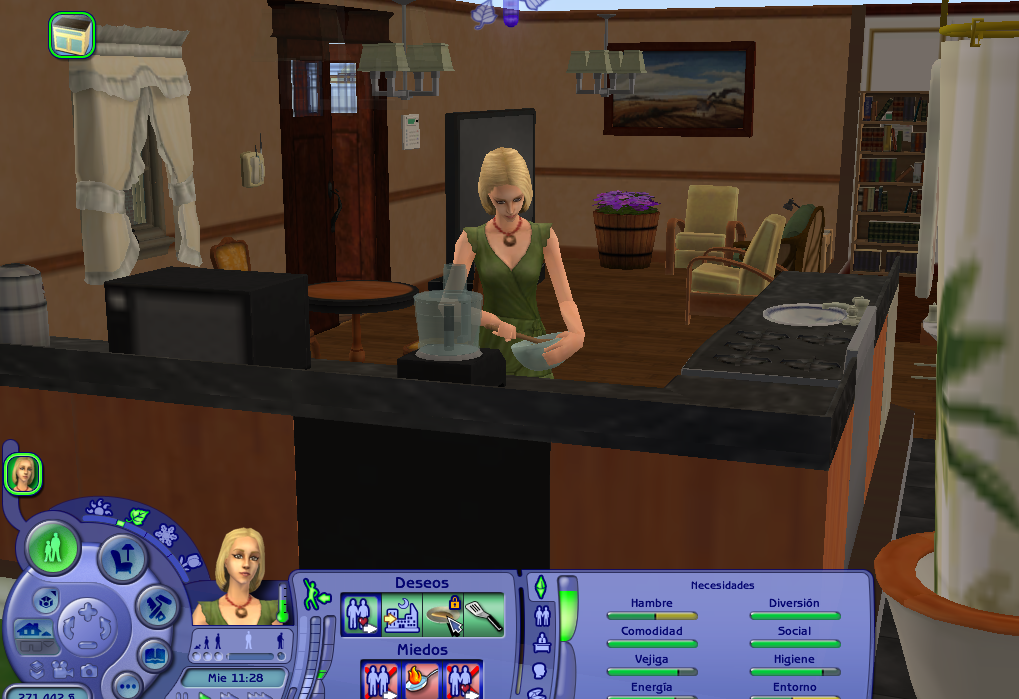 But she not only learned to cook a little bit, she also has rhythm and is learning to play the guitar. Yes! she does it great and she has style too.
Pero ella no solo aprendió a cocinar un poco, además tiene ritmo y está aprendiendo a tocarla guitarra. ¡Sí! lo hace genial y además tiene estilo.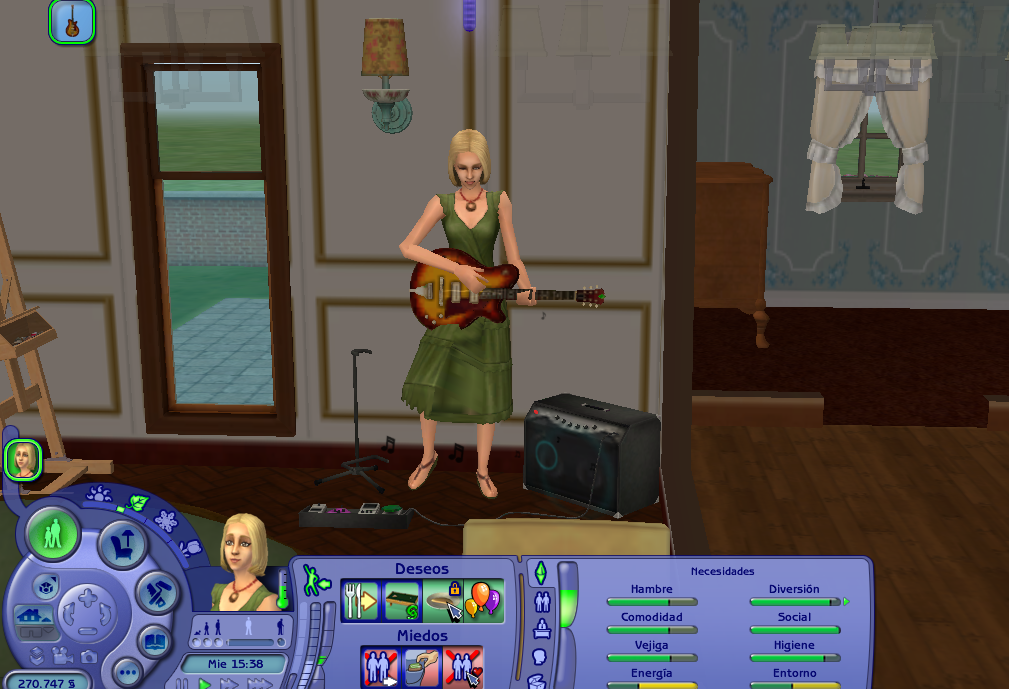 And she certainly hasn't forgotten the Tai Chi classes taught to her by the sage of the "Shadow Pagoda" in Takemasu village.
Y desde luego que no se ha olvidado de las clases de Taichí que le enseñó el sabio de la "Pagoda de las Sombras" de la aldea Takemasu.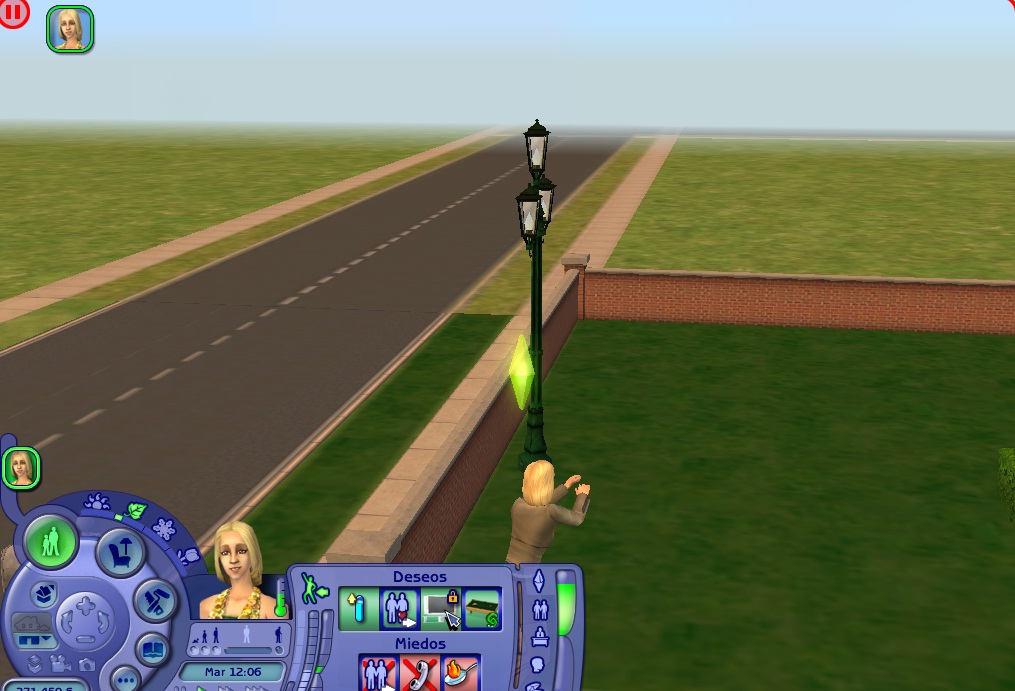 Well, after improve her skills, Samira felt ready to embark on her next adventure, so she called her travel agency and booked a flight to the "Tres Lagos" mountains and a suite at the "Vista Celeste" hotel. She had high expectations for the trip and so she dressed in her best hiking clothes.
Y bien, después de perfeccionar sus habilidades, Samira se sentía lista para emprender su próxima aventura, de modo que llamó a su agencia de viajes y reservó un vuelo para las montañas «Tres Lagos» y una suit en el hotel «Vista Celeste». Ella tenía muchas expectativas para ese viaje y por esa razón se vistió con su mejor ropa para excursión.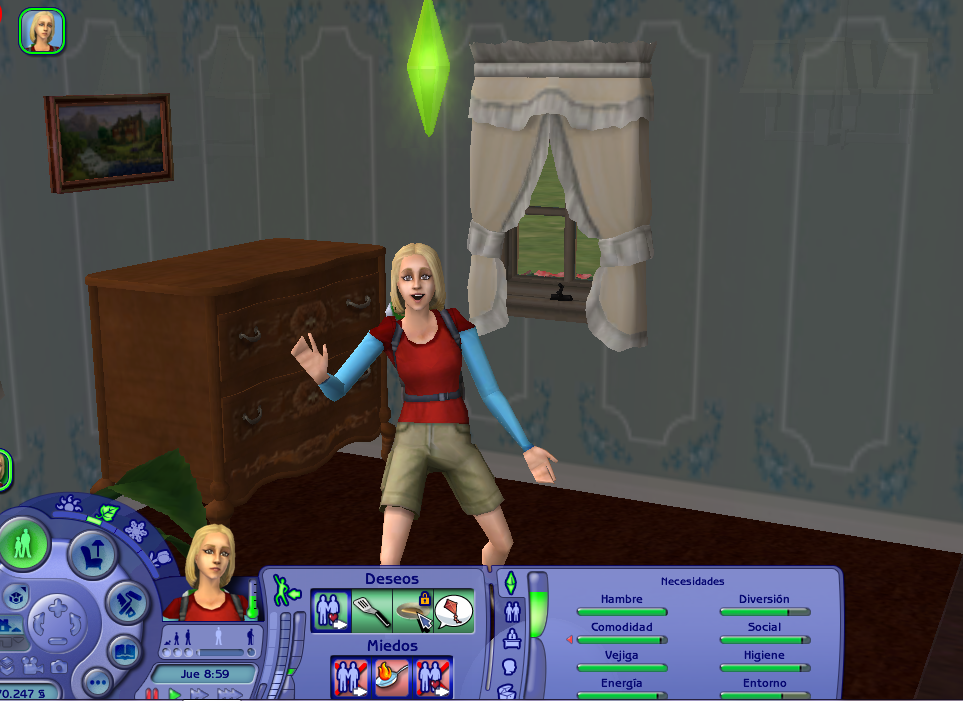 The cab is here! How exciting! She is sure to have a lot of fun.
¡Llegó el taxi! ¡Qué emocionante! De seguro se divertirá muchísimo.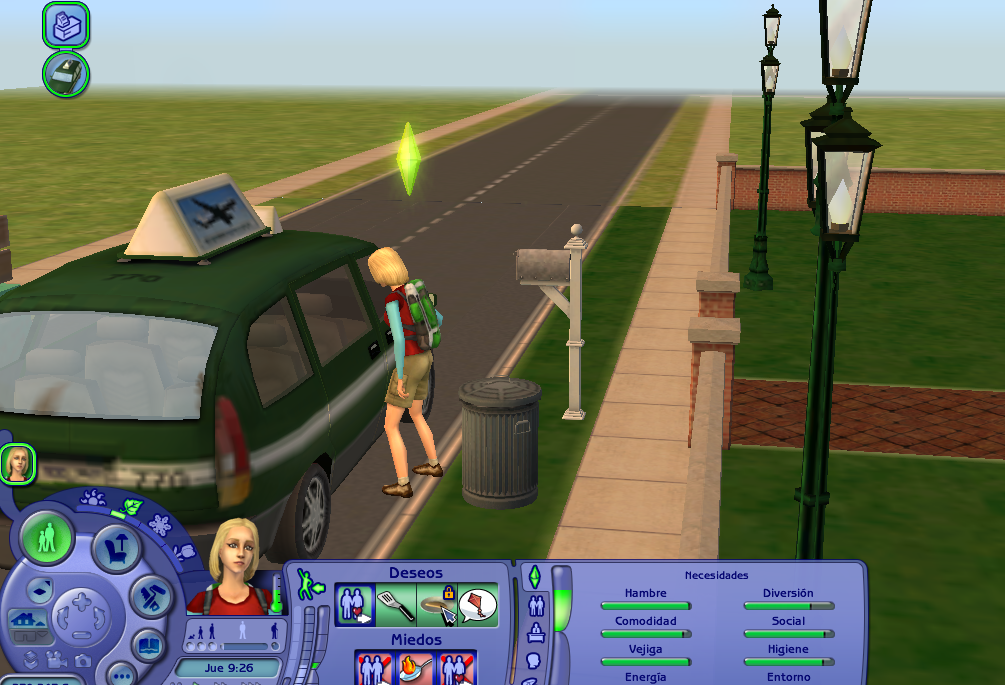 And there goes our friend
Y allá va nuestra amiga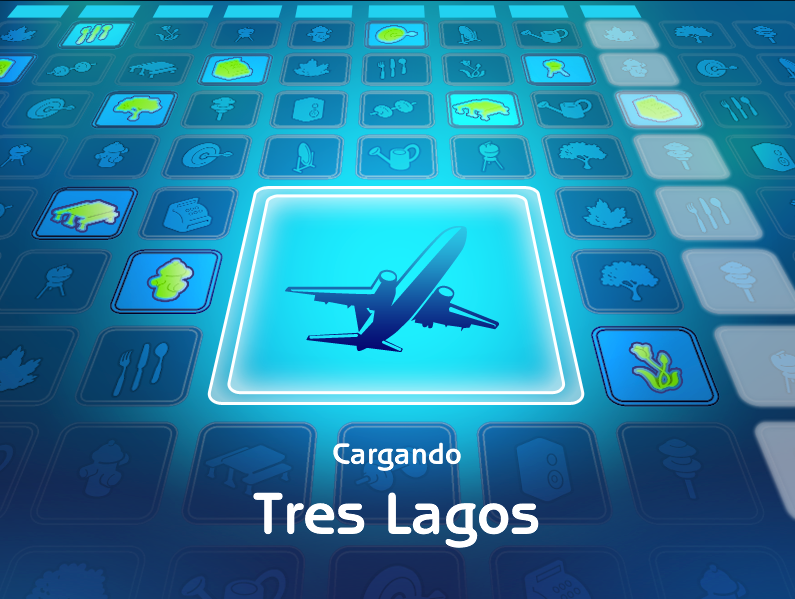 Ready! The hotel looks really huge and seems to be full of activities. The agency's advertisement assured that it was made for those people who love nature but at the same time also love comfort, plus it looks like it has a warm atmosphere, something very necessary at this time of the year when the cold autumn is tearing the leaves off the trees.
¡Listo! Ya llegó, el hotel se ve realmente enorme y parece estar lleno de actividades. El anuncio publicitario de la agencia aseguraba que estaba hecho para esas personas que aman la naturaleza pero al mismo tiempo también la comodidad, además se ve que tiene un ambiente cálido, algo muy necesario en esta época del año en que el frío otoño arranca las hojas de los árboles.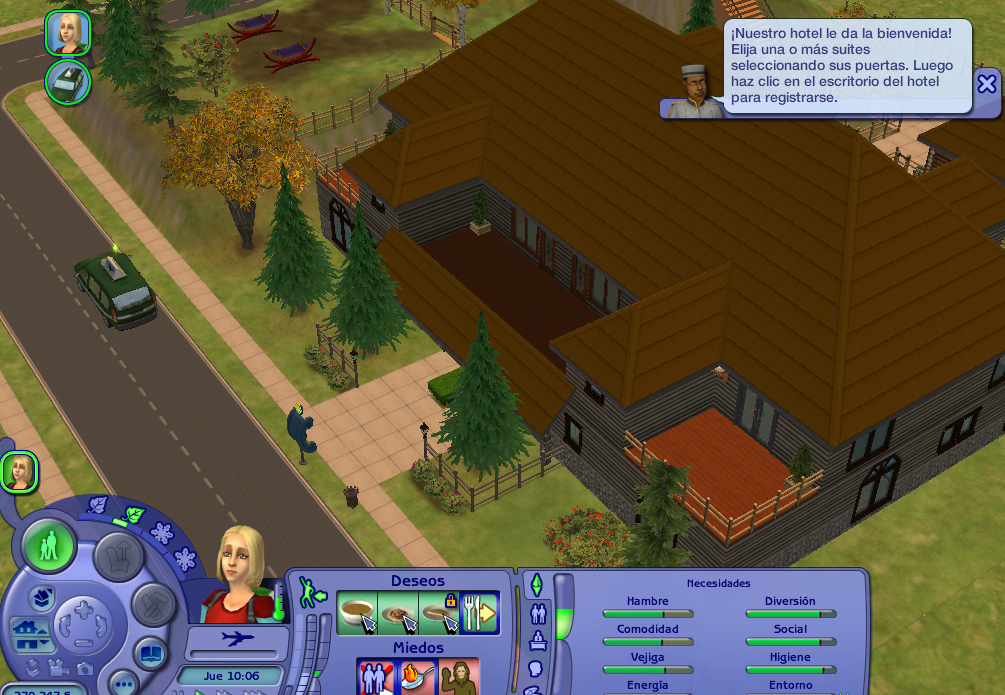 This is a view of the first floor. This is a view of the second floor. There is a gym, hot springs, swimming pool and even an area with hammocks for relaxing.
Esta es una vista de la planta baja. Hay un gimnasio, aguas termales, piscina y hasta una zona con hamacas para relajarse.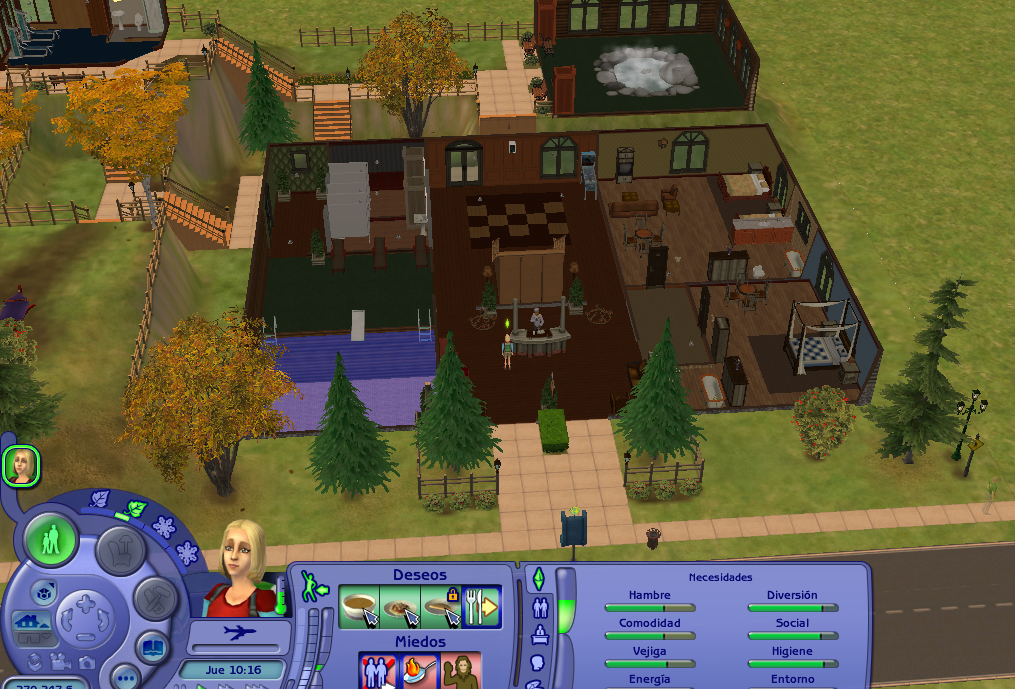 These are the rooms on the second floor.
Esta son las habitaciones de la segunda planta.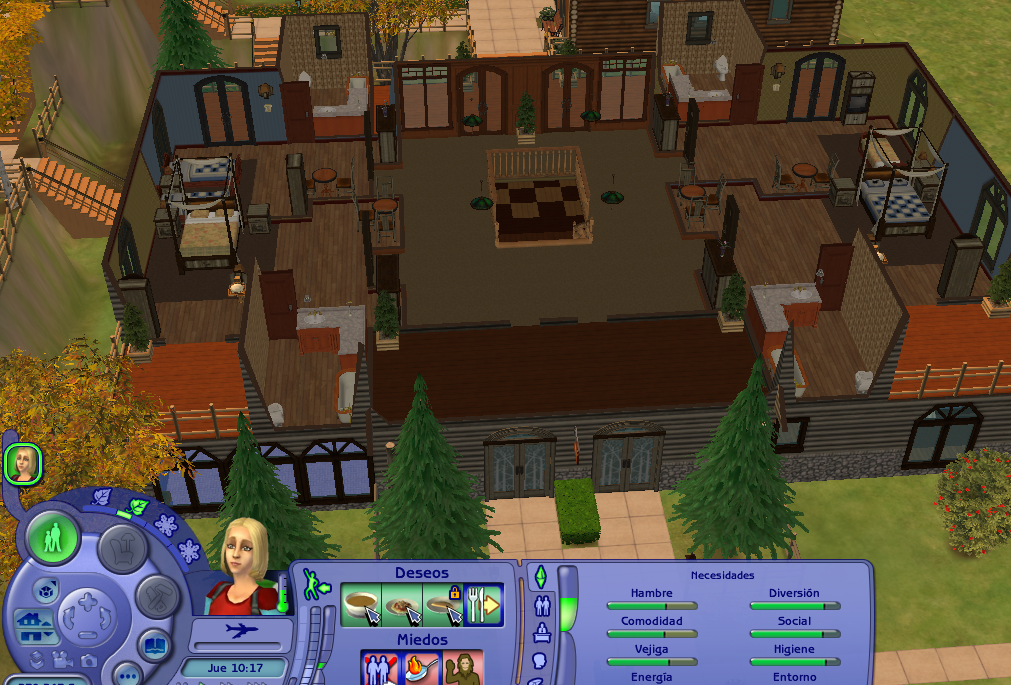 Samira preferred a simple but very comfortable room on the first floor.
Samira prefirió una habitación sencilla pero muy cómoda en la planta baja.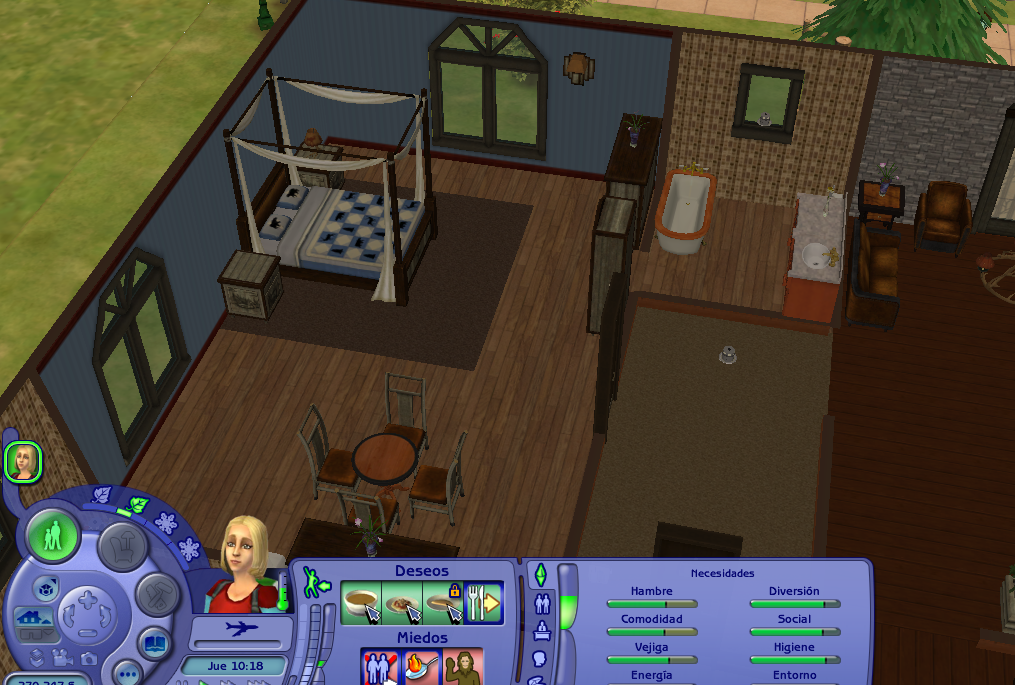 and after she had chosen her suite, all you she to does is check in at the hotel administration.
y luego de haber escogido la suite no queda más que ir a registrarse en la administración del hotel.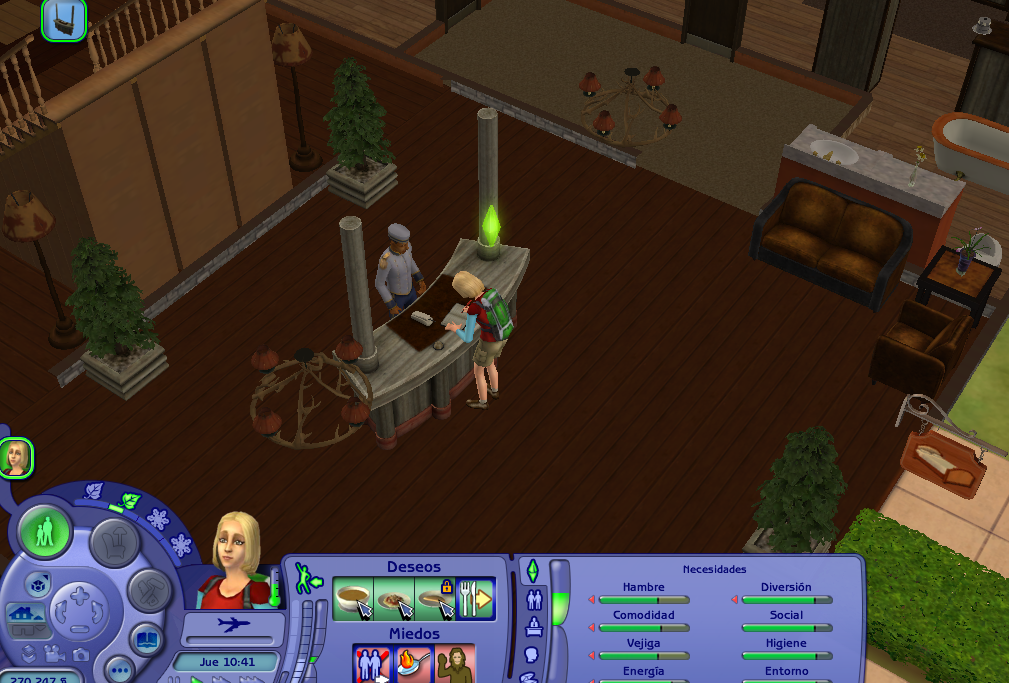 And so... It was time to have fun! First she thought about taking a nice dip in the hotel pool, that diving board looked too tempting, so she wanted to take a chance, but once she was on it, she regretted it.... What if she broke her neck?
Y pues... ¡Llegó la hora de divertirse! En primer lugar ella pensó en darse un buen chapuzón en la piscina del hotel, ese trampolín se veía demasiado tentador, así que quiso arriesgarse, pero una vez que estuvo sobre él, se arrepintió... ¿Qué tal si se rompía el cuello?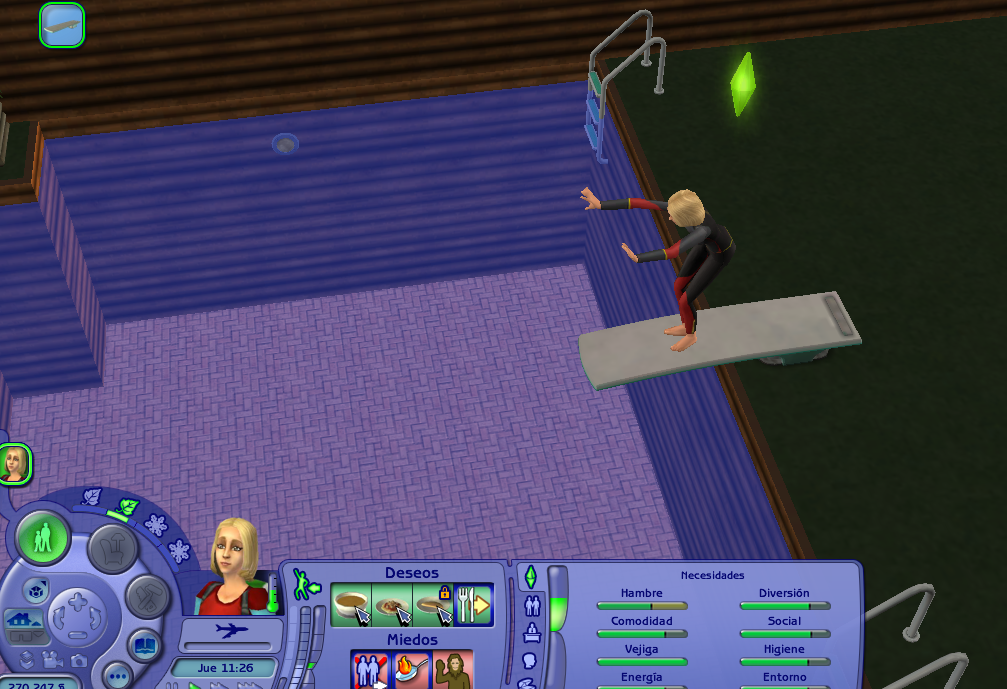 Samira believes that there are other ways to improve her physical skills and much less dangerous, such as working out in the hotel gym for example.
Samira cree que existen otras maneras de mejorar sus habilidades físicas y mucho menos peligrosas, como hacer ejercicio en el gimnasio del hotel por ejemplo.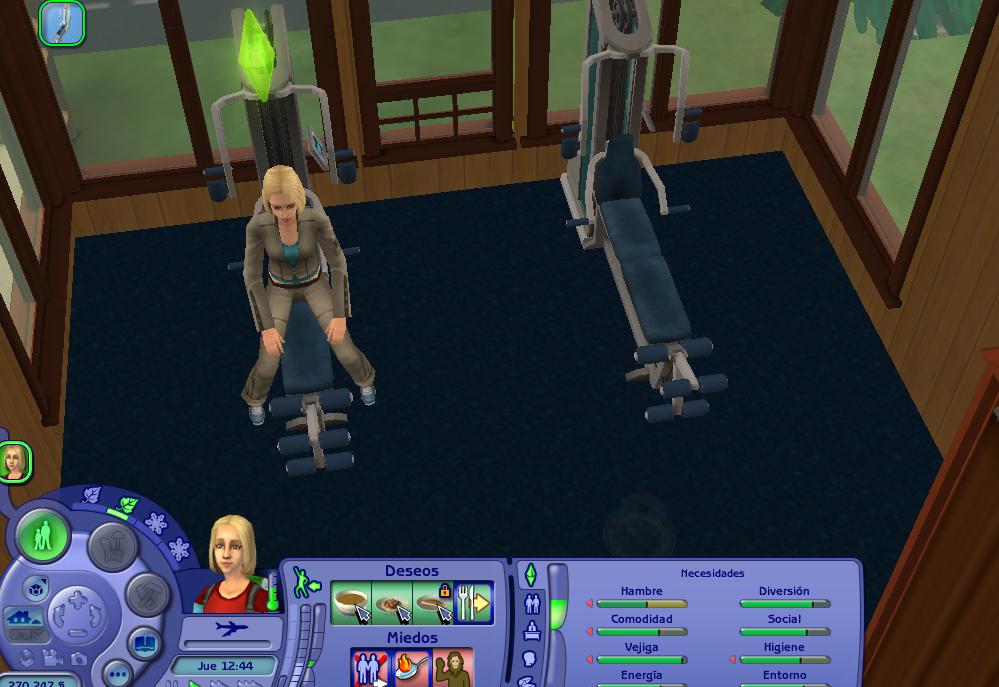 Now it's time to relax after an intense workout.
Ahora ha llegado el momento de relajarse, luego de una intensa rutina de ejercicios.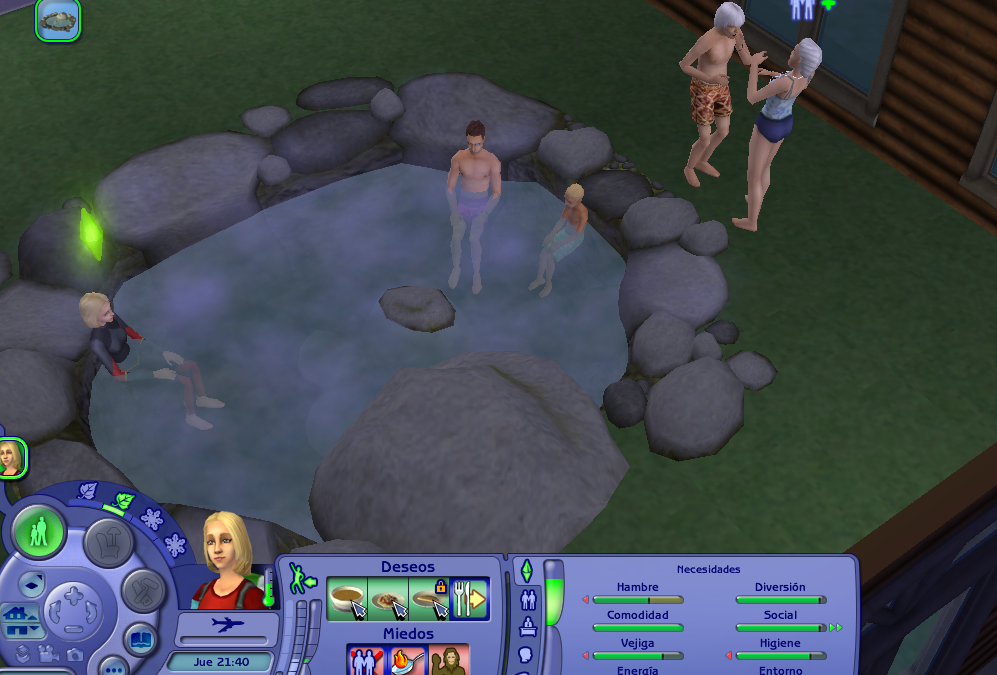 After leaving the hot springs, Samira was very excited to start digging to find the buried treasure that contained the map, which in turn would lead her to a mysterious place called "The Hidden Burrow", where the locals say the Yeti lives.... It's creepy and at the same time exciting, so she didn't waste any time and started digging.... Will she find the treasure? Many people warned her that it was difficult to find it.
Después de salir de las aguas termales, Samira estaba muy entusiasmada por comenzar a cavar en busca del tesoro enterrado que contenía el mapa, que a su vez la conduciría a un misterioso lugar llamado «La Madriguera Oculta», donde dicen los lugareños que vive el Yeti... Es escalofriante y al mismo tiempo emocionante, por eso ella no perdió el tiempo y comenzó a cavar... ¿encontrará el tesoro? Muchas personas le advirtieron que era difícil hallarlo.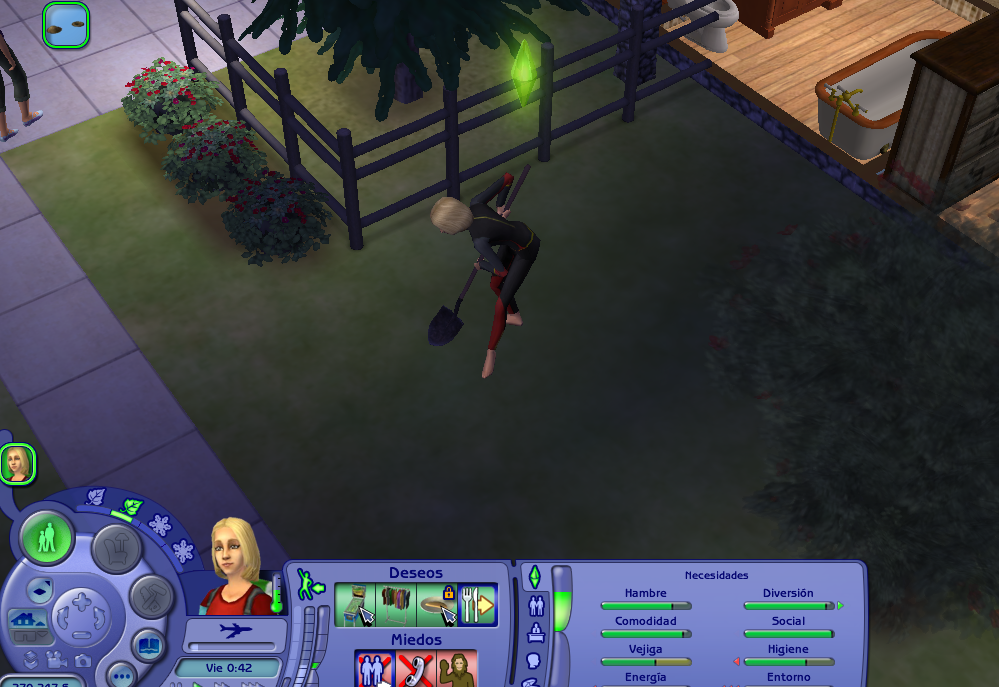 It seems that they were right because, no matter how much Samira dug and dug, she could not find anything interesting, only an old tatty bone that perhaps some dog had buried.
Parece que tenían razón pues, por más que Samira cavó y cavó, no pudo hallar nada interesante, solo un viejo hueso raído que tal vez enterró algún perro.
The poor girl was too tired after so many activities that she fell sound asleep.
La pobre estaba demasiado cansada después de tantas actividades que se quedó profundamente dormida.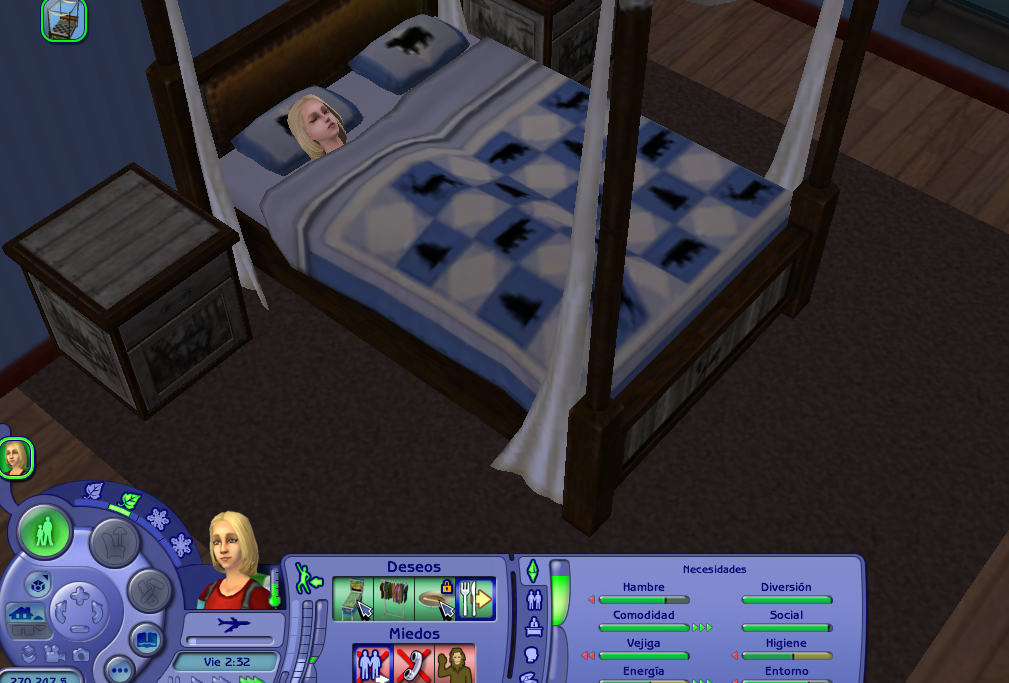 She was not discouraged by not having found the treasure, the next day she prepared to go to the Lumber Plant where the locals told her that she could find many fun activities to do, so she asked for a cab and while waiting for it, she started to watch the beautiful birds with her binoculars.
Ella no se desanimó por no haber encontrado el tesoro, al día siguiente se preparó para ir a la Planta Maderera donde los lugareños le dijeron que podría encontrar muchas actividades divertidísimas para hacer, por lo tanto pidió un taxi y mientras lo esperaba, se puso a observar a los hermosos pájaros con sus prismáticos.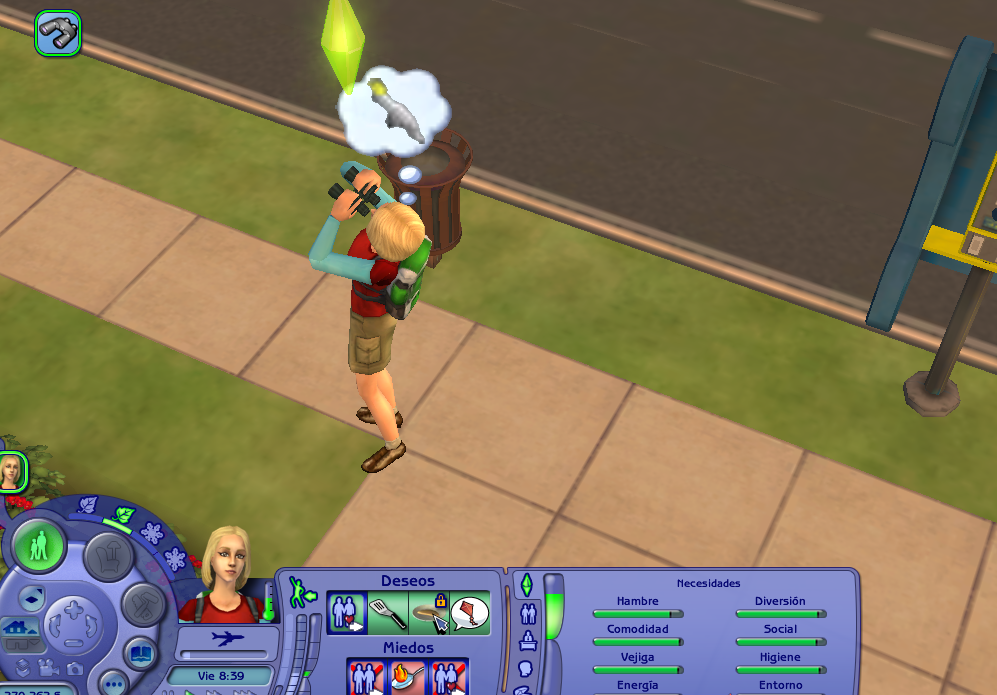 And that's enough, Samira! The cab's here! It's time to go.
¡Y basta, Samira! ¡El taxi ya llegó! Es hora de irte.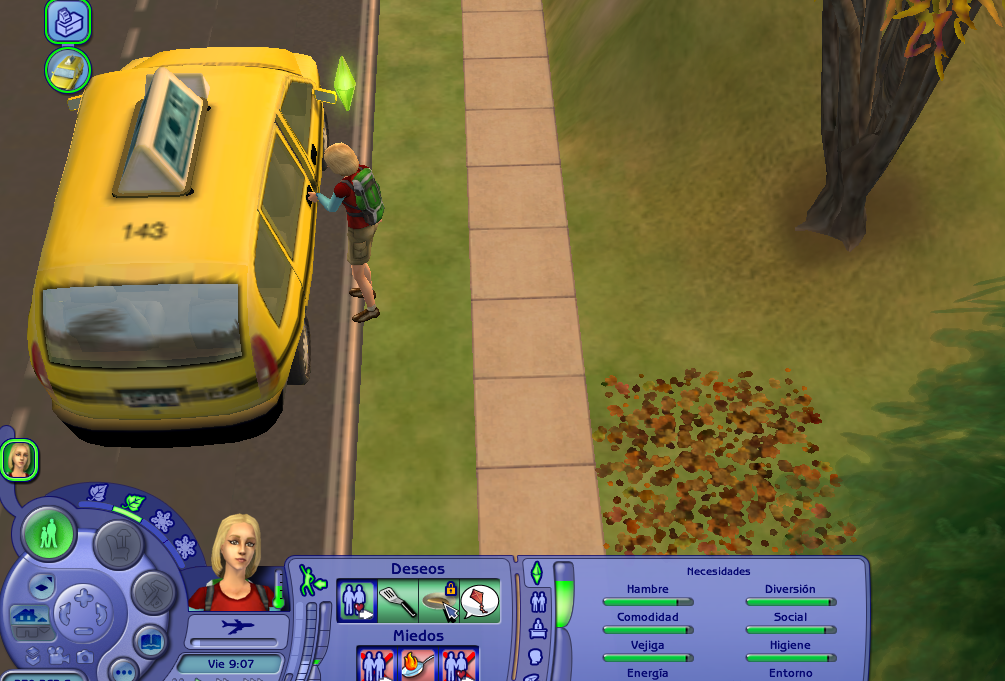 Finally she's at the Lumber Plant. Wow, it's a huge place and it really seems to be full of a lots of fun activities.
Finalmente ella está en la Planta Maderera. ¡Vaya! Es un lugar enorme y realmente parece estar lleno de muchas actividades divertidas.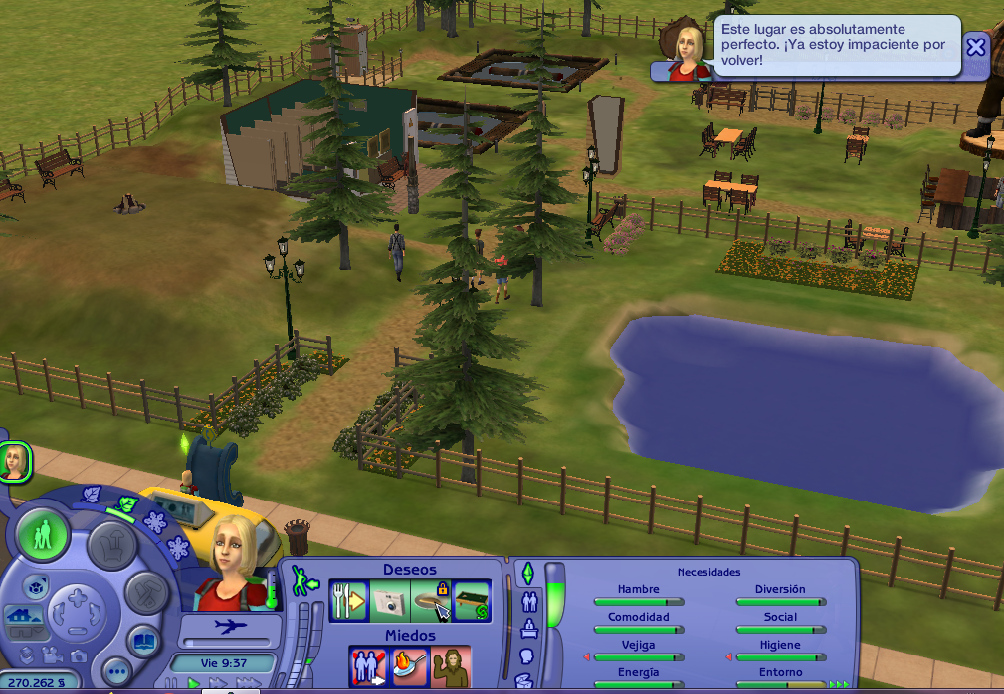 The first thing Samira did when she arrived, was to go to the axe throwing platform. At first she watched the others to see what they were doing and then tried to imitate their movements, but although it seemed like a simple activity, it was not, because as soon as Samira tried to throw the axe, she could not hold the weight and it fell out of her hands.
Lo primero que Samira hizo al llegar fue ir a la plataforma de lanzamiento de hachas. Al inicio observó a los demás para ver lo que hacían y así tratar de imitar sus movimientos después, pero aunque parecía una actividad sencilla, realmente no lo era pues en cuanto Samira intentó lanzar el hacha, no pudo aguantar el peso y se le cayó de las manos.
But after some time practicing, she was finally able to do it. yuuuju!
Pero después de un tiempo practicando, finalmente pudo lograrlo. ¡Yuuuju!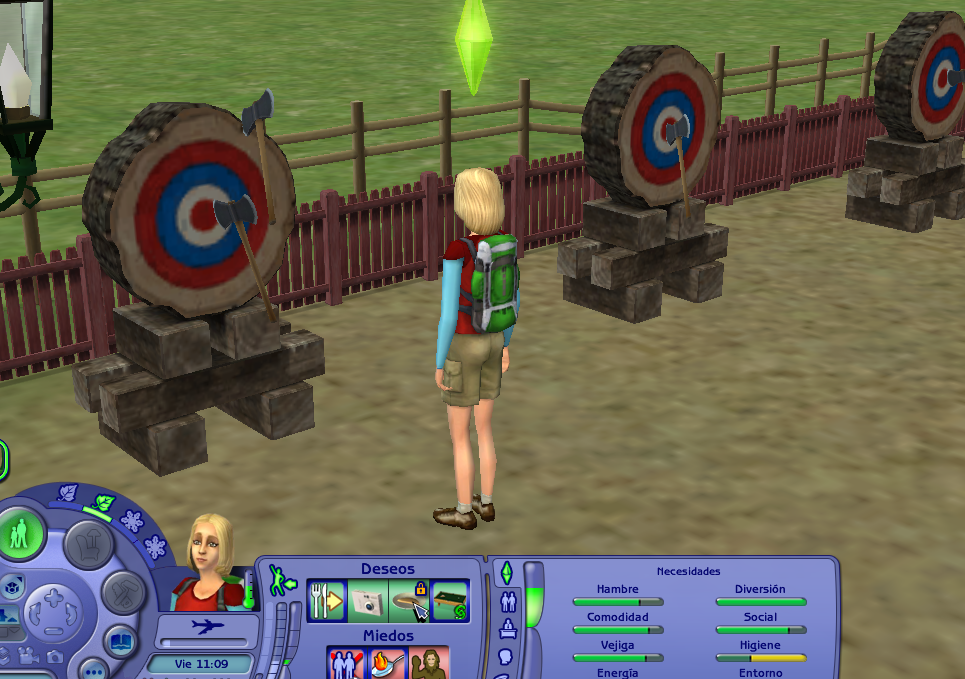 Then Samira wanted to test her balance on the logs, but she was not so lucky as she kept falling down.
Después Samira quiso probar su equilibrio sobre los troncos, pero no tuvo tanta suerte ya que se caía a cada rato.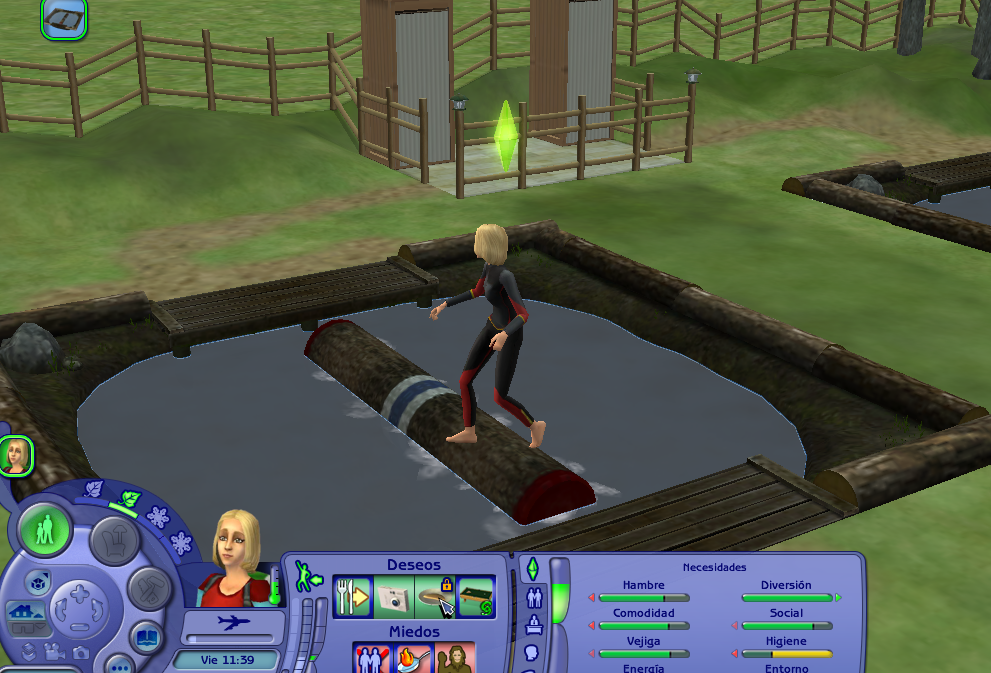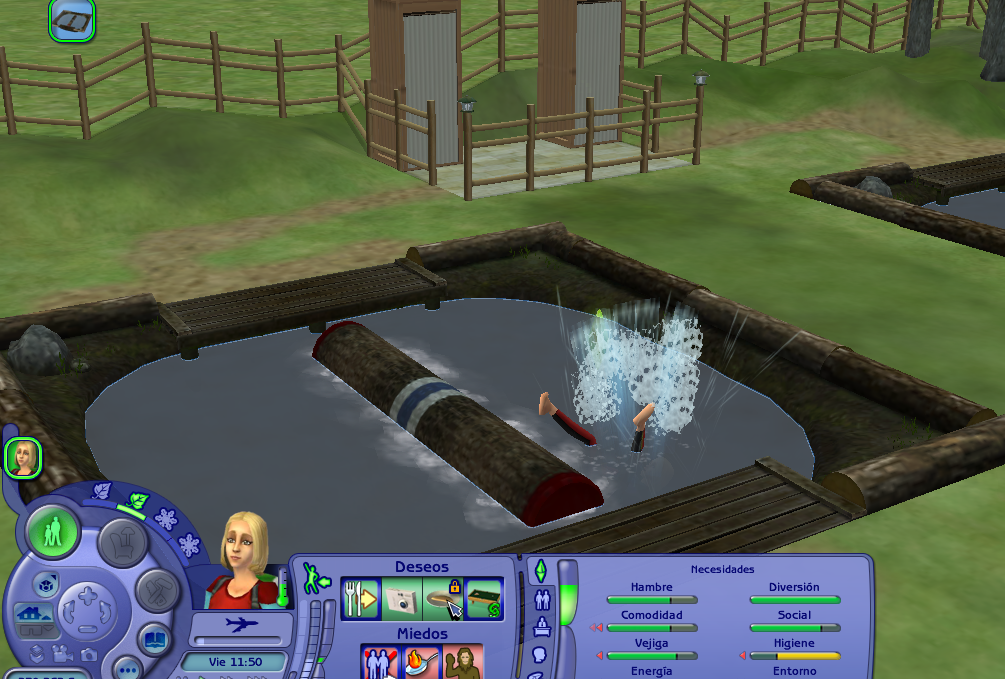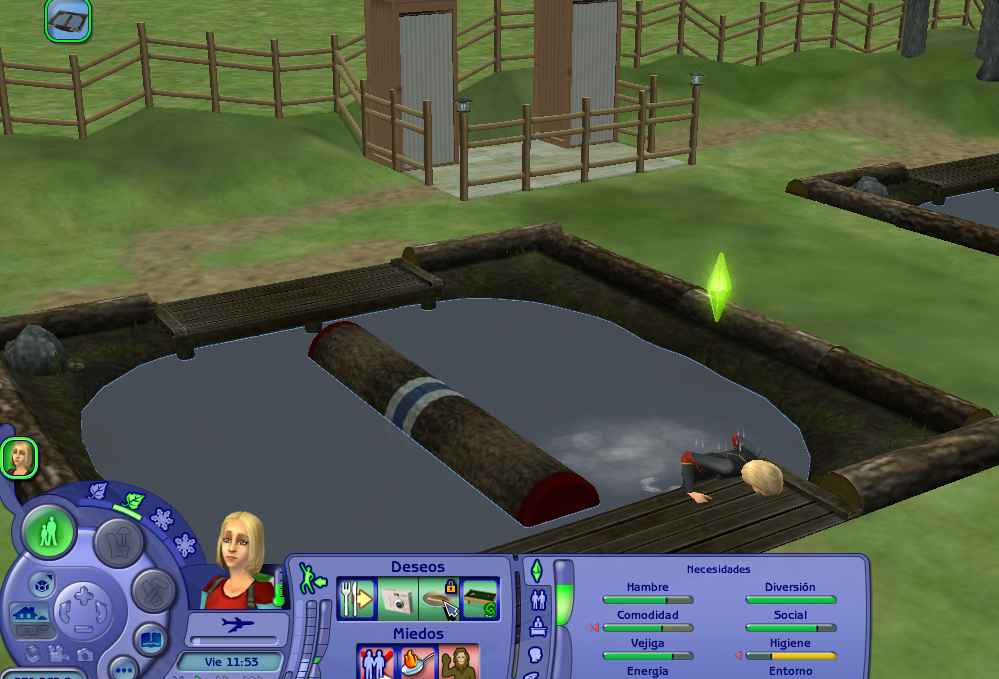 Samira thought about trying another activity and suddenly came up with a brilliant idea: is't possible to dig in the lumber plant's facilities? Well, she'll have to try... she's obsessed with finding the blessed map.
Samira pensó en intentar otra actividad y de pronto se le ocurrió una brillante idea... ¿será posible cavar en las instalaciones de la planta maderera? pues ella tendrá que intentarlo... está obsesionada con encontrar el bendito mapa.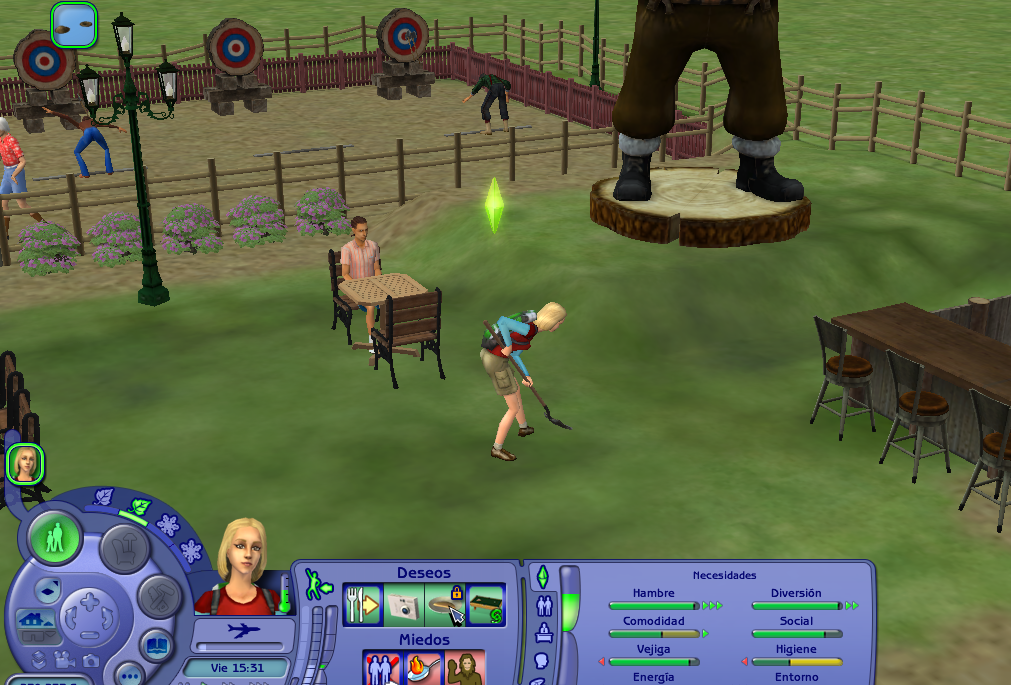 but maybe it wasn't the best idea... Ooops! What did you do, Samira? Our friend got carried away, she was so excited while digging that she burst a water pipe.
pero quizá no era la mejor idea... ¡Ooops! ¿qué hiciste, Samira? A nuestra amiga se le fue la mano, estaba tan emocionada mientras cavaba que reventó una tubería de agua.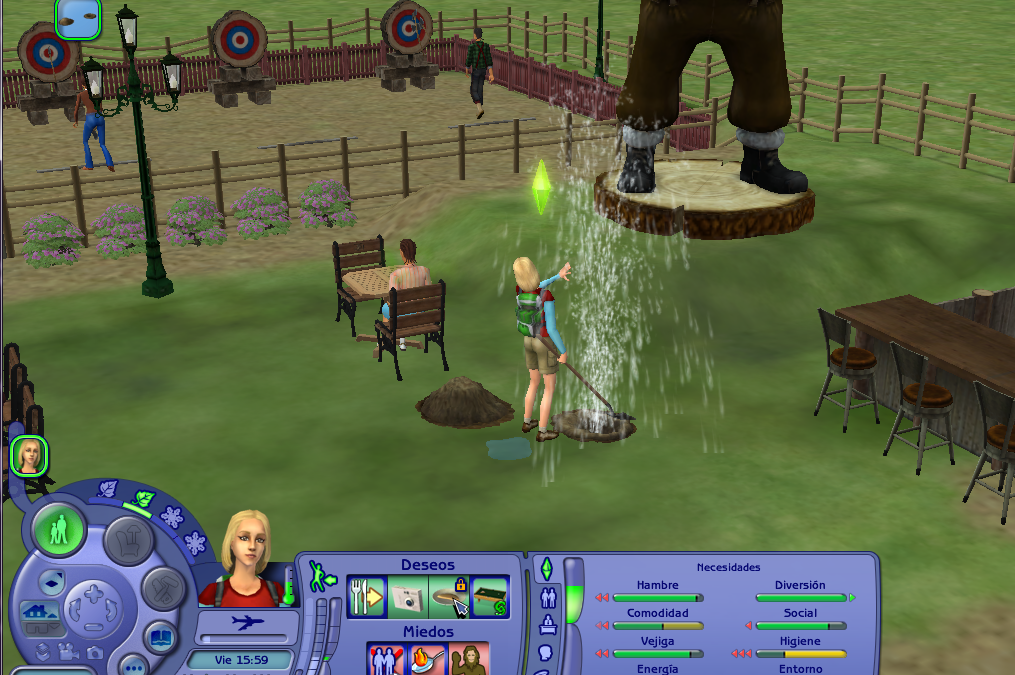 She was desperate, spinning on her axis and screaming. I'm sorry, Samira, but it was very funny to me.
Ella estaba desesperada, daba vueltas sobre su mismo eje y gritaba. Lo siento, Samira pero para mí fue muy gracioso.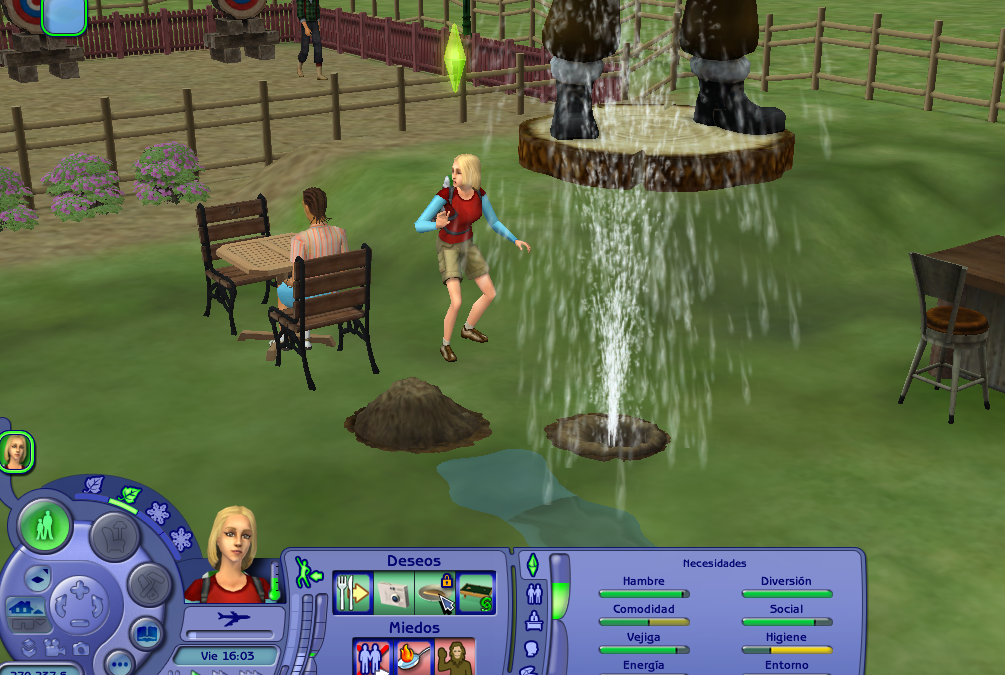 What a scare! haha but that man back there didn't even flinch at the commotion.
¡Qué susto! jaja pero ese hombre de allá atrás ni siquiera se inmutó con el alboroto.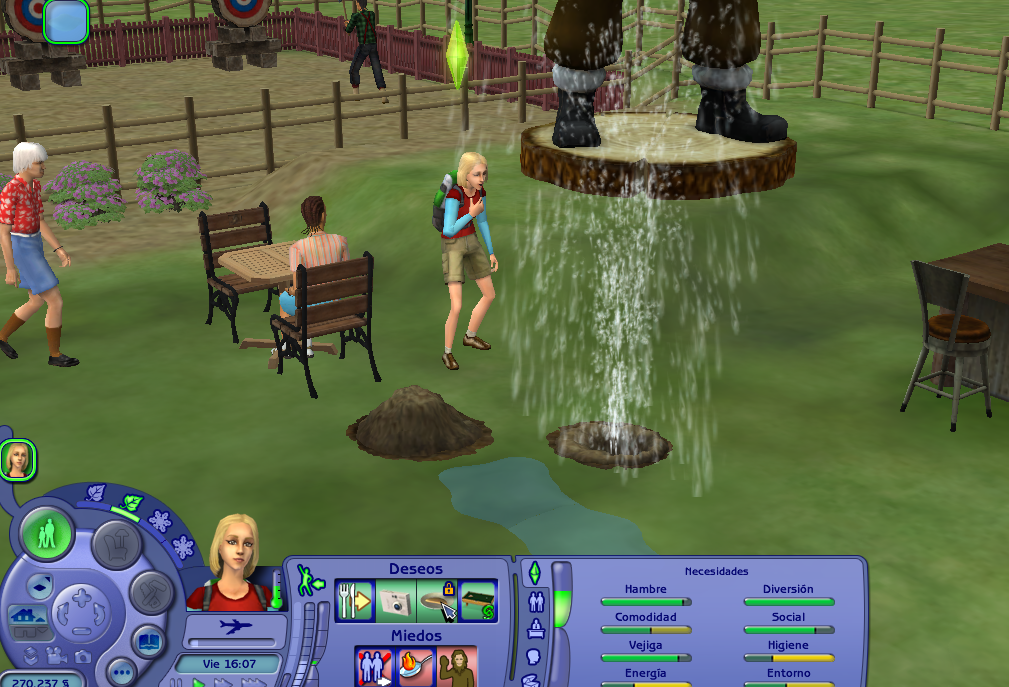 Well, after a big scare you have to keep on digging, but you'd better do it somewhere else.... Hmm! How about by the lake?
Bueno, después de un gran susto hay que seguir cavando, pero será mejor que lo hagas en otro lado... Hmm! ¿Qué tal junto al lago?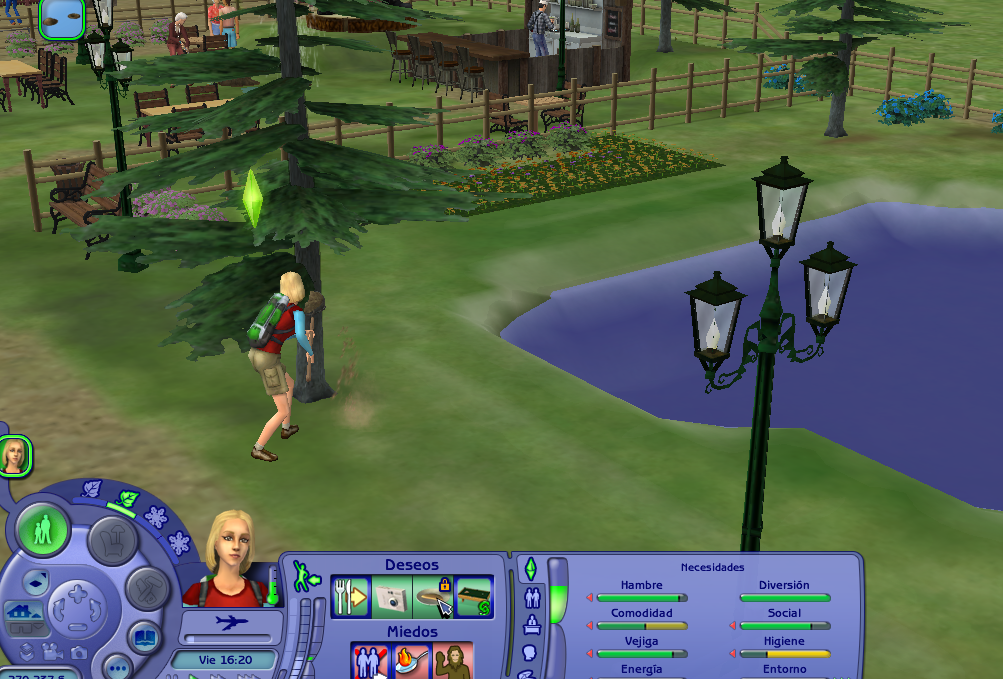 She was not stopped even by the rain that suddenly began to fall, but the blessed map hidden in the treasure was nowhere to be found.
A ella no la detuvo ni la lluvia que comenzó a caer de pronto, pero el bendito mapa escondido en el tesoro no estaba en ninguna parte.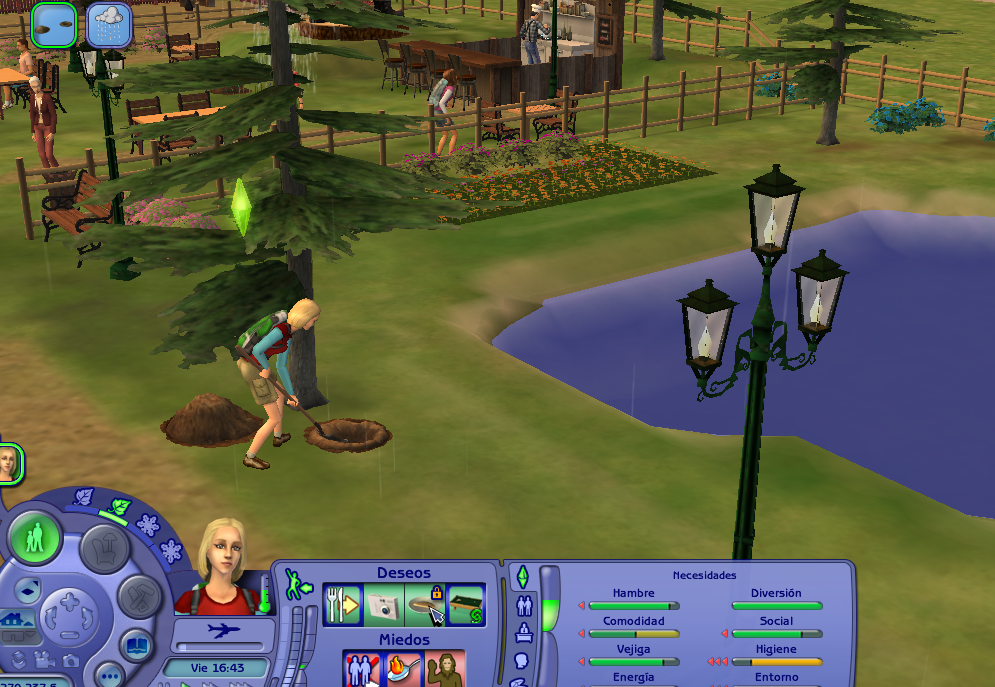 She didn't find the map but at least she enjoyed having a good time in the rain anyway, and besides, she found a rock haha.
Ella no encontró el mapa pero de todos modos al menos disfrutó de pasar un buen rato bajo la lluvia, y además, encontró una roca jaja.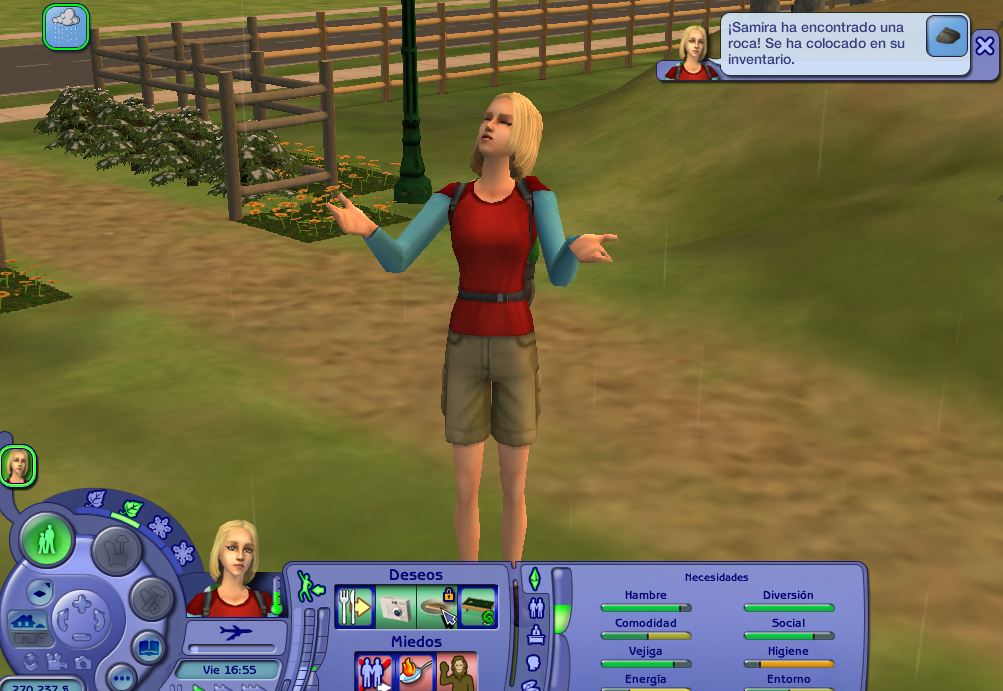 Samira was hungry, so she went to a local food stall and ordered a portion of chicken casserole. delicious!
Samira estaba hambrienta, así que fue a un puesto de comida local y ordenó una ración de pollo a la cazuela. ¡Delicioso!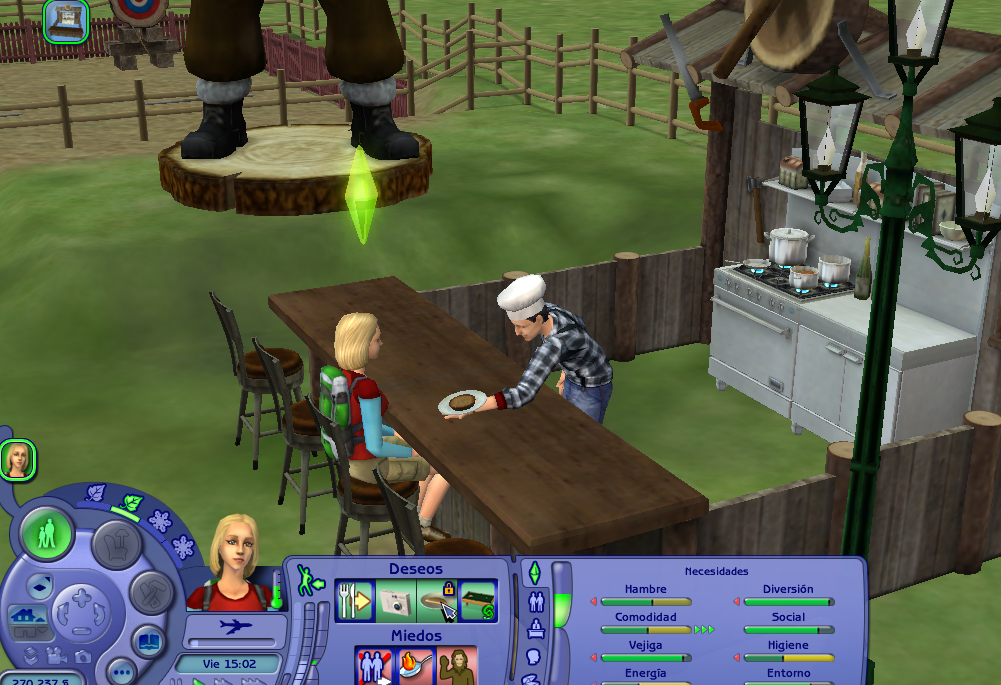 Time to go back to the hotel for a nice bath, Samira. Sure, but guess what she did just before she went to sleep? Yes, keep digging but holy cow, it seems it's impossible to find that map.
Es hora de regresar al hotel para darte un buen baño, Samira. Claro, pero ¿adivinen que fue lo que ella hizo justo antes de dormir? Sí, seguir cavando pero ¡Santo cielo! parece que es imposible hallar ese mapa.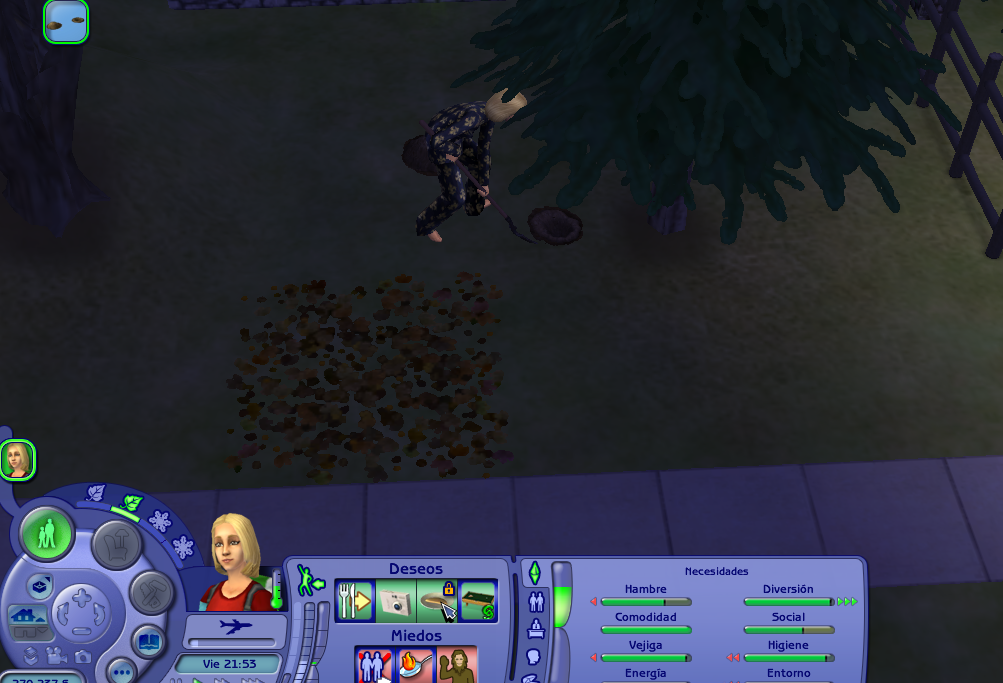 After a while, she decided to go in and ask for room service, but something strange happened... See that man standing by the bed? He's been standing there for a while. I think Samira has a stalker admirer haha but she doesn't seem too worried about it or maybe she's too tired to think about it.
Después de un buen rato, ella decidió entrar y pedir servicio a la habitación pero sucedió algo extraño... ¿Ven a ese hombre que está junto a la cama? Tiene rato parado allí. Creo que Samira tiene un admirador acosador jaja pero ella no parece demasiado preocupada al respecto o quizá está demasiado cansada para pensar en ello.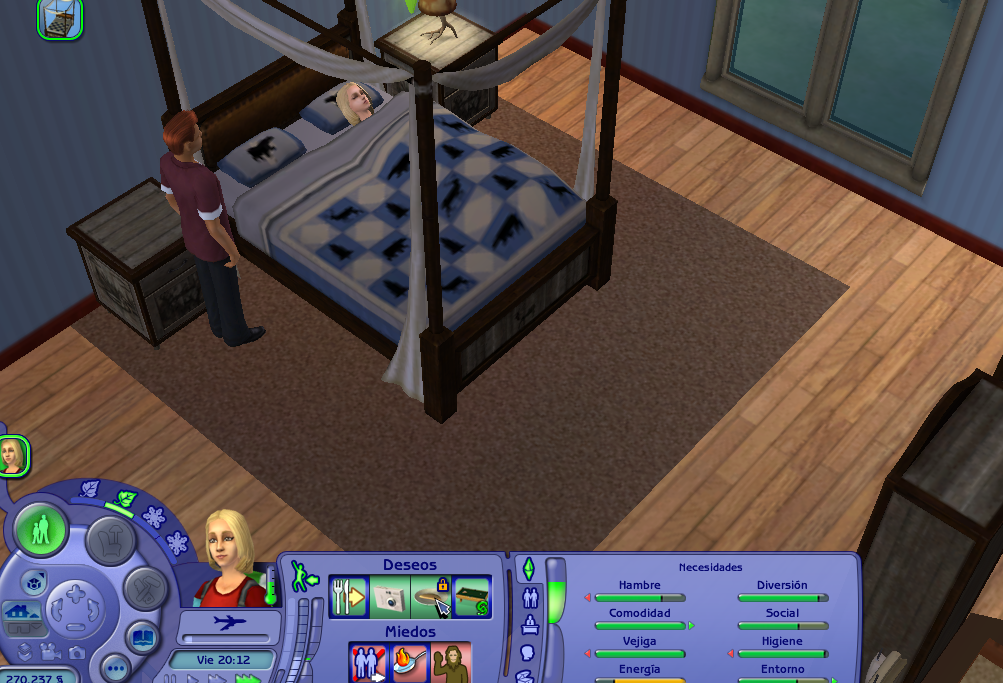 and the next day the man was still there, watching her while she ate her breakfast How scary!
y al día siguiente el hombre siguió allí, observándola mientras ella desayunaba ¡Qué miedo!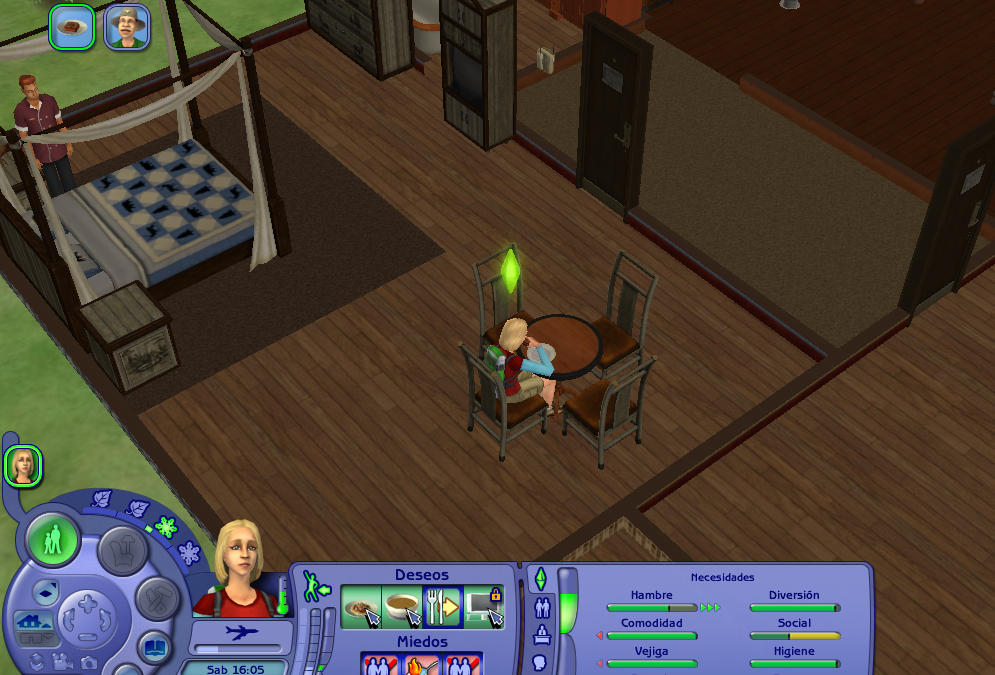 That day it started to get cold but Samira wasn't stopped by that, she kept digging and digging but couldn't find anything.
Ese día comenzó a hacer frío pero a Samira no la detuvo eso, siguió cavando y cavando pero no pudo hallar nada.
She was even happy because she thought she had found something, but it was just another stupid rock.
Incluso se puso contenta porque creyó que había encontrado algo, pero se trataba de otra estúpida roca.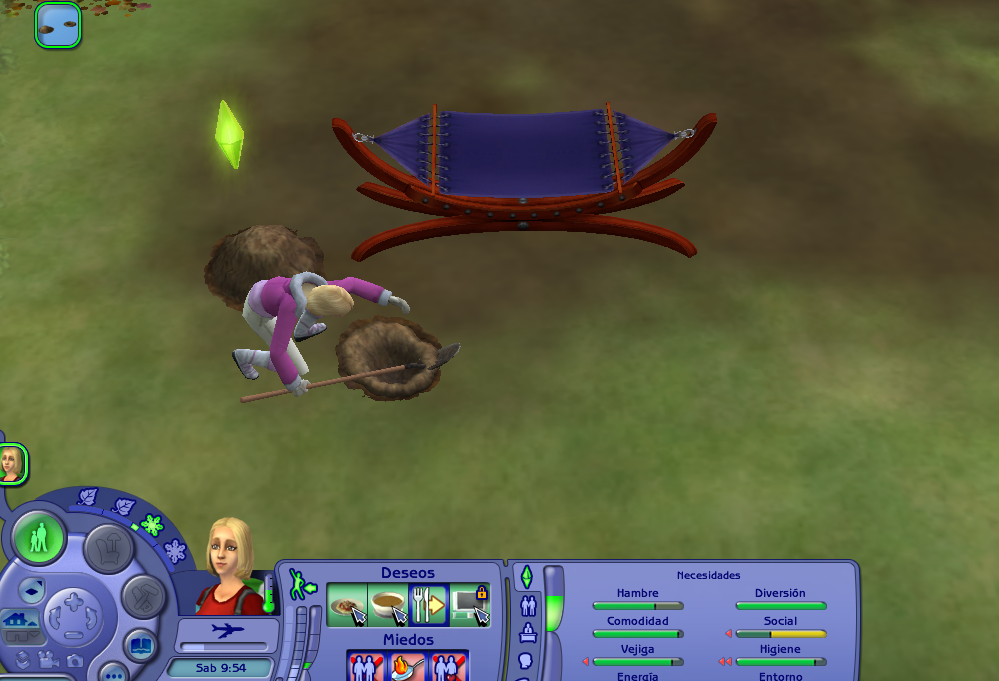 No way, you'd better give up, Samira, you'd better rest to replenish your energy if you still want to go on the excursion.
Ni modo, será mejor que desistas, Samira, mejor descansa para reponer energía si aún quieres ir a la excursión.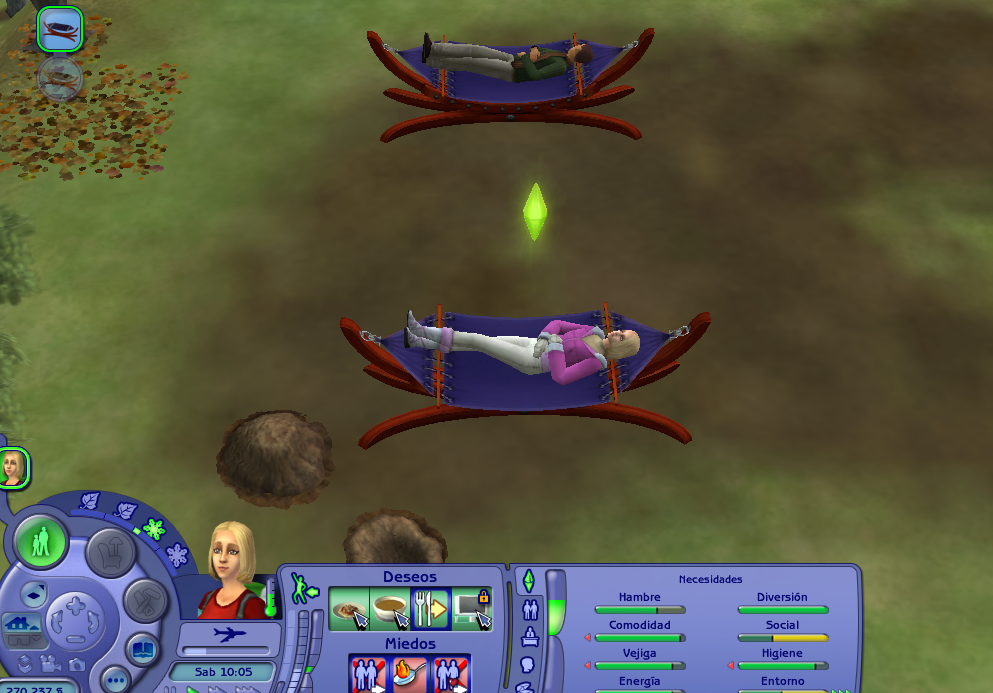 After the break, she talked to the guide in front of the hotel to hire his services, first Samira went on an interesting hiking tour.
Después del descanso, ella habló con el guía que está fuera del hotel para contratar sus servicios. En primer lugar ella fue a un interesante tour de senderismo.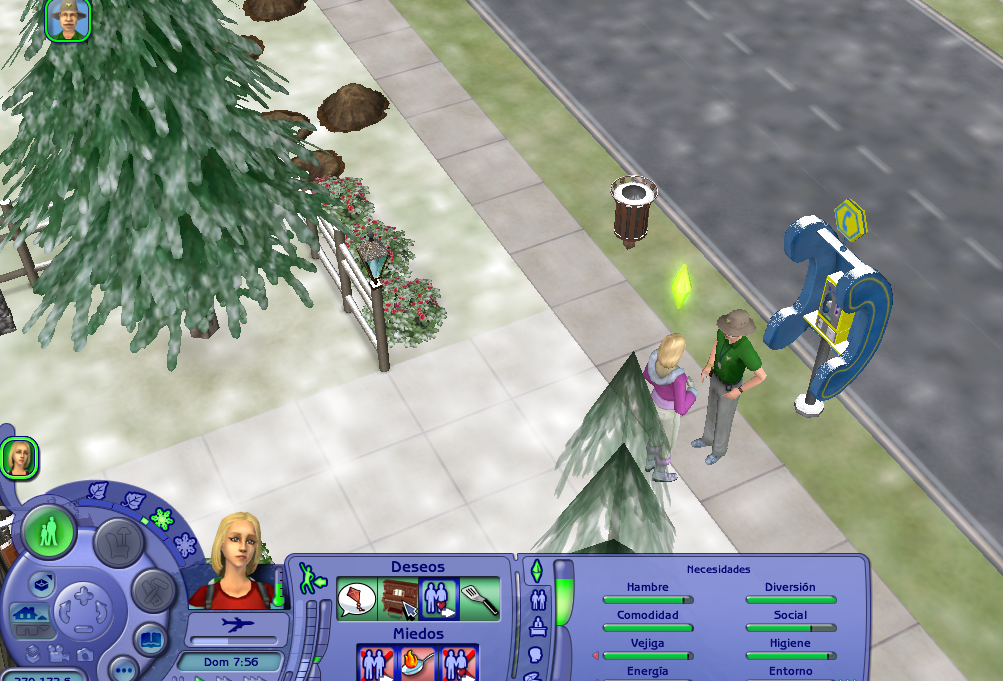 On the way they encountered the dreaded yeti and therefore two options arose, run away, or risk taking a picture of him.
En el camino se encontraron con el temido yeti y por lo tanto surgieron dos opciones, salir huyendo, o arriesgarse a tomarle una foto.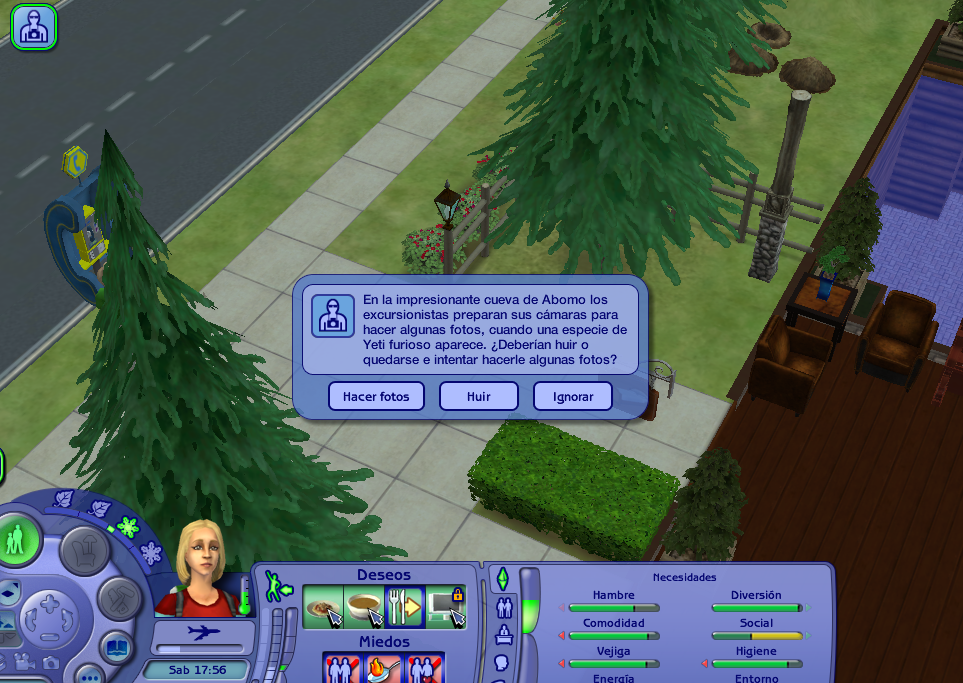 Very good decision, the yeti loves to be photographed, so Samira earned 300 simelons for the photos.
Muy buena decisión, al yeti le encanta que lo fotografíen, por lo tanto Samira se ganó 300 simelones por las fotos.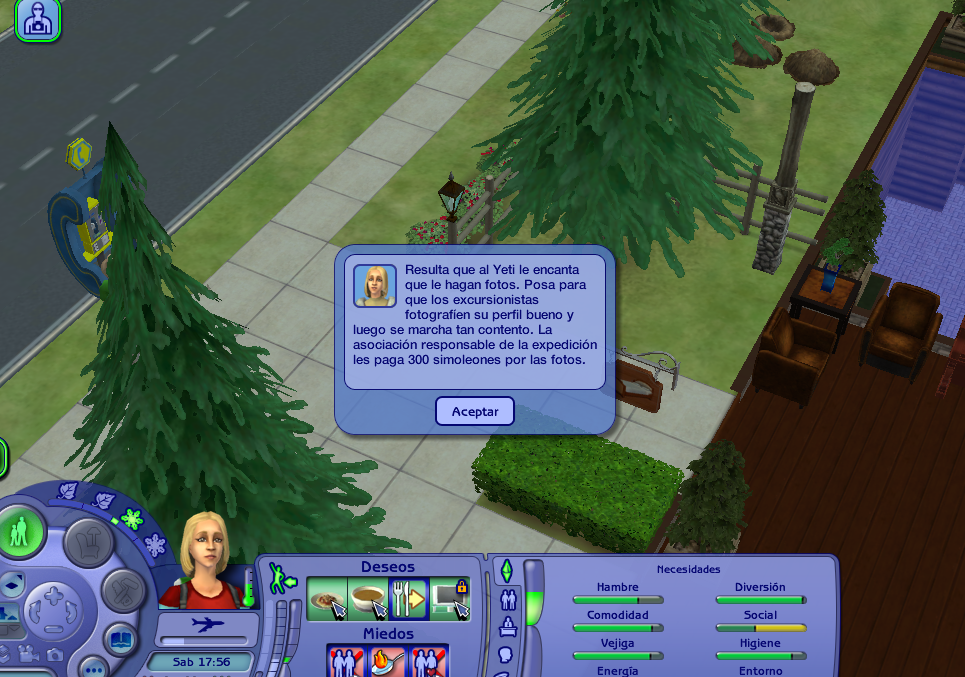 On the second trip, Samira opted for a logging expedition where Samira and her group encountered a group of rabid beavers and again two options arose: to reassure them with food to photograph them or chase them away by making noise.
En el segundo viaje, Samira optó por una expedición tala donde Samira y su grupo se encontraron con un grupo de castores rabiosos y de nuevo surgieron dos opciones : tranquilizarlos con comida para fotografiarlos o ahuyentarlos haciendo ruido.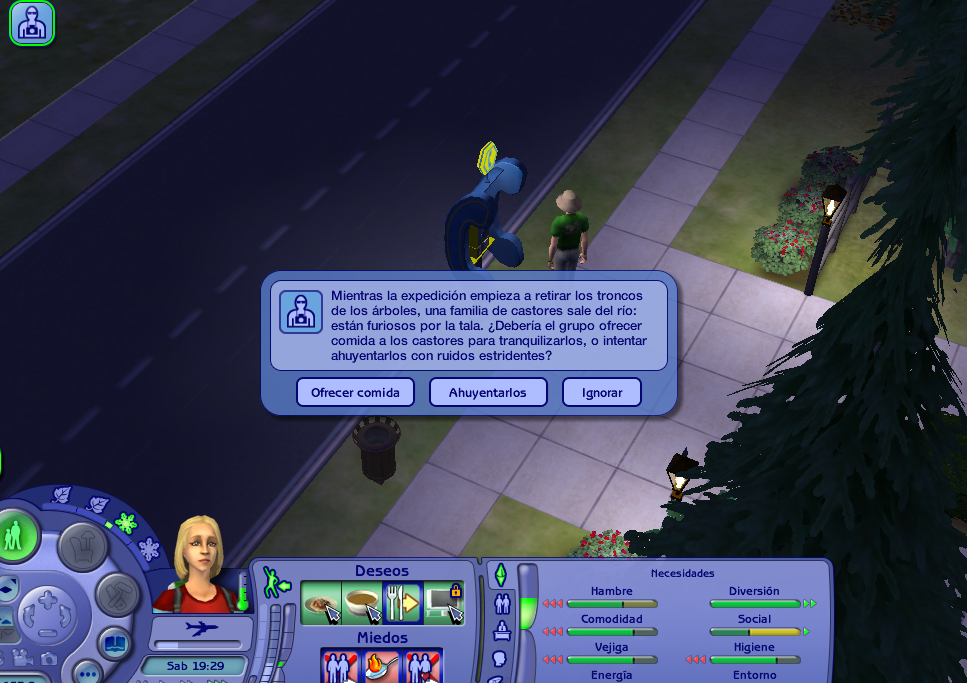 Samira decided to make noise to scare them away and again it was a good decision as she got a charisma point.
Samira decidió hacer ruido para ahuyentarlos y de nuevo fue una buena decisión pues obtuvo un punto de carisma.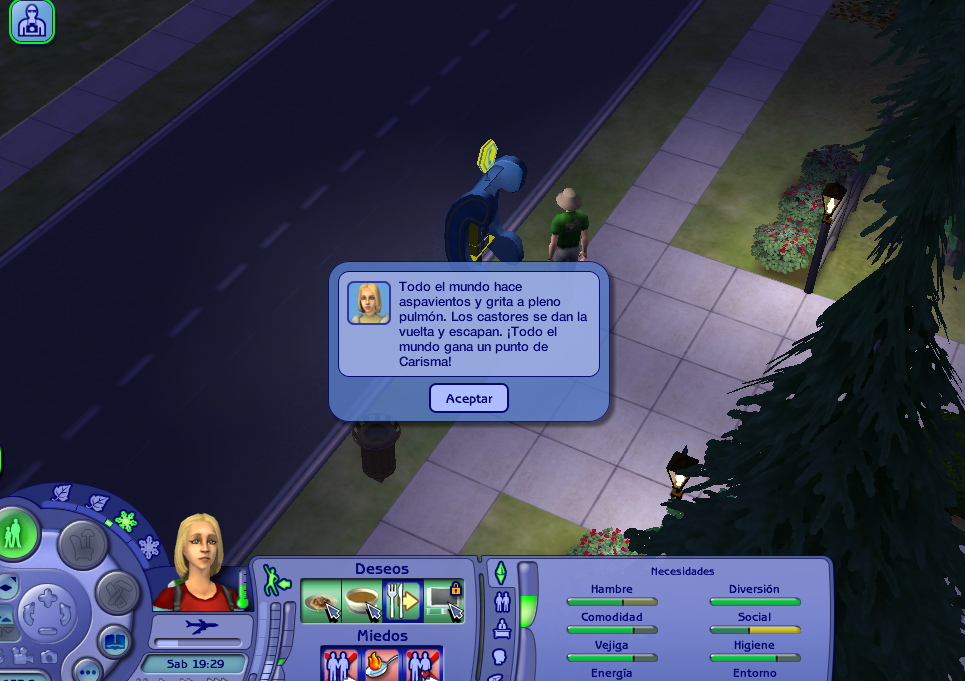 And the final adventure for Samira and her group was an ornithological safari, that is, where they would have the opportunity to observe and analyze the birds and their behavior, but suddenly they found what seemed to be a new species of bird "Hook-billed" that was in the highest part of a tree, but in order to be sure that they are actually in front of a new species, the group must get even closer, should they climb the tree or lure it with food?
Y la aventura final de Samira y su grupo fue un safarí ornitológico, es decir, donde tendrían la oportunidad de observar y analizar a las aves y su comportamiento, pero de pronto encontraron lo que parecía ser una nueva especie de ave "Pico de gancho" que estaba en la parte más alta de un árbol, pero para poder asegurarse de que en realidad están frente a una nueva especie, el grupo debe acercarse todavía más ¿deberían subir al árbol o atraerlo con comida?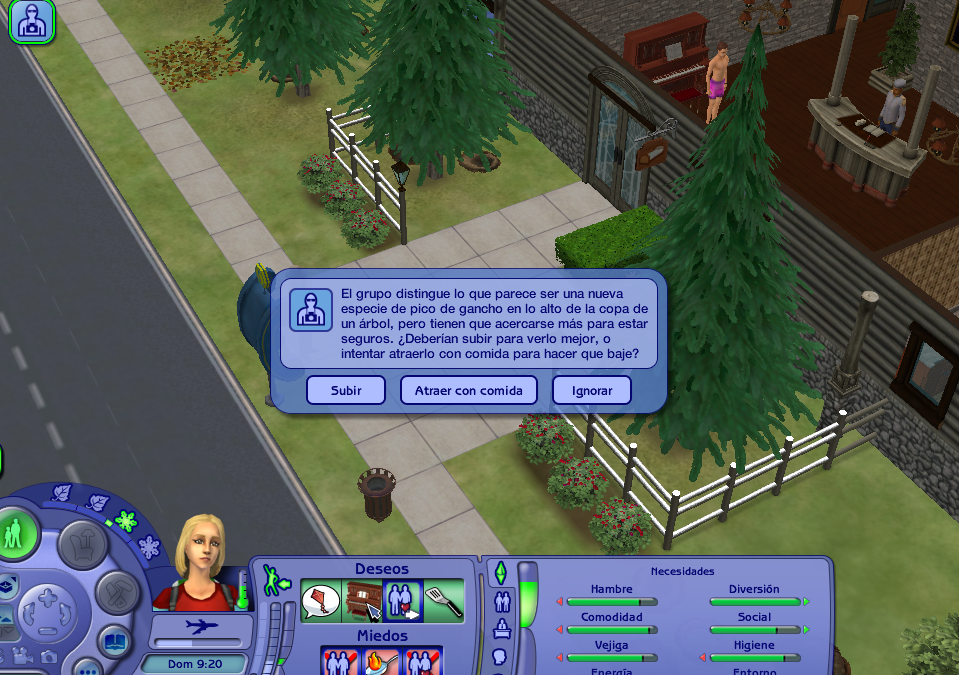 Samira thought it would be a good idea to lure it with food, so the bird came down from the tree and they were able to verify that it was indeed a new species, so she and her group gained a logic point.
Samira pensó que sería una buena idea atraerlo con comida, de modo que el pájaro bajó del árbol y pudieron comprobar que en efecto se trataba de una nueva especie, por lo tanto ella y su grupo ganaron un punto de lógica.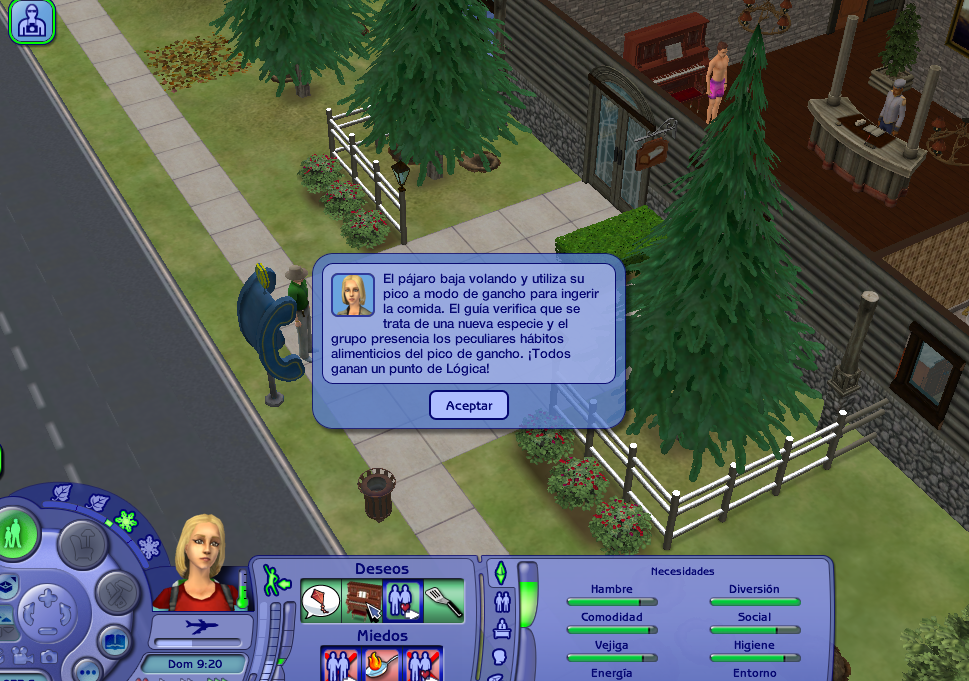 After arriving from the excursion, Samira decided to payher hotel account and return home, she was a little disappointed for not having found the map she was so eagerly looking for, but at the same time satisfied for having increased her skills while hiking and at the same time for all the fun she had on the trip.
Al llegar de la excursión, Samira decidió cerrar su cuenta del hotel y volver a casa, estaba un poco decepcionada por no haber encontrado el mapa que buscaba tan afanosamente, pero al mismo tiempo satisfecha por haber incrementado sus habilidades mientras iba de excursión y al mismo tiempo por todo lo que se divirtió en el viaje.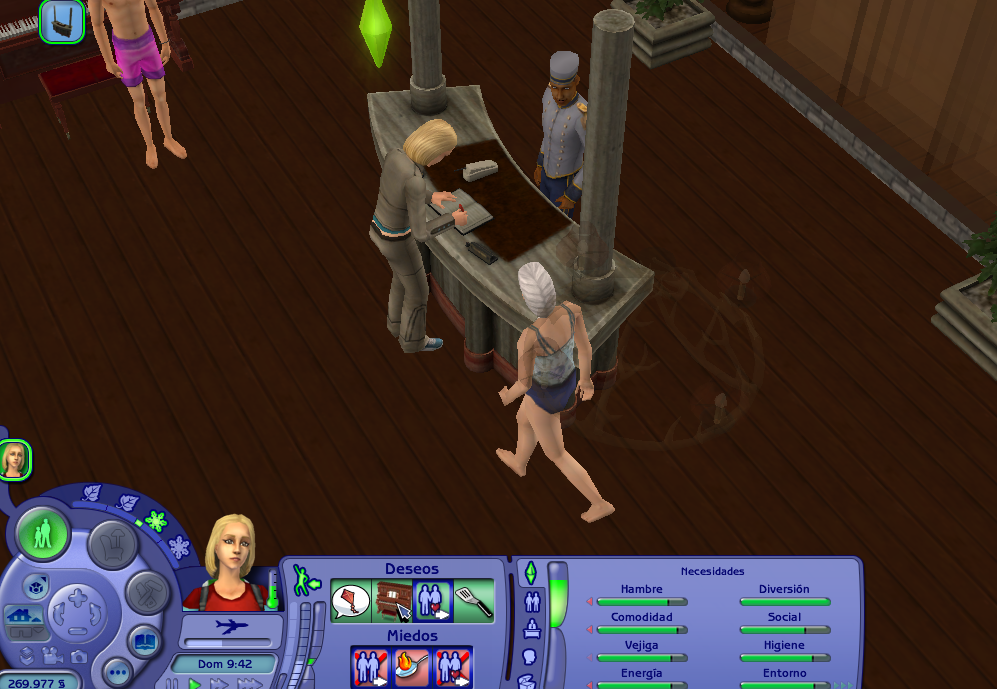 The cab has arrived to take you back home, Samira, your vacation is over.
Ya llegó el taxi que te llevará de vuelta a casa, Samira se acabaron las vacaciones.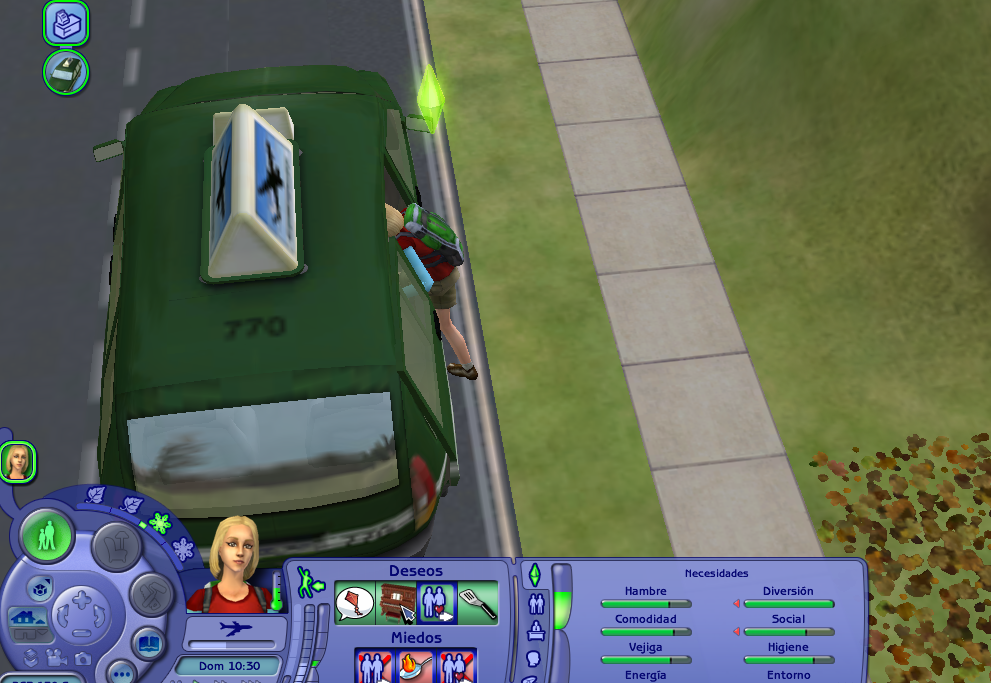 Home sweet home! Samira has had a great, great time on her trip, it's been a great experience, but there's nothing like being at home, is there, my friend?
¡Hogar, dulce hogar! Samira se ha divertido mucho, muchísimo en su viaje, ha sido una grata experiencia, pero no hay nada como estar en casa, ¿verdad, amiga?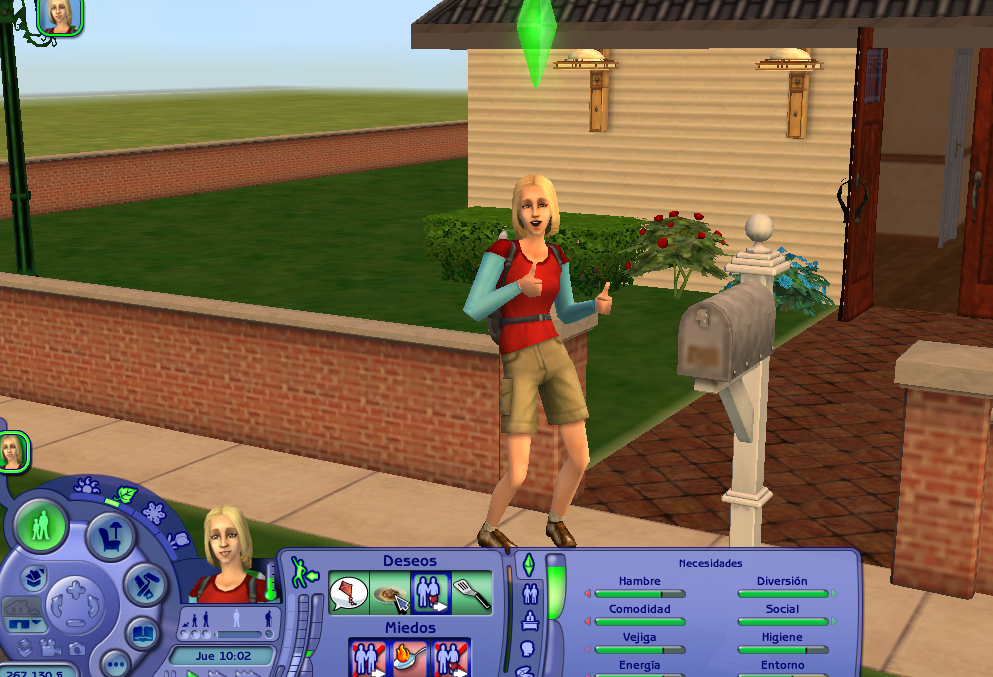 And well, friends, we have reached the end of this adventure for today. Many thanks to all of you for reading my gameplay and especially thanks to @perceval for his valuable suggestion and to my sister @Bethyjade for her invaluable help. See you next time with more adventures of our friend Samira.
Y bien, amigos, hemos llegado al final de esta aventura por el día de hoy. Muchas gracias a todos por leer mi gameplay y sobre todo gracias a @perceval por su valiosa sugerencia y a mi hermana @Bethyjade por su ayuda invaluable. Nos vemos en una próxima oportunidad con más aventuras de nuestra amiga Samira.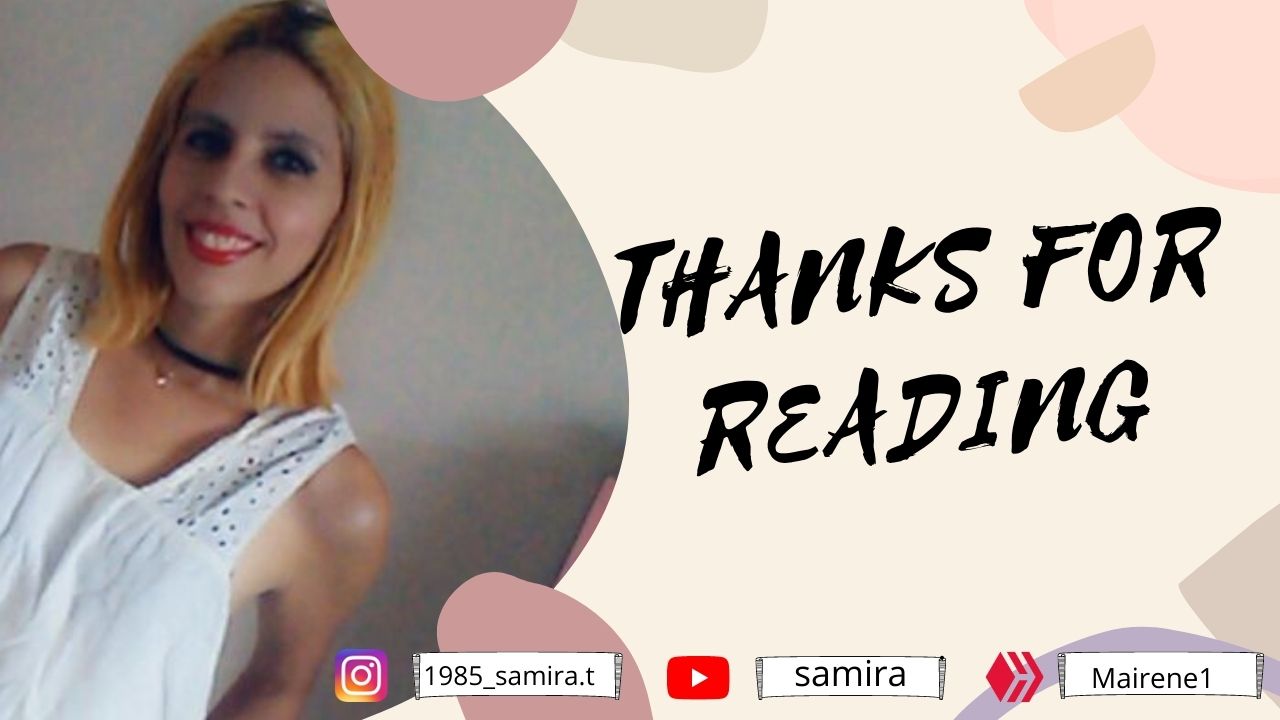 (Image designed by me in canva)
Imegen diseñada por mi en canva.
All images in this post are screenshots I took while playing The Sims 2 for PC.
Todas las imágenes que aparecen en este post son capturas de pantalla que realicé mientras jugaba los Sims 2 para PC
---
---