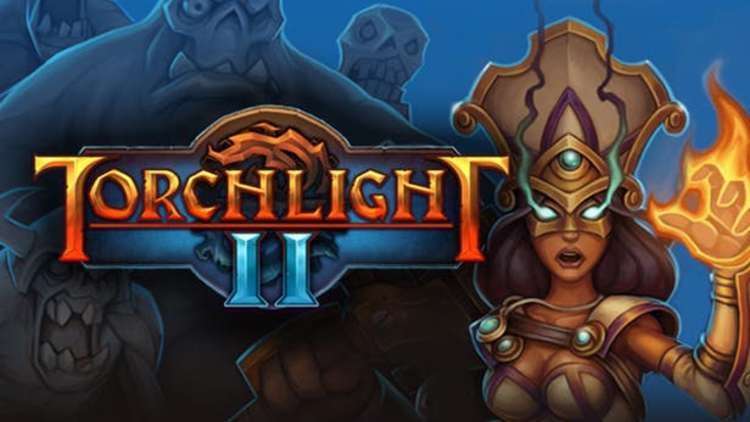 English
I recommend turning of the lights.

If you like action games with lots of monsters and dungeons, check out TorchLight II.
TorchLight II is a role-playing game created by Runic Games and released as a sequel on September 20, 2012. I found TorchLight II to be an excellent game as I love role-playing games with lots of monsters and dungeons, this one in particular is very similar to Diablo and WoW but with lots of additions that make it a totally different game. You can find it in different platforms, between the most outstanding: Pc, Linux, Mac Os, Ps4 and Xbox One.
Story
The story of TorchLight II is the same as its predecessor only this time with some additions that make it more extensive and enjoyable, although I have to stress that its story is not the great strength of this game but it is quite good.
It all begins in the city of TorchLight which is attacked by an alchemist who has a burning power and thus can destroy its core, also known as "Ember".
Due to the attack of this villain, the city of TorchLight is filled with unknown creatures and horrible monsters that lurk around the city.
So the heroes of the city must undertake a dangerous and great adventure in order to defeat all the evil caused by the evil alchemist and be able to restore peace to the city.
---
Gameplayability
As I mentioned earlier, Torchlight II has many additions that its predecessor did not have. This time the scenarios will be much more extensive with the particularity that the monsters and dungeons this time are generated randomly. This new feature makes the game more enjoyable since it has several difficulty modes in which we can go through the story many times without it becoming repetitive.
In addition to this, TorchLight II has new classes to choose from for our character, as well as a fairly simple customization section. The dungeons design is quite good and detailed, which is very surprising. One thing I loved about this game is how well it is optimized. Despite the huge amount of monsters and effects it contains, it goes very smoothly and with good Fps, which is excellent for my toaster.
In this wonderful game we will have 3 different skill branches for each fighting style besides the typical Stats we have in the games(Str, Agi, Int, Def,Hp). Because of this we will have a huge freedom when trying and deciding what skills we want for our character.
I found this game incredible. I had a great time playing it and I still do to this day as it also has many Mods that add millions of new interactions and many classes to experience and enhance the gameplay experience.
One thing that is partly negative about this game is that you only find English, which can be annoying for players who are not very fluent in the language. But this won't be a problem for natural-born players.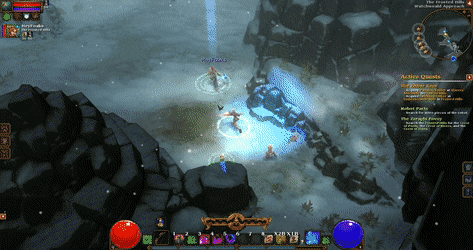 ---
Visual Section
Their visual style is very similar to that of their predecessor but this time they improved the design of the characters making them more realistic but without abandoning their Cartoon essence. It's a game that has very well elaborated maps with millions of particles and effects. I mentioned it before and I'll keep saying it, this game looks too good and despite that its requirements to be able to run are quite low, so let's hear it for this game that has an optimization of the gods.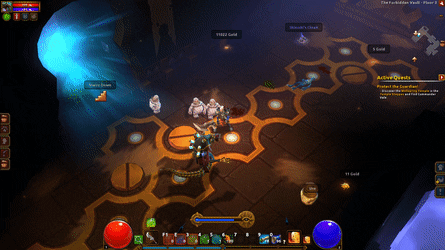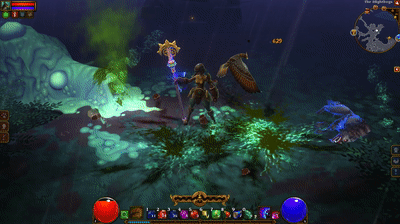 ---
Soundtrack
The music reminds us a lot of Diablo, which is no coincidence since the person in charge of this section is the same composer of the previous Blizzard classics, Matt Uelmen.
I like the sound a lot because it gives the game a certain mysticism as well as being very well produced.
And well, it's just a game that's worth a lot, you get to download it and play it.
Now all you have to do is download it and try it out. I'm sure you'll love it.
If you can comment and you like the format of my posts, please, I invite you to do so, so you can motivate me to improve more and more.
Thanks to Odc, Hive Gaming and many more who constantly support my content. See you in the next review.

Español
Recomiendo apagar las luces.

Si te gustan los juegos rpg de acción con muchos monstruos y mazmorras entonces quédate a conocer TorchLight II.
TorchLight II es un juego de rol-acción creado por Runic Games y lanzado el 20 de septiembre de 2012 como una secuela. TorchLight II me ha parecido un juego excelente ya que yo adoro los juegos de rol con muchos monstruos y mazmorras, este en particular es muy parecido a Diablo y WoW pero con muchos añadidos que lo hacen un juego totalmente distinto. Puedes encontrarlo en distintas plataformas, entre las más destacadas: Pc, Linux, Mac Os, Ps4 y Xbox One.
Historia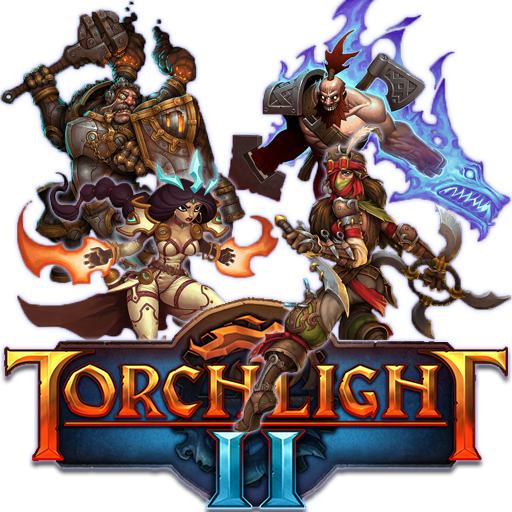 La historia de TorchLight II es la misma que la de su antecesor solo que esta vez con añadidos que la hacen más extensa y disfrutable, aunque tengo que destacar que su historia no es el gran fuerte de este juego pero si es bastante buena.
Todo comienza en la ciudad de TorchLight la cual es atacada por un alquimista que dispone de un poder abrasador y así poder destruir su núcleo, también conocido como "Ember".
Debido al ataque de este villano, la ciudad de TorchLight se llena de criaturas desconocidas y horribles monstruos que asecharan los alrededores de la ciudad.
Así que los heroes de la ciudad deberán de emprender una peligrosa y gran aventura para poder derrotar todo el mal ocasionado por el malvado alquimista y poder restablecer la paz en la ciudad.
---
Jugabilidad
Como ya lo mencioné antes, Torchlight II dispone de muchos añadidos que su antecesor no tenía. Esta vez los escenarios serán muchos más extensos con la particularidad de que los monstruos y las mazmorras esta vez se generan aleatoriamente. Esa novedad hace que el juego sea más disfrutable ya que dispone de varios modos de dificultad en la que podremos pasarnos la historia muchas veces sin que se vuelva repetitiva.
Además de esto, TorchLight II dispone de nuevas clases a elegir para nuestro personaje, además de un apartado de personalización bastante simple. El diseño de las mazmorras de bastante bueno y detallado, cosa que sorprende mucho. Una cosa que amé de este juego es lo bien que está optimizado. A pesar de la inmensa cantidad de monstruos y efectos que este contiene, va muy fluido y con buenos Fps, cosa que es excelente para mi tostadora.
En este maravilloso juego tendremos 3 ramas de habilidades distintas para cada estilo de combate además de los típicos Stats que tenemos en los juegos(Str, Agi, Int, Def,Hp). Debido a esto tendremos una libertad enorme a la hora de probar y decidir las habilidades que querremos para nuestro personaje.
Este juego me ha parecido increíble. Me la pasé bastante bien jugando y hasta el día de hoy lo sigo haciendo ya que también dispone de muchos Mods que le añaden millones de interacciones nuevas y muchas clases para poder experimentar y mejorar la experiencia de juego.
Una cosa que en parte es negativa de este juego es que solo se encuentra inglés, cosa que puede ser molesta para los jugadores que no dominan muy bien el idioma. Pero no será un problema para los jugadores natos que siempre saben a donde ir.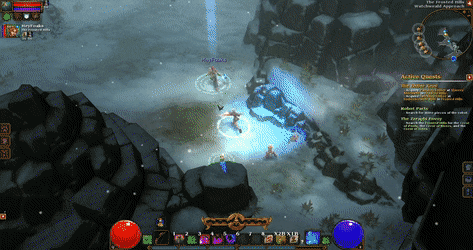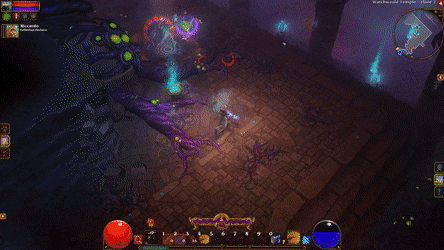 ---
Apartado Visual
Su estilo visual es muy parecido a la de su antecesor pero esta vez mejoraron el diseño de los personajes haciéndolos más realistas pero sin abandonar su esencia Cartoon. Es un juego que tiene mapas muy bien elaborados con millones de partículas y efectos. Ya lo mencioné antes y lo seguiré diciendo, este juego se ve demasiado bien y a pesar de eso sus requerimientos para poder correr son bastante bajos, así que un aplauso para este juego que dispone de una optimización de los dioses.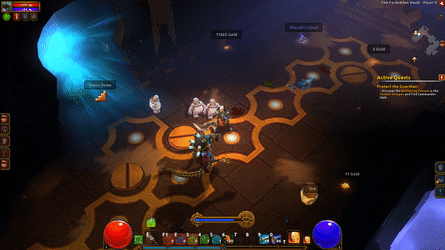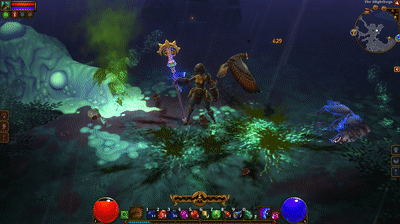 ---
Banda Sonora
La música nos hace recordar mucho a Diablo, cosa que no es ninguna coincidencia ya que el encargado de este apartado es el mismo compositor de las anteriores entregas del los clásicos de Blizzard, Matt Uelmen.
El sonido me gusta mucho ya que le da cierto misticismo al juego además de que está muy bien producido.
Y bueno, simplemente es un juego que vale mucho la pena, te toca descargarlo y jugarlo.
---
Ahora solo tienes que ir a descargarlo y probarlo. Estoy seguro de que te encantará.
Si puedes comentar y te gusta el formato de mis post, por favor, te invito a que lo hagas, así me motivas a mejorar cada vez más.
Gracias Odc, Hive Gaming y a muchos más que apoyan constantemente mi contenido. Nos vemos en la próxima review.
---

Image 1
Image 2
Image 3
Image 4
Image 5
Image 6