Narita Boy [Eng+Spa]
---
English
---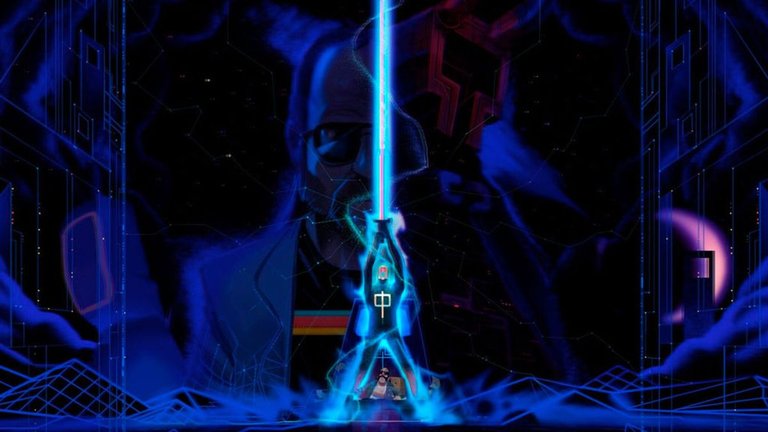 Image's Source - Fuente de la Imagen
Greetings, wishing that you are in the best possible situation, and that you can have enough encouragement to improve and overcome any problem that comes your way.
I have been a bit disconnected, my brother's computer was damaged, which is very normal with so many daily failures of the electrical system. So I let him use mine for a few days so he could work while I look to fix his. So I'm not going to be very active for a while.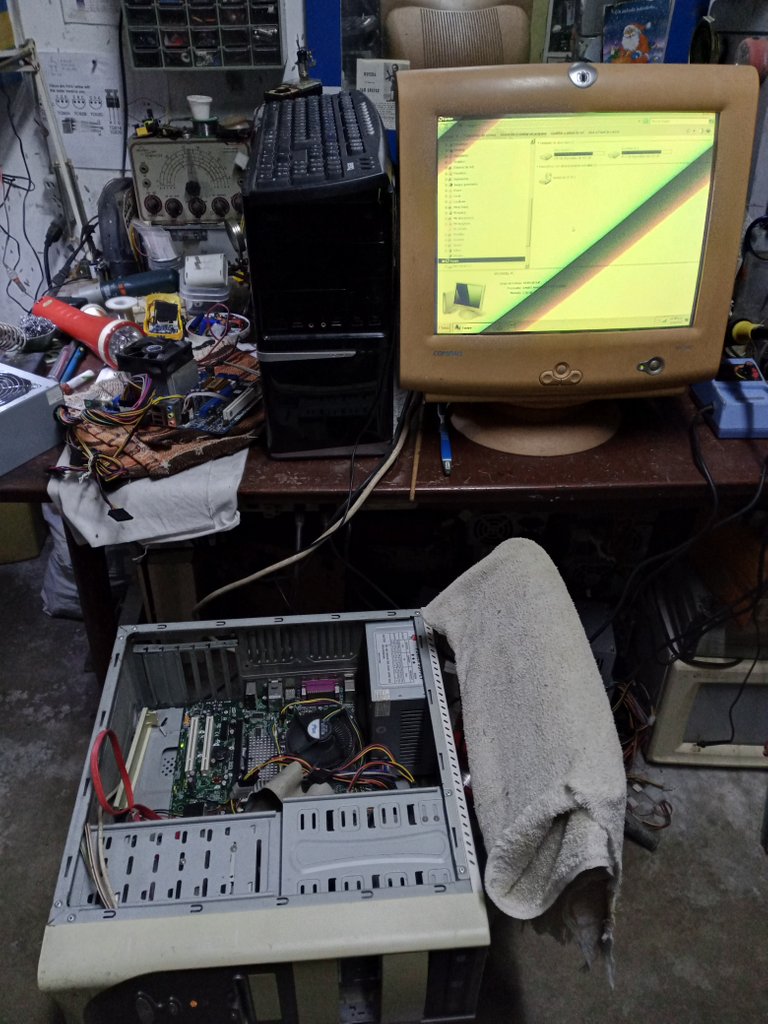 I haven't finished getting your computer running yet, but I was able to put an old computer into service, so you can connect your hard drives and work more comfortably, from your desk. He still needs mine to publish and other things, but we are solving little by little.
The game that concerns us on this occasion: Narita Boy, is a game financed through Kickstarter, of the action, adventure, indie type: developed by the Spanish studio Koba and published by Team 17 and it finally reached the world of video games through end of March 2021.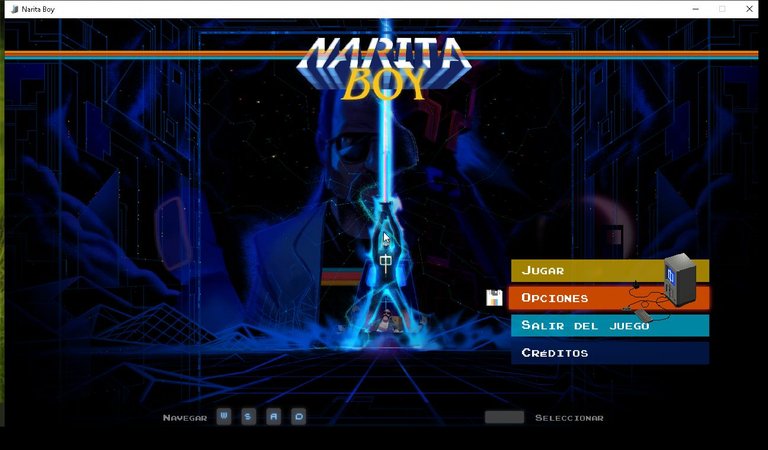 It is a 2D side-scrolling game, it has touches of metroidvania, without being totally metroidvania, with platforms, puzzles and hack'n slash. The game itself is a tribute to the retro 80's aesthetic, with its pixelated design, which I really found very attractive.
The game is very fun, and visually pleasing, it has by default a visual effect that imitates a conventional screen of old CRT televisions, personally I prefer to disable the CRT effect, to be able to enjoy the environment design in detail.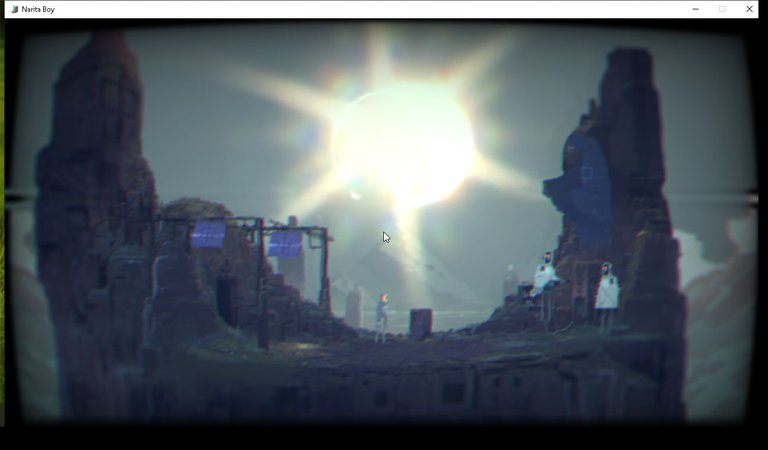 I prefer to remove the effect: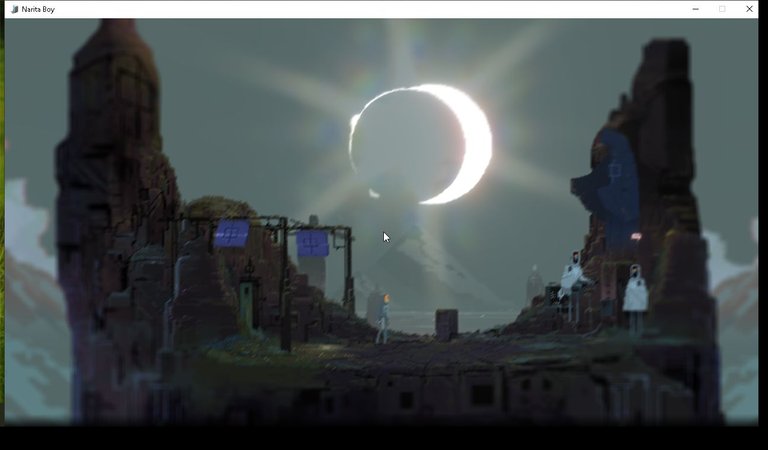 The plot is also a reference to stories from the 80s, a villain who crosses the barrier of the virtual world, a hero who is absorbed into the digital world and has to free it (Tron).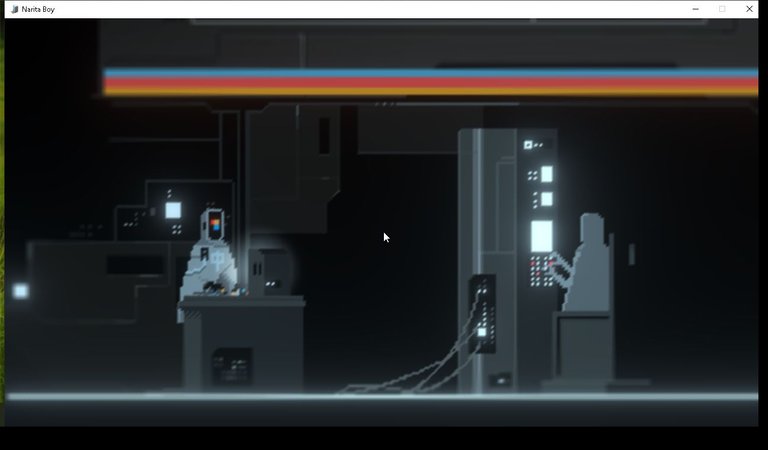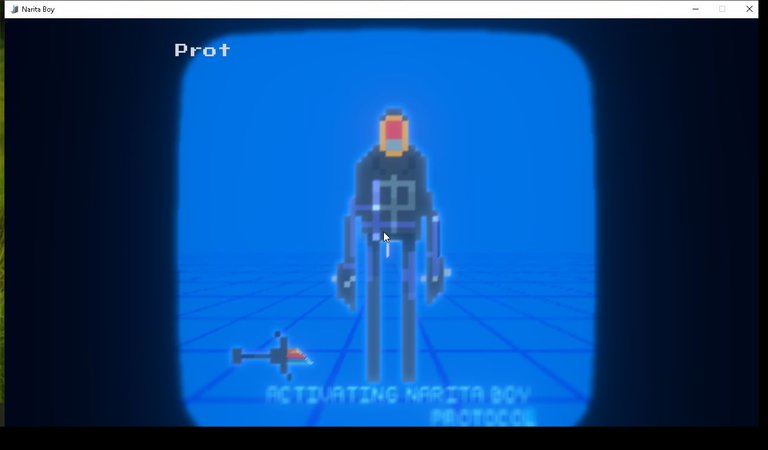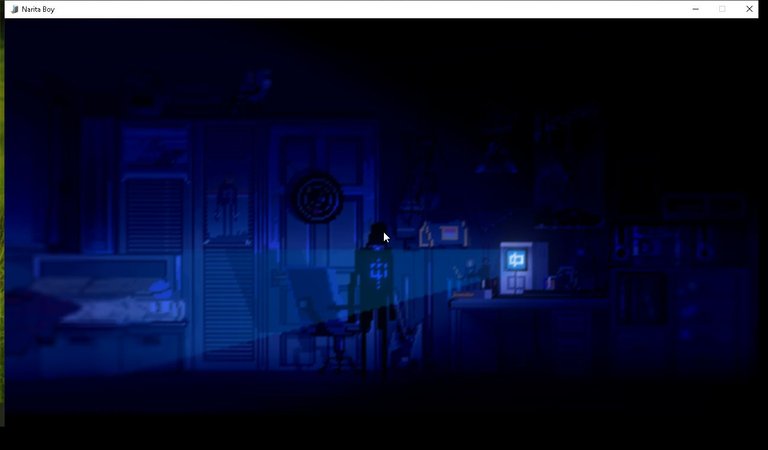 It is a kind of isekai, in which we travel to another world and are endowed with incredible powers and weapons to defeat evil and its minions. And thus be able to recover the memories of the creator of the game, memories that were taken from them by the villain on duty.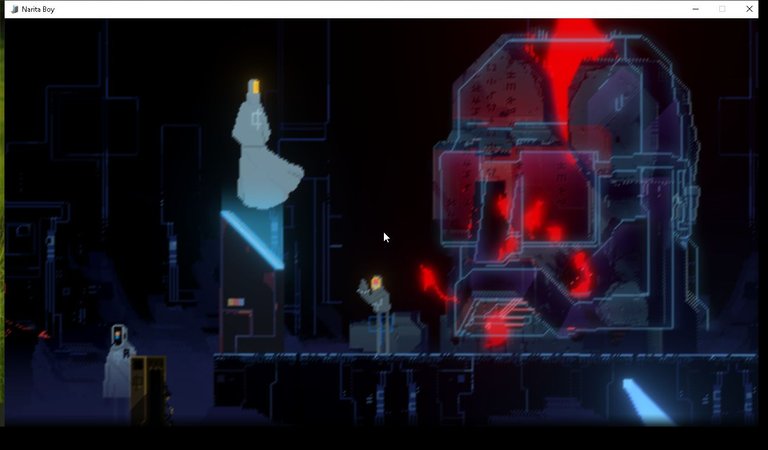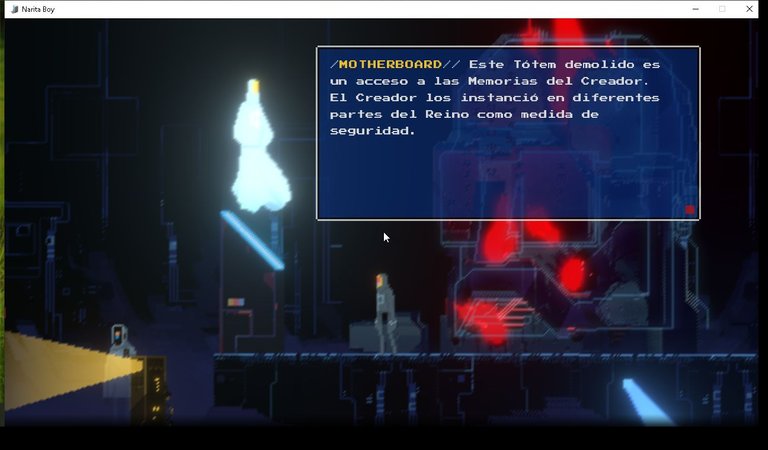 "This demolished totem is an access to the creator's memories. The creator instantiated them in different parts of the kingdom as a security measure"
To fight in this adventure, they give us a techno-sword, which we find embedded in a television, as a sword in the stone, and which can only be wielded by the hero.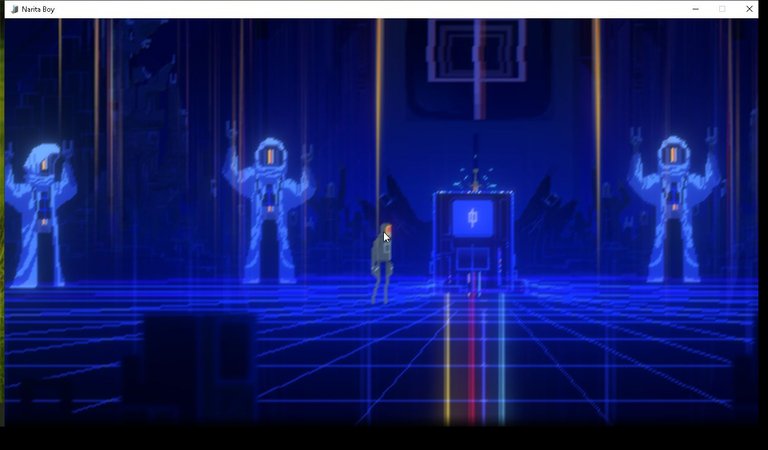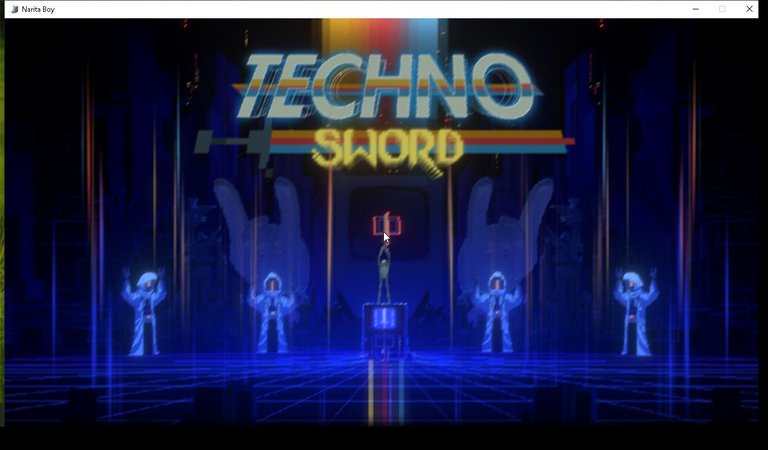 Pretty epic and very 80s
As we advance in the plot of the game we will acquire more skills and the techno sword will be equipped with more and powerful attacks.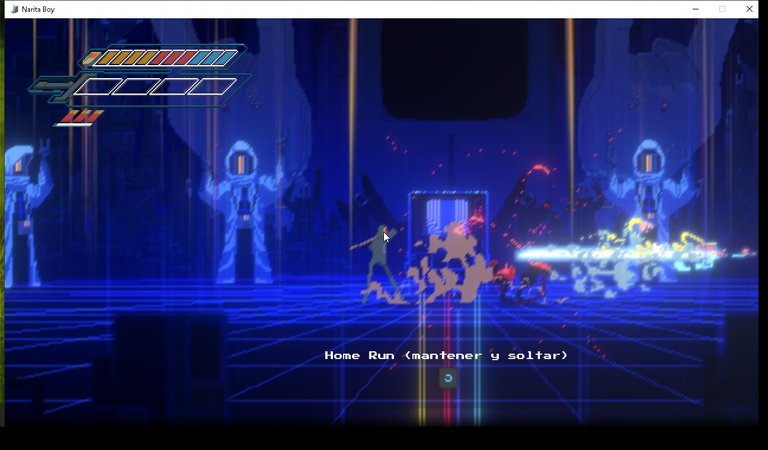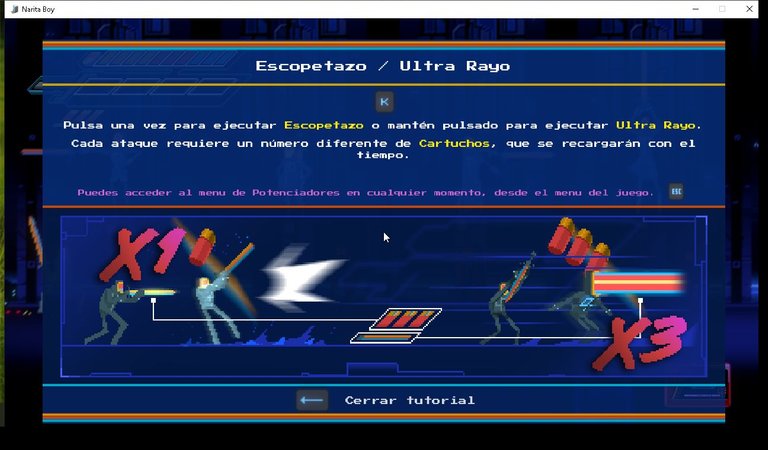 The difficulty curve in the combats is quite smooth, the sad thing is that it does not accept the use of all the generic controls. So I have to play with a keyboard, which I do not recommend, it is more comfortable to use a game controller (joystick).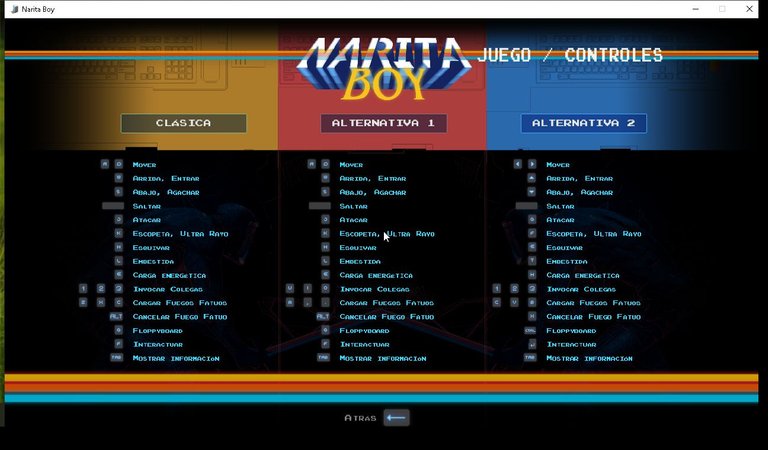 It has quite a few checkpoints, which is very useful, since the platforming part feels quite clunky, sometimes it doesn't respond precisely, at least in my case, or it may have been due to the use of the keyboard.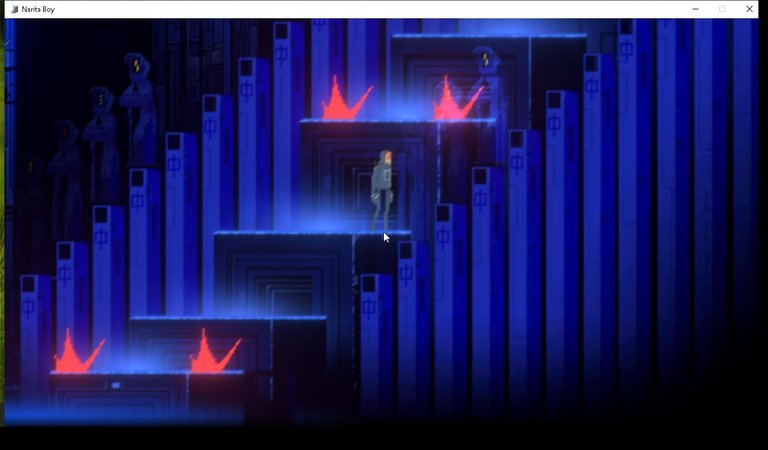 I always make it clear that this type of game needs a map, based on my opinion and personal experience. And in this, I have come to lose my way and at times I could not find the route that I should follow. It's something that would be a nice addition.
The design of the common enemies is fine, but what's great are the different types of mini-bosses, each with their own unique battle mechanics.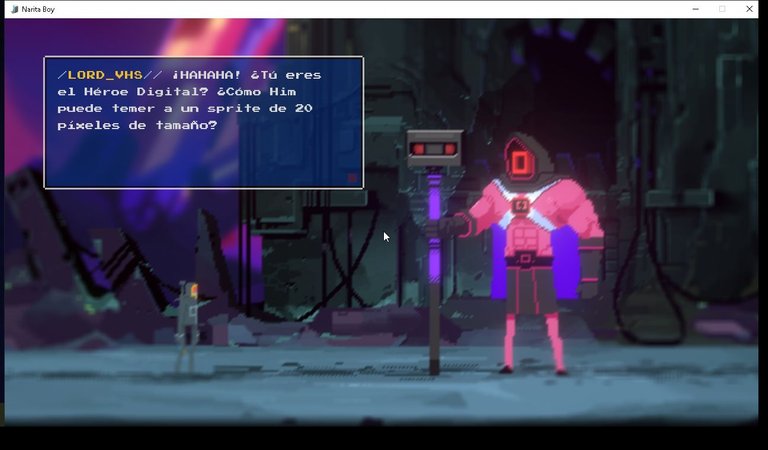 Lord VHS? The game is riddled with a multitude of references, somewhat reminiscent of Ready player one.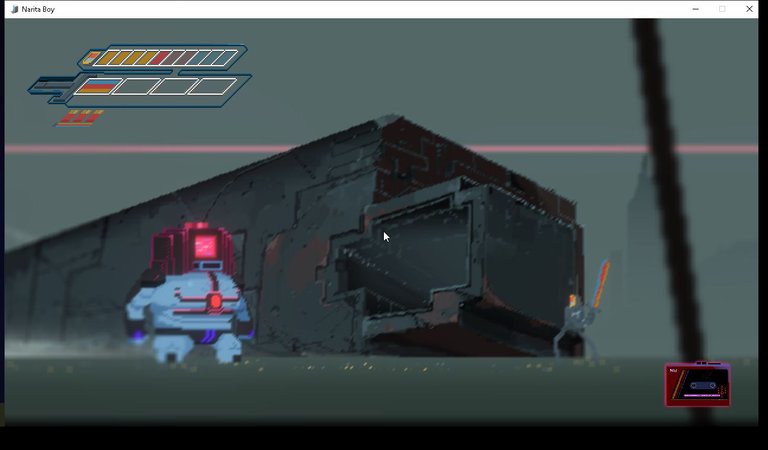 The dialogues of the NPCs are partly a bit long, tedious. If you don't know much about the subject, you will miss the references and may find it confusing or boring.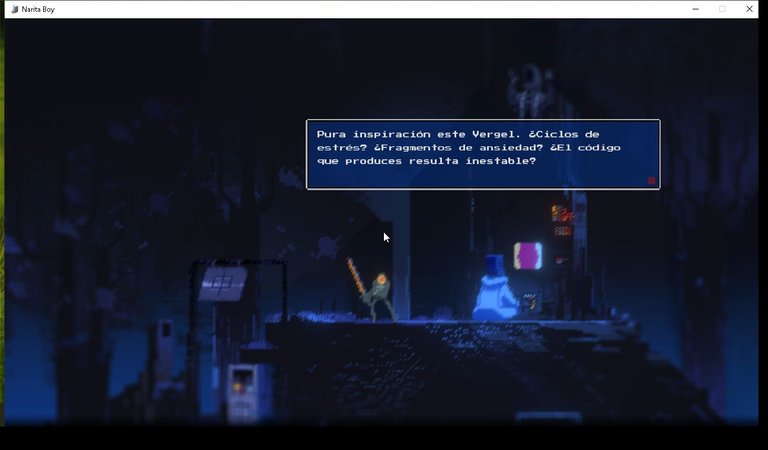 You have to explore the level, kill the enemies, get the techno keys, to get another techno key and access more areas of the level. A bit repetitive, I accept, but it's really fun to hang out with.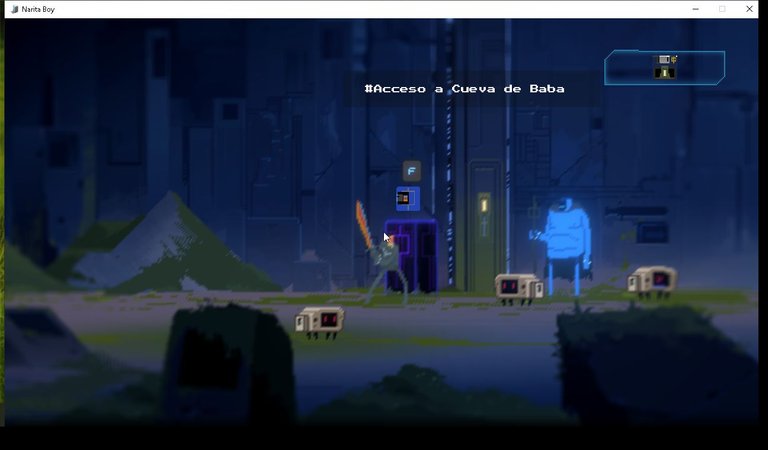 The game does not have a game +, it only has one difficulty and you cannot select the level to your liking, it really is done without a map.
There are areas of the platform that cannot be seen on the screen, so they can easily be overlooked.
It's a game you can get through in an afternoon or two, a tribute to the wonderful 80's, full of references and details, it's hard to notice them all at first opportunity. They can have a pretty entertaining time beating the adventure.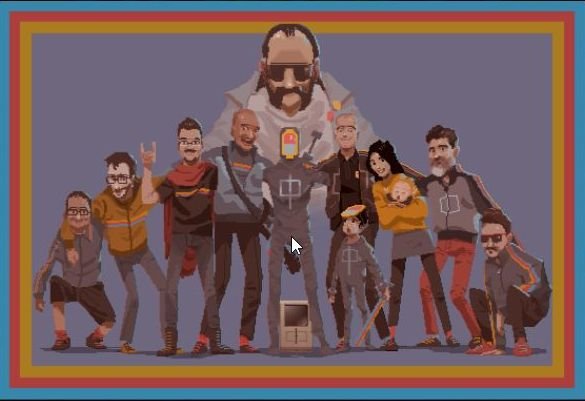 If you want to try the game, the demo on steam:
Well, thank you very much for stopping by and coming here.
I hope you enjoy a good day.
Peace.

Images unless stated are screenshots from my game.
I have used Google translate for the English language.



---
Español
---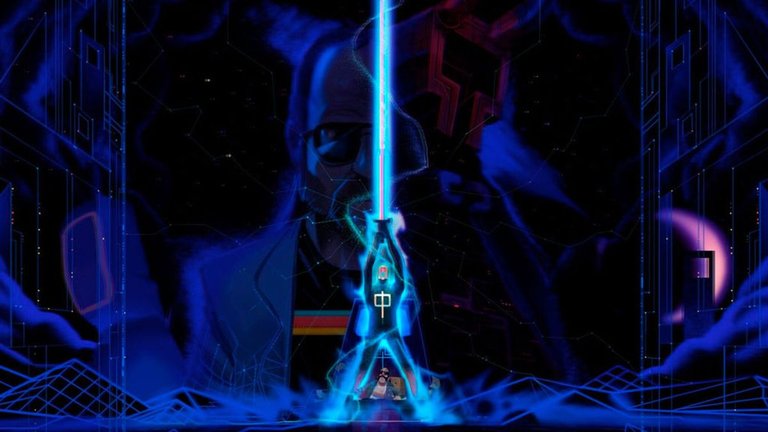 Image's Source - Fuente de la Imagen
Saludos, deseando que estén en la mejor situación que les sea posible, y que puedan tener el ánimo suficiente para mejorar y sortear cualquier problema que se les presente.
He estado un poco desconectado, el computador de mi hermano se dañó, –lo que es muy normal con tantos fallos a diario del sistema eléctrico-. Así que le deje que usara el mío por varios días para poder trabajar, mientras busco de reparar el suyo. Por lo que no voy a estar muy activo por un tiempo.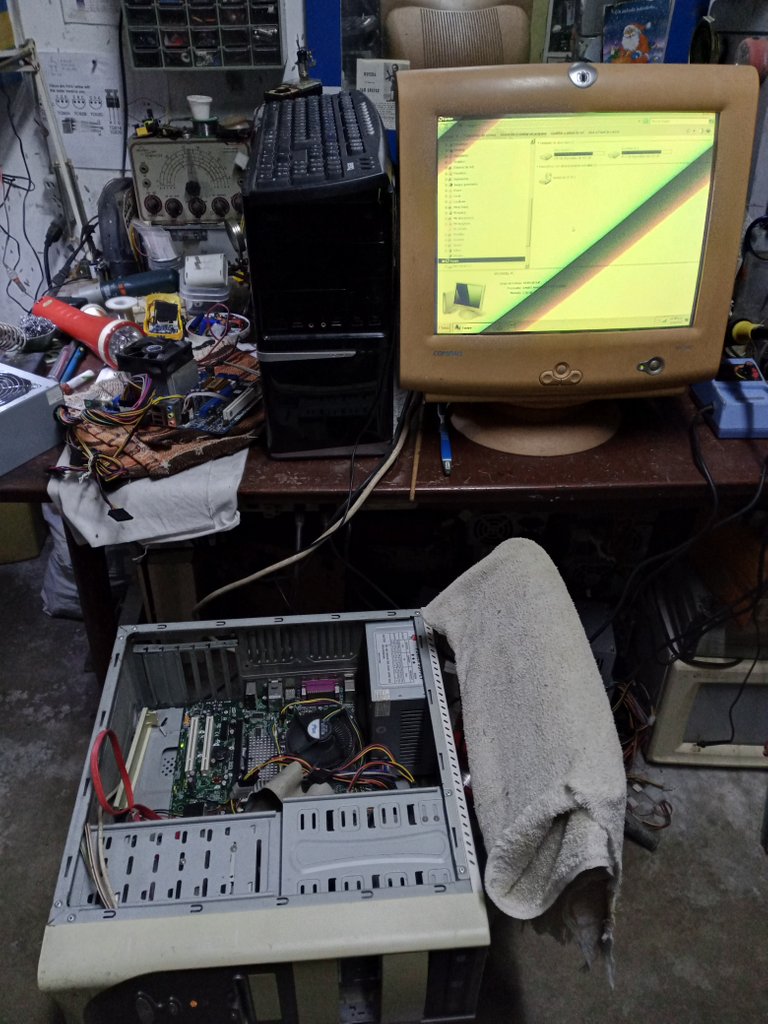 Aún no termino de hacer andar su computador, pero pude poner en servicio un viejo computador, para que pueda conectar sus discos duro y trabajar con más comodidad, desde su escritorio. Sigue necesitando del mío para publicar y otras cosas, pero vamos solucionando de a poco.
El juego que nos ocupa en esta ocasión: Narita Boy, es un juego financiado a través de Kickstarter, del tipo acción, aventuras, indie: desarrollado por el estudio español Koba y editado por Team 17 y nos llegó finalmente al mundo de los videojuegos a finales del mes de marzo del año 2021.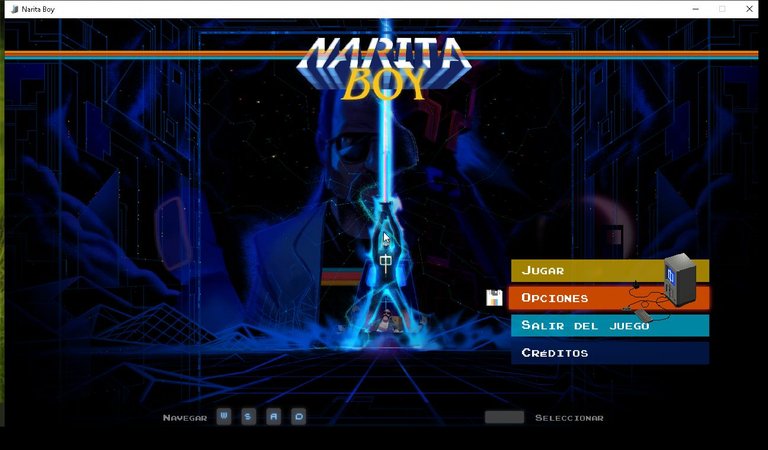 Es un juego de 2D del tipo desplazamiento lateral, tiene toques de metroidvania, sin llegar a serlo totalmente, con plataformas, puzzles y hack´n slash. El juego en sí es un tributo a la estética retro de los 80, con su diseño pixelado, que realmente me pareció muy atractivo.
El juego es muy divertido, y agradable visualmente, tiene por defecto un efecto visual que imita una pantalla convencional de televisores antiguos CRT, personalmente prefiero desactivar el efecto CRT, para poder disfrutar con detalle del diseño del entorno.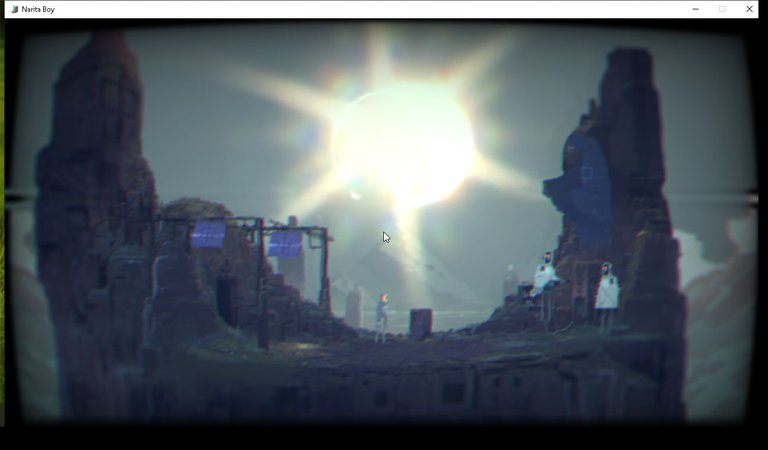 Prefiero eliminar el efecto: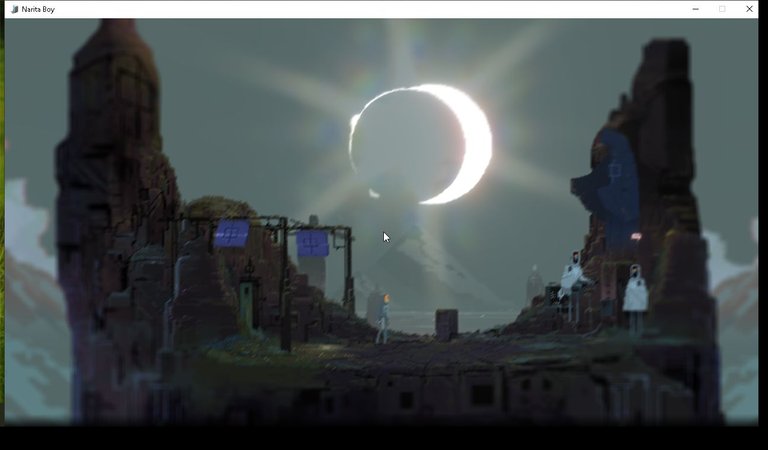 La trama es igualmente una referencia a historias de los 80, un villano que traspasa la barrera del mundo virtual, un héroe que es absorbido al mundo digital y tiene que liberarlo (Tron).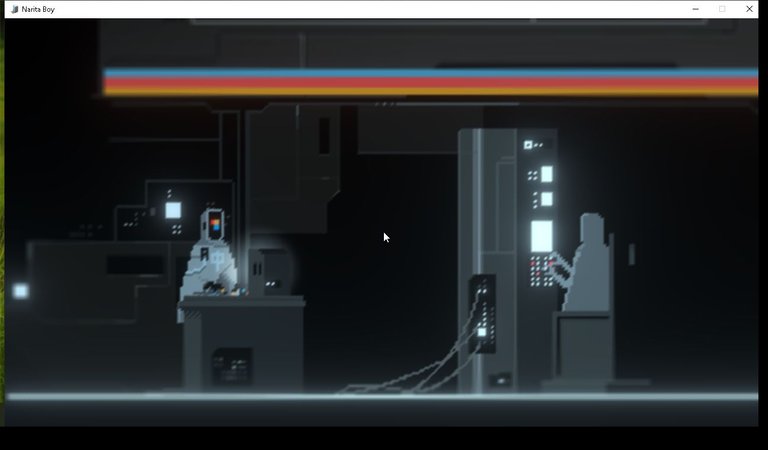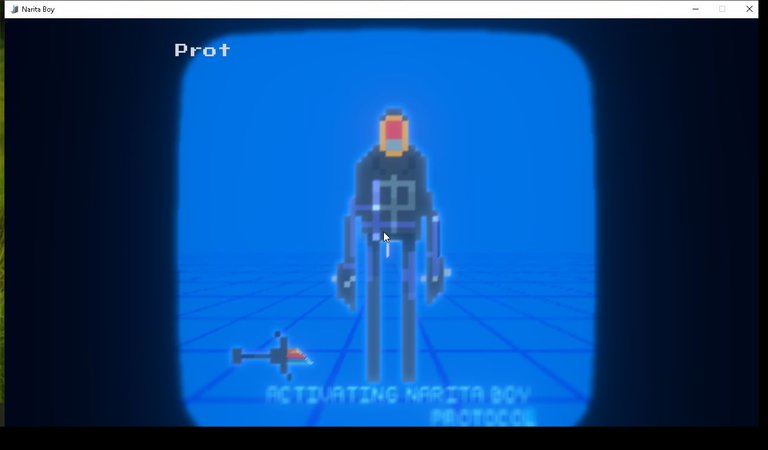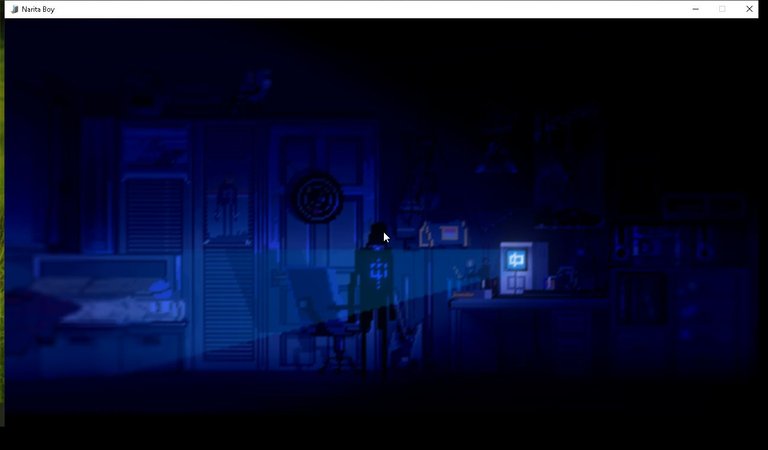 Es una especie de isekai, en que viajamos a otro mundo y somos dotados de increíbles poderes y armas para abatir al mal y sus secuaces. Y así poder recuperar las memorias del creador del juego, memorias que les fueron arrebatadas por el villano de turno.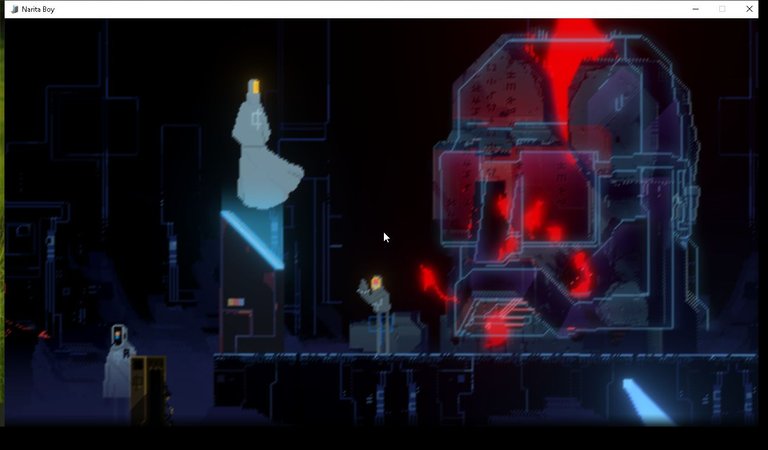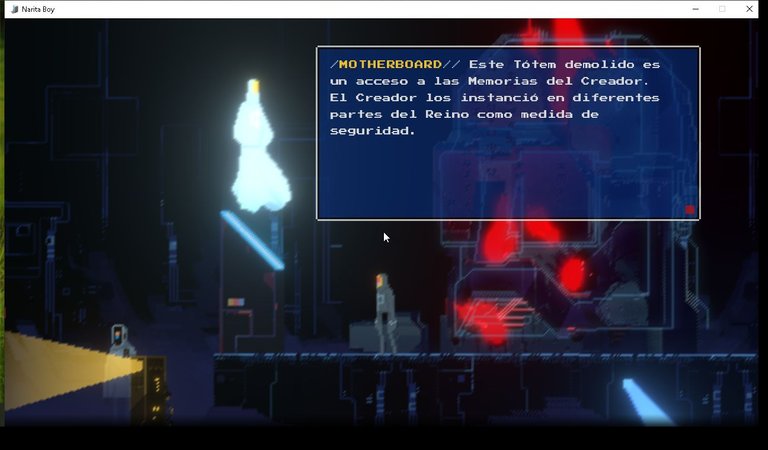 "Este tótem demolido es un acceso a las memorias del creador. El creador los instancio en diferentes partes del reino como medida de seguridad"
Para combatir en esta aventura, nos dotan de una tecno espada, que hallamos encajada en un televisor, a modo de espada en la piedra, y que solo puede ser empuñada por el héroe.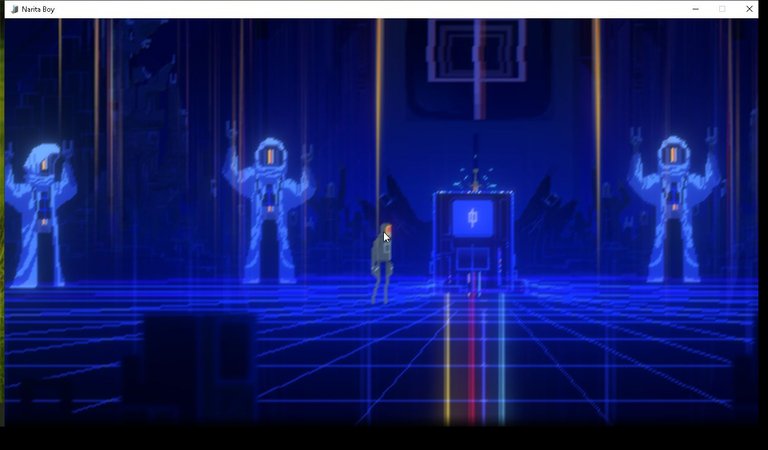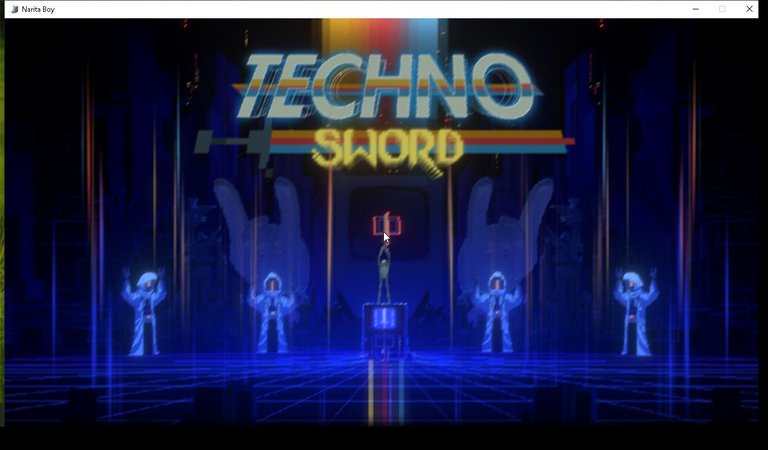 Bastante épico y muy de los años 80
Mientras avanzamos en la trama del juego iremos adquiriendo más habilidades y la tecno espada se le irán dotando de más y poderosos ataques.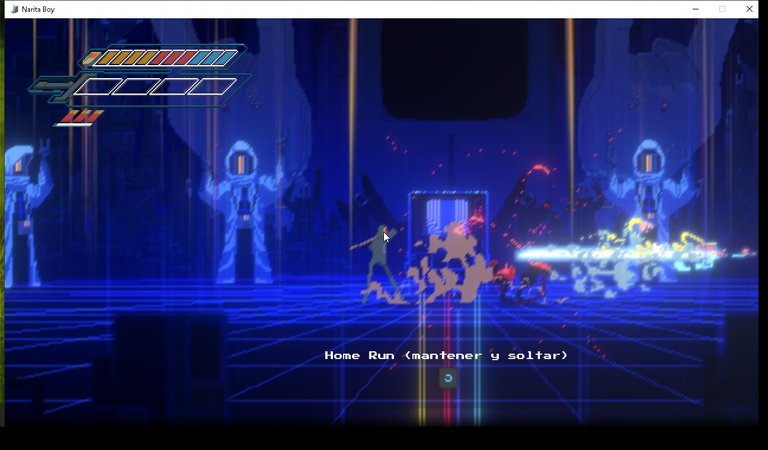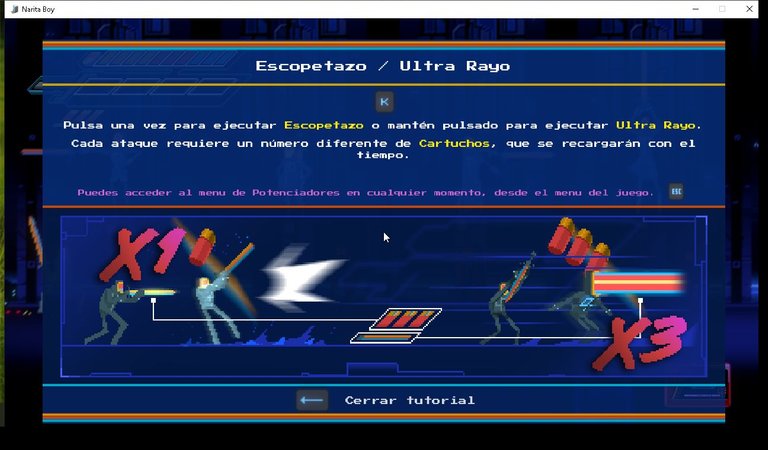 La curva de dificultad en los combates es bastante suave, lo triste es que no acepta el uso de todos los mandos genéricos. Así que me toco jugar con teclado, lo que no recomiendo, es más cómodo el uso de un mando para juegos (joystick).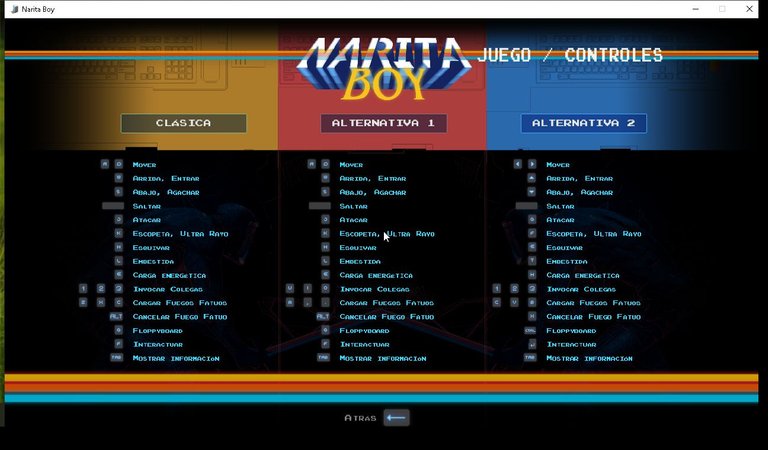 Tiene bastantes puntos de control, lo que es muy útil, ya que la parte de plataformas se siente bastante tosca, algunas veces no responde de forma precisa, por lo menos en mi caso, o puede que haya sido por el uso de teclado.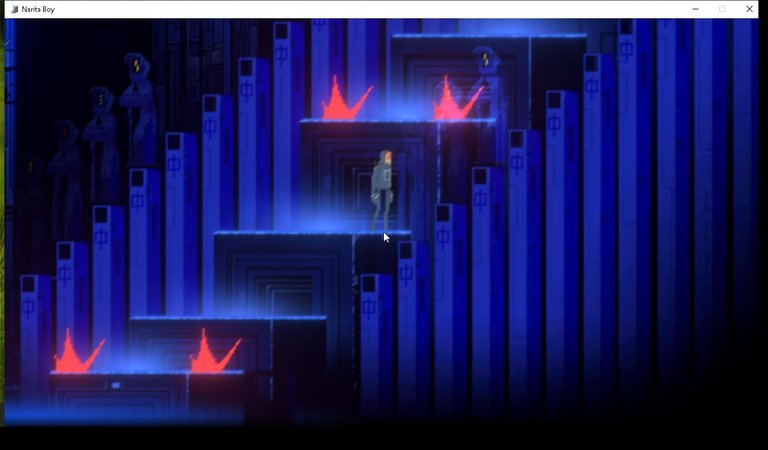 Siempre dejo en claro que este tipo de juegos necesita de un mapa, por mi opinión y experiencia personal. Y en este, he llegado a perder el camino y por momentos no encontraba la ruta que debía seguir. Es algo que sería un buen agregado.
El diseño de los enemigos corrientes está bien, pero lo genial son los diferentes tipos de mini jefes, cada uno con su mecánica de batalla particular.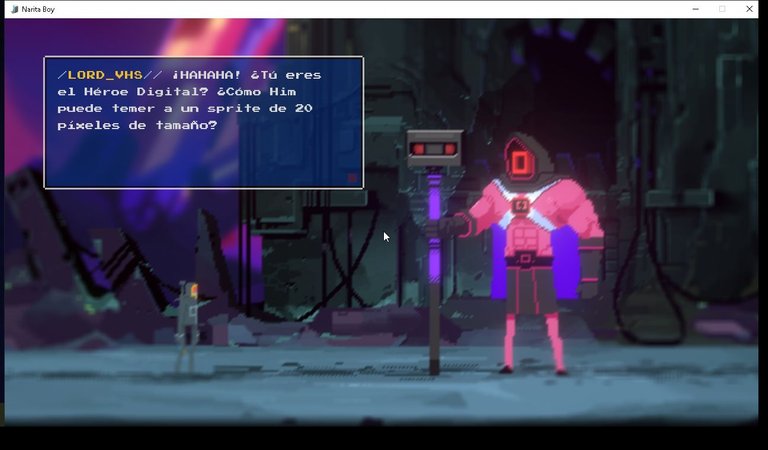 ¿Lord VHS? El juego está plagado de multitud de referencias, recuerda un poco a Ready player one.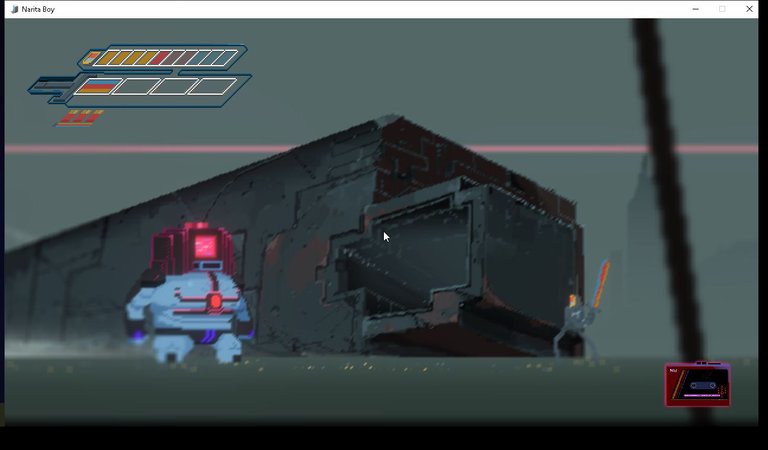 Los diálogos de los NPC, son en parte un poco largos, tediosos. Si no conoces mucho del tema, pasarás por alto las referencias y le puede resultar confuso o aburrido.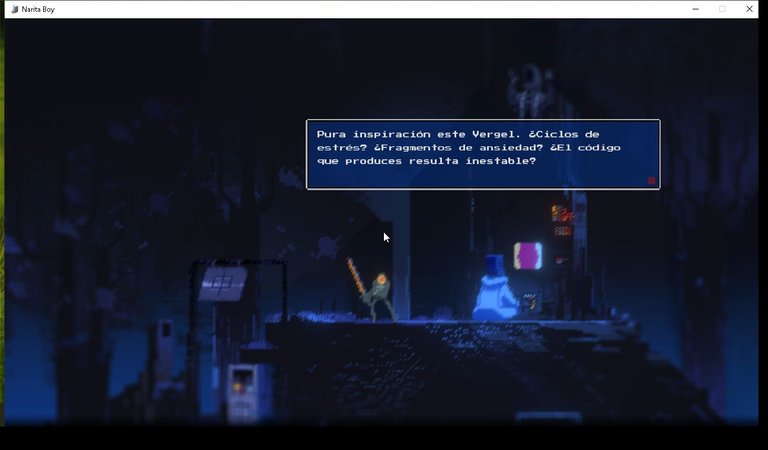 Tienes que explorar el nivel, abatir a los enemigos, hacerte con las tecno llaves, para obtener otra tecno llave y acceder a más zonas del nivel. Un poco repetitivo, lo acepto, pero es realmente divertido para pasar el rato.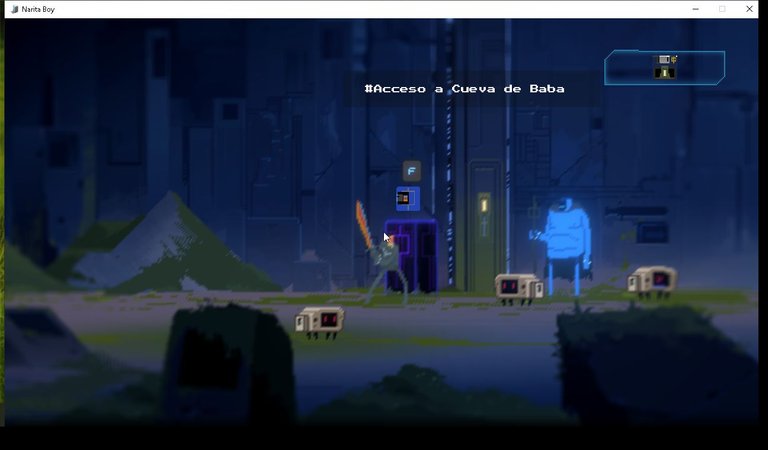 El juego no tiene partida +, solo tiene una dificultad y no se puede seleccionar el nivel a gusto, de verdad se hace en falta de un mapa.
Hay zonas de la plataforma que no se alcanzan a ver en la pantalla, así que se pueden fácilmente pasar por alto.
Es un juego que se puede pasar en una o dos tardes, un tributo a los maravillosos años 80, plagado de referencias y detalles, es difícil notarlos todos a la primera oportunidad. Pueden pasar un momento bastante entretenido superando la aventura.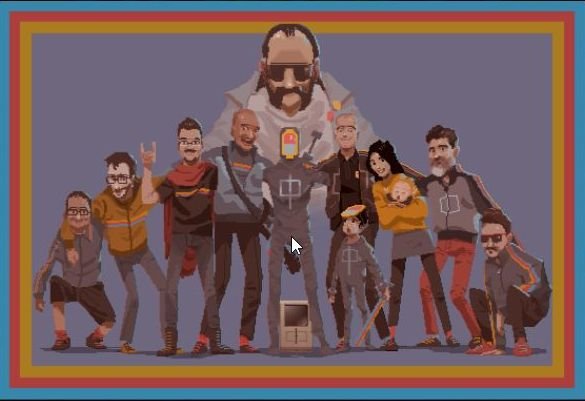 Sí quieren probar el juego, la demo en steam:
Bueno, muchas gracias por pasar y llegar hasta aquí.
Espero que disfruten de un buen día.
Paz.

Las imágenes a menos que lo indique son capturas de mi juego.
He usado el traductor de Google para el idioma inglés.



---
---