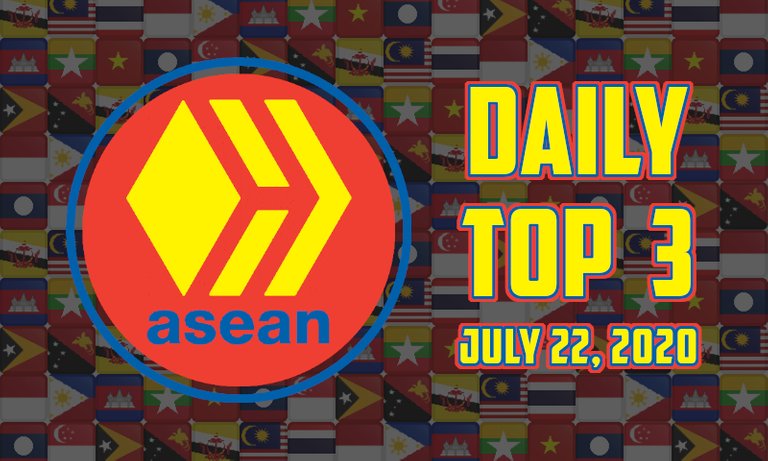 Greetings ASEAN Hivers. @JustinParke here trying out a new curation format for the ASEAN Hive Community: a "Daily Top 3."
📻 UPDATE 📰
     Some of you may know that I have been very busy lately, both helping the family (@Sreypov & the @KidSisters) learn how to blog oon hive, and also homeschooling the children while also teaching Cambodian lessons online.
     It's a miracle that I even find time to make a post every day with my personal account, but I remained determined to make the ASEAN Hive Community thrive, despite not having the backing of any whale curation accounts.
     Originally I had hoped to make a super duper awesome weekly curation post with the @asean.hive account, but I find this post format takes a long time to create, and if I can't find time to do it, the whole week is lost.
     It is with this in mind that I now aim to make short-form daily curation posts, as I think this well help Southeast Asian content creators more. Also, if I miss a day, that still leaves 6 other potential curation posts I can create.
---
ASEAN Hive Daily Top 3 🏆 July 22nd, 2020
10% Beneficiaries Of This Post
---
     @biggypauls provided us with some awesome up close and personal photos of octopuses in the Philippines. If you read his post, you will learn that you can actually call more than one octopus "octopodes," but that's not all you'll learn.
     Thai Hiver @noopu rode the train to Kyoto and gave us a quick tour of an amazing bamboo forest there. It looks like a truly amazing place straight from a movie set.
     In Malaysia, @elizacheng took us on one of her weekly #wednesdaywalk / #makemesmile tours. It's really amazing how green the urban spaces of Malaysia are.
---
WANT TO SUPPORT ASEAN HIVE COMMUNITY?

If you would like to support the ASEAN Hive Community and the curation of Southeast Asian content on the Hive blockchain, please refer to the delegation links below.
All HIVE generated by the @ASEAN.Hive account will be powered up to support the community.
1,134 HP HIVE POWER
312,000 STAKED NEOXAG
6,300 STAKED LOTUS
3,000 STAKED CCC
3,500 STAKED FOODIE
3,100 STAKED BUILD
1,100 STAKED PAL
250 STAKED LEO
---
🙏 THANKS FOR READING 🙏
👊 DON'T FORGET TO SMASH THE UPVOTE BUTTON 👊
☑️ SUPPORT SOUTHEAST CONTENT ON HIVE ☑️