Pukumundo. The singing voice week #20: Gustavo Cerati - "Goodbye". Band cover
---

ENGLISH.


---
Greetings pukumundo brothers! How are you?
For this week, in which I've arrived a little late due to a lot of movement, but I'm more comfortable to continue sharing music, I've decided to bring, along with the guys of the tribute, a cover band of the wonderful song by Gustavo Cerati: "Adiós" (Goodbye). I know that night is not the best time to record, but it is really a little difficult to get together early, although I confess that I really enjoyed the sound and how it all sounded.
It is very interesting to study Cerati with a full band, since in these circumstances, many precise cuts can be made more noticeable and demanding at the level of rhythms and entrances, which characterize an important and pleasant factor in the piece. Of course, these are things that can also be learned for one's own use, since understanding Cerati in this way opens the way to a creative process of discovery and understanding of both what the artist is and what can be understood and worked with in other genres and musicians.
Adiós (Goodbye) is a beautiful song of farewell and closing of cycles. When things reach their peak and descend, when they reach their expiration date, this is part of the natural cycle of this world and of our relationships to a great extent. A goodbye is an era coming to an end, a circle closing. Pain in these processes is inevitable, it is so because it is part of the feeling of transformation, and it is so, pain is a feeling that is generated by the shock of an event, it becomes suffering when we assume it as a perennial part of our lives, but when we see it as a passage, it becomes just that, a temporary passage. Life and beautiful things are common in what we perceive as experience, but death and stages of degradation are also as common as life and beautiful things, that is why it is better to say goodbye when events and people say goodbye to us, and it is better to welcome when people and events enter our panorama; it will hurt, but it is part of what we are and what we do.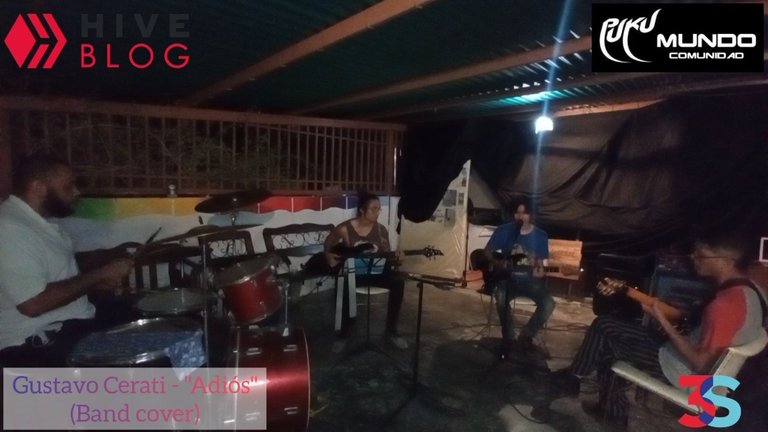 ESPAÑOL.
---
Saludos hermanos del pukumundo! Que tal están?
Para esta semana, en la cual he llegado un poco tardío debido a mucho movimiento, pero ya estoy más cómodo para seguir compartiendo música, he decidido traer, junto con los muchachos del tributo, un cover band de la maravillosa canción de Gustavo Cerati: "Adiós" (Goodbye). Se que de noche no es la mejor hora para grabar, pero de verdad es un poco difícil que nos reunamos temprano, aunque confieso que disfrute mucho del sonido y como se escuchó todo.
Es muy interesante estudiar a Cerati con la totalidad de una banda, ya que en estas circunstancias, se pueden hacer más notables y exigentes muchos cortes precisos a nivel de ritmos y entradas, los cuales caracterizan un factor importante y agradable en la pieza. Claro, estas son cosas que también se pueden aprender para uso propio, ya entender a Cerati de esta forma abre paso a un proceso creativo de descubrimiento y entendimiento tanto de lo que es el artista como es lo que se puede entender y trabajar en otros géneros y músicos.
Adiós (Goodbye) es una canción hermosa de despedida y cierre de ciclos. Cuando las cosas ya llegan a su cúspide y descienden, cuando tocan su fecha de caducidad, esto es parte del ciclo natural de este mundo y de nuestras relaciones en gran medida. Un adiós es una era que se culmina, un círculo que se cierra. El dolor en estos procesos es inevitable, lo es porque es parte de la sensación de transformación, y es así, el dolor es un sentimiento que se genera mediante el shock de un suceso, se vuelve sufrimiento cuando lo asumimos como una parte perenne de nuestras, pero cuando lo vemos como un pasaje, solo se vuelve eso, un pasaje temporal. La vida y las cosas hermosas son comunes en lo que percibimos como experiencia, pero la muerte y las etapas de degradación también son cosas tan comunes como la vida y las cosas hermosas, por eso es mejor decir adiós cuando los sucesos y las personas nos digan adiós, y es mejor dar la bienvenida cuando las personas y los sucesos entran en nuestro panorama; dolerá, pero es parte de lo que somos y hacemos.

Lyrics.
They both sighed the same
And today they are part of a rain far away
Don't get confused, there's no use in resentment
They are spasms after goodbye
You play sad songs to feel better
Your essence is more visible
From the same pain
A new dawn will come
Maybe they filled the need
But there are voids they can't fill
They didn't know the depth
Until one day there was no more
You were left waiting for echoes that will not return
Floating between rejections
From the same pain
A new dawn will come
To separate from the species
For something superior
It's not pride it's love
It is not pride, it is love
To be able to say goodbye
Is to grow
Letra.
Suspiraban lo mismo los dos
Y hoy son parte de una lluvia lejos
No te confundas no sirve el rencor
Son espasmos después del adiós
Ponés canciones tristes para sentirte mejor
Tu esencia es más visible
Del mismo dolor
Vendrá un nuevo amanecer
Tal vez colmaban la necesidad
Pero hay vacíos que no pueden llenar
No conocían la profundidad
Hasta que un día no dio para más
Quedabas esperando ecos que no volverán
Flotando entre rechazos
Del mismo dolor
Vendrá un nuevo amanecer
Separarse de la especie
Por algo superior
No es soberbia es amor
No es soberbia es amor
Poder decir adiós
Es crecer
Font of the letter.
---
▶️ 3Speak
---
---