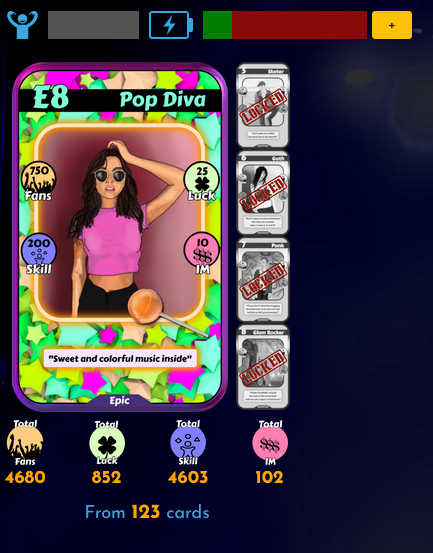 Ever heard this lady ? No ? It's normal, she's new on the scenes, but be sure the radios will soon speak about her...
This pop diva is climbing the charts like no one did before, and nothing seems to be able to stop her.
Prepare yourself to be entertained, you will love her music...
OK OK you will never hear about her, as it's a game, it's Rising Star, but, if you play this game, you will for sure hear talented artists on the game's radio. They are independant artists and they are really good!
Not only will you hear them, but you can also have fun while managing your own virtual band and earn some cryptos.
If you like NFT and trading, Rising Star is also a good opportunity for you as you can buy and sell NFT, and tokens.
I own 123 cards, I use them to boost my diva, I also have 18 cards on the market, to boost my own token (ECU).
A win win situation ;)
Join us over there, you will like beeing a Rising Star
---
A bientôt,
≋𝕴𝖙𝖍𝖆𝖗𝖆 𝕲𝖆ï𝖆𝖓≋
@itharagaian
≋≋≋≋≋≋≋≋≋≋≋≋≋≋≋≋≋≋≋≋≋≋≋≋≋≋≋≋≋≋≋≋≋≋≋≋≋≋≋≋
Helping my projects / Tipping :-) ???
Helping the author : https://www.paypal.me/Lordolivier
We of course accept cryptos:
All the ones on Steem-engine & Hive-engine
Steem / SBD /Hive / HBD
LTC : LdiCR25BQSQYSzTUcpD3sJQayscvjXvDyy
BTC : 37fJek6HN9zeJQTvhfZmpEcmsTM8Lx4spr
All donations are appreciated and welcomed,
thank you.
≋≋≋≋≋≋≋≋≋≋≋≋≋≋≋≋≋≋≋≋≋≋≋≋≋≋≋≋≋≋≋≋≋≋≋≋≋≋≋≋