---
👉ENG VERSION👈

---
Hi, Guys indeed ... HAPPY NEW YEAR !!!
The first post of the year dedicated to @splinterlands, a game that kept me in the company in the lousy 2020 that started badly and ended worse, let's hope this new year is better ... it really doesn't take much to be.
We continue the story of the monsters of this fantastic game thanks to the Challenges organized by this fantastic team!
Find all the info to participate in the link below.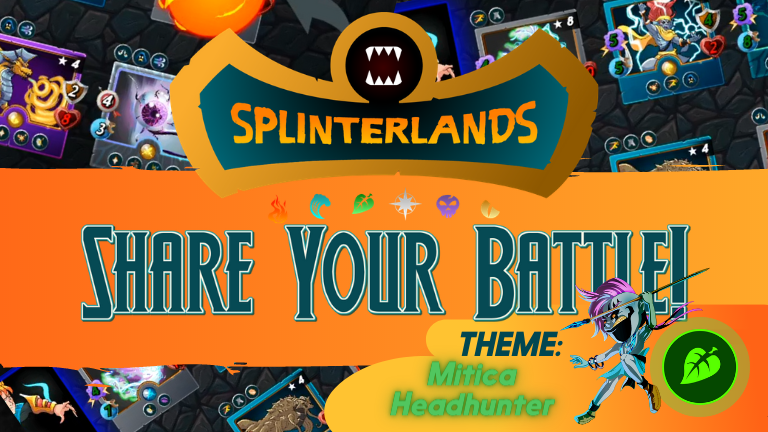 SHARE YOUR BATTLE Weekly Challenge! MITICA HEADHUNTER
___ 🌱🌱🌱 ___
I like the monster chosen for this week a lot, let's talk about:
🌱 MITICA HEADHUNTER 🌱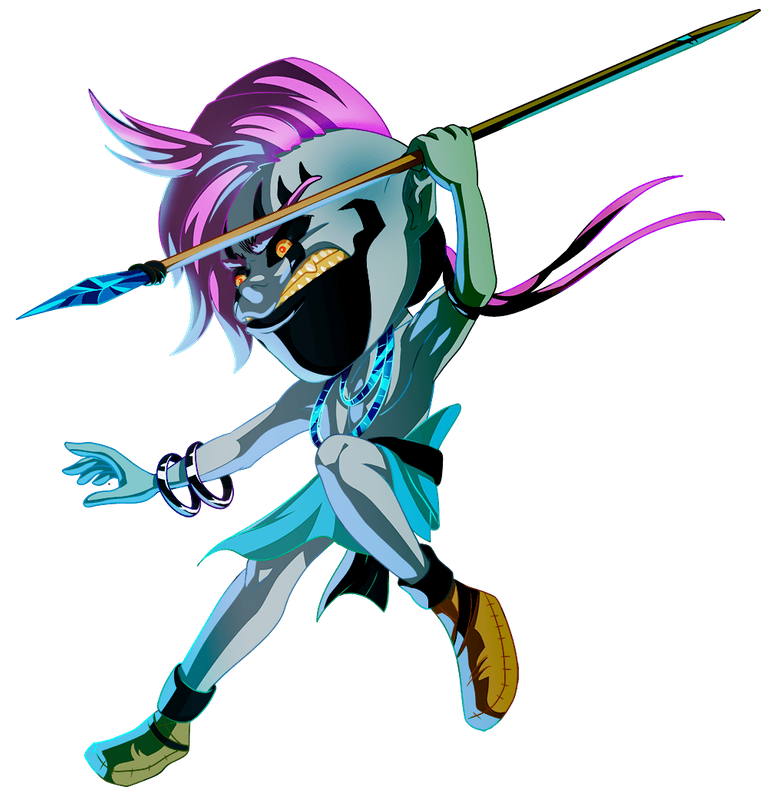 These giant-headed monsters come from one of the two villages of Anumun and are named after their huge head.
Their preys immediately notice them from their head but despite this it is late they are already in the dinner pot.


This monster is part of the UNTAMED collection, is an EPIC card and is part of the EARTh element but can also be used by the DRAGONS element.
It has RANGED attack and can be upgraded to level six.
Beware of RULESETS BROKEN ARROWS and ODD ONES OUT, which do not allow the use of this monster.
---
I have this card at level three but I can't always use it due to the low level of my Summoners.
We will do the considerations based on my level but first an overview of the stats of this monster.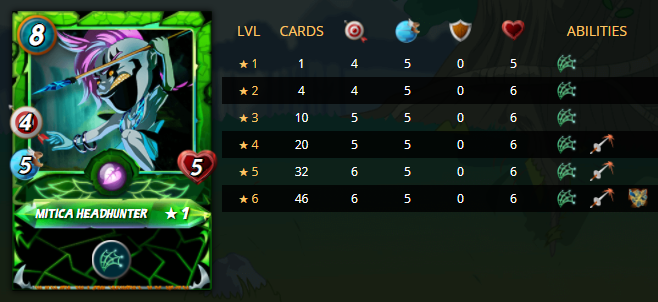 At level one, it starts with attack four and can be upgraded up to six at level six.
The speed remains unchanged from five and so remains up to its maximum power while the life which at level one is five rises to a maximum of six already at level two.
At level one there is already the SNARE ability, a power that eliminates the FLYING ability in the monsters it hits.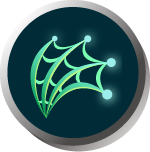 At level four, the second of the three abilities it possesses, PIERCING, occurs when it hits a monster with armour in case of excess damage it passes down this on life.

The last ability assumes it at its maximum level of six, SHATTER, an ability that completely destroys the armour of opposing monsters even if higher than the hit received.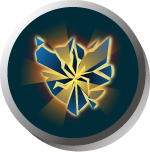 ___ 🌱🌱🌱 ___
I have level three MITICA HEADHUNTER with these characteristics.
---
ATTACK:

The strength of this card is already enormous from level one which is four, at level three it becomes five.
This monster is very powerful, and being able to insert it in the deck can certainly give great help in battle.
---
LIFE:

As written above already from level two it reaches its maximum life which is five, able to withstand some blows but must be well defended to be able to use it at its best.
Too bad she is without armour would be a very powerful card.
---
SPEED

The speed is five at any level, very high and allows our monster to easily dodge the opponent's hits and to start among the first cards with the attack.
Thanks to its high speed and high attack this monster is a war machine.
---
MANA:
The cost in MANA is eight, a flaw must have it :-), although in reality given the power of this card I think it is more than justified.
Difficult to insert in war decks but if you have a lot of MANA it is definitely one of the first cards chosen by me.
___ 🌱🌱🌱 ___
Enough chat and see our monster MITICA HEADHUNTER in action !!!!
---
LEEET'S GOOOO!
---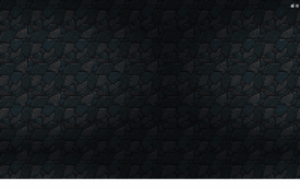 ---
RULESETS:
STANDARD: No changes to the game mechanism.
MANA: 17
___ 🌱🌱🌱 ___
DEPLOYMENT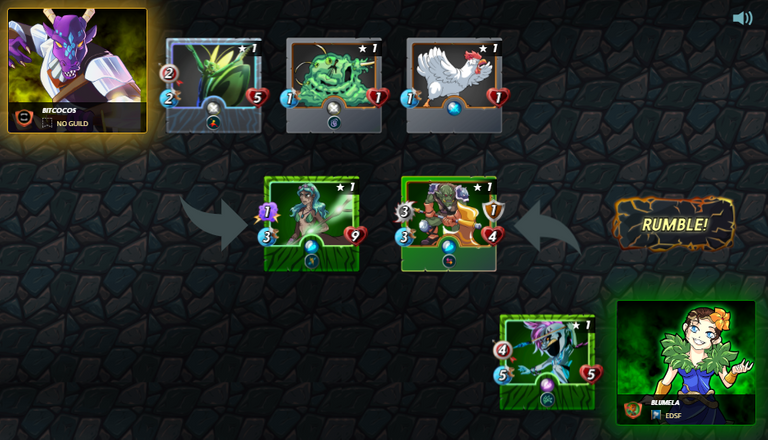 In this game, I have decided to deploy the EARTH element with my Summoner LYANNA NATURA which can increase the life of all my monsters by one.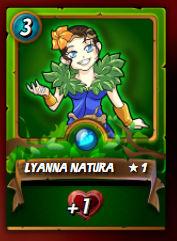 As the front row tank, I chose STONERSPLITTER ORC monster with a medium-high waist, one armour point and a high attack of 3.
I chose this card for its high attack but above all for its RETAL ability, this power has a chance to counterattack monsters that hit it with MELEE attack.
Having little MANA in the second row I put in our beautiful big head :-), his attack of four did his duty and, before dying, he did a lot of damage to the opposing team.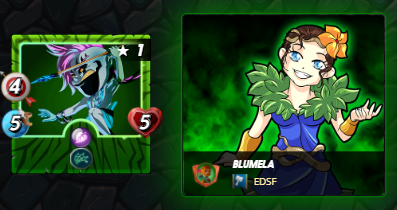 ---
My opponent chose DRAGONS by pairing them with the EARTH element.
As Summoner has deployed KRETCH TALLEVOR, this monster has no abilities and therefore has a lower MANA cost, three, than other Summoners.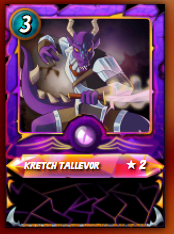 In the front row, he has placed CENTAURI MAGE which is not a real TANK but is a good choice, in my opinion, endowed with life nine which is very high, has a magical attack and the RETURN FIRE ability which returns part of the RANGED damage suffered.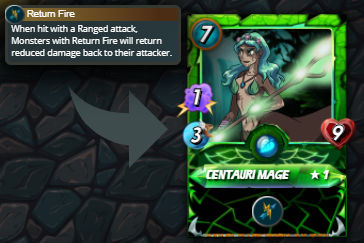 In the second position he inserted a NEUTRAL card (last week's Challenge monster) MANTOID with a RANGED attack of two and the SNIPE ability while in the third row he deployed CREEPING OOZE with SLOW ability, this power slowed the speed of all mine by one card.
In the last row, she entered FURIOUS CHICKEN.

---
Our monster abandoned us at the end of Round two but before passing to life mile he killed the first opponent card with his devastating attack.
His ability in this game is not served as there are no cards with FLYING power.
It took five rounds to win the game.
Our monster has a powerful attack.
The only flaw is the cost in MANA and perhaps his ability is not always useful.
HERE under the REPLAY LINK!
https://splinterlands.com?p=battle&id=420343581ffc0a461c881acafe1c8ba1e482cc6b&ref=blumela
___ 🌱🌱🌱 ___
I love this monster and when the Mana allows it I like to insert it in battle, its great speed and its attack make it dangerously strong already from level one, empowered it becomes a big killer head. :-)
If you haven't tried this game yet my advice is to do it this is my link referral you can use the link if you like it or not but the point is always the one game to try! :-)
https://splinterlands.com?ref=blumela
If you don't like using it;) below !.
Have fun and see you in battle !!
___ 🌱🌱🌱 ___
The photos and gifs are screenshots taken from the Splinterland game I own or from splinterlands source.

---
👉ITA VERSION👈

---
Ciao Ragazzi anzi... BUON ANNO!!!
Primo post dell'anno dedicato a @splinterlands, gioco che mi ha tenuto in compagnia nello scifoso 2020 partito male finito peggio, speriamo che il questo nuovo anno sia migliore... in realtà non vuole molto per esserlo.
Continuiamo il racconto dei mostri di questo fantastico gioco grazie alle Challenge organizzate da questo fantastico team!
Trovate tutte le info per parteciparvi nel link qui sotto.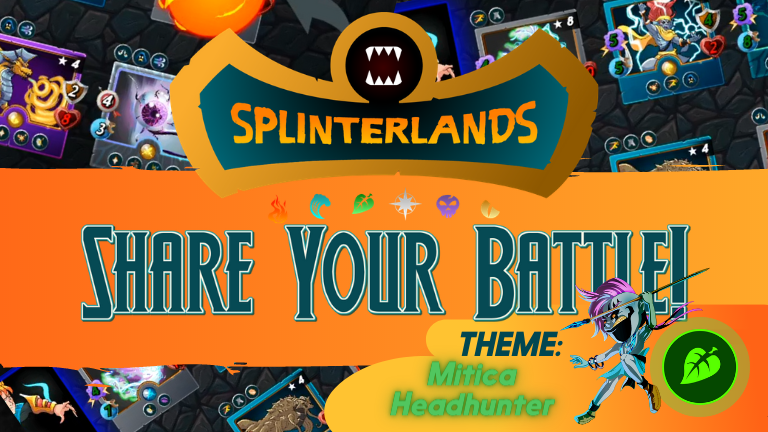 SHARE YOUR BATTLE Weekly Challenge! MITICA HEADHUNTER
___ 🌱🌱🌱 ___
Il mostro scelto per questa settimana mi piace un sacco, parliamo di:
🌱 MITICA HEADHUNTER 🌱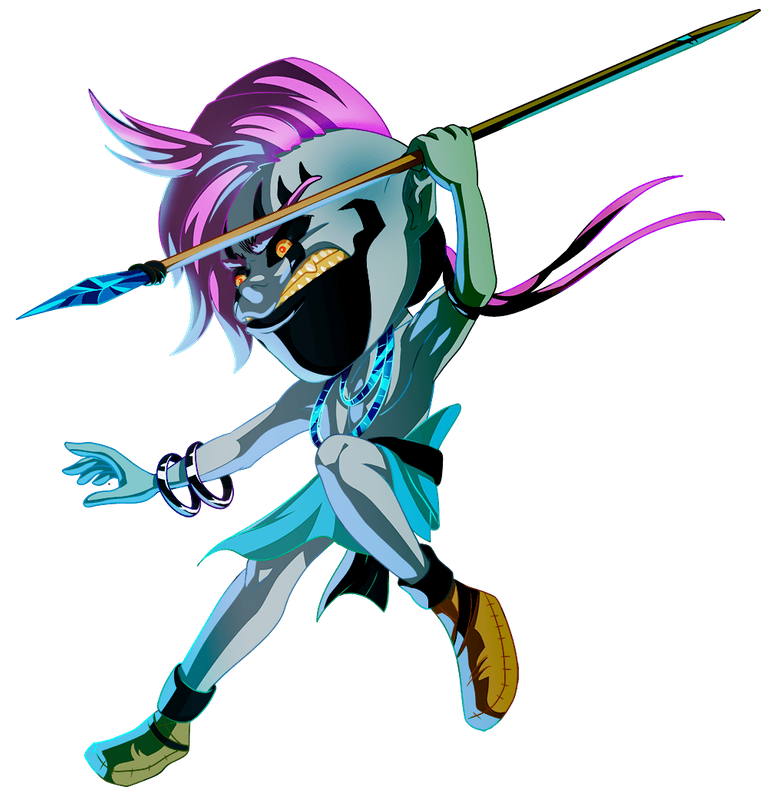 Questi mostri dalle teste giganti provengono da uno dei due villaggi di Anumun e prendono nome appunto dalla loro testa enorme.
Le loro prede si accorgono subito di loro dalla loro testa ma nonostante ciò è tardi sono già nella pentola della cena.


Questo mostro fa parte della collezione UNTAMED, è una carta EPIC e fa parte dell' elemento EARTh ma può essere utilizzata anche dall'elemento DRAGONS.
Possiede attacco RANGED e può essere potenziato fino a livello sei.
Attenzione alle RULESETS BROKEN ARROWS e ODD ONES OUT, che non permettono l'utilizzo di questo mostro.
---
Possiedo questa carta a livello tre ma non sempre riesco ad utilizzarla a causa del basso livello dei miei Summoner.
Faremo le considerazioni basate sul mio livello ma prima una panoramica sulle statistiche di questo mostro.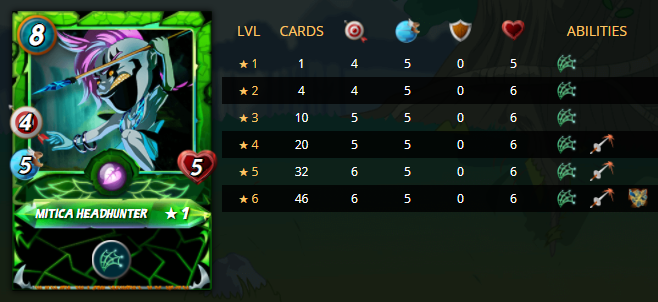 A livello uno parte con attacco quattro e può essere potenziato fino a sei a livello sei.
La velocità rimane invariata parte da cinque e così rimane fino alla sua massima potenza mentre la vita che a livello uno è cinque sale a un massimo di sei già a livello due.
A livello uno è già presente l'abilità SNARE, potere che elimina l'abilità FLYING nei mostri che colpisce.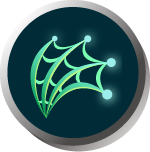 A livello quattro si presenta la seconda abilità delle tre che possiede, PIERCING, quando colpisce un mostro con armatura in caso di danno in eccesso tramanda questo sulla vita.

L'ultima abilità l'assume al suo livello massimo di sei, SHATTER, abilità che distrugge completamente l'armatura dei mostri avversari anche se più alta del colpo ricevuto.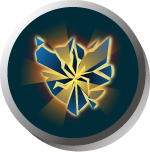 ___ 🌱🌱🌱 ___
Io possiedo MITICA HEADUNTER di livello tre con queste caratteristiche.
---
ATTACCO:

La forza di questa carta è gia enorme dal livello uno che è di quattro, a livello tre diventa cinque.
Questo mostro è molto potente e riuscire a inserirlo nel deck può dare sicuramente un grande aiuto in battaglia.
---
LIFE:

Come scritto sopra già da livello due raggiunge la sua massima vita che è di cinque, in grado di sopportare qualche colpo ma va ben difesa per poterla utilizzare al meglio.
Peccato sia priva di armatura sarebbe una carta potentissima.
---
VELOCITà

La velocità è di cinque a qualsiasi livello, molto alta e permette al nostro mostro di schivare facilmente i colpi avversari e di partire fra le prime carte con l'attacco.
Grazie alla velocità alta e al suo attacco alto questo mostro è una macchina da guerra.
---
MANA:
Il costo in MANA è di otto, un difetto deve averlo :-), anche se inrealtà visto la potenza di questa carta carta credo che sia più che giustificato.
Difficile da inserire nei deck da guerra ma se si ha disposizione parecchi MANA è sicuramente una delle prime carte scelte da me.
___ 🌱🌱🌱 ___
Basta chiacchiere e vediamo in azione il nostro mostro MITICA HEADUNTER!!!!
---
LEEET'S GOOOO!
---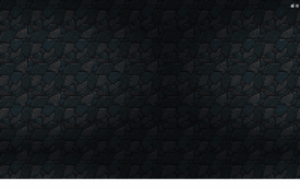 ---
RULESETS:
STANDARD: Nessuna modifica al meccanismo di gioco.
MANA: 17
___ 🌱🌱🌱 ___
SCHIERAMENTO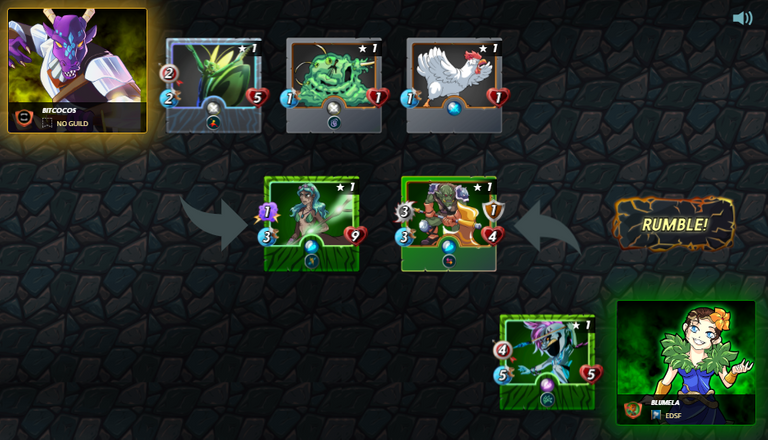 In questa partita ho deciso di schierare l'elemento EARTH con la mia Summoner LYANNA NATURA in grado di aumentare di uno la vita di tutti i miei mostri.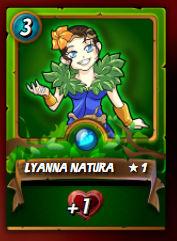 Come Tank in prima fila ho scelto STONERSPLITTER ORC mostro dotato di una vita medio-alta un punto armatura e un attacco alto di 3.
Ho scelto questa carta per il suo attacco alto ma soprattutto per la sua abilità RETALIATE, questo potere ha delle chance di contrattaccare i mostri che lo colpiscono con attacco MELEE.
Avendo poco MANA in seconda fila ho inserito il nostro bellissimo testone :-), il suo attacco di di quattro ha fatto il suo dovere e prima di morire ha fatto un bel danno alla squadra avversaria.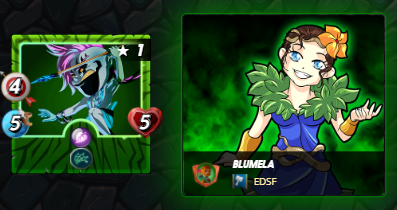 ---
Il mio avversario ha scelto i DRAGON abbinandoli all'elemento EARTH.
Come Summoner ha schioerato KRETCH TALLEVOR, questo mostro non possiede nessuna abilità e per queso ha un costo in MANA più basso,tre, rispetto agli altri Summoner.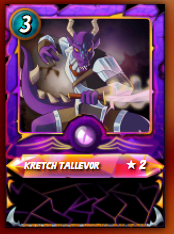 In prima fila ha posizionato CENTAURI MAGE che non è un vero e proprio TANK ma è una buona scelta a mio parere, dotato di vita nove che è altissima, possiede attacco magico e l'abilità RETURN FIRE che restituisce parte del danno RANGED subito.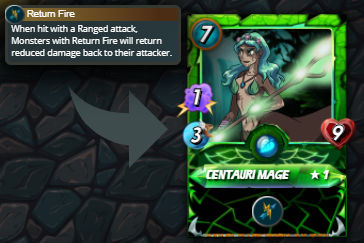 In seconda posizione ha inserito una carta NEUTRAL (mostro Challenge della scorsa settimana) MANTOID con attacco RANGED di due e l'abilità SNIPE mentre in terza fila ha schierato CREEPING OOZE con abilità SLOW, questo potere ha rallentato di uno la velocità di tutte le mie carte.
In ultima fila ha inserito FURIOUS CHICKEN.

---
Il nostro mostro ci ha abbandonato alla fine del Round due ma prima di passare a miglio vita ha ucciso la prima carta avversaria con il suo devastante attacco.
La sua abilità in questa partita non è servita non essendoci carte con potere FLIYNG.
Sono serviti cinque Round per vincere la partita.
Il nostro mostro ha un attacco potente l'unica pecca è il costo in MANA e forse la sua abilità non sempre utile.
QUI sotto il LINK del REPLAY!
https://splinterlands.com?p=battle&id=420343581ffc0a461c881acafe1c8ba1e482cc6b&ref=blumela
___ 🌱🌱🌱 ___
Adoro questo mostro e quando il Mana lo permette mi piace inserirlo in battaglia, la sua grande velocità e il suo attacco lo rendono pericolosamente forte già da livello uno, potenziato diventa una grossa testa assassina. :-)
Se ancora non hai provato questo gioco il mio consiglio è quello di farlo questo è il mio link refferal puoi utilizzare il link se ti fa piacere oppure no ma il punto è sempre quello gioco da provare! :-)
https://splinterlands.com?ref=blumela
Se non vi fa piacere utilizzarlo ;) qui sotto!.
Buon divertimento e ci vediamo in battaglia!!
___ 🌱🌱🌱 ___
Le foto e le gif sono screen shot fatti al gioco Splinterland in mio possesso o di fonte splinterlands.