👉ENG VERSION👈

---
Hello friends !! did you have a merry Christmas?
As always I am in the company of my family and therefore everything is fine.
Let's pick up where we left off with the weekly Challenge organized by @splinterlamds, let's go right away to see which monster has been chosen for this week.
Find the information to participate in the link below.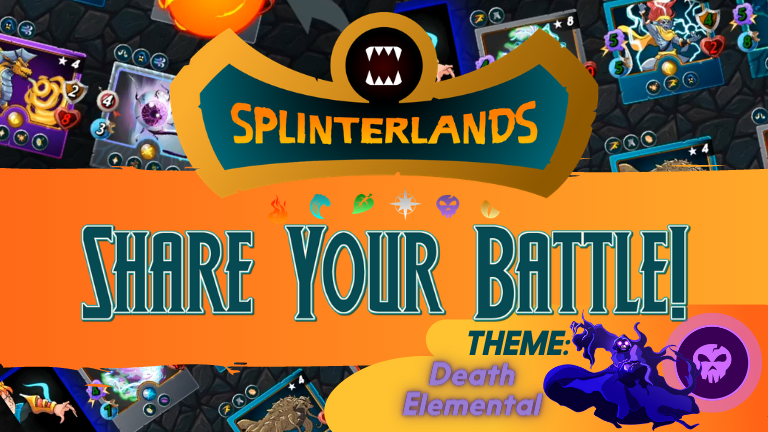 SHARE YOUR BATTLE Weekly Challenge! DEATH ELEMENTAL
___ ☠️☠️☠️ ___
The card chosen for this week is a monster that I like to use now and then, let's talk about:
☠️ DEATH ELEMENTAL ☠️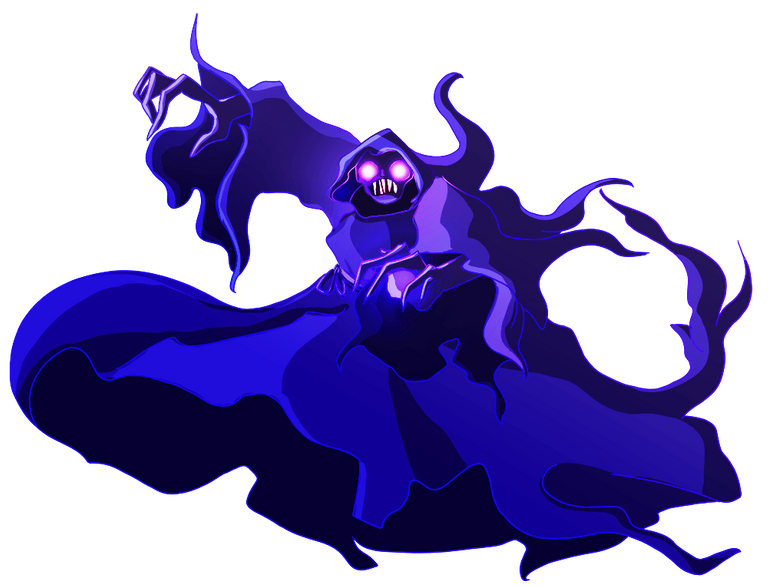 This monster possesses terrifying strength.
This lord of darkness refuses to call the monsters of the Death element by their own name as he does not believe theirs is a force of death but of life.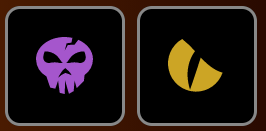 This card is part of the UNTAMED collection, it is a RARE card of the DEATH element but can also be used by DRAGONS.
Has magical attack and can be upgraded up to level eight.
Attention LOST MAGIC, this RULESET does not allow you to use this monster and neither does EVEN STEVENS which allows you to use only cards with even MANA.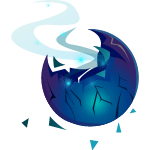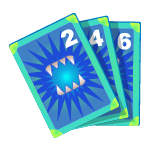 ---
I own this card at level two and my considerations will be based on this level but first let's see how it evolves when upgraded.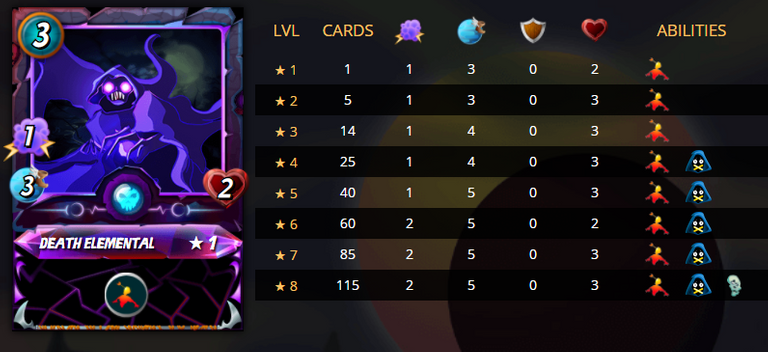 This monster starts with a magic attack of one, speed three, life 2, and the SNIPE skill at level one.
At his maximum evolution at level eight, he brings his magic attack to two, his speed to five, his life to 3.
Starts with the SNIPE skill

Monsters that possess this ability have monsters with RANGED, MAGIC, or no attack attacks as a priority. At level four the SILENCE skill is added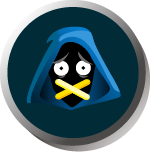 This power reduces the magic attack of opposing cards.
While at level eight he completes his evolution by acquiring the third WEAKEN ability

the power that reduces the life of all opposing cards.
A small monster that if empowered takes on considerable strength thanks above all to its abilities.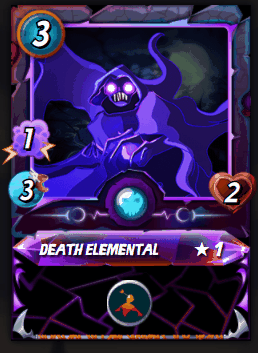 ___ ☠️☠️☠️ ___
My level two card has the following characteristics:
ATTACK:

DEATH ELEMENTAL at level two has a magic attack of one, a very low attack but we are talking about magic damage so always hit and always pains.
---
LIFE:

It has a low to medium life of three, not much but enough to survive a few turns if well defended.
---
SPEED

The speed of this monster is three neither low nor high but enough to allow it to dodge hits and have priority in the attack.
---
MANA
The mana cost of three makes it easy to place this card.
The mana cost I think is suitable for the power of this card perhaps even a little underestimated, once this card is upgraded it can help a lot in battle.
___ ☠️☠️☠️ ___
Let's watch DEATH ELEMENTAL level two in action.
---
LEEET'S GOOOO!
---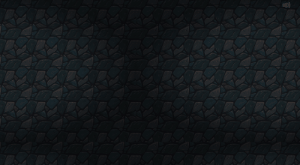 ---
RULESETS:
STANDARD: No changes to the game mechanism.
MANA: 17

___ ☠️☠️☠️ ___
DEPLOYMENT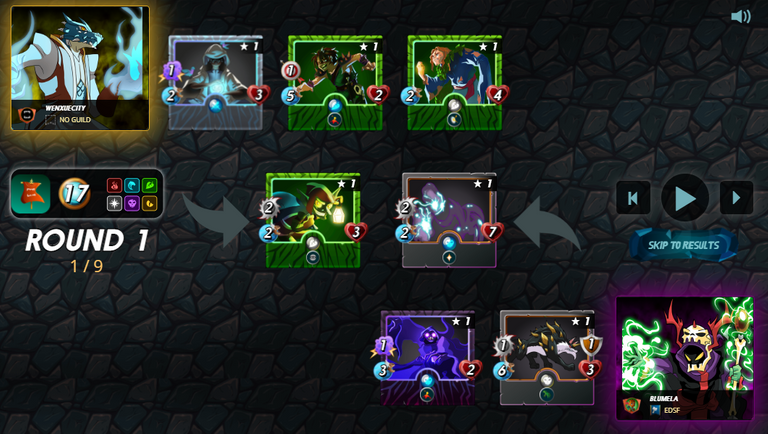 For this game, I decided to deploy the DEATH element and I used the Summoner ZINTAR MORTALIS, the ability of this monster is to lower the MELEE attack of all opposing cards by one.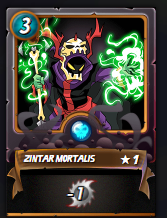 As Tank in the front row, I chose HAUNTED SPIRIT level one, cost in MANA six.
Possessing HEAL abilities, this monster can heal itself every turn.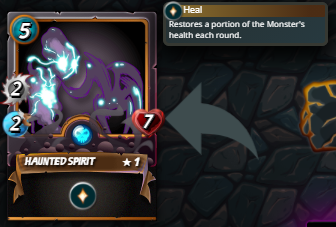 In the second position, I entered SPINEBACK WOLF of level one and cost in MANA five.
This card has MELEE attack but thanks to its REACH ability it can attack from the second row.
In the third position, I entered our DEATH ELEMENTAL monster protected by the first two cards even if in this game it is the first to leave us life.

---
My opponent opted for the DRAGON element by deploying as Summoner DRAKE OF ARNAK paired with the EARTH element, this monster has the ability to add an armour point to all friendly cards.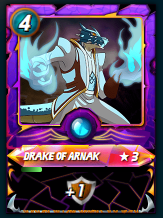 In the first position as TANK, he opted for GOBLIN THIEF with SNEAK ability, in this case, useless ability since it allows you to attack from the rear the last opponent monster deployed, in the front row he cannot do it.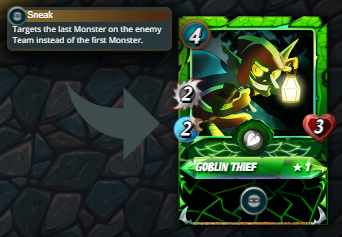 In the second position he chose a NEUTRAL card cost in MANA four ELEVEN MYSTIC with the magic attack, while in the third position he fielded CHILD OF THE FOREST with SNIPE ability, this monster killed our monster Challenge thanks to its ability.
She then set up a fourth FAILED SUMMONER card with no attack but with MAGIC REFLECT ability capable of reflecting some of the magical damage when attacked with it.

DEATH ELEMENTAL managed to hit but it was the first monster to leave us the feathers, despite this I won the game but the credit goes above all to my Tank that was able to constantly heal and take down the monsters one by one.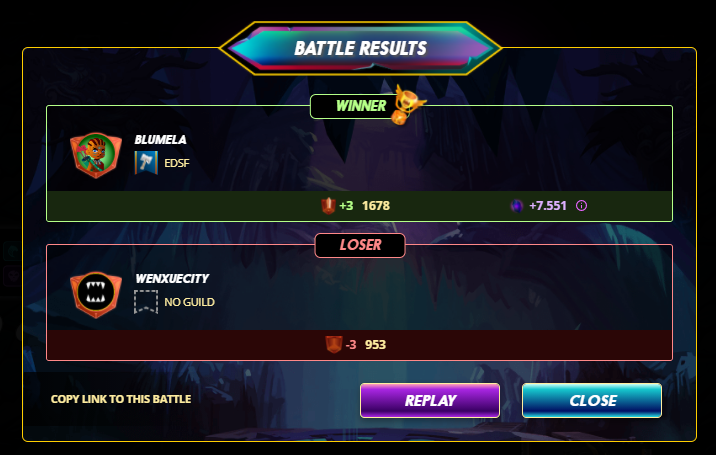 HERE under the REPLAY LINK!
https://splinterlands.com?p=battle&id=c2e3f36bbf54eff270a8a398721d02c5ed07a4ce&ref=blumela
___ ☠️☠️☠️ ___
I happen to use this monster mainly because it has a low MANA cost and has a magic attack.
I believe that if upgraded it can become a bomb but at low levels, it is perhaps more convenient to use other monsters with a higher attack and able to defend themselves better.
Despite everything promoted by me I like it! :-)
If you haven't tried this game yet my advice is to do it this is my link referral you can use the link if you like it or not but the point is always the one game to try! :-)
https://splinterlands.com?ref=blumela
If you don't like using it;) below !.
Have fun and see you in battle !!
___ ☠️☠️☠️ ___
The photos and gifs are screenshots taken from the Splinterland game I own or from splinterlands source.
---

---
---
👉ITA VERSION👈

---
Ciao amici!! avete passato un buon Natale?
Io come sempre in compagnia della mia famiglia e quindi tutto bene.
Riprendiamo da dove eravamo rimasti con la Challenge settimanale organizzata da @splinterlamds, andiamo subito a vedere che mostro è stato scelto per questa settimana.
Trovate le info per partecipare nel link qui sotto.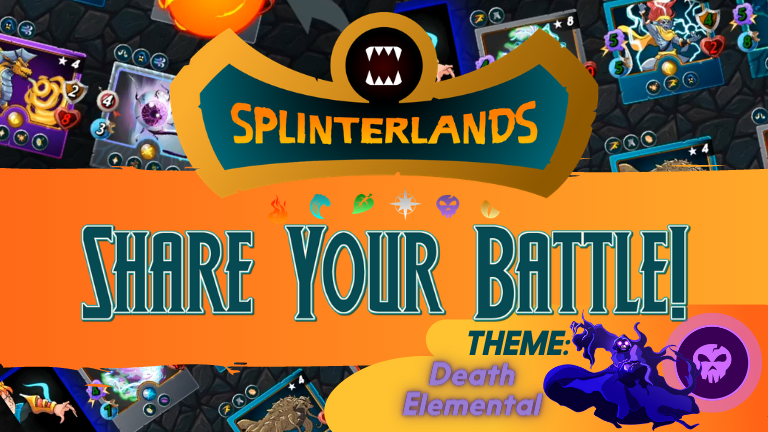 SHARE YOUR BATTLE Weekly Challenge! DEATH ELEMENTAL
___ ☠️☠️☠️ ___
La carta scelta per questa settimana è un mostro che ogni tanto mi piace utilizzare, parliamo di:
☠️ DEATH ELEMENTAL ☠️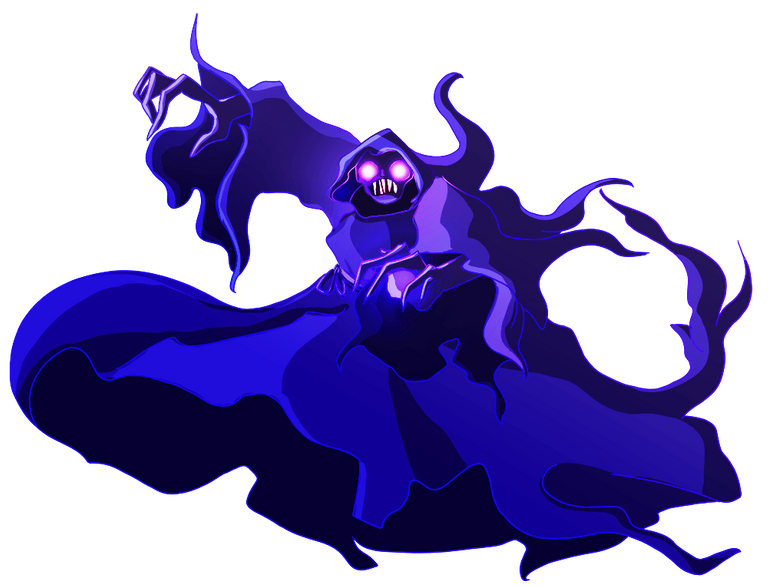 Questo mostro possiede una forza terrificante.
Questo signore delle tenebre rifiuta di chiamare i mostri dell'elemento Death con il loro proprio nome in quanto non ritiene che la loro sia una forza della morte ma della vita.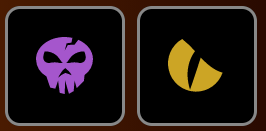 Questa carta fa parte della collezione UNTAMED, è una carta RARE dell'elemento DEATH ma può essere utilizzata anche dai DRAGON.
Possiede attacco magico e può essere potenziata fino a livello otto.
Attenzione LOST MAGIC, questa RULESET non permette di utilizzare questo mostro e nemmeno EVEN STEVENS che permette di utilizzare solo carte con MANA pari.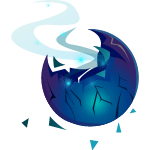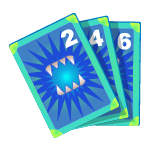 ---
Possiedo questa carta a livello due e le mie considerazioni saranno basate su questo livello ma prima vediamo come evolve se potenziata.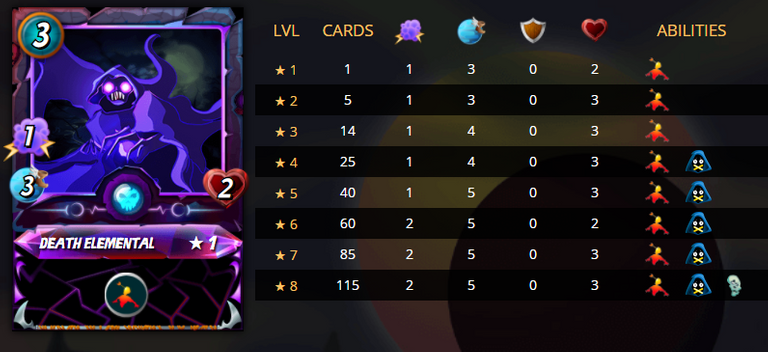 Queso mostro parte con un attacco magico di uno, velocità tre, vita 2 e l'abilità SNIPE a livello uno.
Alla sua massima evoluzione a livello otto porta il suo attacco magico a due, la sua velocità a cinque, la sua vita a 3.
Parte con l'abilità SNIPE



I mostri che poissiedono questa abilità hanno come priorita mostri con attacco RANGED, MAGICO o senza attacco.
A livello quattro si aggiunge l'abilità SILENCE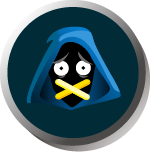 Questo potere riduce l'attacco magico delle carte avversarie.
Mentre a livello otto completa la sua evoluzione acquisendo la terza abilità WEAKEN



potere che riduce la vita di tutte le carte avversarie.
Un piccolo mostro che se potenziato assume una forza notevole grazie soprattutto alle sue abilità.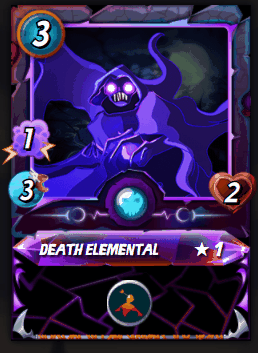 ___ ☠️☠️☠️ ___
La mia carta di livello due ha le seguenti caratteristiche:
ATTACCO:

DEATH ELEMENTAL a livello due possiede attacco magico di uno, attacco molto basso ma parliamo di danno magico quindi sempre a segno e sempre dolori.
---
VITA:

Possiede una vita medio-bassa di tre, non molta ma abbastanza per sopravvivere qualche turno se ben difesa.
---
VELOCITà

La velocità di questo mostro è tre ne bassa ne alta ma sufficiente per permettergli di schivare colpi e avere priorità in attacco.
---
MANA
Il costo in mana di tre permette di posizionare questa carta facilmente.
Il costo in mana ritengo sia idoneo per la potenza di questa carta forse anche un po sottovalutato, una volta potenziata questa carta può aiutare molto in battaglia.
___ ☠️☠️☠️ ___
Guardiamo in azione DEATH ELEMENTAL di livello due.
---
LEEET'S GOOOO!
---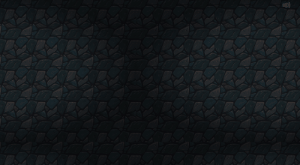 ---
RULESETS:
STANDARD: Nessuna modifica al meccanismo di gioco.
MANA: 17

___ ☠️☠️☠️ ___
SCHIERAMENTO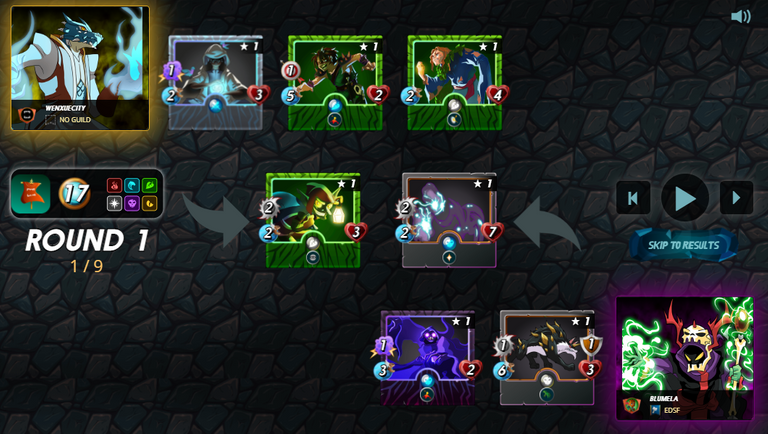 Per questa partita ho deciso di schierare l'elemento DEATH e ho utilizzato il Summoner ZINTAR MORTALIS, l'abilità di questo mostro è quella di abbassare di uno l'attacco MELEE di tutte le carte avversarie.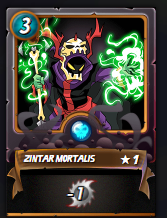 Come Tank in prima fila ho scelto HAUNTED SPIRIT di livello uno, costo in MANA sei.
Possiede abilità HEAL, questo mostro è in grado di curarsi a ogni turno.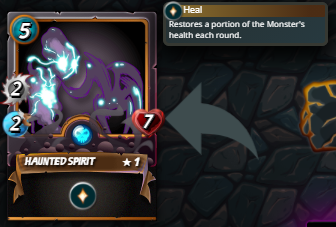 In seconda posizione ho inserito SPINEBACK WOLF di livello uno e costo in MANA cinque.
Questa carta possiede attacco MELEE ma grazie alla sua abilità REACH è in grado di attaccare dalla seconda fila.
In terza posizione ho inserito il nostro mostro DEATH ELEMENTAL protetto dalle prime due carte anche se in questa partita è il primo a lasciarci la vita.

---
Il mio avversario ha optato per l'elemento DRAGON schierando come Summoner DRAKE OF ARNAK abbinato all'elemento EARTH, questo mostro ha l'abilità di aggiungere un punto armatura a tutte le carte amiche.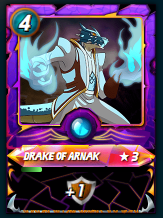 In prima posizione come TANK ha optato per GOBLIN THIEF con abilità SNEAK, in questo caso abilità inutile dato che permette di attaccare dalle retrovie l'ultimo mostro avversario schierato, in prima fila non può farlo.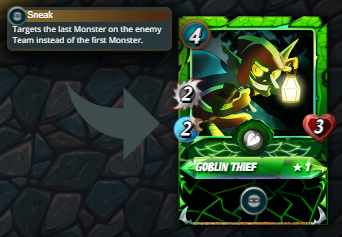 In seconda posizione ha scelto una carta NEUTRAL costo in MANA quattro ELEVEN MYSTIC con attacco magico, mentre in terza posizione ha schierato CHILD OF THE FOREST con abilità SNIPE, questo mostro ha ucciso il nostro mostro Challenge grazie alla sua abilità.
Ha poi schierato una quarta carta FAILED SUMMONER carta priva di attacco ma con abilità MAGIC REFLECT in grado di riflettere parte del danno magico se attaccato con esso.

DEATH ELEMENTAL è riuscito a colpire ma è stato il primo mostro a lasciarci le penne, nonostante ciò la partita l'ho vinta ma il merito và soprattutto al mio Tank che si è riuscito a curare costantemente e ad abbattere i mostri uno a uno.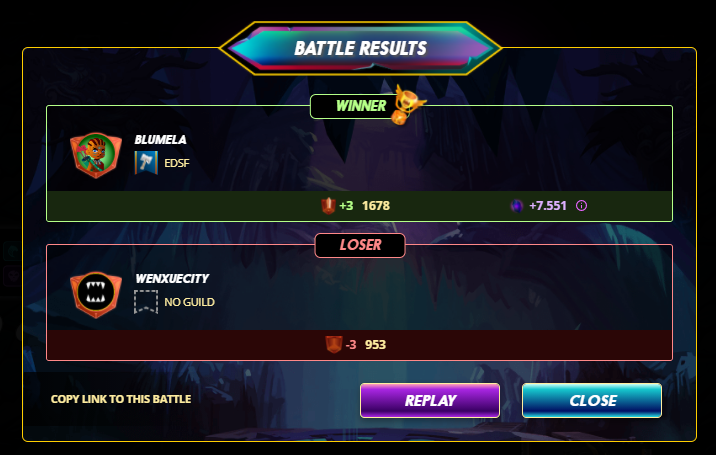 QUI sotto il LINK del REPLAY!
https://splinterlands.com?p=battle&id=c2e3f36bbf54eff270a8a398721d02c5ed07a4ce&ref=blumela
___ ☠️☠️☠️ ___
Mi capita di usare questo mostro soprattutto perchè ha un basso costo in MANA e ha attacco magico.
Ritengo che se potenziato possa diventare una bomba ma a livelli bassi forse è più conveniente utilizzare altri mostri con attacco più alto e in grado di difendersi meglio.
Nonostante tutto da me promosso mi piace! :-)
Se ancora non hai provato questo gioco il mio consiglio è quello di farlo questo è il mio link refferal puoi utilizzare il link se ti fa piacere oppure no ma il punto è sempre quello gioco da provare! :-)
https://splinterlands.com?ref=blumela
Se non vi fa piacere utilizzarlo ;) qui sotto!.
Buon divertimento e ci vediamo in battaglia!!
___ ☠️☠️☠️ ___
Le foto e le gif sono screen shot fatti al gioco Splinterland in mio possesso o di fonte splinterlands.