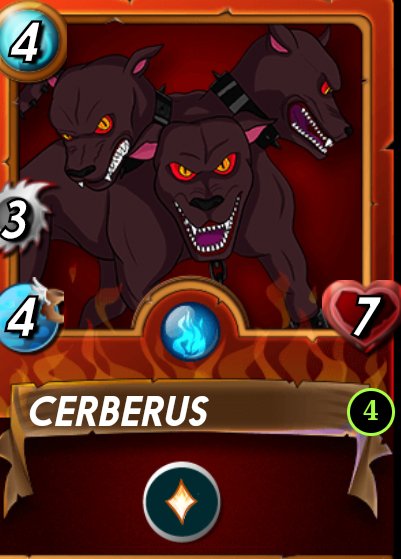 Hello splinterlords and splinterladies around the world? Am happy to always be here. Playing splinterlands has been incredible and it always going well with me.
Since I joined splinterlands, I have been enjoying it up to now. It is a game I always craves for. I always happy when am playing this game, it reduces my stress level and makes me to forget some bad memories of the day.
The weekly challenge is using Cerberus in a battle. This is the one of the monsters that I got at the beginning of this game. The first day I opened some packs I bought, Cerberus was among the monsters. Until certain time, I bought Cerberus and leveled it up to level 4. I don't waste my Opportunity to select this monster especially when small Mana cap is given to me. The monster is good for battle with small Mana because it is only cost 4 Mana cap.
• Cerberus is a fire monster with good attributes and abilities. It is good to start battle and also it can attack in any position when the rules support melee Monsters to attack In any position.
The speed of this monster always makes me to used this monster in some cases. One of the unique ability that attracted me most is the healing ability. Healing each round is a good opportunity to stay longer in the battle. This ability is in all levels.
Another ability of this monster that I never knew that it has retaliating ability. I never knew that Cerberus has it until I searched it today. This retaliating ability can only activated at level 5.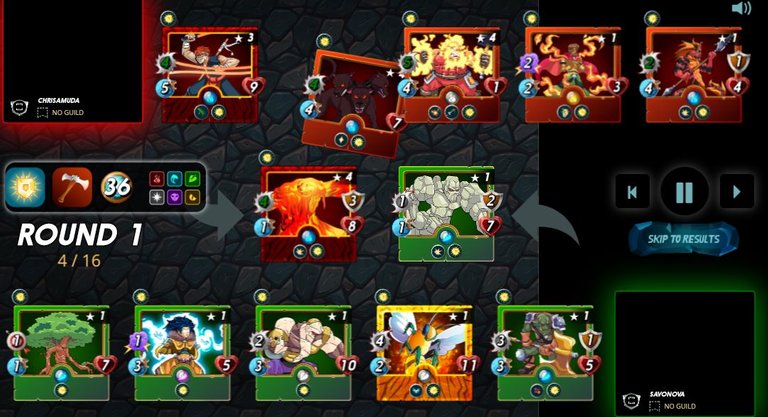 Click here to watch the battle
BATTLE RULES


• Holy Protection: All Monsters have divine shield ability


• Melee Mayhem: Melee attack monsters can attack from any position
LINE UP



• Living Lava: this monster is suitable in this position despite the fact that is very slow. Because of the lower speed, living Lava was the monster that attacked last in the battle. The shield ability is the major reason for being in the first position. The way it reduces melee and range attack but nothing the shield ability can do against magic monsters.


• Fineas Rage: the reach ability is the reason and 4 melee attack. I love this monster because it doesn't fuck up. Fineas Rage is the first monster that attacked. It attacks Stone Golem and removed the holy Protection upon Stone Golem. This monster is very effective in the second position but with this rule, it can be placed in any position. I also placed it in second position because of its health.


• Cerberus: The best position for this monster is the first position. But melee Mayhem rule made me to placed it here. Cerberus was in the third position because of the rule that supported such lineup. There is no better position than the first position for Cerberus, the speed, Health and healing ability are vital tools that makes it to be useful in the first position.


• Exploding Dwarf: If You know how to fight this battle, you won't neglect Exploding Dwarf. It is very vital in this type of battle because of it exploding ability. An attack from exploding dwarf damages 5 health from queen Nectar and 3 health from flesh golem.


• Zalran Efreet: I needed just one magic attack in this this lineup because of monsters that has dodge and flying ability. I have an encountered with such monsters where I used melee and range monsters. I was defeated at the end of the battle because all my monsters were missing the target. Therefore, I decided to bring one magic monster to prevent me from such thing happen again. I lost the battle and I lost huge points which took me back.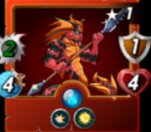 • Serpentine Solder: I prevent myself from sneaky monsters that was the reason I placed monsters with shield ability at the first position and last position. I thought there would be sneaky monster that would start sneak from behind.
My strategy works because I defeated the person I was paired with. It was only living lava that was eliminated from my lineup.
One of my favorite monsters is Cerberus, I will continue using it and never stop. The healing ability is very incredible and awesome.
I called Cerberus immortal because its stay longer in the battle because of the healing ability. I have used it in many battle Which I discovered that it says longer. Is one of my best monsters I like to use always.