¿Es posible sentir amor a la primera canción? Que la unión de ambas voces realizando melodías y armonías hagan vibrar los corazones de quienes los escuchan, como si se complementaran a la perfección.
Is it possible to feel love at the first song? May the union of both voices making melodies and harmonies make the hearts of those who listen to them vibrate, as if they complemented each other perfectly.
Ocurre cuando te das cuenta de que ambas voces, por separado, no tienen el mismo efecto que el que causan cuando se unen. Eso, para mi, es amor a la primera canción.
It happens when you realize that the two voices, separately, do not have the same effect as when they are joined. That, to me, is love of the first song.
¿Lo han vivido? Si han cantado en dúo, es posible que sí. Y es algo que no te ocurre con casi nadie, pero de lo que te das cuenta de inmediato cuando ocurre.
Have you lived it? If they sang a duet, they might have. And it's something that doesn't happen to you with almost anyone, but what you realize immediately when it happens.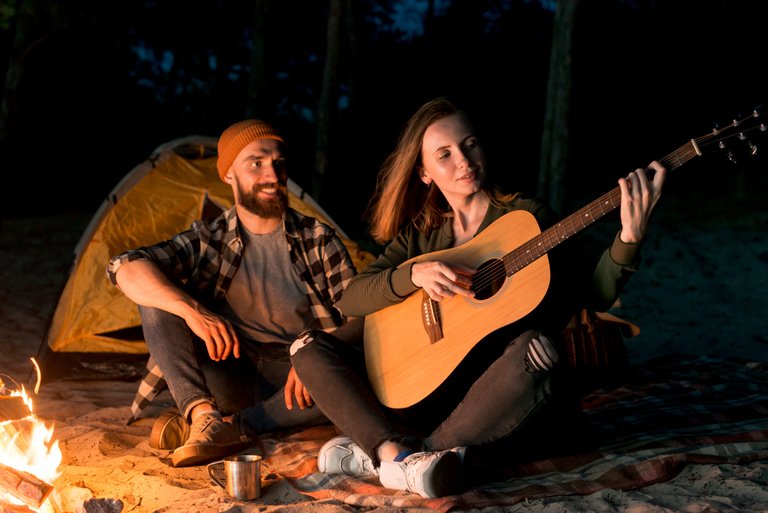 Imagen de freepik en Freepik
Y pensarán que estoy hablando de un romance dado por medio de la música, pero no, seré clara: no hablo de un amor pasional. Hablo de una acción-reacción que tanto quien los oye, como nosotros mismos, sentimos al escuchar esa unión.
And you will think that I am talking about a romance given through music, but no, I will be clear: I am not talking about a passionate love. I'm talking about an action-reaction that both those who hear them and we ourselves feel when we hear that union.
Un amor diferente, creado para emocionar a otros, para comunicar un mensaje mucho más profundo, incluso para motivar momentos de reflexión.
A different love, created to move others, to communicate a much deeper message, even to cause moments of reflection.
Uno que cuando te ocurre, no quieres dejar de lado para cantar con otr@, porque la pertenencia que sientes hacia la primera te hará necesitarla, sentir que nada es igual sin ella y que es imposible dejarla de lado... es una difícil de olvidar.
One that when it happens to you, you don't want to put aside to sing with others, because the belonging that you feel towards the first one will make you need it, feel that nothing is the same without it and that it is impossible to put it aside... it is a difficult to forget.
Y tú... ¿Has sentido amor a la primera canción?
And you... Did you feel love at the first song?
---
¡Gracias al #Reto12Votos de @club12 por incentivarnos semana a semana a escribir sobre temas que van más allá de nuestra zona de confort... ¡Vamos por más!
Curación de esta semana