Mini tour por Buenos Aires/Mini tour of Buenos Aires.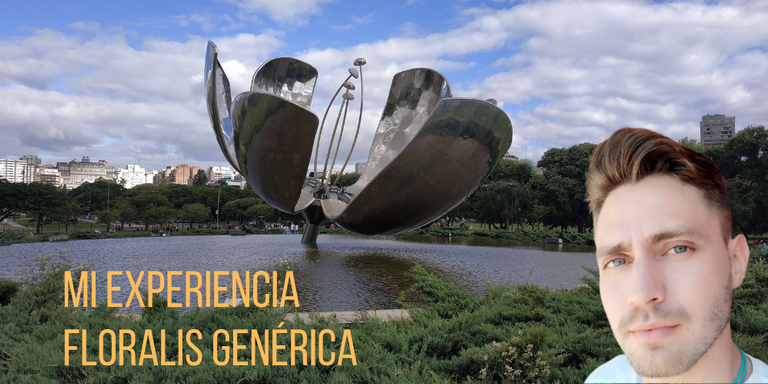 imagen echa en canva fotos de mi celular.
image made in canva photos from my mobile phone.
muy buenas a todos en Hive y la comunidad de Gems hoy vengo a hablarles un poco de mis lugares favoritos en buenos aires llevo casi 3 años viviendo en argentina inicialmente en capital o mejor conocida como ciudad autónoma de buenos aires o por sus siglas C.A.B.A a mi parecer en tamaño C.A.B.A es 6 veces más grande que caracas capital de mi país de origen Venezuela y 3 veces más grande que Bogotá la primera capital en el extranjero en la que estuve.
good morning everyone at Hive and the Gems community, today I'm here to tell you a little bit about my favourite places in buenos aires I've been living in Argentina for almost 3 years now, initially in the capital or better known as the autonomous city of buenos aires or C.A.B.A. I think in size C.A.B.A. is 6 times bigger than caracas, capital of my home country Venezuela and 3 times bigger than Bogotá the first foreign capital I've ever been to.

para mi buenos aires es muy parecida en cuanto a arquitectura se refiere a las ciudades europeas que tanto he visto en fotos y videos mi tío bertram me dice que Madrid es la hermana mayor de C.A.B.A porque sus parecido son demasiado similares al menos a su perspectiva.
for me buenos aires is very similar in terms of architecture to the european cities that I have seen so much in photos and videos. my uncle bertram tells me that Madrid is the big sister of C.A.B.A. because their resemblance is too similar at least from his perspective.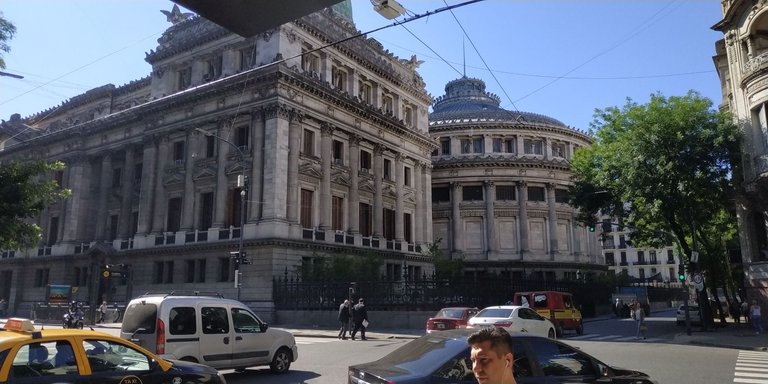 foto del Congreso de la Nación Argentina tomada desde mi celular.
photo of the Congress of the Argentine Nation taken from my mobile phone.
en cuanto a mi desde que llegué no he podido dejar de sorprenderme de lo amplio y sobre todo la la cantidad de paisajes que puedo llegar a ver en esta ciudad y aunque actualmente vivo en la localidad de moreno un pueblo ubicado en la provincia de valga la redundancia es buenos aires (hahaha quien fue primero la provincia o la ciudad?) no puedo separarme de C.A.B.A y hoy les presento uno de mis lugares favoritos.
As for me, since I arrived here, I have been amazed by the vastness and above all the amount of landscapes that I can see in this city and although I currently live in the town of moreno, a town located in the province of buenos aires (hahaha who was first the province or the city?) I can not separate myself from C.A.B.A. and today I present one of my favourite places.

La Floralis Genérica.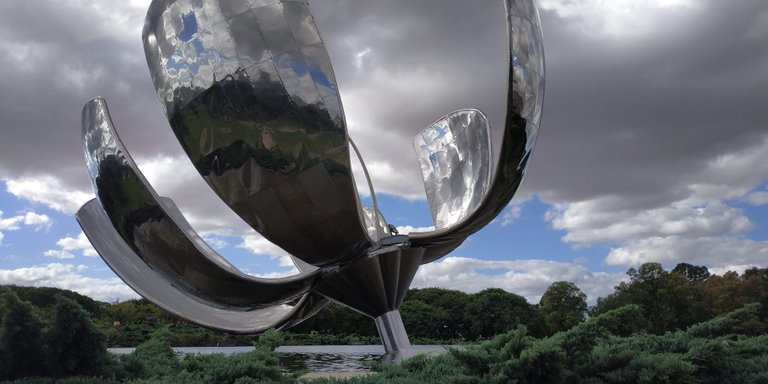 foto de la La Floralis Genérica tomada de mi celular.
photo of the La Floralis Genérica taken from my mobile phone.
ubicada en la plaza de las naciones unidas es un monumento arquitectónico construido de acero inoxidable con 23 metros de altura casi al centro del parque cuya única entrada es desde la Avenida Presidente Figueroa Alcorta.
located in the Plaza de las Naciones Unidas is an architectural monument built of stainless steel, 23 metres high, almost in the centre of the park, whose only entrance is from Avenida Presidente Figueroa Alcorta.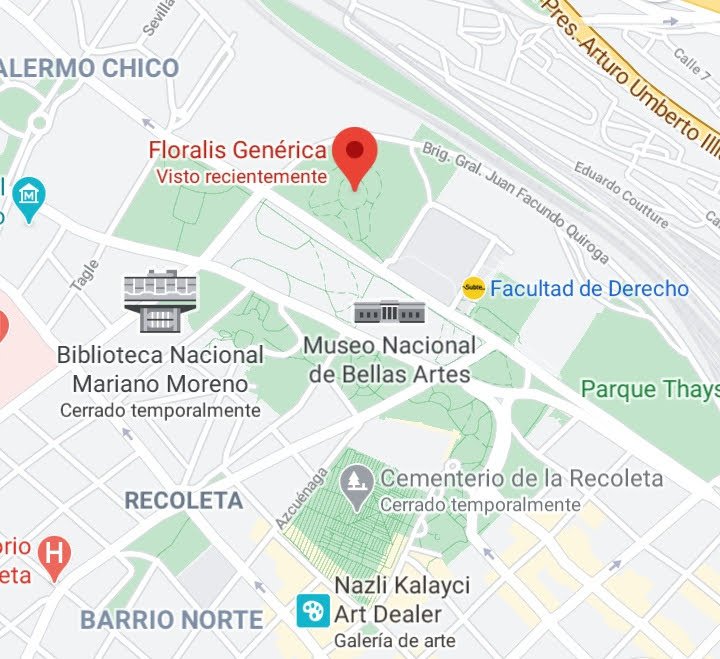 https://maps.app.goo.gl/NfcKKiRWsJkCB3bt7
como podran ver en las fotos la flor está rodeada de caminos los cuales le dan diferentes perspectivas de la misma, el monumento en sí es rodeado de una pequeña fuente artificial (al menos así lo veo yo hahaha) con faros ubicados alrededor de la misma y rodeada de arbustos decorativos un sitio realmente único en una ciudad que pese a que es realmente grande en su mayoría es un bosque de concreto acero y vidrio hermoso sí pero y a mi parecer son estos parques, áreas, verde y monumentos con amplio espacio visual son los que le da un maravilloso contraste entre sus calles y edificios sin igual.
as you can see in the pictures the flower is surrounded by paths which give different perspectives of it, the monument itself is surrounded by a small artificial fountain (at least that's how I see it hahaha) with lighthouses placed around it and surrounded by decorative bushes a really unique place in a city that although it is really big is mostly a forest of concrete steel and glass beautiful yes but in my opinion it is these parks, green areas and monuments with ample visual space that give it a wonderful contrast between its streets and buildings like no other.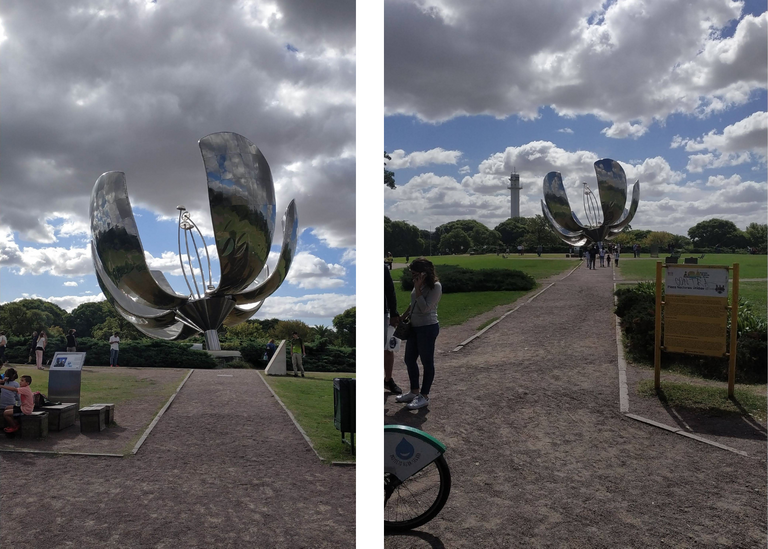 fotos de diferentes perspectivas y distancias de la obra tomadas de mi celular.
photos of different perspectives and distances of the work taken from my mobile phone.
la flor en sí se muestra con los pétalos mirando hacia el cielo y en ellos está la cualidad de moverse en función al transcurso del día es decir abre en la mañana cierra en la noche pero más aún la misma dependiendo de los vientos los cuales son bastante fuertes en esta ciudad pueden cerrarse imitando así las mismas características que tendría una flor de verdad una cualidad impresionante que me hace aplaudir de pie al arquitecto argentino Eduardo Catalano a quien le debemos esta maravillosa obra que emula a la vida y la naturaleza de las flores.
The flower itself is shown with the petals facing the sky and in them is the quality of moving according to the course of the day that is to say it opens in the morning closes at night but even more depending on the winds which are quite strong in this city can close thus imitating the same characteristics that a real flower would have, an impressive quality that makes me applaud the Argentinean architect Eduardo Catalano to whom we owe this wonderful work that emulates the life and nature of the flowers.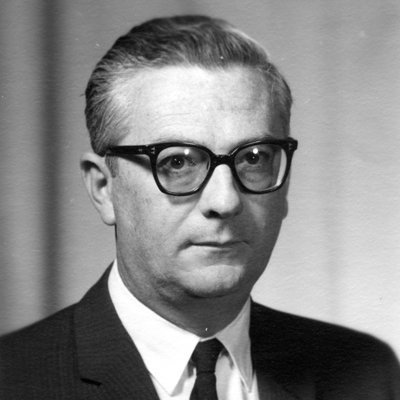 http://patrimonio.com.ar/monumentos/authors/sheet/eduardo-catalano/73

este espacio realmente me agrada la gente suele venir al parque a pasear con sus perros y pasar la tarde entre amigos bebiendo mate que es como el café para los venezolanos (otro día les cuento que es) y cosas aún más locas como en verano que toma sol como si estuvieran en la playa xD, realmente uno de mis lugares favoritos en esta ciudad , que de hecho es parte de mi banner y mis separadores ya que su forma me hace recordar a las cayenas una flor muy popular en mi país (mi difunto abuelo solía regalarle de esta a mi abuela) y que hasta acá en argentina florecen que por cierto aquí a mucha más variedad de colores de la que vi al menos cerca de mi casa en Venezuela.
I really like this space, people usually come to the park to walk with their dogs and spend the afternoon with friends drinking mate which is like coffee for Venezuelans (another day I'll tell you what it is) and even crazier things like in summer sunbathing as if they were at the beach xD, really one of my favourite places in this city , In fact it is part of my banner and my dividers because its shape reminds me of the cayenne, a very popular flower in my country (my late grandfather used to give this flower to my grandmother) and even here in Argentina they bloom in much more variety of colours than I saw at least near my house in Venezuela.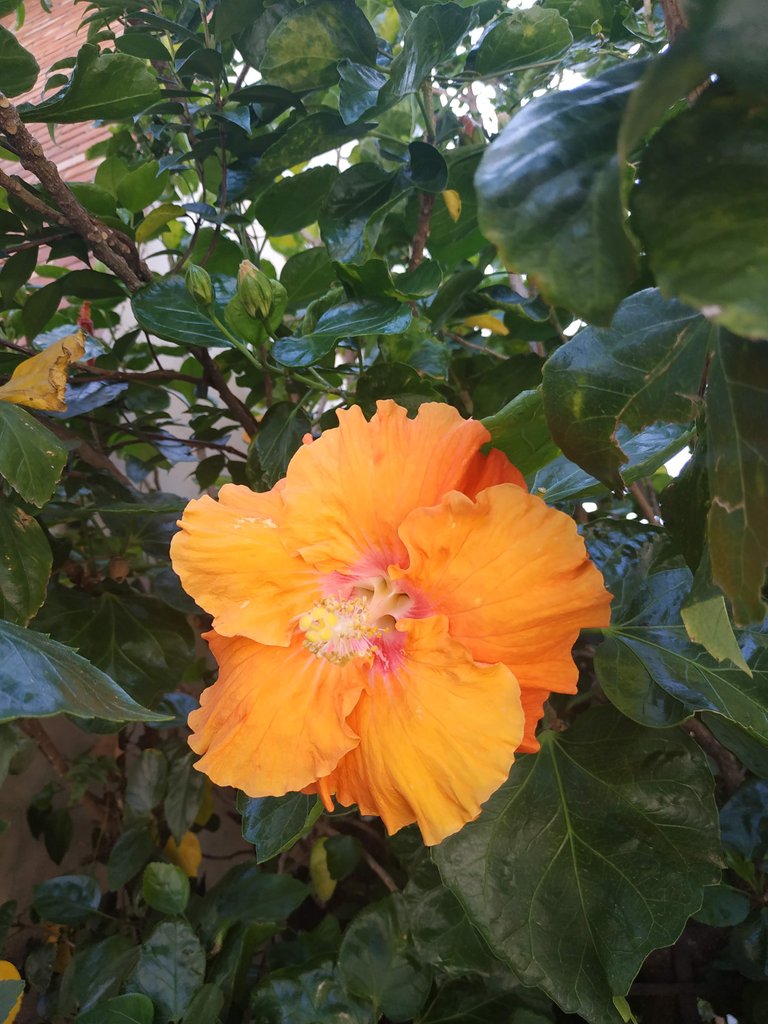 foto de especímen de cayena (al menos hasta donde yo veo se parecen XD) tomada desde mi celular.
photo of cayenne specimen (at least as far as I can see they look alike XD) taken from my mobile phone.
muchas gracias por leer nos vemos en un próximo post.
thank you very much for reading see you in a future post.