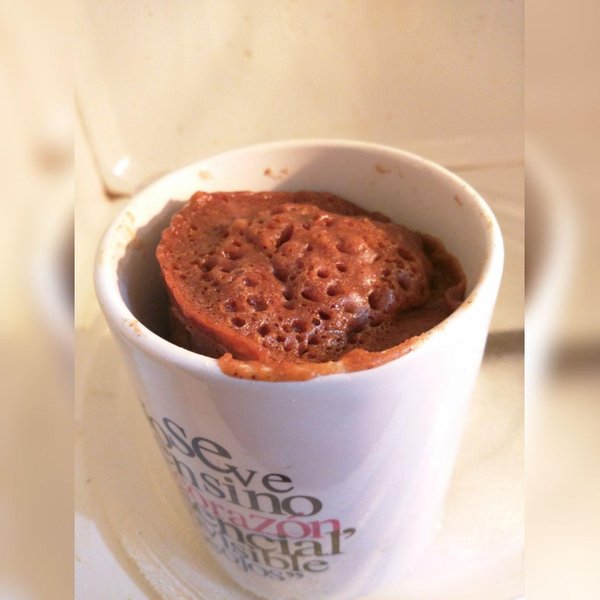 Merendar a media tarde con un dulcito acompañado de un rico café es una costumbre en mi casa y casi siempre tenemos algo para disfrutar, pero la radicalización de la cuarentena nos sorprendió y no pudimos salir a hacer las compras que incluyen las galletas y los dulces que nos gustan.
Mi baja de azúcar no era normal, deseaba un pedazo de torta de chocolate. Entonces, recordé que tenía una receta para hacer un Mugcake fácil y rápido y que, además, se hace en dos minutos en el microondas.
Having a mid-afternoon snack with a sweet with a nice coffee is a custom in my house and we almost always have something to enjoy, but the radicalization of the quarantine surprised us and we could not go out to do the shopping that includes the cookies and sweets that we like.
My low blood sugar was not normal, I wanted a piece of chocolate cake. Then, I remembered that I had a recipe for making a quick and easy Mugcake, which is also made in two minutes in the microwave.
Es la primera vez que lo hago y me encantó. Quedó perfecto de sabor y con una textura esponjosa.
Amigos lectores, si tienen los ingredientes y un microondas, no duden en preparar esta delicia, no se arrepentirán y quedarán satisfechos con esta merienda hecha en casa.
Se prepara en una taza que pueda ser usada en el microondas, puede ser de vidrio o cerámica.
It's the first time I've done it and I loved it. It was perfect in terms of flavor and fluffy texture.
Dear readers, if you have the ingredients and a microwave, do not hesitate to prepare this delicacy, you will not regret it and you will be satisfied with this homemade snack.
It is prepared in a cup that can be used in the microwave, it can be made of glass or ceramic.

Ingredientes
3 cucharadas de harina leudante
1 Cucharada de cacao en polvo
3 Cucharadas de azúcar
1 Cucharada de aceite
1 Cucharada de vainilla
1 Cucharada de leche
1 Huevo.
Ingredients
3 tablespoons of leavening flour
1 Tablespoon of cocoa powder
3 Spoonfuls of sugar
1 Tablespoon of oil
1 Tbsp vanilla
1 Spoonful of milk
1 Egg.

Preparación
En la taza se agregan primero los ingredientes secos, es decir, la harina leudante, el cacao en polvo y el azúcar. Se mezclan bien y luego se agrega el aceite, la vainilla, la cucharada de leche líquida y el huevo (previamente batido)se revuelve todo hasta que la mezcla quede homogénea.
En las fotos pueden observar paso a paso la preparación.
Cuando la mezcla esté lista, llevan la taza al microondas, la colocan al borde del plato, no en el medio y ponen dos minutos de cocción.
Preparation
In the cup, first add the dry ingredients, i.e. the flour, cocoa powder and sugar. Mix well and then add the oil, vanilla, spoonful of liquid milk and the egg (previously beaten) and stir until the mixture is homogeneous.
In the pictures you can see the preparation step by step.
When the mixture is ready, take the cup to the microwave, place it on the edge of the plate, not in the middle and put two minutes of cooking time.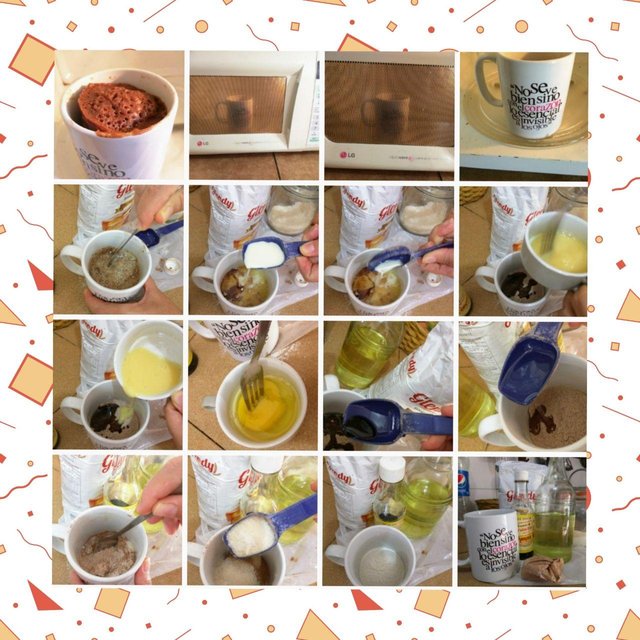 Pasados los dos minutos, ya nuestra torta está lista para degustar. Deben sacarla del microondas con mucho cuidado porque la taza está caliente y ¡listo!
Yo me la comí directo de la taza, calientita y deliciosa.
After two minutes, our cake is ready to be tasted. You must take it out of the microwave very carefully because the cup is hot and ready!
I ate it right out of the cup, hot and delicious.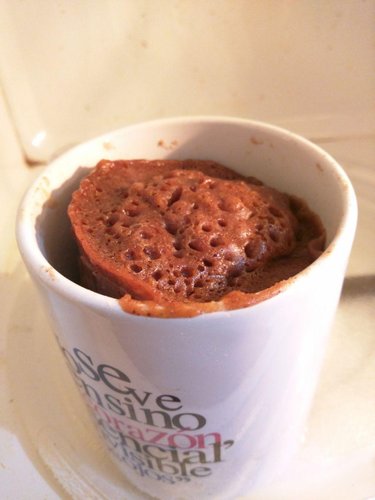 ¡Se las recomiendo!
I recommend them!

Las fotos fueron tomadas con mi celular Motorola Nexus 6, Editadas en InFrame. Los separadores y el banner son mis diseños en Powerpoint y Canva.
The images were taken with my Motorola Nexus 6 cell phone, edited in InFrame. The separators and the banner are my Powerpoint and Canva designs.