I made this panorama while walking along the beach of the Gulf of Finland at sunset in late March. I have already published photos from this evening photo walk. At the end of the walk, the sun had almost set over the horizon. The sky was getting dark. I wandered through the icy shards on the shore and looked for interesting angles. But I constantly lacked the capabilities of my lens to fit everything I wanted into the frame. After all, this landscape was so beautiful. And then I decided to make a panorama. I took 16 portrait oriented shots.
The panorama is compiled and processed in Adobe Lightroom and additionally processed in Adobe Photoshop.
---
---
You may be interested to learn about the new social network built on the fork of EOS. At the moment, in order to attract authors in this network, a challenge is taking place in which you can get a donation in local tokens for winning.
This is my invite link https://commun.com/@boddhisattva?invite=cmn1ajcyorif
See you there!
---
---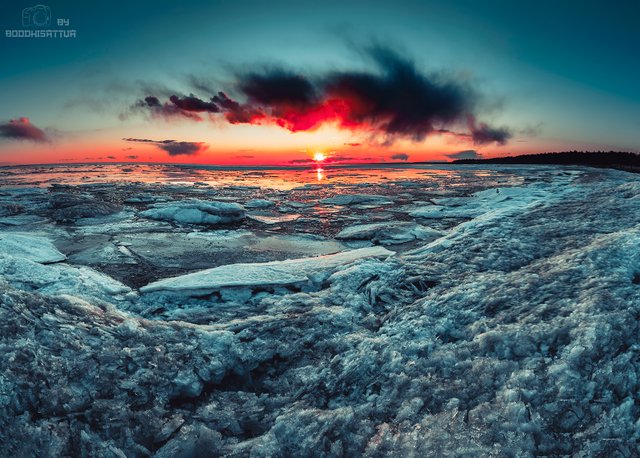 ---
---
Nikon D5000 + Sigma AF 17-50
---
I strongly recommend to open the photo in a separate tab to appreciate it.
---