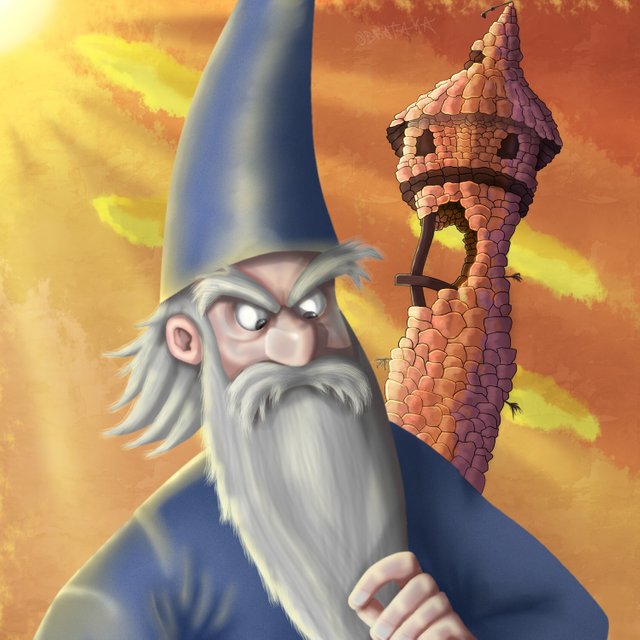 What's up fellas, how are you? welcome to a new post, yesterday I didn't upload any post because I was working on this one, well the idea of Merlin came to me, because I was watching some TV and I saw that they were giving the sword in the stone, an animated film that I watched many times when I was a child, so I decided to make some drawings using this film as a reference, in fact this will not be the first, because I plan to make another of this same film in the coming weeks.
Que pasa compañeros, como están? sean bienvenidos a un nuevo post, ayer no subí ningún post porque estaba trabajando en este, bueno la idea de a Merlin me vino, porque estaba mirando algo de tele y vi que estaban dando la espada en la piedra, una película animada que mire muchas veces cuando era niño, así que decidí hacer unos dibujos utilizando esta película como referencia, de hecho este no sera el primero, pues tengo pensado hacer otro de esta misma película en las próximas semanas.
The image I used as reference is this one.
La imágenes que use como referencia es esta.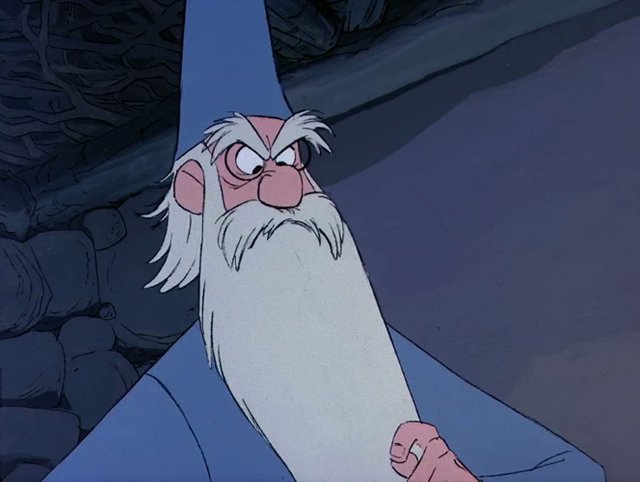 Sorce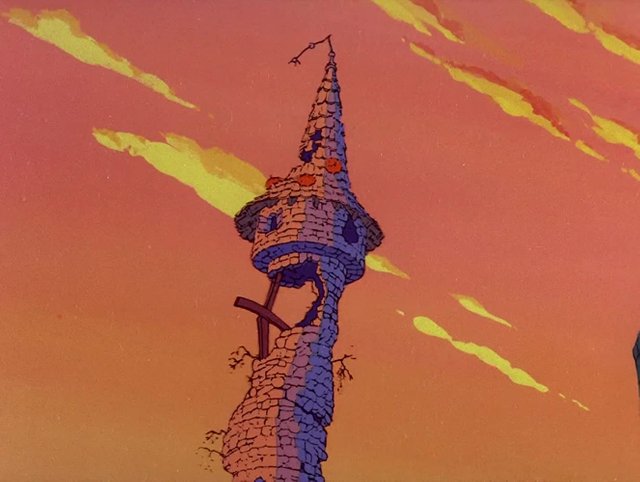 Source
Sketch / Boceto
I loved the sketch, it's one of the best I've done, maybe because I had half an hour trying to make it as close as possible, while looking for the reference photo for Merlin I found a scene of the tower where Merlin and Grillo live and I loved it, since I saw it I knew it would be the background of my drawing, the image of Merlin if I took some time to find it because I wanted a scene where his face was as close as possible, to place the details in my drawing, once I had the two reference images, I started making the sketch.
El boceto me encanto, es uno de los mejores que he hecho, tal vez porque tuve media hora tratando de hacerlo lo mas parecido posible, mientras buscaba la foto de referencia para Merlin encontré una escena de la torre donde viva Merlin y Grillo y me encanto, desde que la vi supe que seria el fondo de mi dibujo, la imagen de Merlin si me tomo un tiempo en encontrarla porque quería una escena donde su cara estuviera lo mas cerca posible, para colocar los detalles en mi dibujo, una vez tenia las dos imágenes de referencia, comencé a hacer el boceto.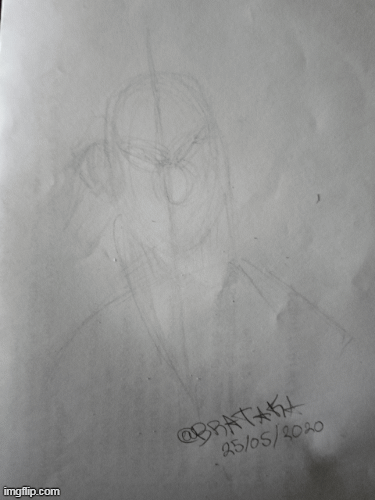 Shadows and Glitter / Sombras y brillos
I chose to place the shadows on the right side of the image because the scene in the background the shadows came from the left, the shadows in this drawing were a little complicated to place, at least the details of the eyes and nose, because they were somewhat exaggerated, the most complicated thing was to paint the nose, it was very big and square, but it looked pretty good with the shadows I placed, also the shadows of the mustache, hair and beard were somewhat complicated.
Las sombras las elegí colocar al lado derecho de la imagen porque la escena del fondo los brillos venían desde la izquierda, las sombras en este dibujo si estuvieron algo complicadas de colocar, al menos los detalles de los ojos y de la nariz, porque eran algo exageras, lo mas complicado fue pintar la nariz, era muy grande y cuadrada, pero quedo bastante bien con los brillos y sombras que le coloque, también las sombras del bigote, del pelo y de la barba estaban algo complicadas.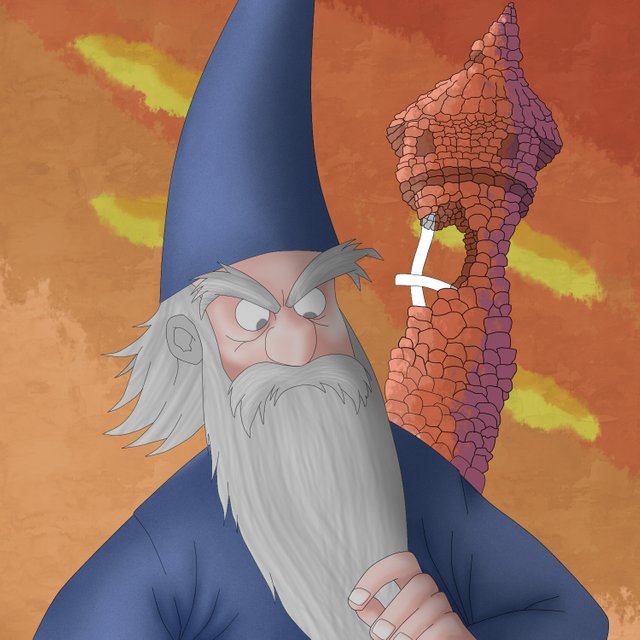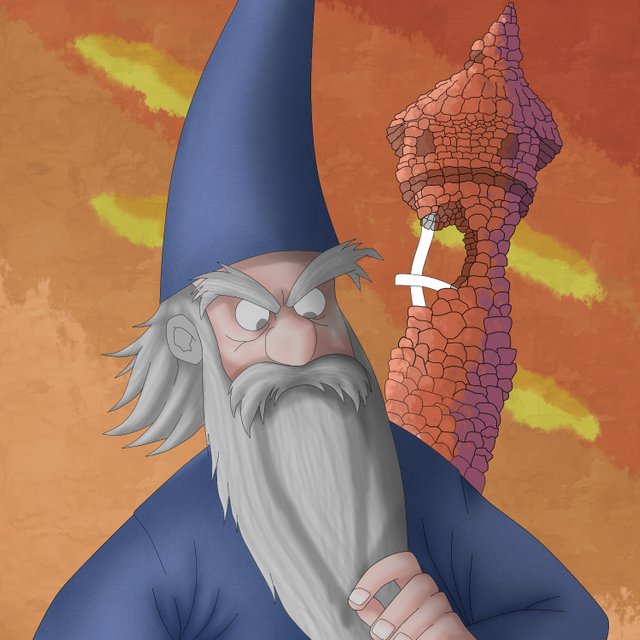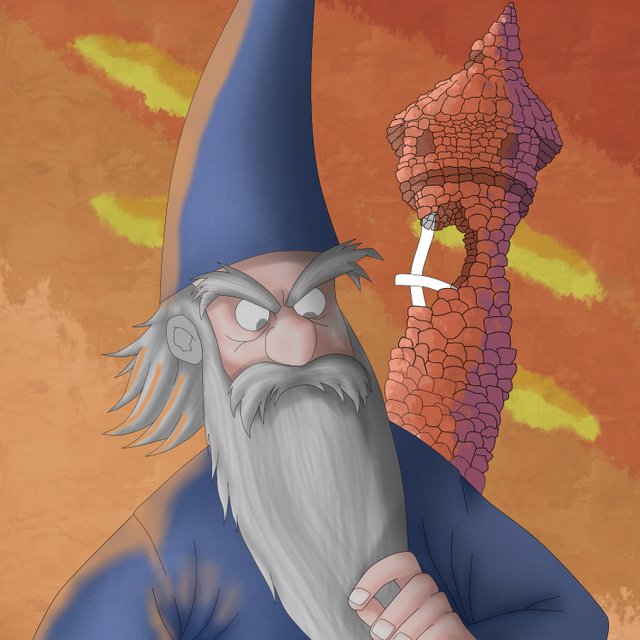 As for the lighting it was also a little complicated, mostly because of the beard, if any of you have drawn with a mouse you will know how difficult it is to make a semi realistic hair, however I loved the result, I was about 10 minutes choosing the shade of brightness for the whole drawing, I had to change the mode of the coat several times, as well as the opacity, obviously I took a quite warm color to match perfectly with the background.
En cuanto a la iluminación también estuvo algo complicado, mas que todo por la barba, si alguno de ustedes ha dibujado con mouse sabrá lo difícil que es hacer un pelo semi realista, sin embargo me encanto el resultado, estuve unos 10 minutos eligiendo la tonalidad de brillo para todo el dibujo, tuve que cambiar la modalidad de la capa en varias ocasiones, igual que la opacidad, obviamente tome un color bastante cálido para que combinara perfectamente con el fondo.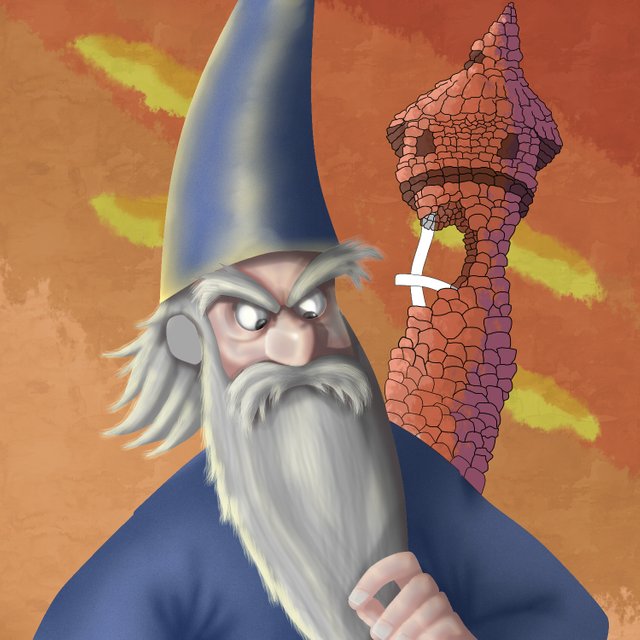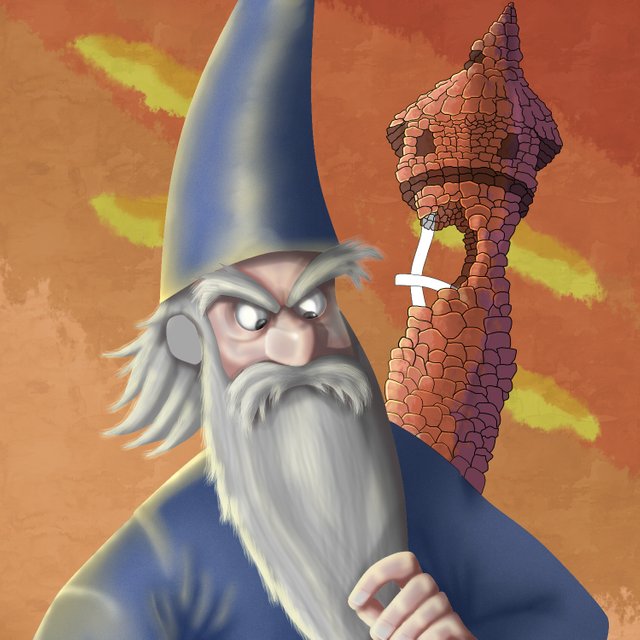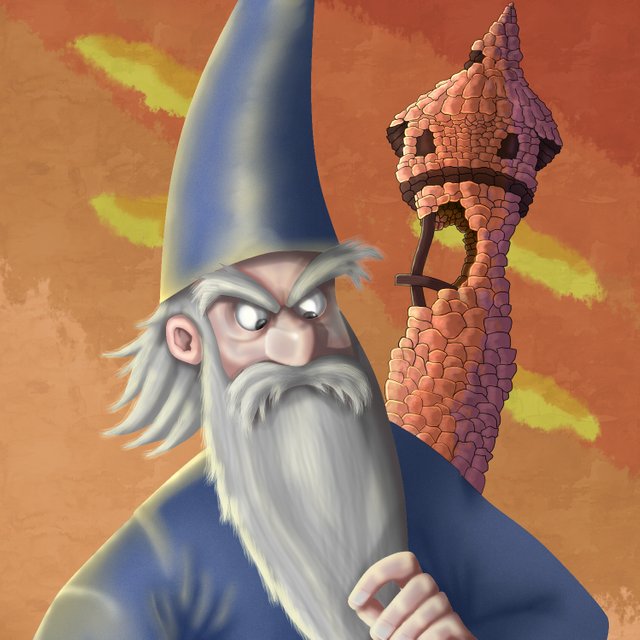 Tower / Torre
The tower at the bottom was quite complicated to make, because it had more than 100 bricks, by the way all those bricks were made without the pen only with the pulse, then, each of the bricks at the edge and in the center, each of them needed three parts of the painted, edge with shiny, half of the block too and the third some shadow to give it depth, also add shadows to give it the appearance of a cylinder, also in the part where it is broken and you can see the inside of the tower, although it was complicated to paint the tower, I loved it quite a lot, in the end I almost forgot to put some twigs and a kind of flag that had the reference image.
La torre del fondo fue bastante complicada de hacer, porque tenia mas de 100 ladrillos, por cierto todos esos ladrillos los hice sin con el bolígrafo solo con el pulso, entonces, cada uno de los ladrillos del borde y del centro, cada uno de ellos necesitaban tres partes del pintado, borde con brillos, medio del bloque también y el tercero algo de sombra para darle profundidad, también añadirle sombras para darle el aspecto de un cilindro, también en la parte donde esta rota y se puede ver el interior de la torre, aunque estaba complicado el pintado de la torre, me encanto bastante, al final casi se me olvida colocar algunas ramitas y una especie de bandera que tenia la imagen de referencia.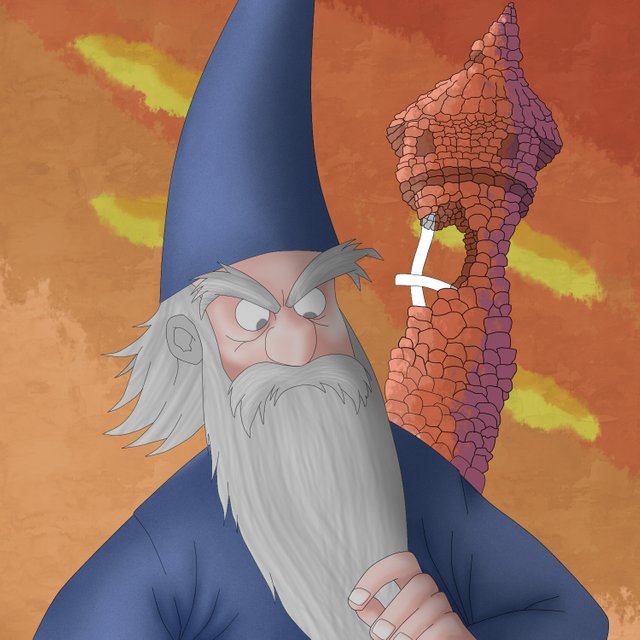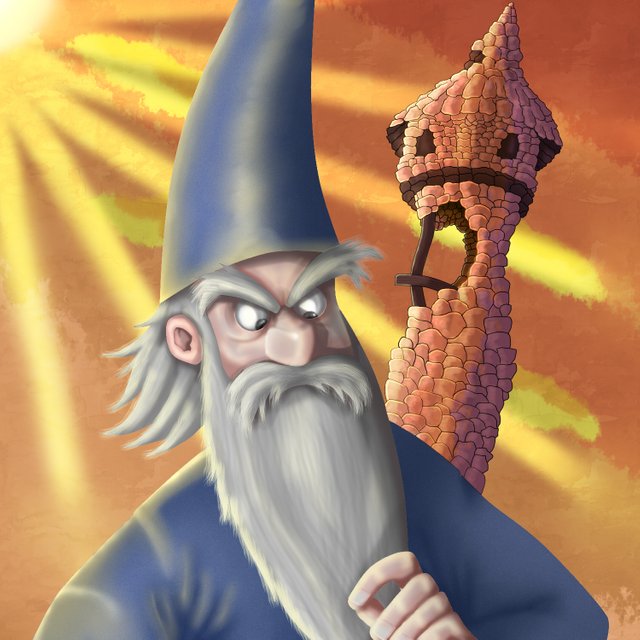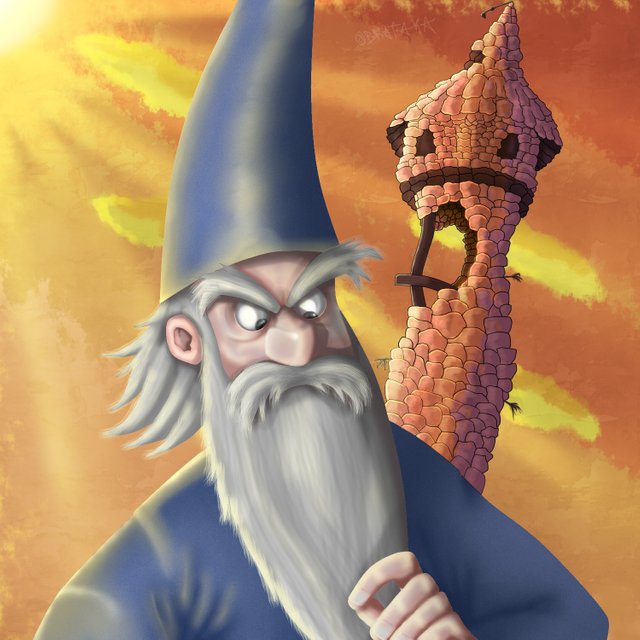 Details / Detalles
Well, once I finished the shadows and highlights, I had to place small details and fix some mistakes and white dots that were left in the drawing, I also decided to add small strokes on the edges of the eyebrows, beard and mustache, to give it a little more realistic effect, by the way at the end of everything when I remove the lineart I have to blur all the shapes of the character so that it doesn't look ugly, in the tower if I don't remove the lineart because it looked ugly without it.
Pues una vez termine las sombras y brillos, me faltaban colocar pequeños detalles y arreglar algunos errores y puntos blancos que quedaban en el dibujo, también decidí añadir pequeños trazos en los bordes de las cejas, barba y bigote, para darle un efecto un poquito mas realista, por cierto al final de todo cuando quito el linear tengo que difuminar todas las formas del personaje para que no se vea feo, en la torre si no quite el lineart porque se veía feo sin el.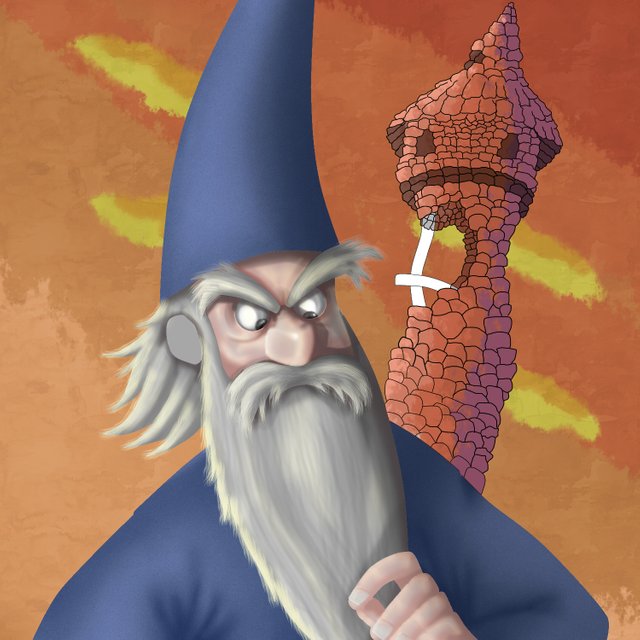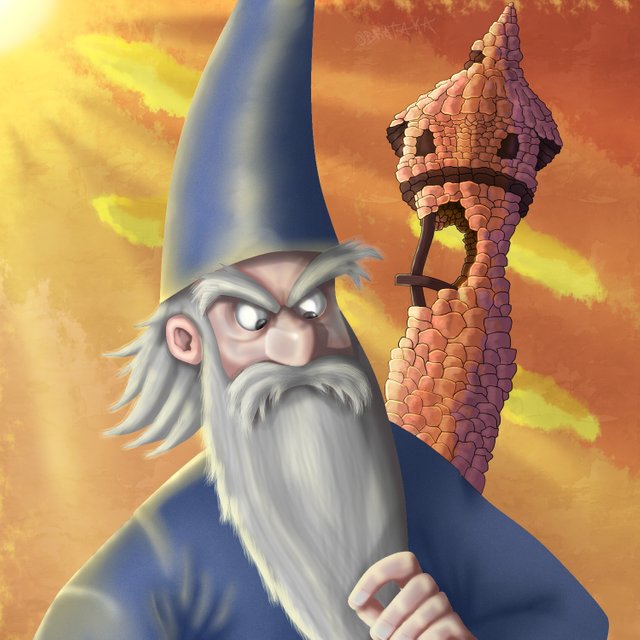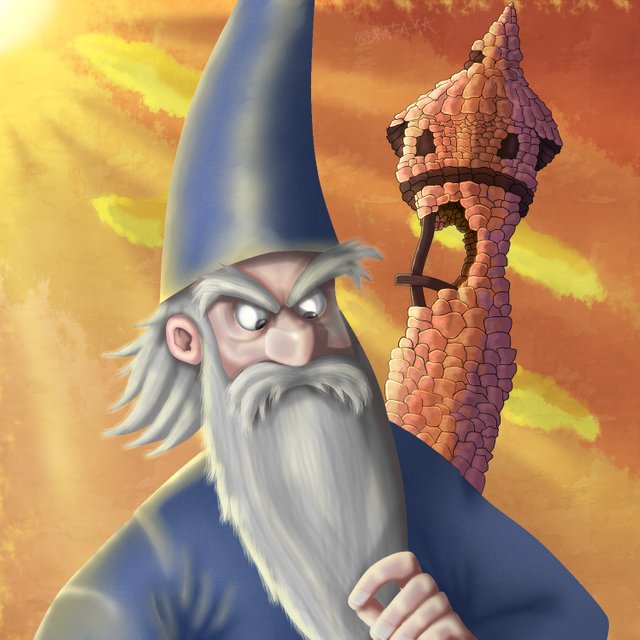 Final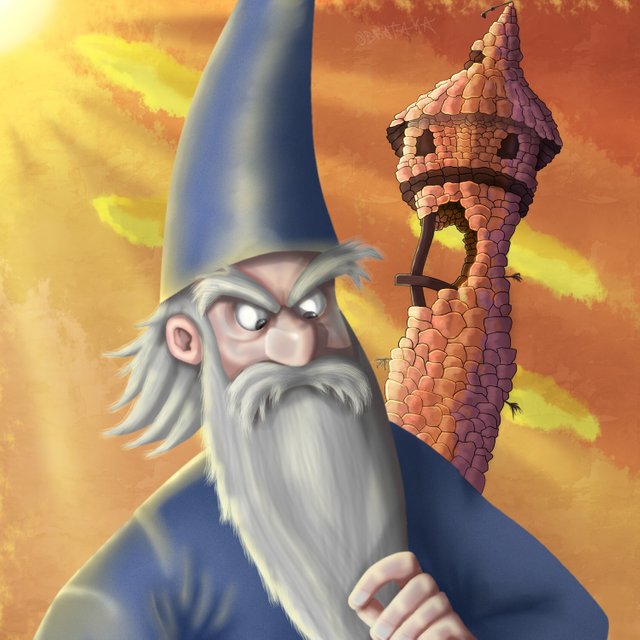 I hope you liked this new work, I think it's the best I've ever done, kind regards @brataka
Espero que les haya gustado este nuevo trabajo, creo que es el mejor que he hecho, atentamente @brataka