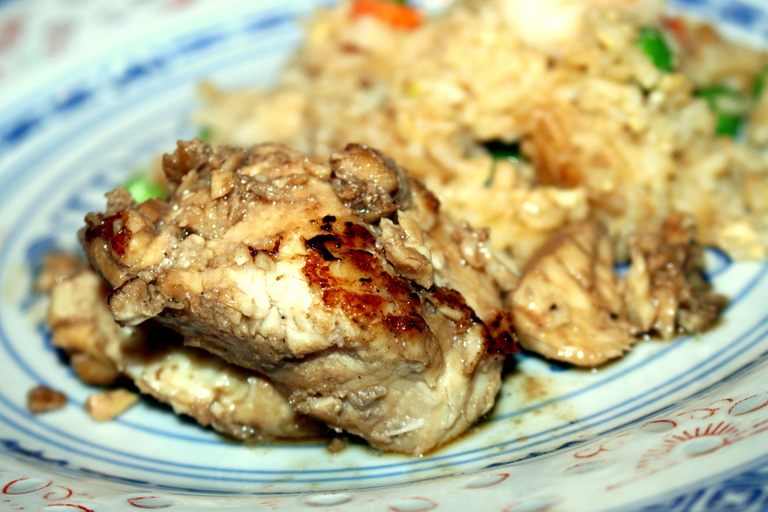 English: I just love the taste of this dish! It's slightly sour, very tasty and so very quickly done!
Chicken Adobo is THE traditional dish from the beautiful islands of the Philippines. Everyone who has traveled there must have tried this dish. If it's cooked with fish it's as good as with chicken, but much lighter, with a slight sour kick. Maybe I can convince you to try this recipe!
For 4 Persons:
600 g Fish, like Monk-fish, Milk-fish, Salmon, Tuna or Red Snapper, cut into cubes
Marinade:
1 tbsp minced Garlic
100 ml Cider Vinegar
50 ml Water
2 tbsp Soy sauce
1/2 tsp Salt
2 Bay Leaves
1/4 tsp black Pepper
Oil for frying
Mix the marinade and marinate the fish in it for 1 hour.
In a pot - I chose a clay pot - heat the fish with the marinade and let simmer for 5 minutes.
Remove the fish and fry it in a wide pan in little oil until browned.
Meanwhile boil the marinade to reduce slightly.
Add the fish again and simmer for 3 minutes, then serve with rice.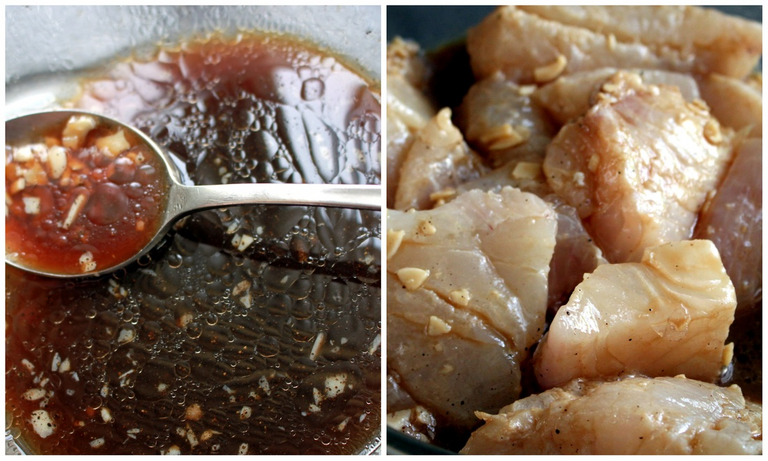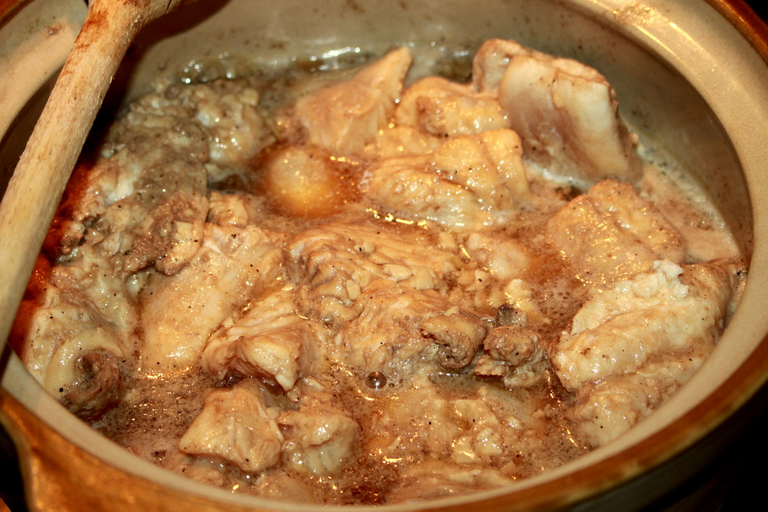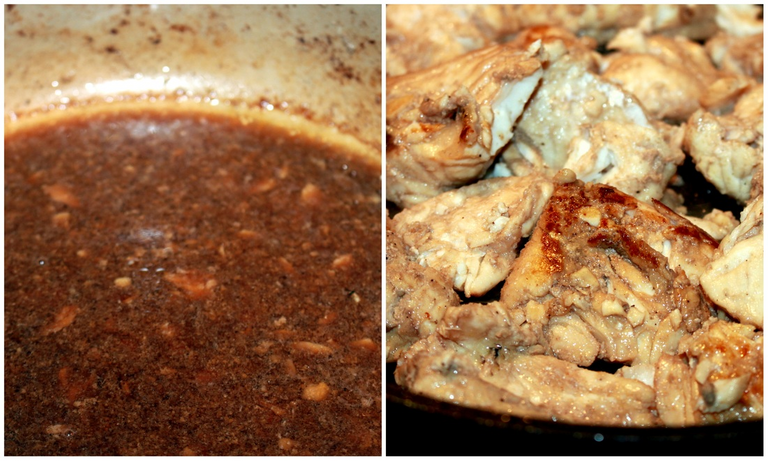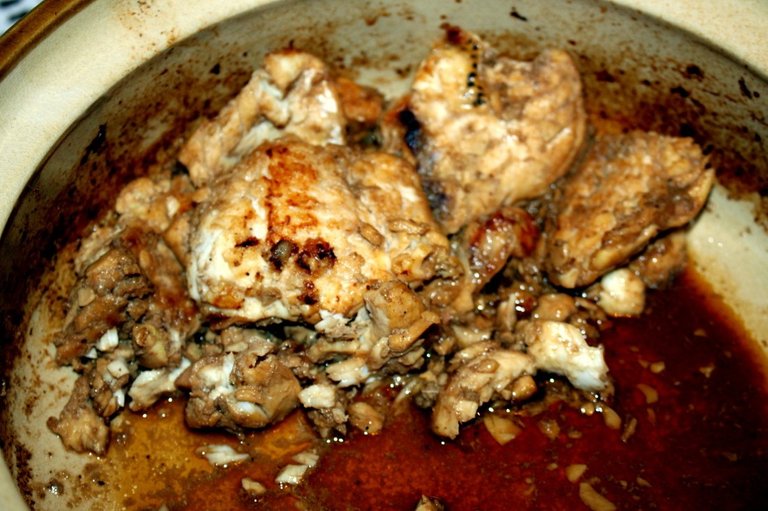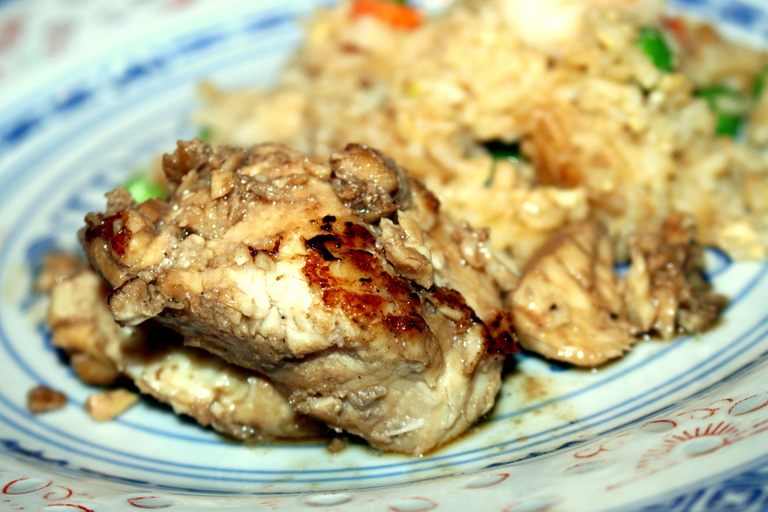 Deutsch: Ich liebe den Geschmack dieses Gerichtes! Es ist leicht saeuerlich, angenehm im Geschmack und unheimlich schnell und einfach gekocht!
Das Chicken Adobo ist DAS Gericht der Philippinen, das jeder, der schon mal in diesem wunderschoenen Land war, gegessen haben muss. Mit Fisch gekocht ist es genauso gut, hat aber einen viel leichteren, sauren Kick. Ich hoffe, ich kann euch dazu ueberzeugen, dieses Gericht zu versuchen!
Fuer 4 Personen:
600 g festkochender Fisch wie Seeteufel, Milchfisch, Lachs, Thunfisch oder
Red Snapper, in Wuerfel geschnitten
Marinade:
1 El Knoblauch, gerieben
100 ml Apfelessig
50 ml Wasser
2 El Sojasauce
1/2 Tl Salz
2 Lorbeerblaetter
1/4 Tl schwarzen Pfeffer
Oel zum Braten
Die Zutaten der Marinade zusammen mischen und die Fischwuerfel darin 1 Stunde marinieren.
In einem Topf - oder wie ich, in einem Tontopf - die Marinade mit dem Fisch aufkochen und 5 Minuten koecheln lassen.
Den Fisch abschoepfen und in einer Bratpfanne in wenig Oel braun braten.
Unterdessen die Marinade reduzieren, indem man sie kochen laesst.
Den Fisch in die Reduktion geben, nochmals 3 Minuten kochen und alles heiss mit Reis servieren.