photo by me
Yooo hello my fellow hivers and the whole community, come back with me Jodi Pamungkas, happy Wednesday to all communities, as the price of hives has decreased significantly, will it return to touch 1 $ in the near future? Give your predictions below this post. Today Ema and I are planning to have lunch at a restaurant that has dozens of bonsai flowers, I also invite Ema's niece to have a meal with Ema and me. D'Bonsai restaurant is located not too far from the city and has a different decoration, concept and design from other restaurants.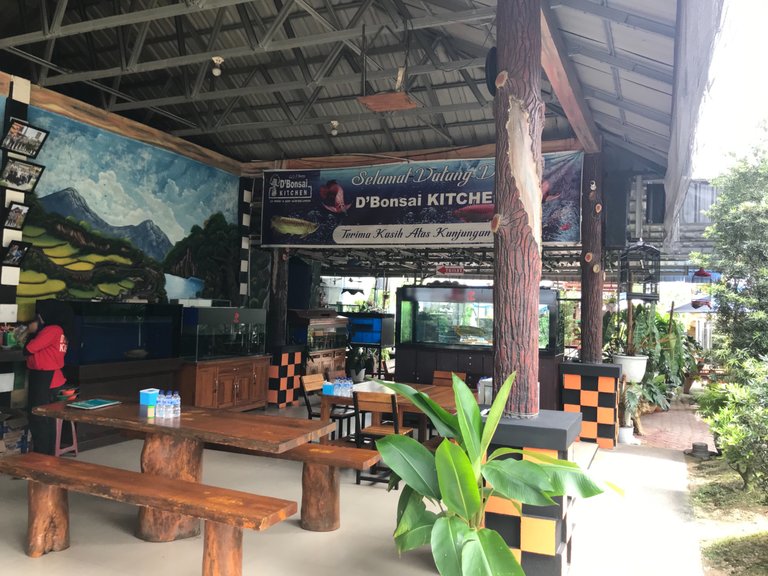 photo by me
This restaurant has an area that is enough to accommodate dozens of visitors, there are some really very nice paintings on the left wall, each pillar is decorated like wood, using wooden tables and chairs to make it more attractive. In this restaurant there are 2 arowana fish which are very nice and big.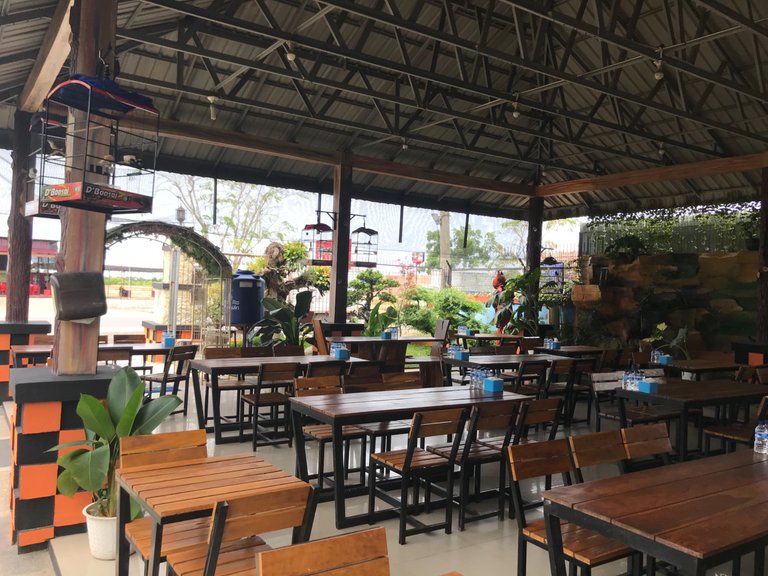 photo by me
The photo above is the inside of this restaurant, there are many times decorations of trees and living plants that decorate this restaurant, in each corner has 1 or 2 birds of different types, I really enjoy the birds singing in this restaurant, maybe the restaurant owner This is very hobbies with birds.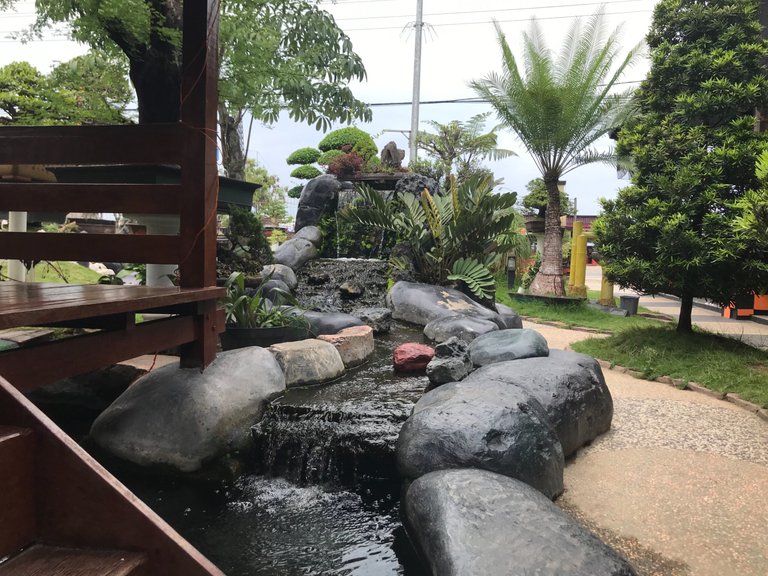 photo by me
Now I head to the garden part of this restaurant, there is a very nice artificial waterfall, it has very clear water, everything looks very well maintained, I am like in a restaurant that lives with nature and plants.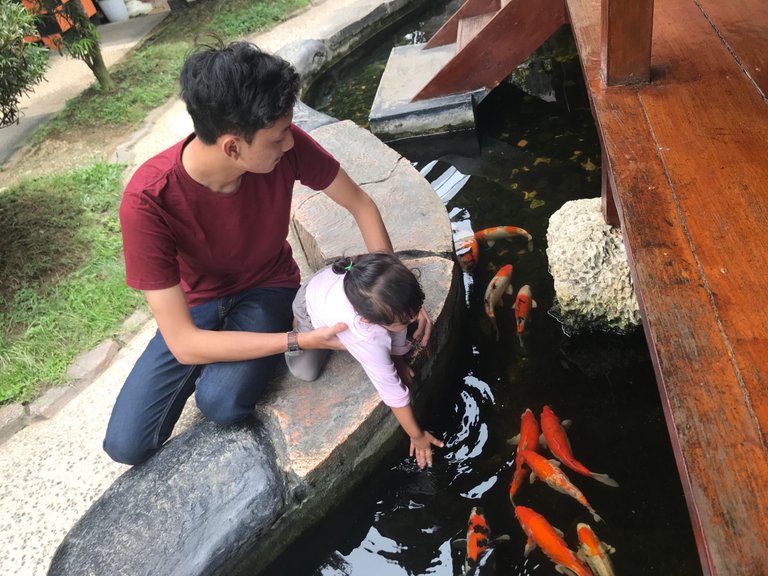 photo by me
Well, at the bottom where I eat has a Koi fish pond, about dozens of Koi fish adorn this pond, the photo above is me with Ema's niece. The name of Ema's niece is shenas and she really wants to hold the Koi fish, I have to help her to hold the Koi fish.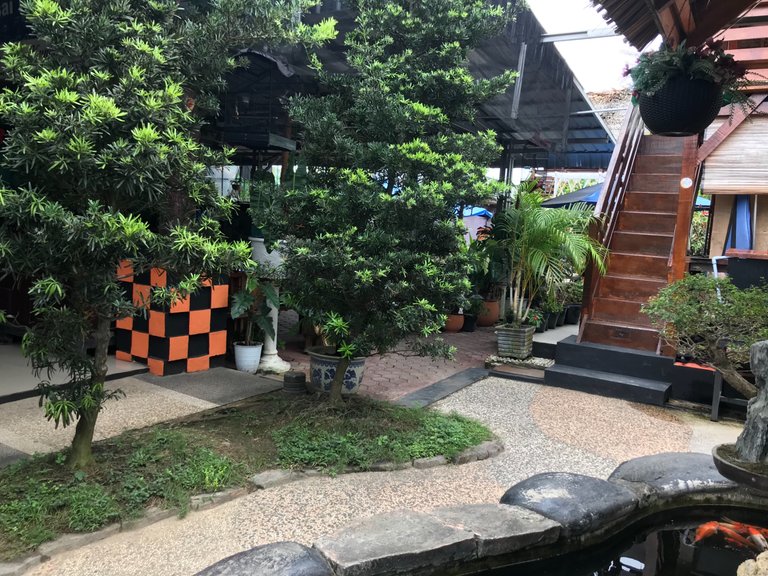 photo by me
On the right side there are stairs leading to the 2nd floor, there are not too many decorations on the 2nd floor because it is only for large families that are allowed in that place, because usually the place has been booked by families who want to have lunch together at this restaurant, so many shady trees in this restaurant. I took a place above the Koi fish pond, the waiter immediately came with a food and drink menu, I ordered seafood vermicelli and Ema ordered grilled chicken, for drinks I ordered cold tea.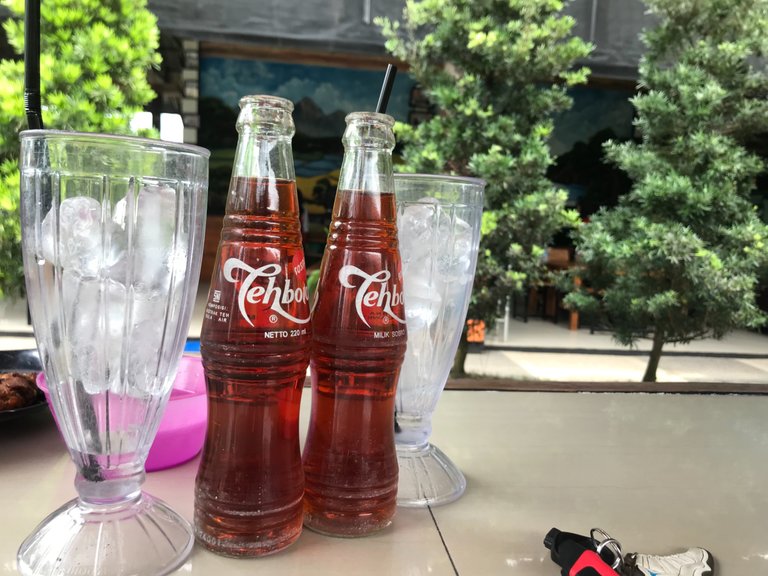 photo by me
After 5 minutes I waited, my drink and Ema had arrived, because the weather this afternoon was very hot, so I ordered cold tea to quench my thirst. Indeed, looking for culinary content in the afternoon certainly takes extra energy hahaha.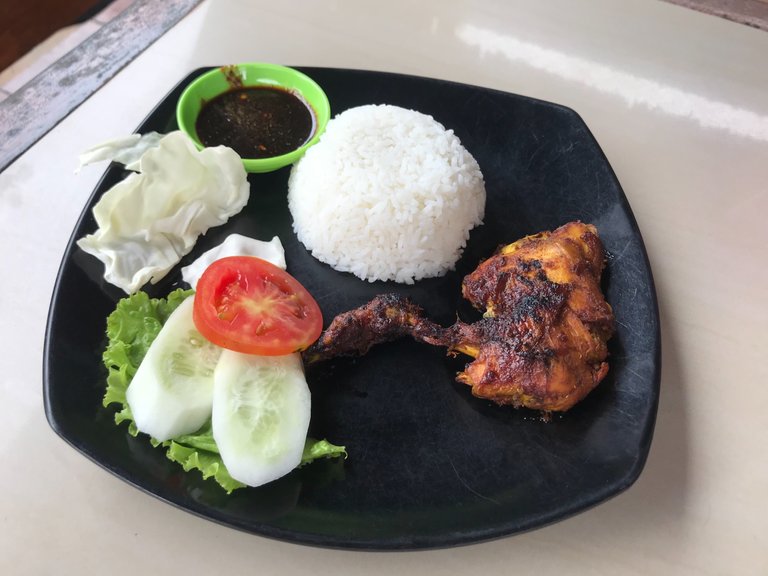 photo by me
Not long after my drink arrived, Ema's order arrived, 1 serving of grilled chicken with white rice, cucumber slices, tomatoes, lettuce, cabbage vegetables and most importantly the spicy grilled chicken seasoning. I tasted a little grilled chicken and it felt really very soft and delicious, I regret not ordering this grilled chicken hahahaha.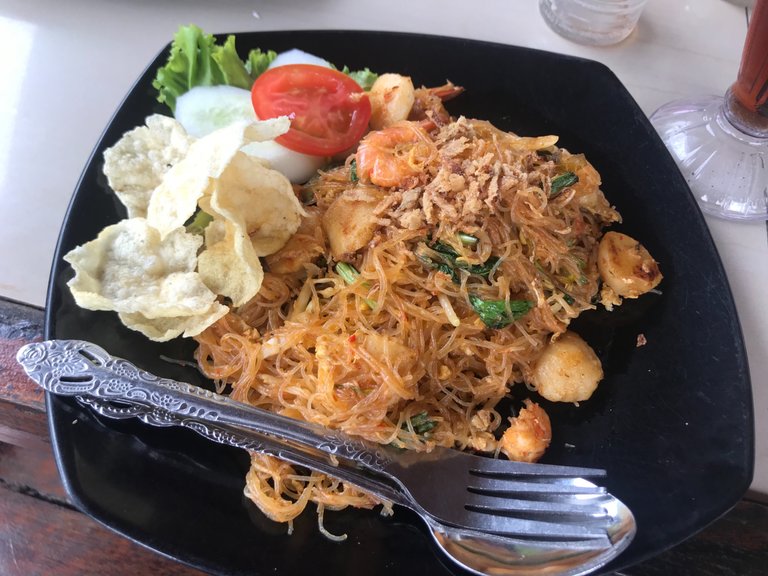 photo by me
5 minutes later, my seafood vermicelli also arrived, it looked really delicious and I couldn't wait to eat this seafood vermicelli. There are lots of small prawns, vegetables that have been cooked with vermicelli, chunks of small meatballs, sliced tomatoes, cucumber and lettuce. When I tried this seafood vermicelli, I suddenly fell silent and felt a very delicious seafood sensation.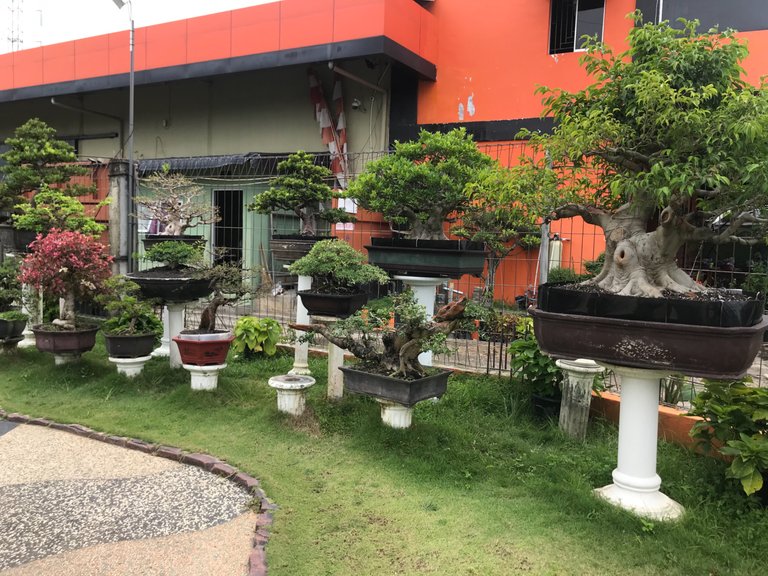 photo by me
While enjoying food and drinks at this restaurant, I took some pictures of very good bonsai trees, all the bonsai trees here are very well maintained and of high quality, maybe the price of each bonsai tree is around tens of millions and everything is neatly arranged, so visitors are very happy with the feel of this restaurant.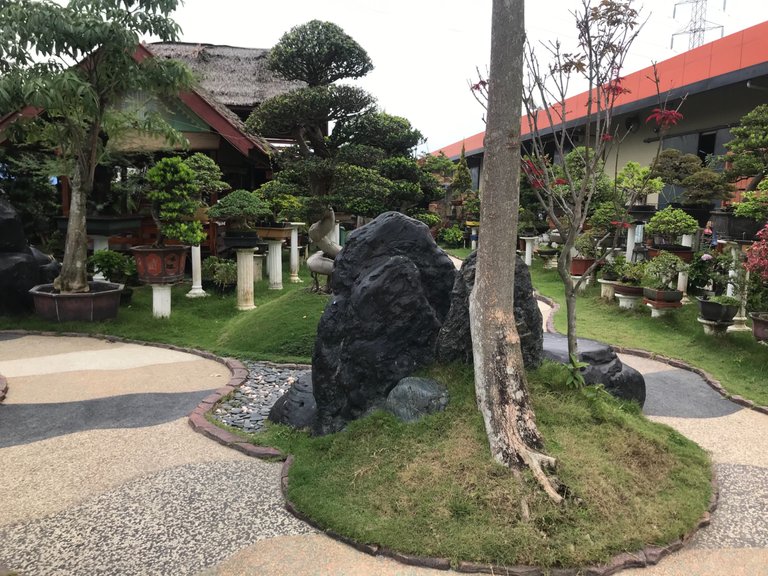 photo by me
After I finished my meal, I invited Shenas to take a walk around this restaurant, there is a path made of small natural stones arranged in a row, I went around the whole restaurant together with Shenas. The photo above shows all the big and small bonsai trees, all arranged very neatly and all the decorations look so perfect, what do you think? Leave your comments below this post.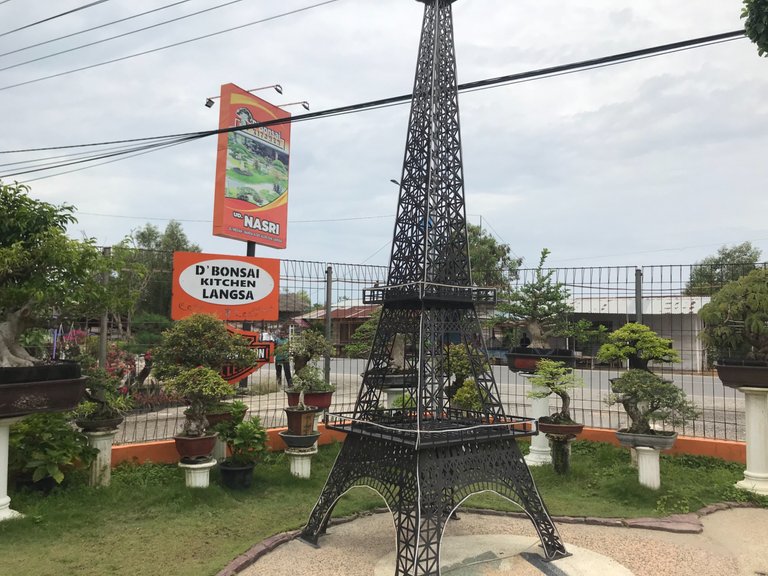 photo by me
1 building caught my attention when I entered this restaurant, namely the mini eiffel tower that was made at the end of this restaurant, the size is maybe about 4 meters with an iron frame, this place is a photo spot for visitors who come to this restaurant. After I went around and took photos around this restaurant, I had to pay all my bills and go back home, the total was around 6 $ and I was very satisfied with the taste of the dishes served at this restaurant. Thank you to those of you who have read and stopped in my post today about culinary at D'Bonsai restaurant, give your suggestions and support, see you in my next post.