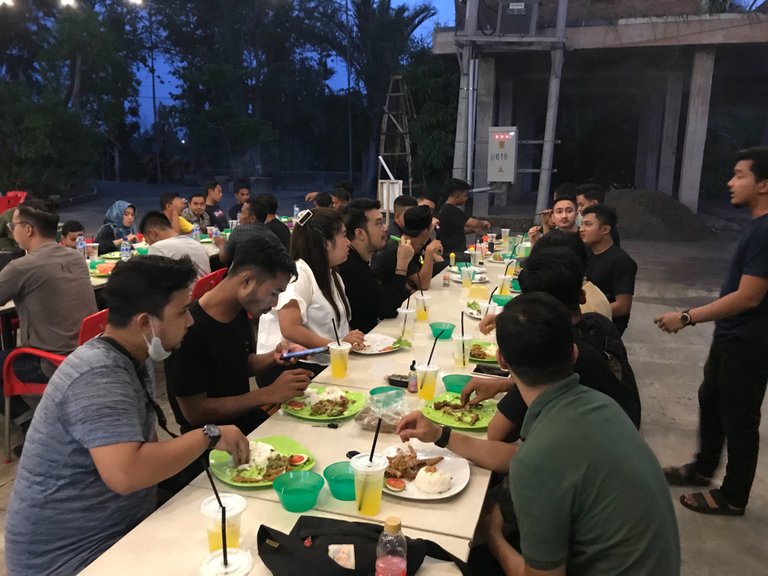 photo by me
Yooo hello my fellow hivers and the whole community. Come back with me Jodi Pamungkas. Thank you for reading and stopping by my previous post. It won't be long before the holy month of Ramadan is over and heading for Eid. Happy Tuesday to all of you. Today, together with my vape community, I held an iftar event together in one of the swimming pools that I had never been to before. This swimming pool is at the same time a coffee shop that was built next to the pool. Around 6 pm everyone had gathered in this place and I immediately captured this moment of togetherness.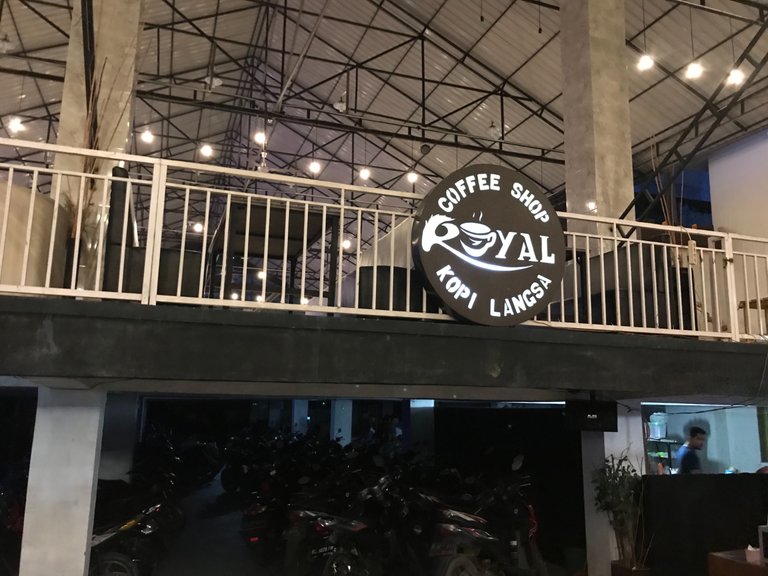 photo by me
Welcome to the royal coffee shop. Coffee shop as well as swimming pool. This place has become a trend in 2019 and is now starting to fade because there are so many coffee shops opening in the city of Langsa. This coffee shop has a very large area with a swimming pool below. During the holy month of Ramadan. This place is a very suitable place for breaking the fast for friends and family. Because it has a very large area.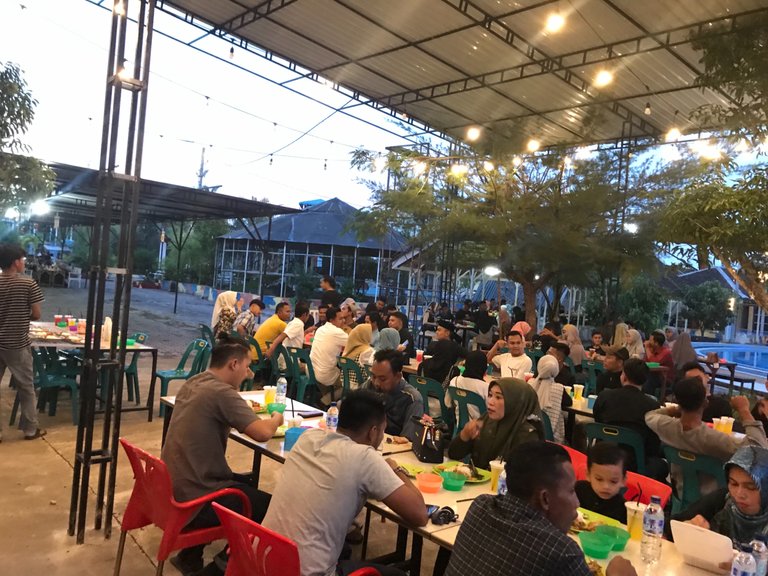 photo by me
There were a lot of people who were waiting to break their fast. Usually the holy month of Ramadan is a very suitable time to make reunions with school friends or old friends. No wonder every coffee shop is always full of people who want to break their fast. Honestly, my first impression of coming here was not very good and there are so many decorations that are not well maintained. However I liked the pool at the back
photo by me
Well, I walked around this coffee shop and took some pictures. The photo above is a bar for baristas making coffee. Everything looks neat and clean. There is a coffee machine which I don't know the brand of and it all looks very complete. There are not too many servants in this place either. One of my friends told me that this coffee shop is not long in life and will be renovating again. Maybe true, maybe not.
photo by me
The first menu for breaking the fast this time is fried. There are several types of fried foods such as risol which are filled with various vegetables and meats. The other types are tempeh and fried tofu. Indeed, fried food is the main menu before eating white rice. Because fried foods are very common in eating when breaking the fast. Have you ever tried it? Leave your comments below this post.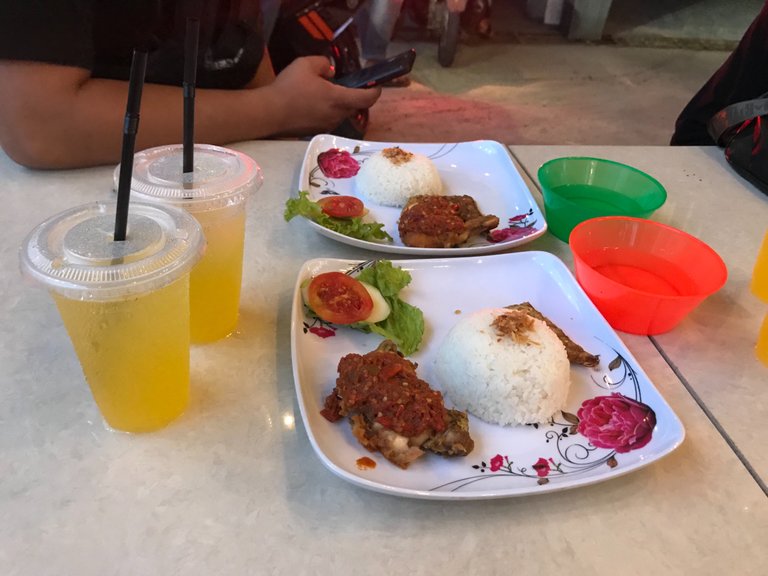 photo by me
Well, the main menu for us to break our fast is white rice and chicken. Indeed, this menu is very common and highly recommended in every coffee shop. Now, each visitor may choose a different package iftar but still use chicken and rice. Like the package I chose with white rice, pecak chicken, tomato and cucumber slices. They also provide orange juice for the drink menu.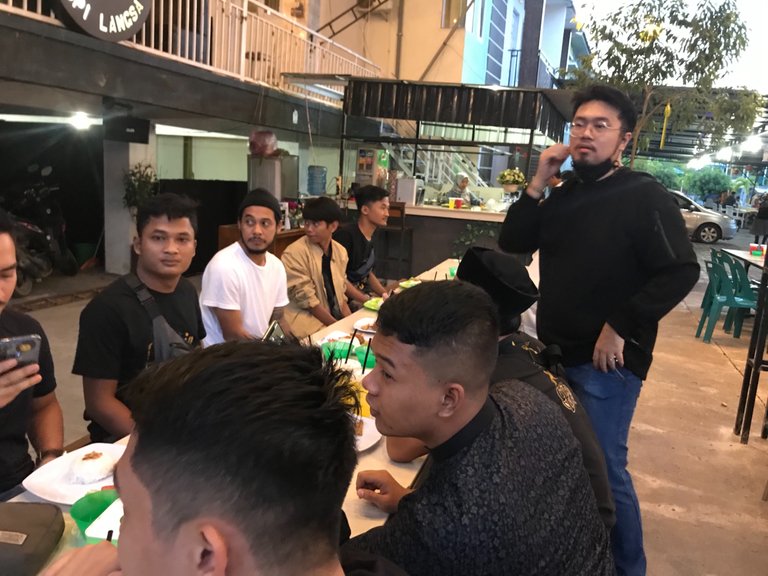 photo by me
Everyone seemed to be waiting to break the fast while telling silly and joking stories. Before breaking the fast we distributed some food to road users around my friend's vape shop. The holy month of Ramadan is a very blessing month and there's nothing wrong with sharing a little of our fortune with those who need it more.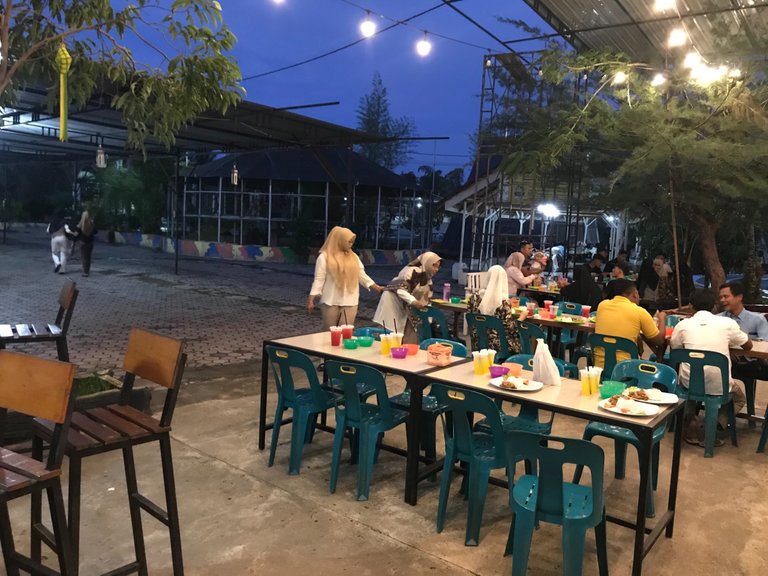 photo by me
After breaking the fast, people go to the mosque for evening prayers and continue chatting with friends or family. As I said above. The holy month of Ramadan is the perfect time to have a reunion with old friends. Everyone is happy and laughing together
photo by me
Well, after everything was finished I tried to take photos around the swimming pool which I mean. The swimming pool here is not too wide and does not have a depth like an adult pool. The pool is intended for families and children. In the pool there is a slide that is quite high and several artificial fountains. Maybe for the atmosphere and design of this pool is very good and I really like it. The price to enter the pool is usually 0.5 $ for 1 person.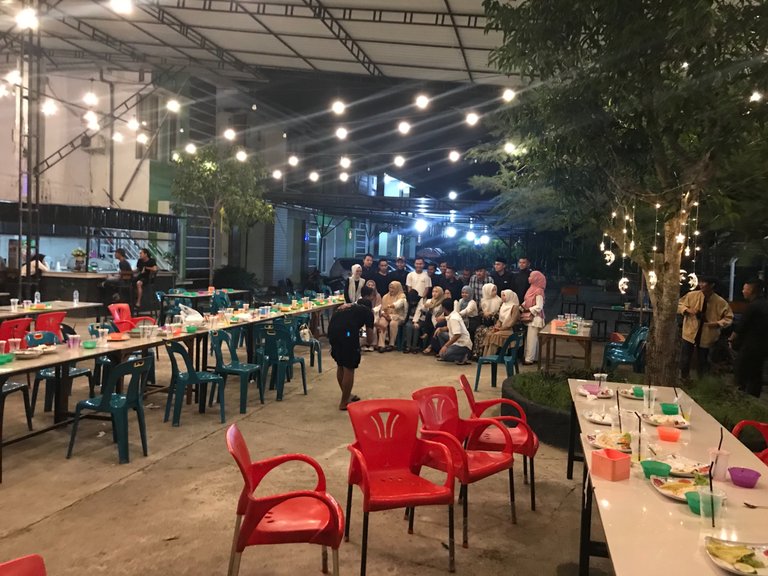 photo by me
everyone looked very happy and took a photo together. I along with my other friends also want to capture the moment once a year gathering with old friends.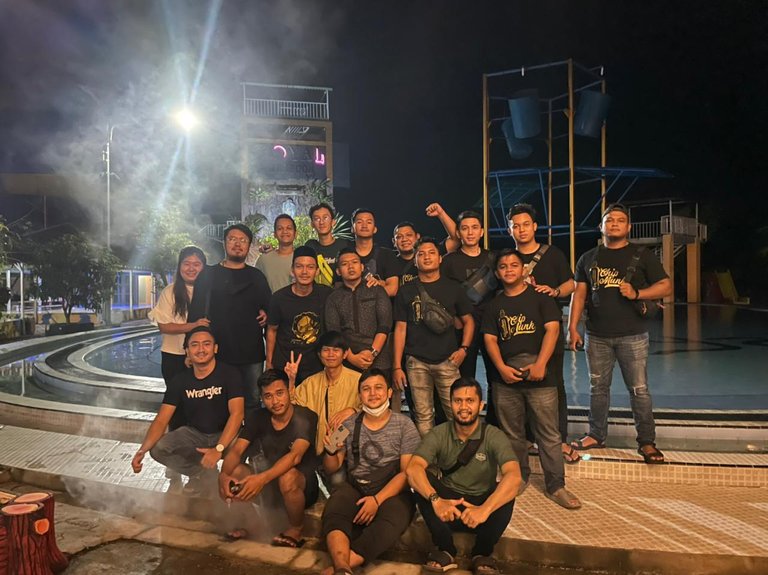 photo by me
well, the photo above is our photo of all the local vape community. actually there are many more members who want to attend. because our schedule clashed with some other community members. so that not all can gather to break the fast together. all I have to pay for my own menu is around 3 $ and I am quite happy. thanks for those of you who have read and stopped in my post. give your support and suggestions. see you in the next post.